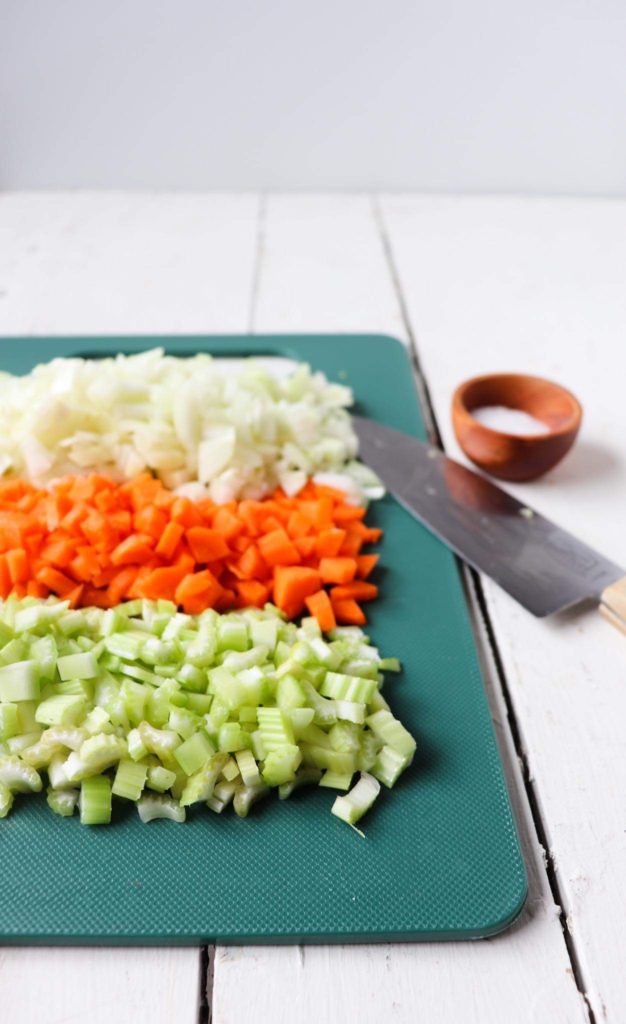 I thought I would share with you a little something different, that is "what is mirepoix?" This fancy French word is name for a fundamental element of cooking all kinds of soups, stews, and sauces. Named after the 18th century duke, Charles Pierre Gaston François de Lévis, or Duc de Mirepoix, it is actually one of the first things that they taught us in culinary school! While this is not directly a recipe, it is a kitchen basic. Knowing the proportions, how to prepare it, and what to use it for will help your home kitchen run more seamlessly!
For more kitchen basics, check out How to Blanch Tomatoes.
What is mirepoix?
Mirepoix is a combination of aromatics, diced finely, and then cooked together in oil, butter, or a combination. Rather than browning, these aromatics are cooked low and slow to bring out their sweetness as they become tender. Cooking them this way adds a first layer of flavor to whatever dish you are making.
Cooking these ingredients together first may seem insignificant or unnecessary, but let me assure you that it is a totally worth the extra effort. Similar to browning a roast before cooking it, beginning a recipe with a mirepoix adds an essential flavor that elevates your dish.
A classic mirepoix contains the aromatics onion, celery, and carrots. They are all chopped small at a ratio of 2:1:1-- two parts onion, one part celery, one part carrots. I always keep bags of onions, carrots, and celery on hand for making mirepoix.
What do you use a mirepoix for?
This is a hard question to answer because it is so broad! I don't think I remember a day in culinary school that mirepoix wasn't used at least once. It is the base for almost any soup, sauce, stock, or roasted meat you could think of!
Chicken noodle soup, Chicken cacciatore, homemade stock, beef roast....
Here are some of my recipes that feature a mirepoix:
What are aromatics?
I have thrown the word aromatics around a few times, so let me explain what that term means when cooking. Aromatics are a combination of vegetables and herbs cooked in fat at the begin of making a dish.
There are lots of different kinds of aromatics, and each culture has different ones that are considered foundational. The most common aromatics include: onions, celery, carrots, garlic, and ginger.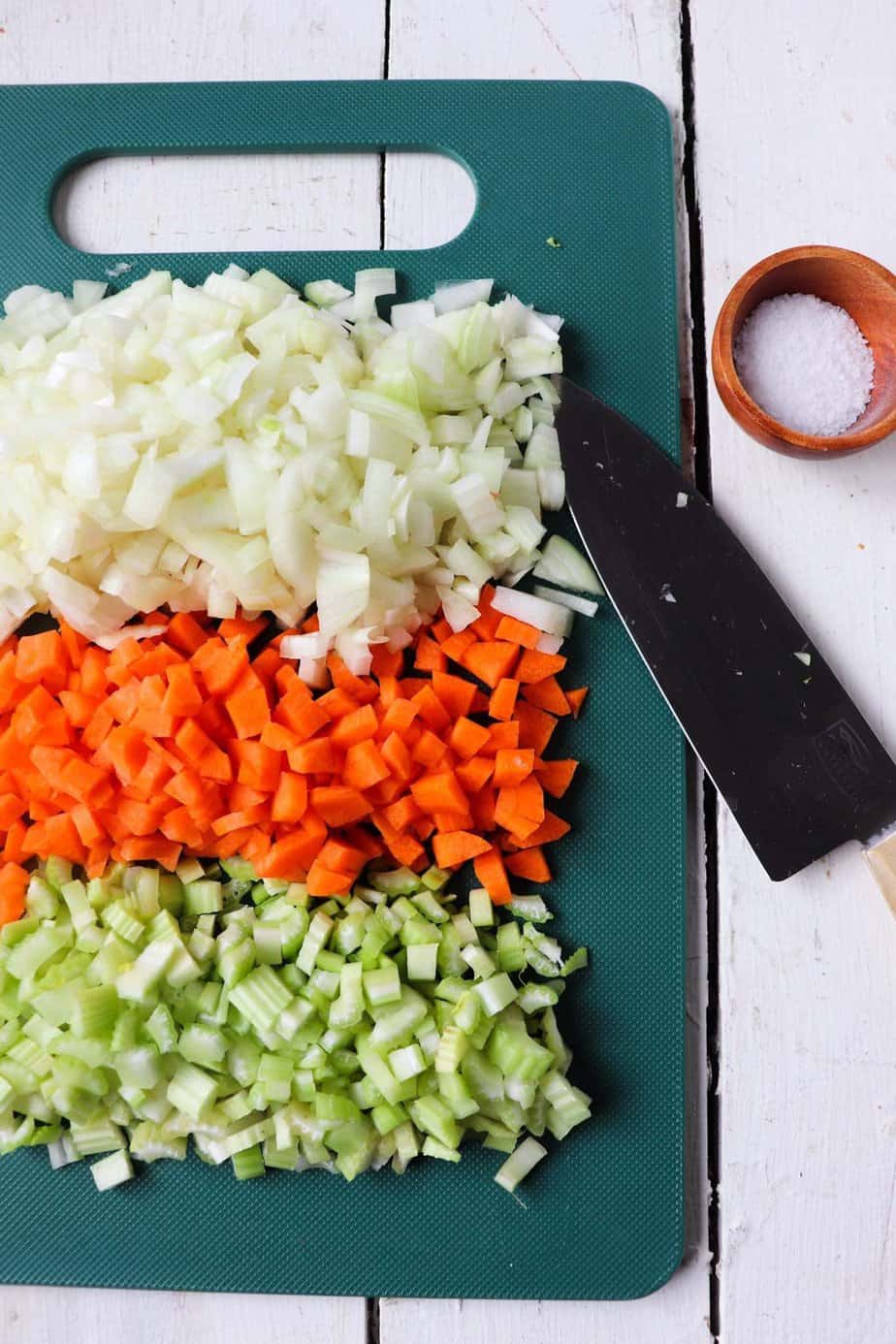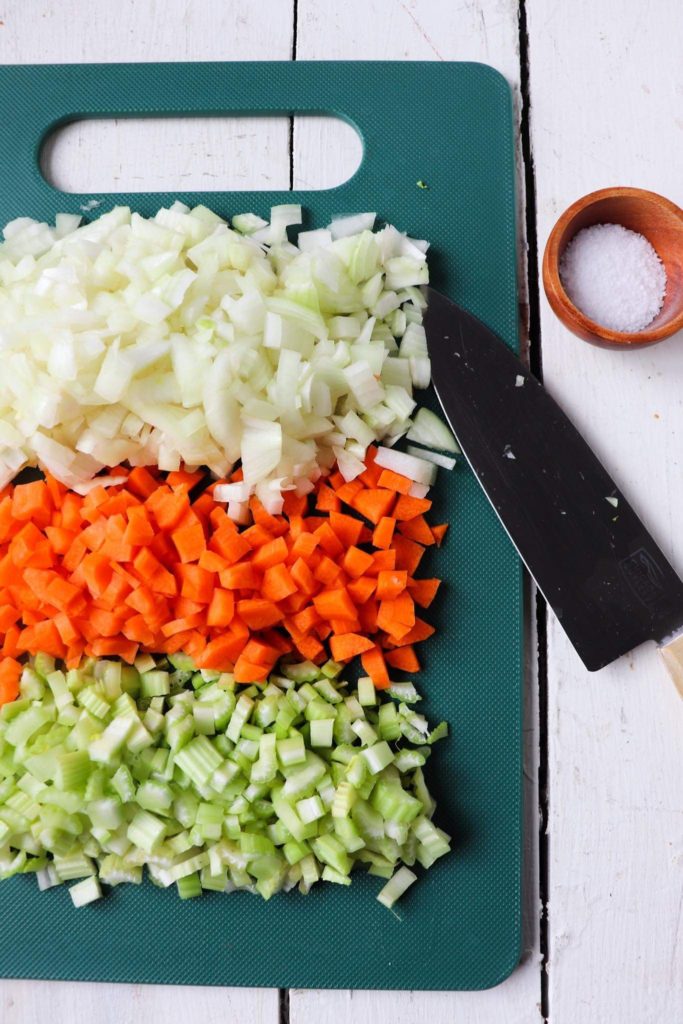 Here are classic forms of mirepoix:
Speaking of other cultures, they all have different "mirepoix" combinations.
Mirepoix (French): onions, celery, carrots cooked in butter
Holy Trinity (Cajun): onion, celery, green bell pepper cooked in butter or olive oil
Sofrito (Latin): onions, garlic, bell peppers, and tomatoes in olive oil
Soffritto (Italian): onion, celery, carrots cooked in olive oil
Indian: onions, garlic, ginger, and chilies cooked in ghee
How do you prepare mirepoix?
Here is how you make classic mirepoix:
Prepare your veggies. Begin by cleaning off any dirt, removing skin from the onions and peeling the carrots. Trim the ends off of the celery and carrots as well.
Chop your vegetables. Next, chop the vegetables into a small dice. A classic mirepoix has a pretty fine dice to it. This is not quite a mince, but keep them small. All three vegetables should be uniform in size.

When preparing sauteed dishes: When you will be seeing the aromatics visibly, keep them as small as possible, ½ inch or less.
When preparing soups and sauces: Dice somewhere between ½-1 inch
When preparing stocks: Dice somewhere between 1-2 inches

Gently saute your vegetables. On a medium-low heat, gently saute vegetables in butter for about 10 minutes. Keep a careful eye on them to make sure they aren't browning. Vegetables should be softened and the onions translucent.
Can Mirepoix be prepared ahead of time?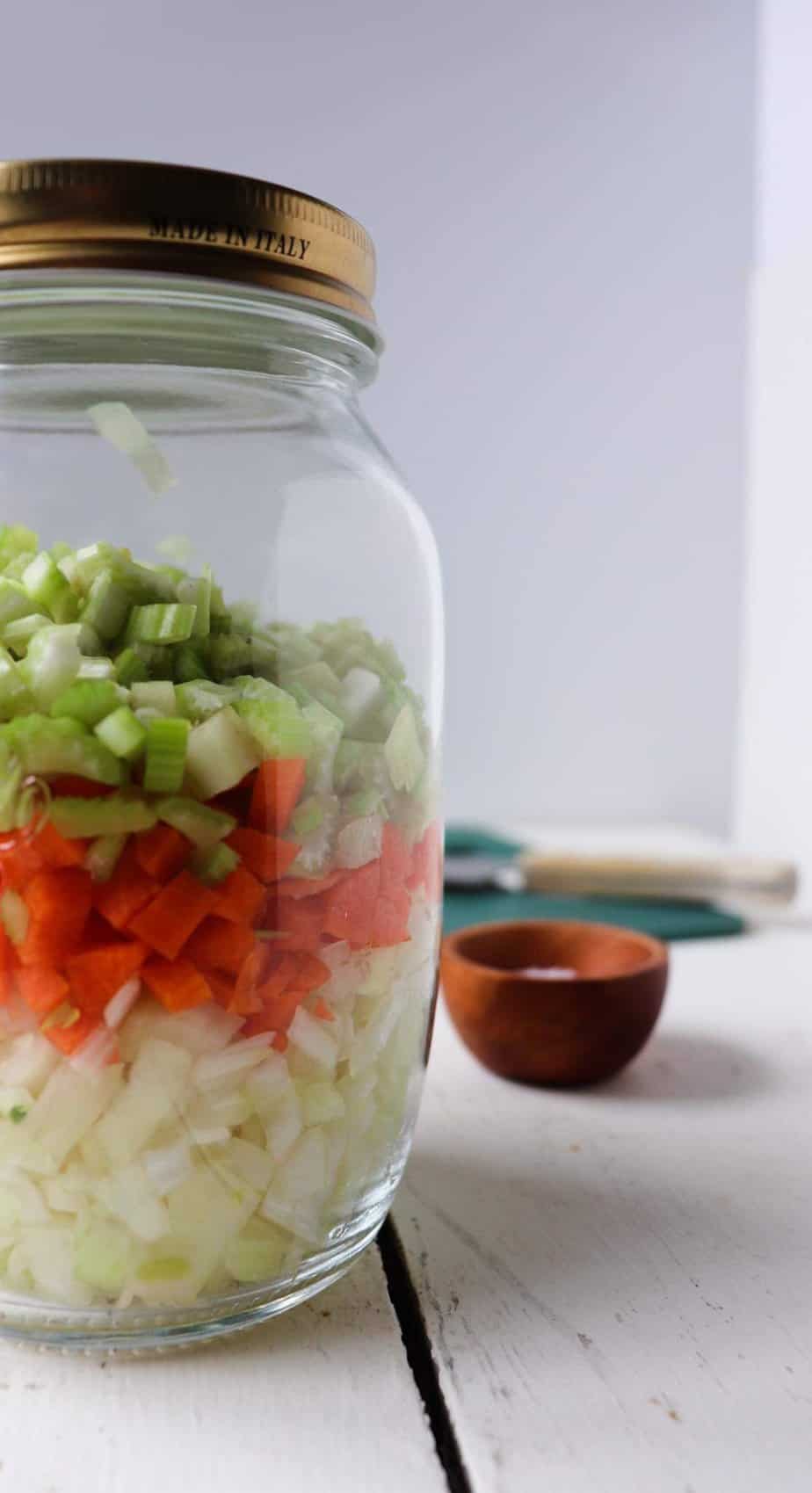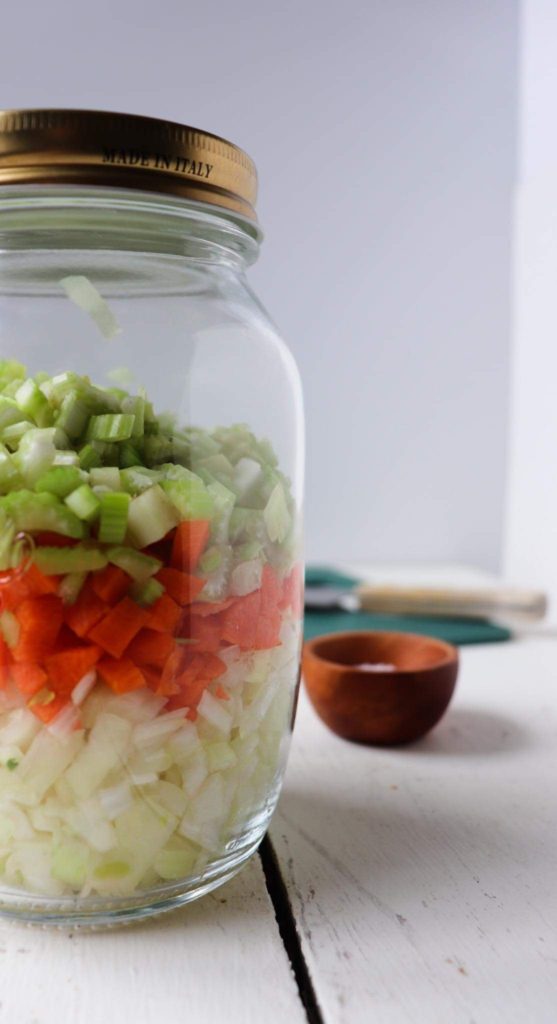 Totally! In fact, I have seen prepared mirepoix at Trader Joes in the refrigerator section. This is a great thing to prepare on a Sunday and use throughout the week. I suggest keeping the 3 vegetables in seperate, glass containers and measuring out what you need as you need it.
You can even freeze mirepoix if you would like, although the texture of the onions and celery may become a little mushy.