Cabbage rolls are one of those dishes that take a little extra prep time, but are just so good that the effort is worth it!
In fact, these cabbage rolls are perhaps one of my favorite dishes to eat that I make myself. This dish takes inexpensive, unassuming ingredients and elevates them to something special. The cabbage itself gets soft and infused with the flavors of the tomatoes sauce and the filling. The filling has rice, ground meat, and LOADS of veggies. This dish proves that healthy does not have to feel lacking or unfilling.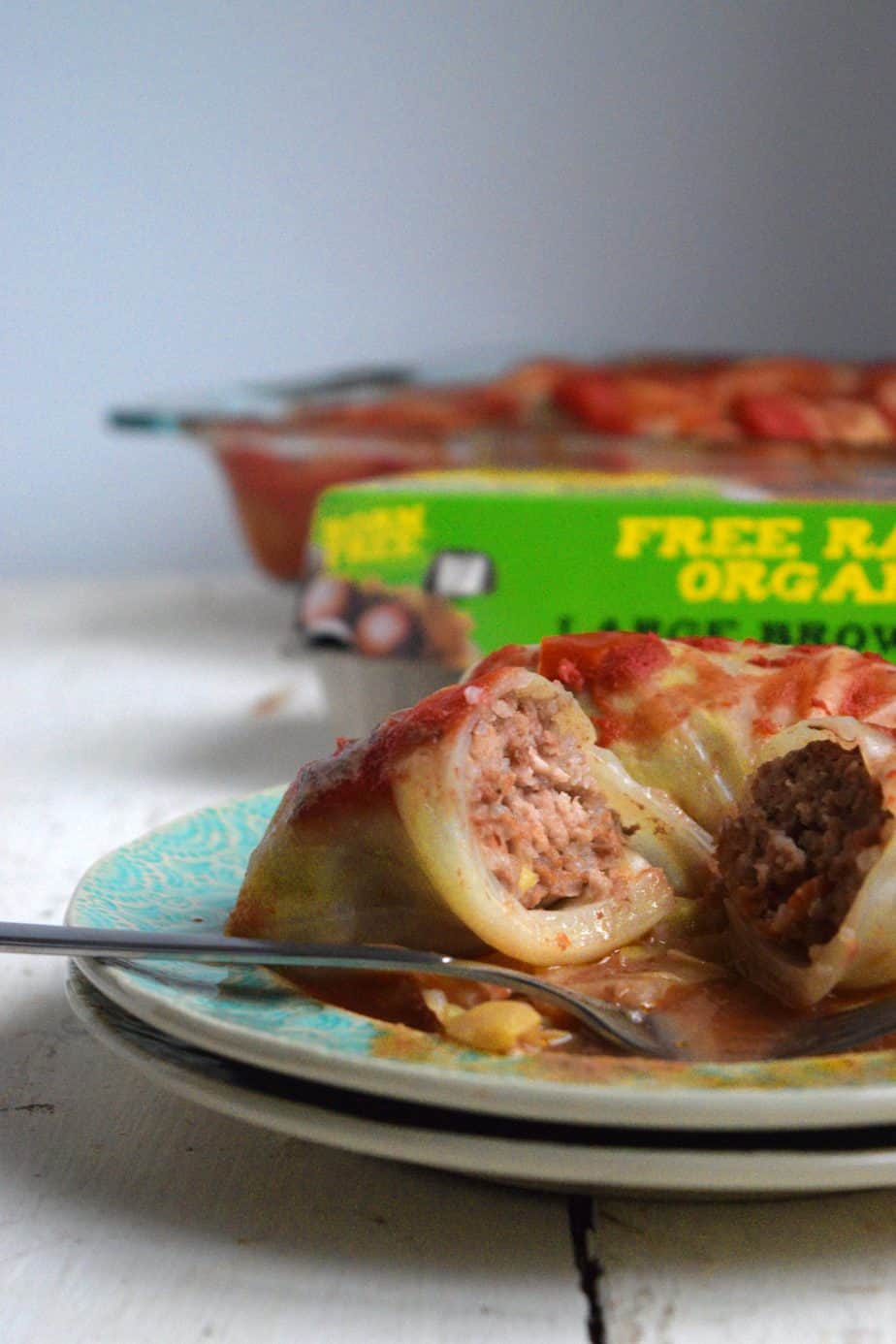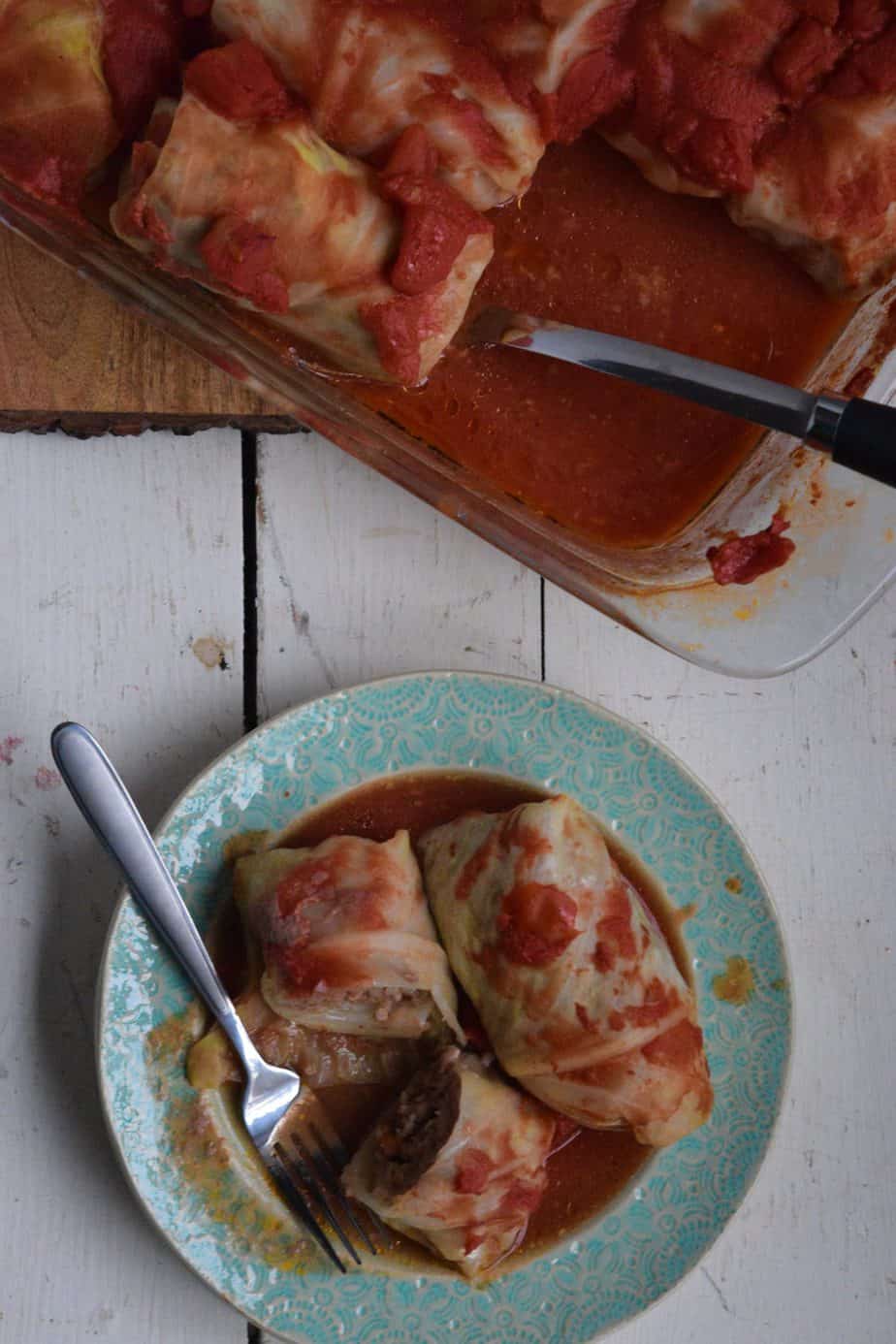 Two healthy stars in this dish are:
Cabbage: Cabbage is a great source of vitamins C and K (54% and 85%). It is also great source of fiber which can aid in digestion.
Organic Free Range Eggs: One egg is only 70 calories, but houses a whooping 6 grams of protein. Born Free Free Range Organic eggs come from chickens that were never given hormones and fed organic, non-GMO feed. Eggs contain a little bit of almost every nutrient your body needs, including B vitamins, folate, and selenium.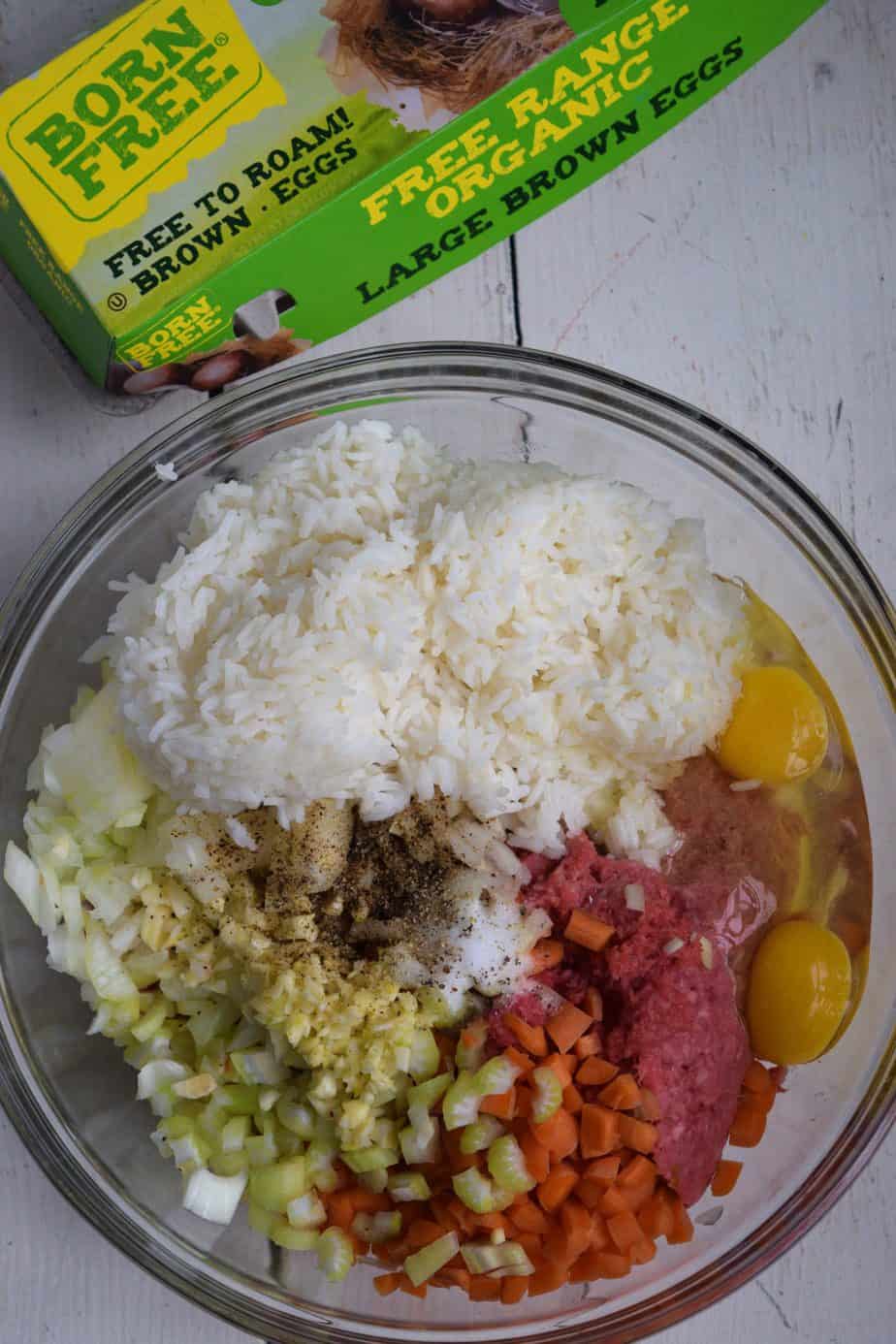 Can this be frozen?
For sure! This meal freezes great and heats up beautifully. I would suggest preparing them in an aluminum disposable pan. This way you don't have to be without your glass dish for however long it's frozen, and there's no concern on heating the glass up from frozen. This would be a wonderful freezer meal to give to someone in need. It is delicious, and it is also gluten free and dairy free, so it would work with a lot of diets! You can cook them from frozen, but you be sure to add 30-45 minutes on to the cook time.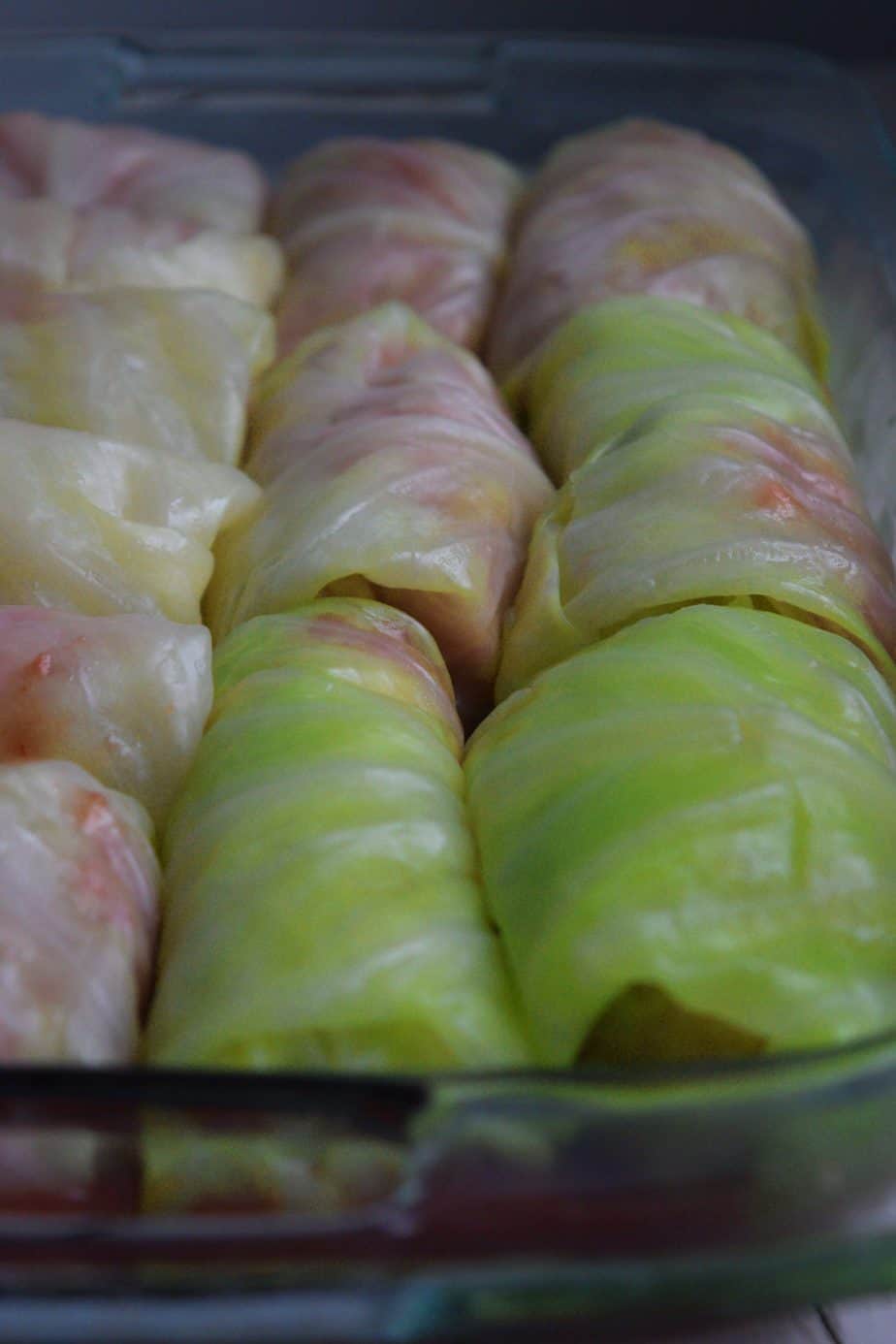 Can this be made in the Crock-pot?
Totally! This would be a wonderful crockpot dish. Prepare everything the same, but instead of using a glass 9x13, place half of the sauce on the bottom of your Crock-pot dish. Layer the rolls on top, and finish with the rest of the sauce.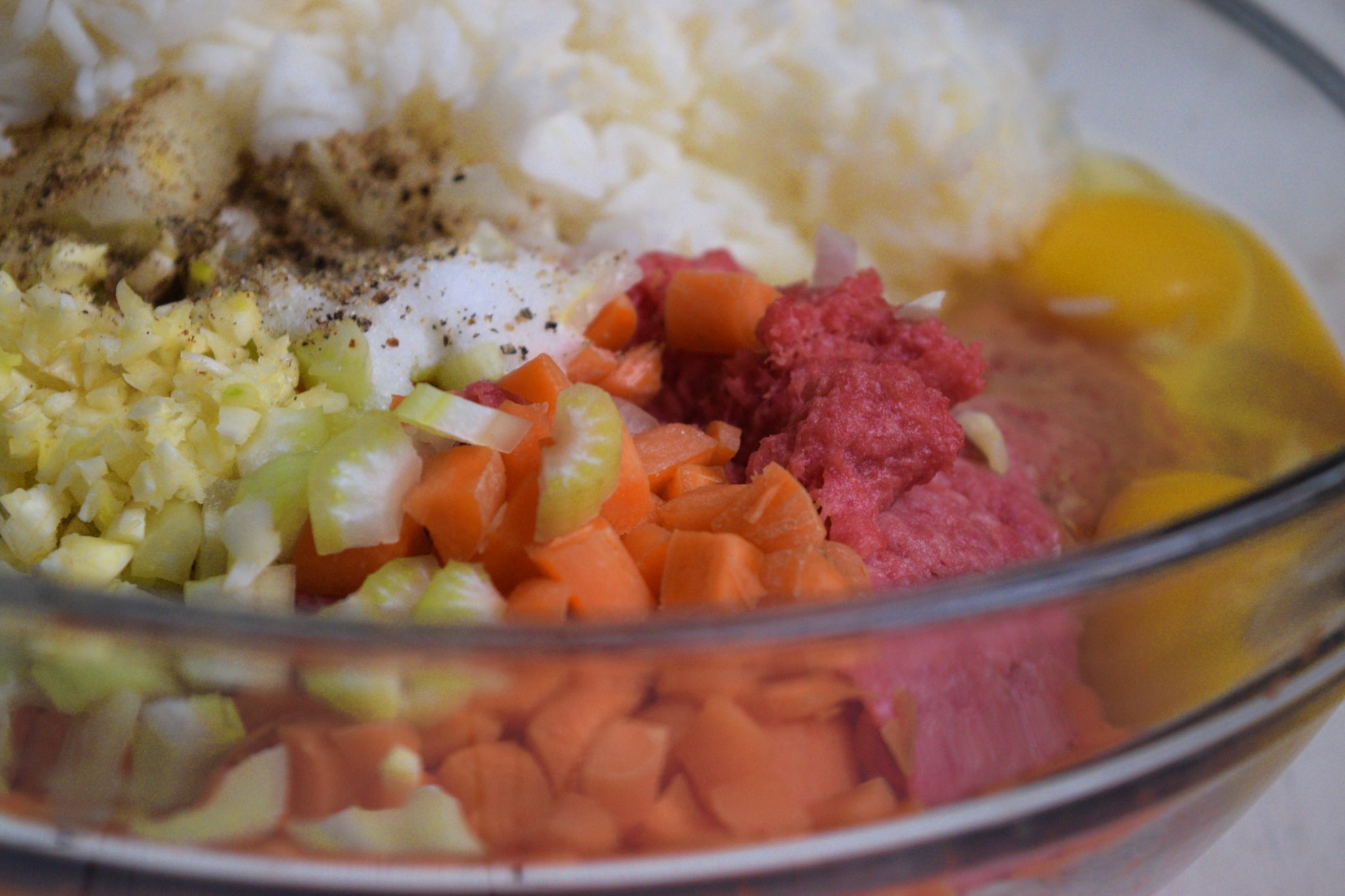 This post was brought to you featuring Born Free Free Range Organic Eggs. I was compensated for my time in making this recipe for Born Free Eggs, but the opinions are my own.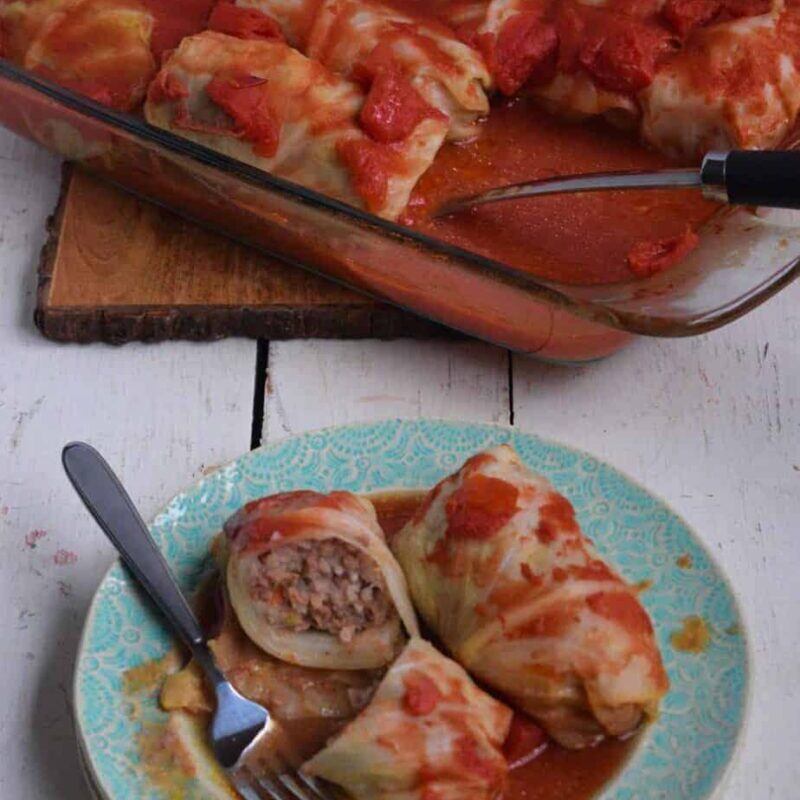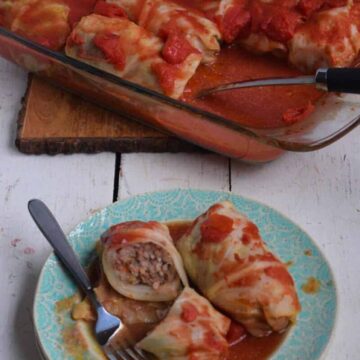 Stuffed Cabbage Rolls
Ingredients
Filling
1

lb

ground pork

1

lb

ground beef

1

carrot

peeled, small diced

1

celery stalk

small diced

1

medium onion

small diced

3

cloves of garlic

minced

1

teaspoon

salt

2

Born Free Organic Free Range Eggs

½`

teaspoon

pepper

2

cups

cooked rice
Sauce
1

15 oz

can of tomato sauce

1

15 oz

can of diced tomatoes

½

teaspoon

salt

1

teaspoon

garlic powder

¼

cup

red wine vinegar
Instructions
Preparing Cabbage Leaves
Bring a large stockpot of water up to boil, and add cabbage.

Cook for 5-7 minutes, until the leaves begin to peel off easily. They should be half cooked at this point.

Remove full cabbage from pot and let cool.

Once cool enough to handle, carefully remove 1 leaf at a time. You will need about 12-16 leaves, depending on their size.
Preparing the Sauce
Combine all sauce ingredients in a bowl.

Stir until well combined.
Creating the Filling
In a large bowl, combine all ingredients for the filling.

Stir together until well combined.

Take 3-4 tablespoons of the sauce mixture and add it to your filling mixture to give it some moisture.
Putting it all Together
Preheat oven to 350 degrees. Take half the remaining sauce mixture and coat the bottom of a 9 ½ x 13 glass dish.

Take a baseball sized amount of filling and form so it is slightly elongated.

Place the filling near the stem side of the leaf. Fold in sides of leaf, and then roll leaf with filling toward the outer part of the leaf.

Snugly tuck the cabbage roll into the sauce covered glass pan.

Continue until all filling is used up.

Pour the remaining tomato sauce on top and cover dish with aluminum foil.

Place in the over and bake for 1 ½ to 2 hours, until everything is cooked through and the cabbage is soft.