Herbes de Provence is a special blend of common french spices and herbs. Herbes de provence is an underrated spice blend that is floral and woody, and pairs great with chicken, roasted veggies, and sauces! It has been around for centuries, originating in the south of France, but has become increasingly popular since the 1970's with the rise of Julia Child and her influence in teaching the home cooks how to master the art of French cooking.
Here are some common questions about the savory spice blend and well as herbes de provence substitutes.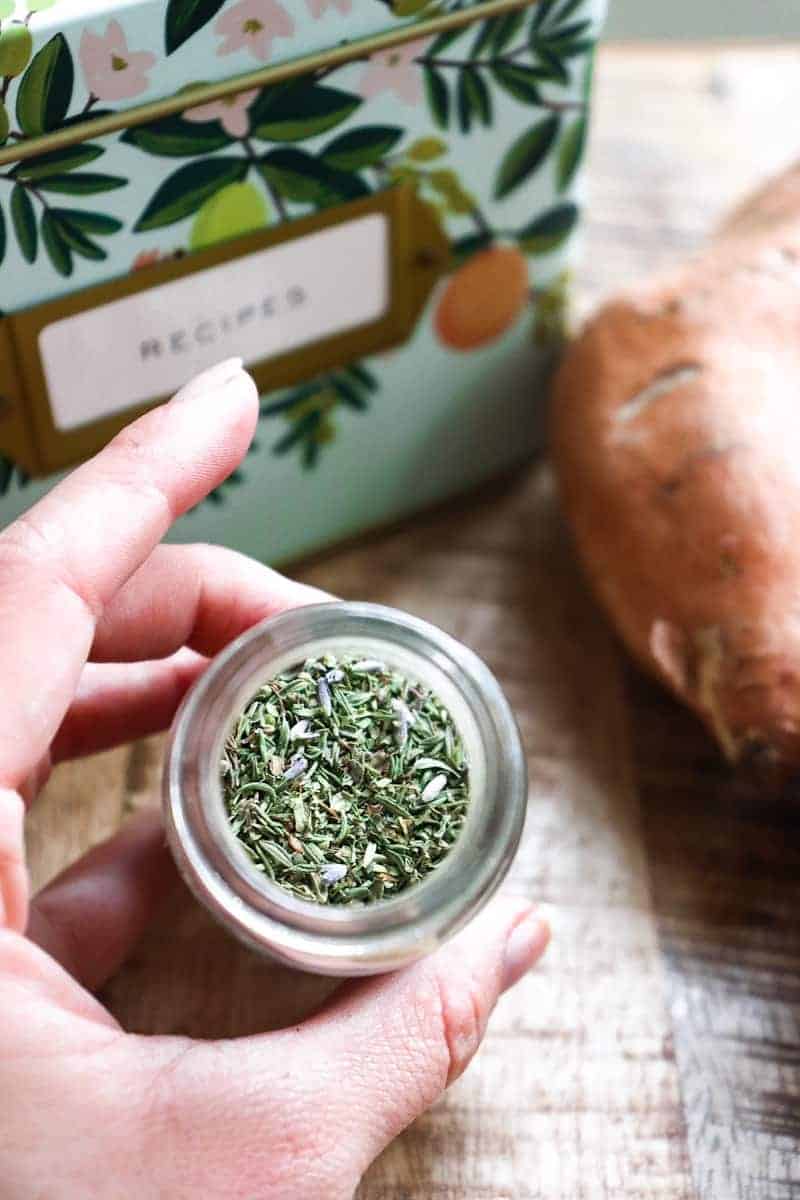 Want to cook with herbes de provence? Try this La Mad Copycat Chicken Friand or Savory Mashed Sweet Potatoes. Both recipes use the delicious herb blend.
Jump to:
What is in herbes de provence?
Herbes de Provence is a fragrant herb blend, typically consisting of ingredients such as fennel, marjoram, parsley, rosemary, tarragon, and thyme. You might also find additional elements like lavender, savory, mint, chervil, oregano, sage, basil, or bay leaves included in the mix. It will depend on the brand.
Herbes De Provence Substitutes 
Italian Seasoning: Italian seasoning is a blend of herbs that typically includes basil, oregano, thyme, and rosemary. This is my number one recommendation as a substitute for herbes de Provence, as it has a similar aromatic and savory profile.
Thyme and Rosemary: A simple substitute is a mixture of dried thyme and rosemary. These two herbs are common components of herbes de Provence, and they can be used in equal parts to replicate the flavor.
Bouquet Garni: Bouquet garni is a traditional French herb bundle that often includes thyme, parsley, and bay leaves. You can use a bouquet garni or create your own using these herbs.
Herbes de la Garrigue: Herbes de la Garrigue, combines a delightful medley of rosemary, thyme, basil, sage, marjoram, savory, fennel, mint, bay leaves, and lavender flowers. Herbes de la Garrigue can serve as an good stand-in for herbes de Provence, as it shares key herbs such as rosemary, marjoram, and savory. What sets it apart is the addition of sage, lending a slightly more robust taste.
How to Make Your Own Herbes de Provence 
You may have the ingredients to make herbes de provence in your well stocked spice cabinet! Here's a classic version.
2 teaspoons dried thyme
2 teaspoons dried savory
1 teaspoon dried marjoram
1 teaspoon dried lavender
½ teaspoon dried rosemary
½ teaspoon fennel seeds
1 crushed bay leaf
Where to Buy Herbes de Provence
This French herb blend is common enough that you should be able to find it in most grocery stores. If not, it is easy to purchase herbs de provence online from one of the following places.
Other common French herb blends
Aside from herbes de provence, other common French herb and spice blends are bouquet garni, fines herbes, and vadouvan.
A bouquet garni is a traditional French seasoning technique that involves tying together a bundle of fresh or dried herbs, typically including thyme, parsley, and bay leaves, to infuse flavor into dishes like soups, stews, and sauces, and is later removed before serving.
Fines herbes is a delicate and classic French herb blend consisting of finely chopped fresh herbs like parsley, chives, tarragon, and chervil, often used as a finishing touch in various dishes for a fresh, mild flavor.
Vadouvan is a fragrant and mildly spicy French-Indian spice blend, typically incorporating ingredients such as onion, garlic, cumin, fenugreek, and curry leaves, adding a rich and exotic twist.
More Recipes Using Herbes de Provence