Thanksgiving will be here before you know it, and if you're anything like me, you are already getting your menu prepared! 
I love the classic dishes that come with Thanksgiving.  There is just something about knowing exactly what the meal is going to look like and getting excited for it all year. That being said, I totally respect (and sometimes partake in) the desire to throw in one or two new things to spice things up.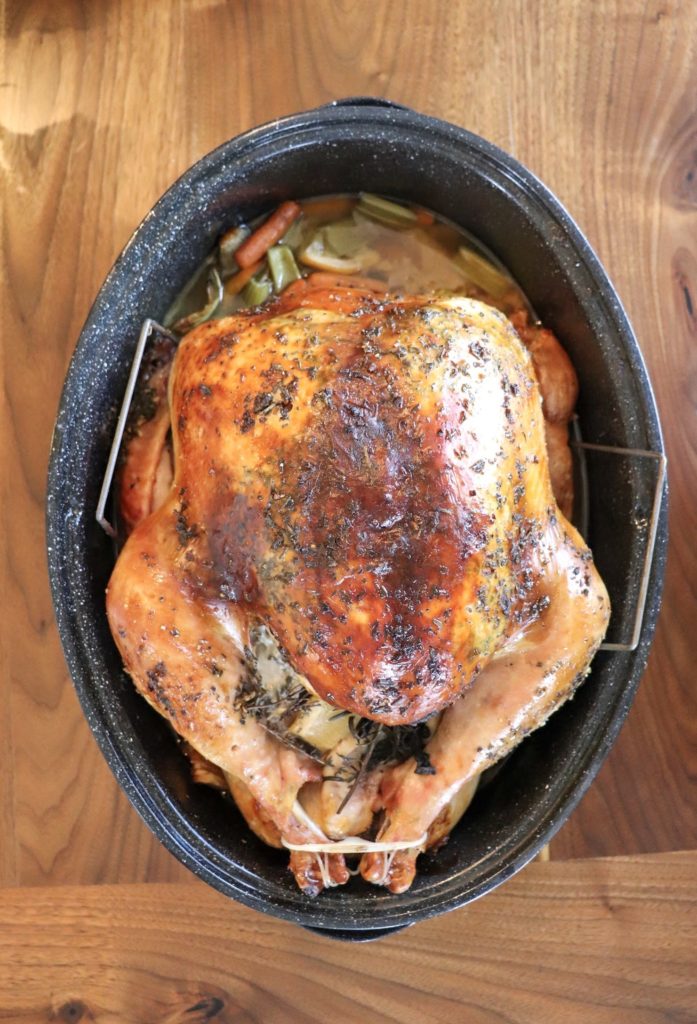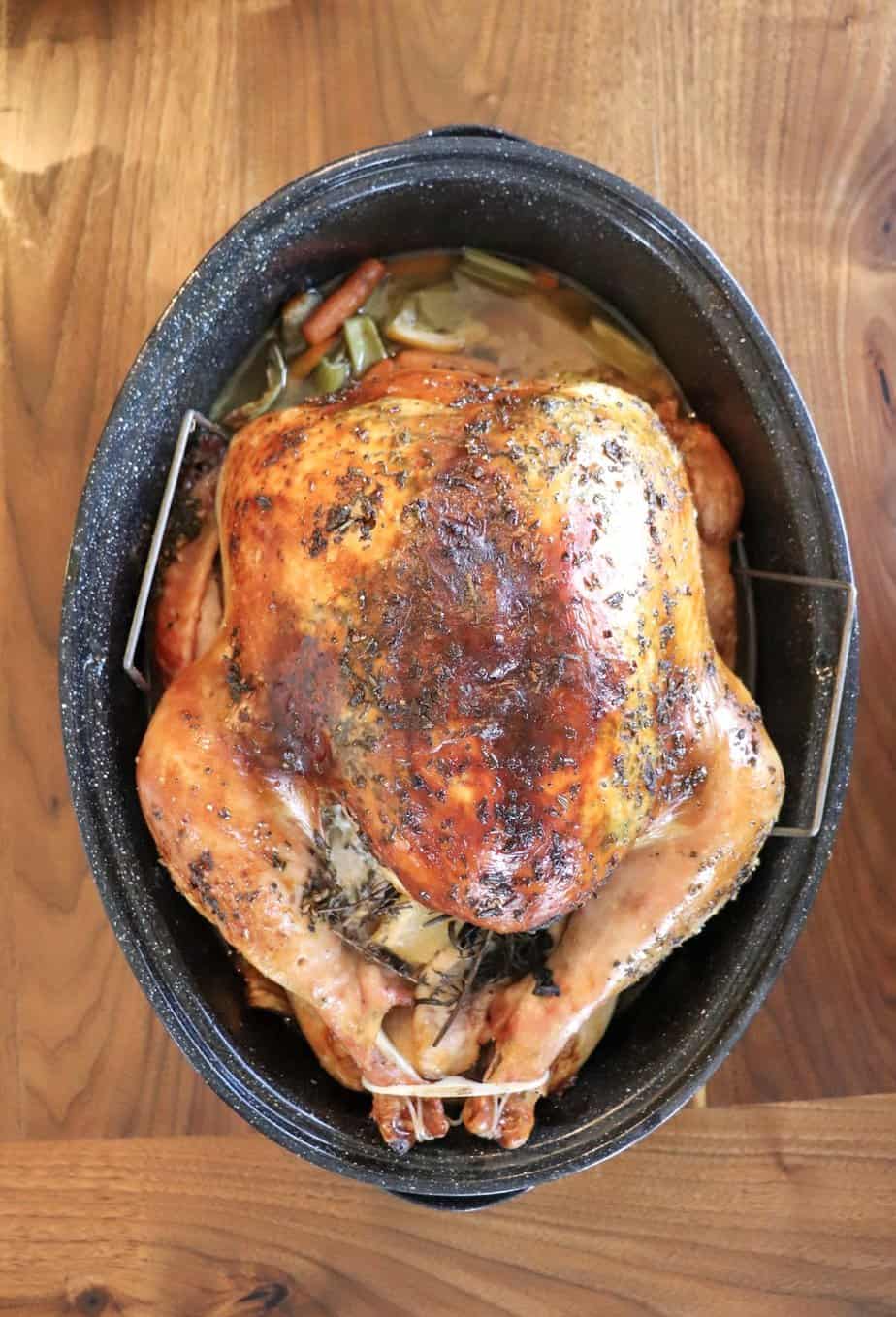 One thing I wouldn't suggest going off the beaten path on would be your turkey. If made correctly, a Thanksgiving turkey is a moist and delicious centerpiece that needs no modernizing! Classic flavors like sage and thyme, along with butter and a nice roast in the oven is really the way to go. 
A little backstory: I have hosted Thanksgiving for Michael and I's families since we were married three years ago. So this year will be my fourth time! We both love Thanksgiving very much and love being able to spend it with all of our family together in one place! What a joy it is to see all of our parents together with most of our siblings, laughing and enjoying a delicious meal. I had always gone to my grandma's house in the past for Thanksgiving, and her cooking is 5-star. Seriously, she's the best. So I knew that if I was going to be taking on this important meal, I had to make it good!
I did a lot of research before my first Thanksgiving, and as I'm sure you know, there's a lot of information out there. Everything from the necessity of brining, to brining not being necessary at all. Smoking, deep-frying, spatchcocking, it was all too much. I needed something doable, safe, and reliable. 
Brining was a no-go because I don't have the fridge space, and I was not comfortable with getting a huge 5 gallon bucket to keep it in the garage. To me, there were just too many chances for cross-contamination or for things to go wrong. I find that including a generous amount of salt in your butter mixture will be more than sufficient in keeping everything moist and flavorful. 
Smoking and deep-frying required tools I didn't have, and I wasn't even that interested in the flavors those methods impart. 
Spatchcocking is great for a chicken, but here it wasn't the way I wanted to go. Call me a traditionalist, but I can't give up on that picture-perfect wrapped up turkey being brought out of the oven.
 I have found the best method is a lot of butter, salt, and herbs. As Ina Garten would say, "How bad can that be?"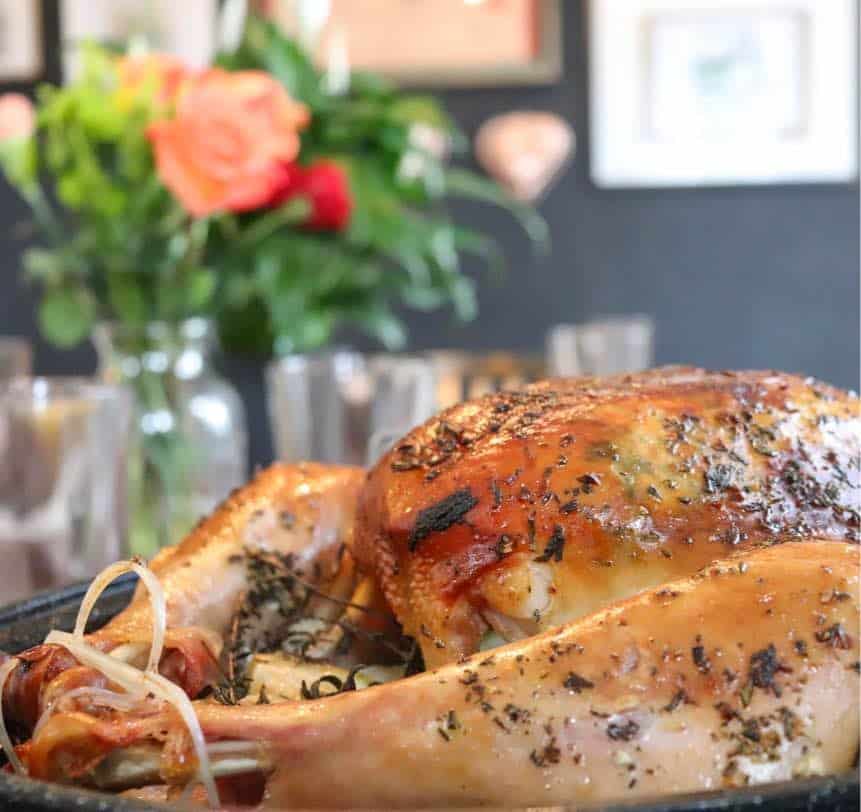 How to Make the Turkey
It's a great idea to prepare the compound butter the night before. Any prep you can do ahead of time, do it! Combine all the ingredients and then refrigerate. The morning of Thanksgiving, take the butter out and leave it on the counter so that it can come to room temperature.                                                                                         
I let the thawed turkey sit out for about a half hour before I coat it in the butter mixture to let the skin dry out a bit (this will help its browning in the oven!). To help it along a little bit, it's totally okay to dab it with some paper towels.
Before I start rubbing the bird with butter (it will get slippery), I tuck some carrots and celery underneath it, either on top of the rack or in place of it. I also take this time to tuck the wings underneath the body of the turkey. You want the turkey to be as compact as possible for even cooking.
You are going to want to get that butter everywhere! Under the skin, on top of the skin, and everywhere in between. To get it under the skin, the best way to go is to work your fingers gently in there to separate the skin from the muscle. You don't want to completely pull it back, just keep working your hand (and depending on the size of your turkey, your arm), until it's loose. Then go in there and add globs of the room temperature butter. You then want spread it out on top of the skin as well. It doesn't have to be perfect, as it will melt in the oven, but you want the turkey to be as evenly and fully coated as possible. I like to put a little inside the cavity as well!
Once the turkey is coated in butter, stuff it with your onions, lemon, and herbs. If there's more than will fit in the cavity, just place the extras around the perimeter of the roasting pan.
I do not like to stuff the inside of my turkey with bread stuffing because it can make it more difficult to tell if things are cooking evenly. Instead, I stuff it and surround it with carrots, onions, celery, lemon halves, and additional fresh herbs. I don't overstuff, so there's still lots of room for air to circulate. But by doing this, you are not only flavoring the bird itself, but also setting yourself up for a delicious and ridiculously easy gravy. 
Now it's time to get roasting! I like to use a dual temperature method of starting lower and then changing to a higher temperature about halfway through.
I begin at the traditional 325 degrees Fahrenheit and have it covered during this part of the cooking. Then after about 2 ½ hours, I raise the temperature to 375 and cook it the rest of the time uncovered. This gives more control to ensure it's cooked all the way through AND evenly brown. These cooking times are for an 18 lb. turkey. If yours is bigger or smaller, you will certainly have to adjust the cooking time. Consider 15 minutes per pound either way as a good estimate for adjusting your cooking time.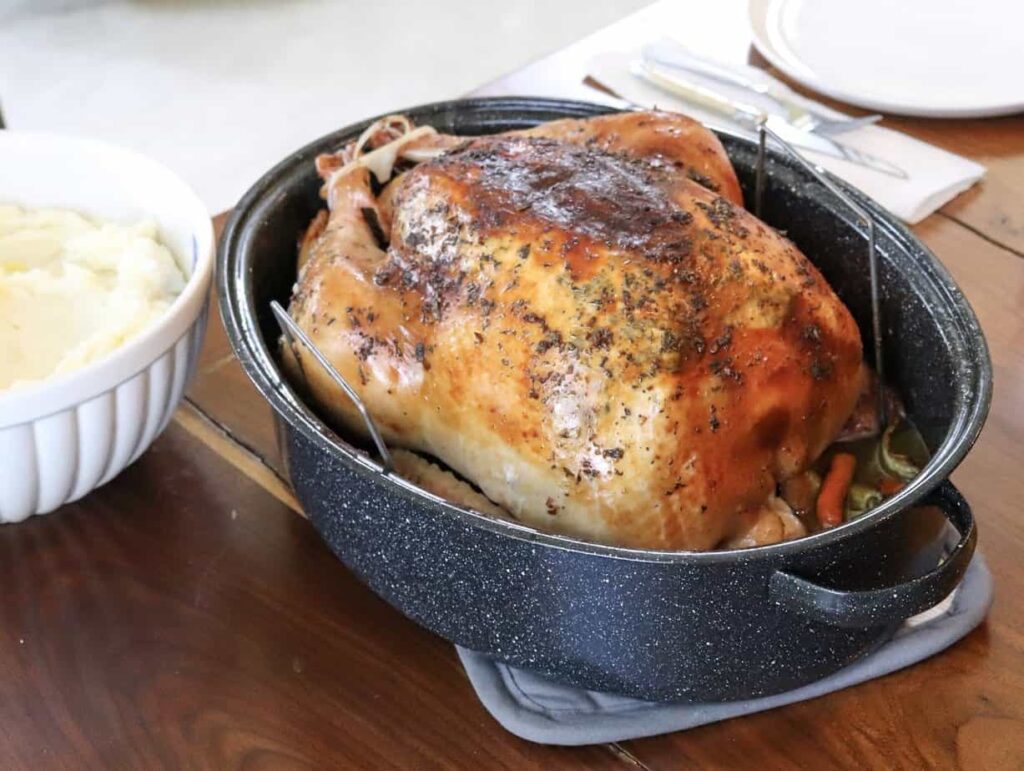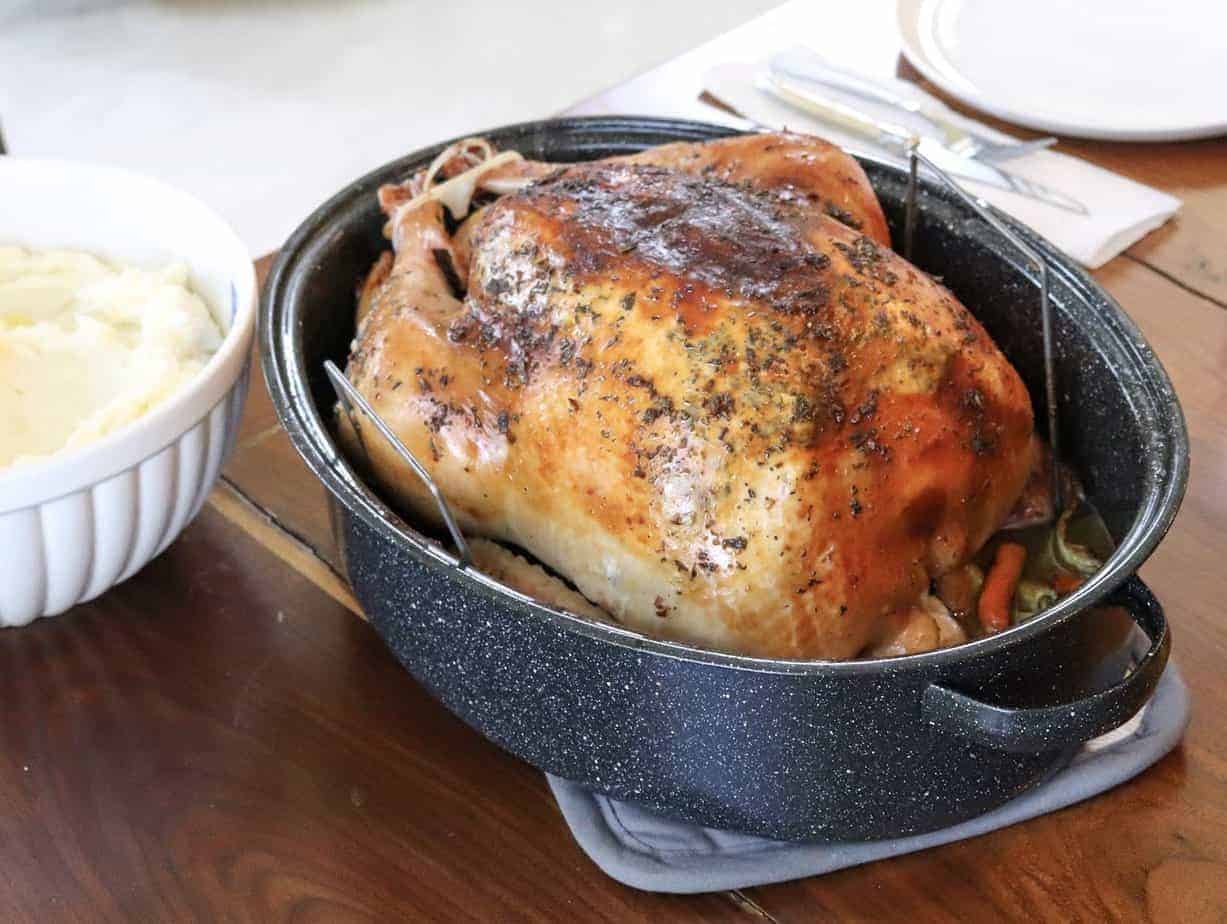 Pro Tools and Other Tips
Thanksgiving leftovers are some of the best parts of the meal, so I always keep that in mind when selecting the size of turkey I will need for my crowd. A good rule of thumb is 1 ½ to 2 pounds per person.
Some tools you will need:
A good roasting pan. This doesn't have to be expensive or fancy. Just find one that is big enough to house a good size turkey, but not so big that it's cumbersome. I find 15-17 inch ones work best. I personally use this one, but this is another great option. Having a wire rack at the bottom can help ensure the skin is more evenly browned and can aid in removal to your cutting board as well. If you don't have one, just put some extra celery and carrots at the bottom to work as a rack!
A meat thermometer. This one is absolutely essential. When you are cooking a large piece of meat, it can be very overwhelming and difficult to tell if it is cooked through. A meat thermometer is a safe way to get your turkey to the correct temperature without it being over or undercooked. Trust me when I say that this takes away a lot of uncertainty and takes much of the pressure off! You will want to temp several places, to make sure the entire turkey is cooked through. I would suggest the breast in two spots and the legs/thighs in two spots.
A large cutting board with divots. Most people have these huge cutting boards that only come out once or twice a year for occasions such as this. A good one has adequate space to work on, and indentations to catch any juices that may run off during carving.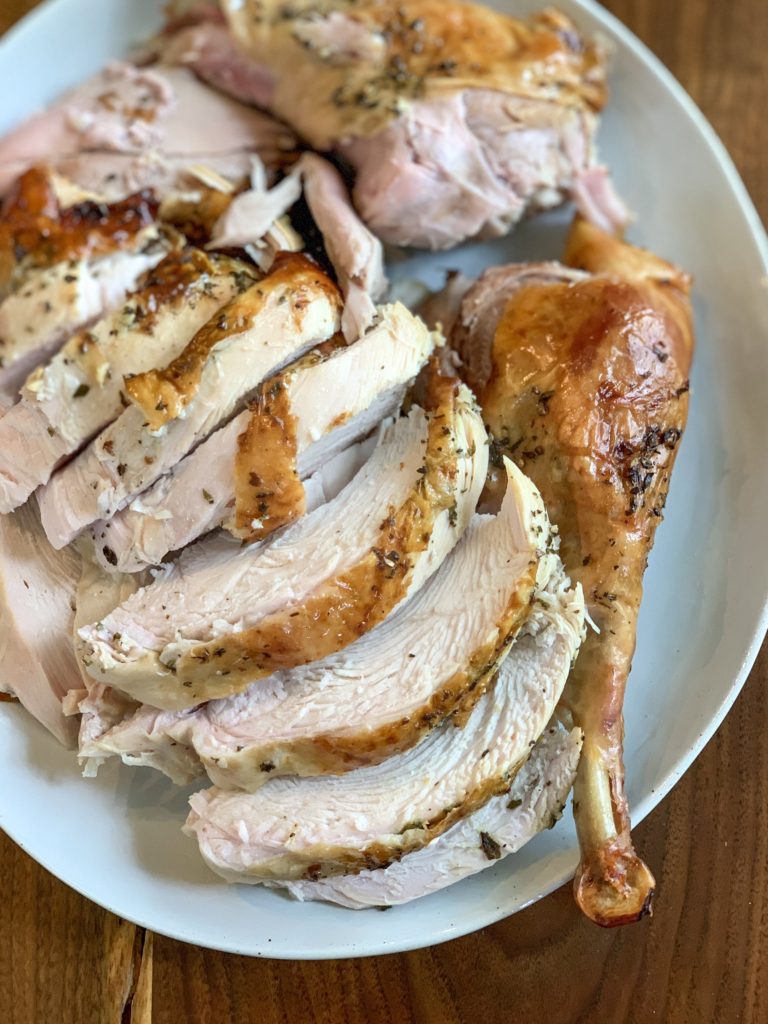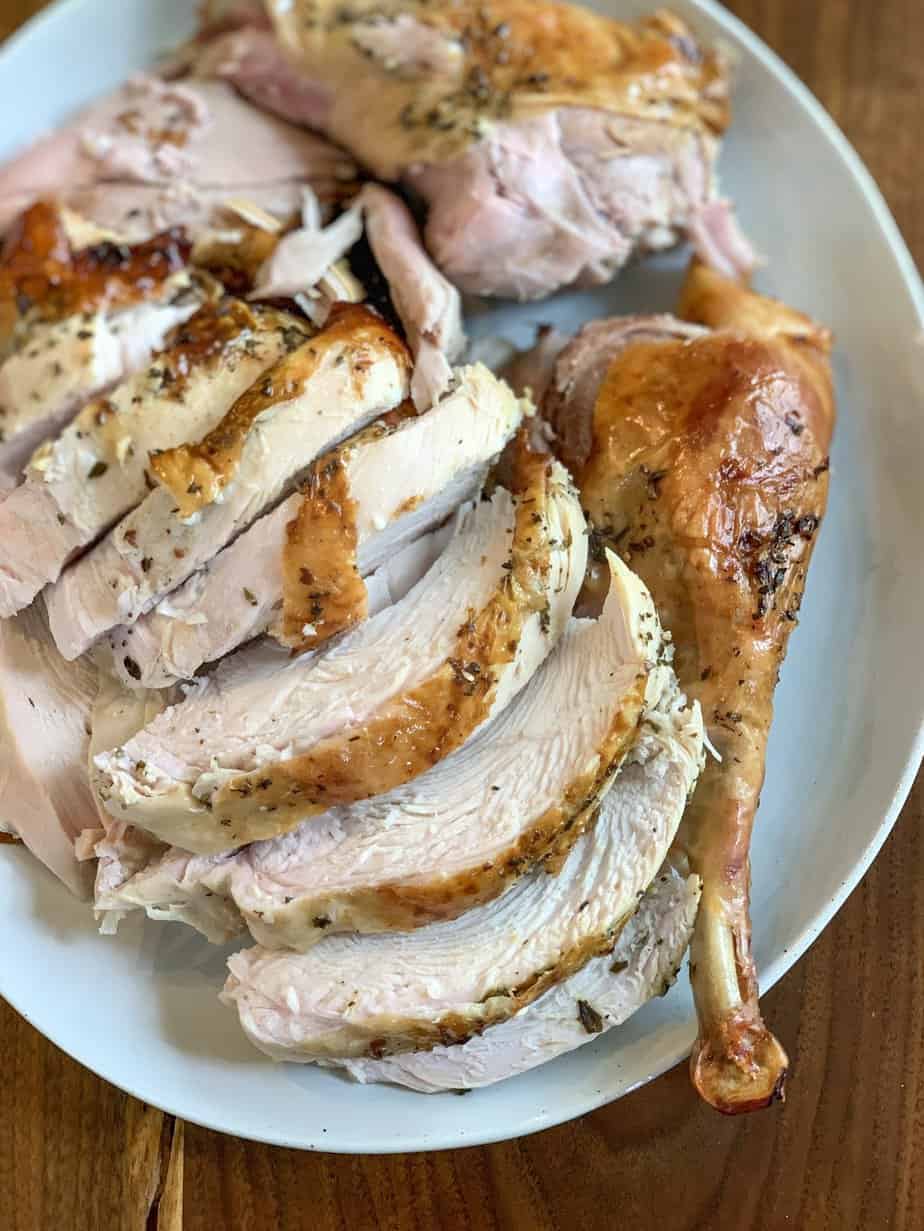 A few closing things to remember:
Turkeys are BIG and start out like big blocks of ice. It will need to thaw for several days before Thanksgiving to be thawed all the way through. I have included a chart below.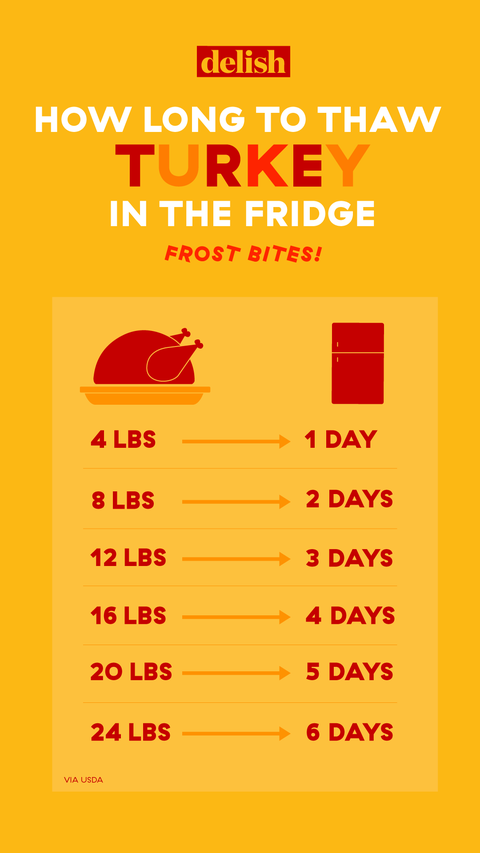 Remember to remove all of the gizzards, neck, gravy bag, etc. from your turkey before roasting. There are often things stuffed in both sides of the cavities so take care to double check!
Let it rest for a half hour before you slice it to let all the juices redistribute. Trust me, it will be crunch time at this point getting everything finished and dished up, so that time will go quickly. Just set it to the side, and let it relax.
If you're the host, consider having someone designated as the turkey carver. I find this is helpful, because you will be putting the finishing touches on everything, and the carving can be cumbersome. I always make my dad do it. 🙂 
Stay tuned for my Classic Turkey Gravy recipe! It uses a simple roux from the turkey fat and then is thinned out from the leftover juices. It's the perfect complement to this turkey!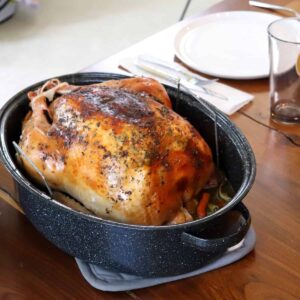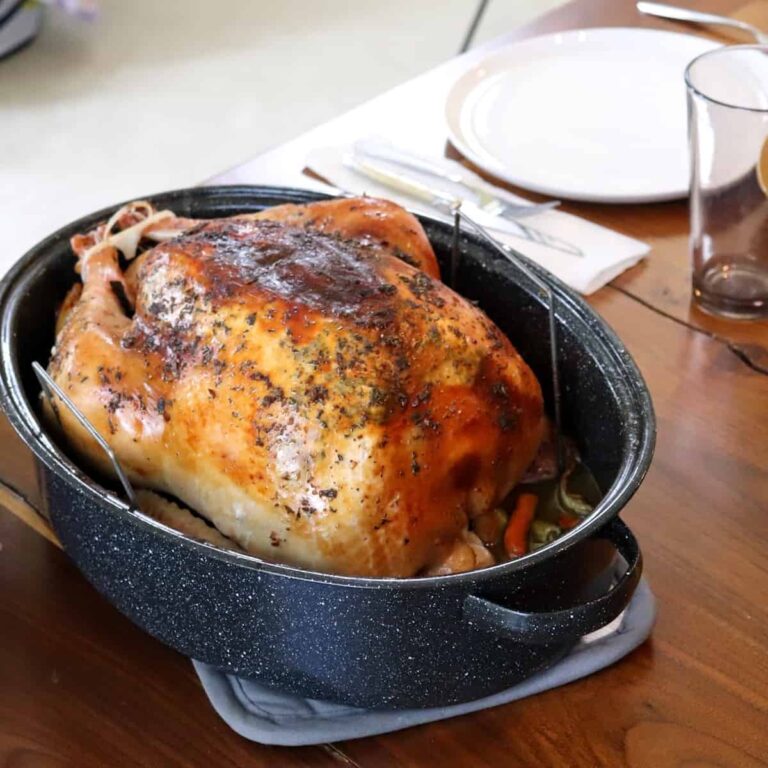 How to Cook the Perfect Thanksgiving Turkey
Equipment
1 Roasting Pan

1 Meat Thermometer
Ingredients  
1

18 lb.

turkey

thawed

3

carrots

cut into 3 inch pieces

3

celery stalks

cut into 3 inch pieces

1

lemon

quartered

1

large onion

cut into chunks

3

sprigs

fresh sage

left whole

3

sprigs

fresh rosemary

left whole

3

sprigs

fresh thyme

left whole
Compound Butter
1

cup

butter

(2 sticks)

6

cloves of garlic

finely minced

4-5

sprigs

fresh sage

stripped and chopped

5

sprigs

fresh thyme

stripped and chopped

2

sprigs

fresh rosemary

stripped and chopped

2

tablespoon

olive oil

1

tablespoon

salt

1

teaspoon

fresh ground black pepper
Instructions 
Creating the Compound Butter
Begin by taking your butter out of the fridge to begin softening.

Once butter is softened, mix your butter and other ingredients in a bowl.
Cooking the Turkey
Begin by preheating your oven to 325° F.

While it is in the roasting pan, open the package of your thawed turkey. There will be lots of juice, so make sure to catch it all in the pan.

Drain the pan in a sink and take out the neck and any giblet bag from inside the turkey. Also take this time to search for any feathers that may have gotten overlooked. Let sit on the counter for 30 minutes to dry out the skin a bit.

Pat down your turkey with a paper towel.

In your roasting pan, place the carrots and celery at the bottom. These will be used for your gravy later.

Place the turkey in your roasting pan, and tuck the wings underneath the body.

*MAKE SURE TO TAKE OFF ANY RINGS OR JEWELRY FOR THE NEXT STEP*

Use your fingers to gently reach underneath skin and separate it from the meat. Be careful not to tear it.

Take half of your compound butter and put it underneath the skin. Take the other half and spread it all over the top of your turkey, trying to get as much of it coated as possible.

Next, stuff the turkey cavity with your lemons, onions, thyme, sage, and rosemary. I like to also place a couple pieces of onion to put in the pan around the turkey.

Put the turkey in the oven with the lid on or tented with tin foil.

After 2 ½ hours, uncover the turkey and raise the heat to 375° F.

Bake for another 1 ½ hours until turkey is fully cooked through and a nice golden brown on the outside. It may start getting brown earlier than the inside is done, in which case just place your lid or tenting foil back on.

At about the 3 hour and 15 minute point, start temping your bird in multiple places to see where it's at (you want it to be 165° F). All ovens cook differently and if yours happens to run hotter (or colder), the turkey could be done faster (or slower).

Let turkey rest on the counter for 30 minutes after cooking to let all the juices redistribute. Then it's carving time!