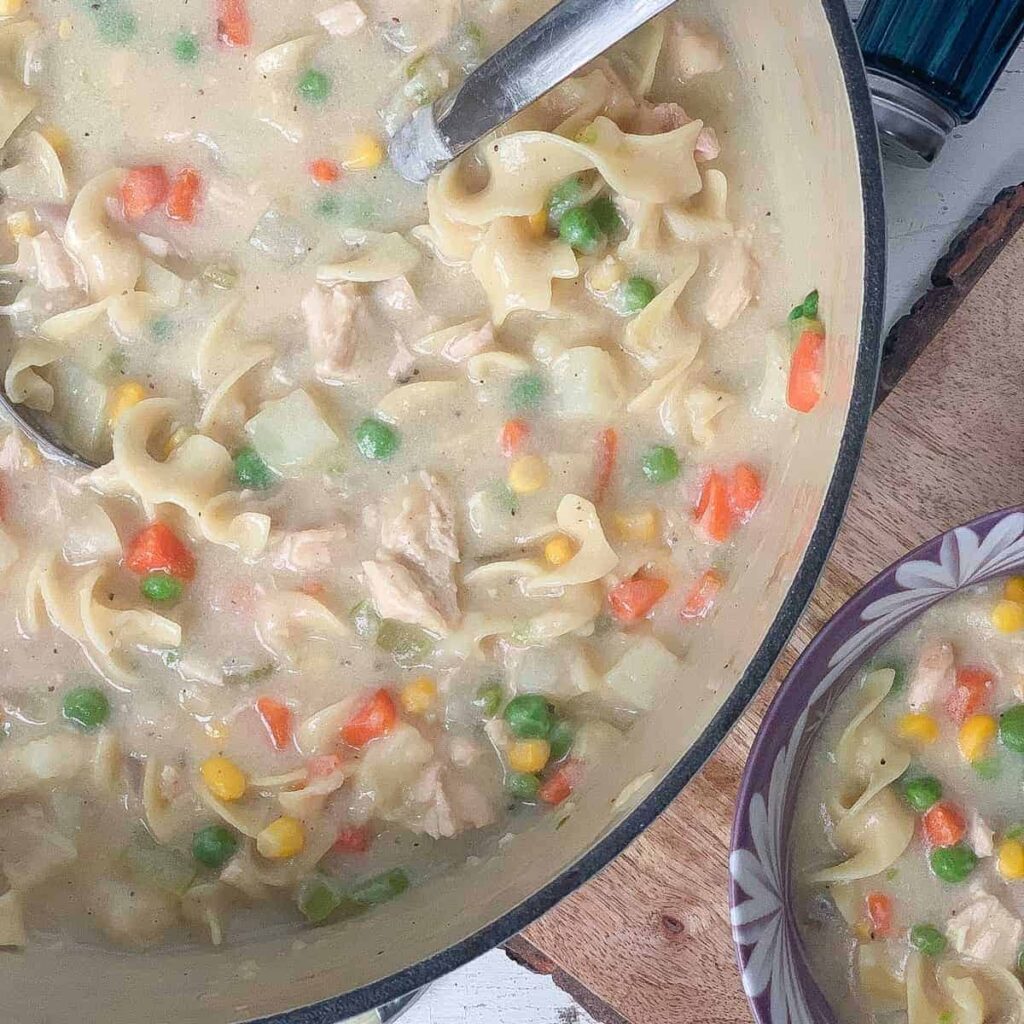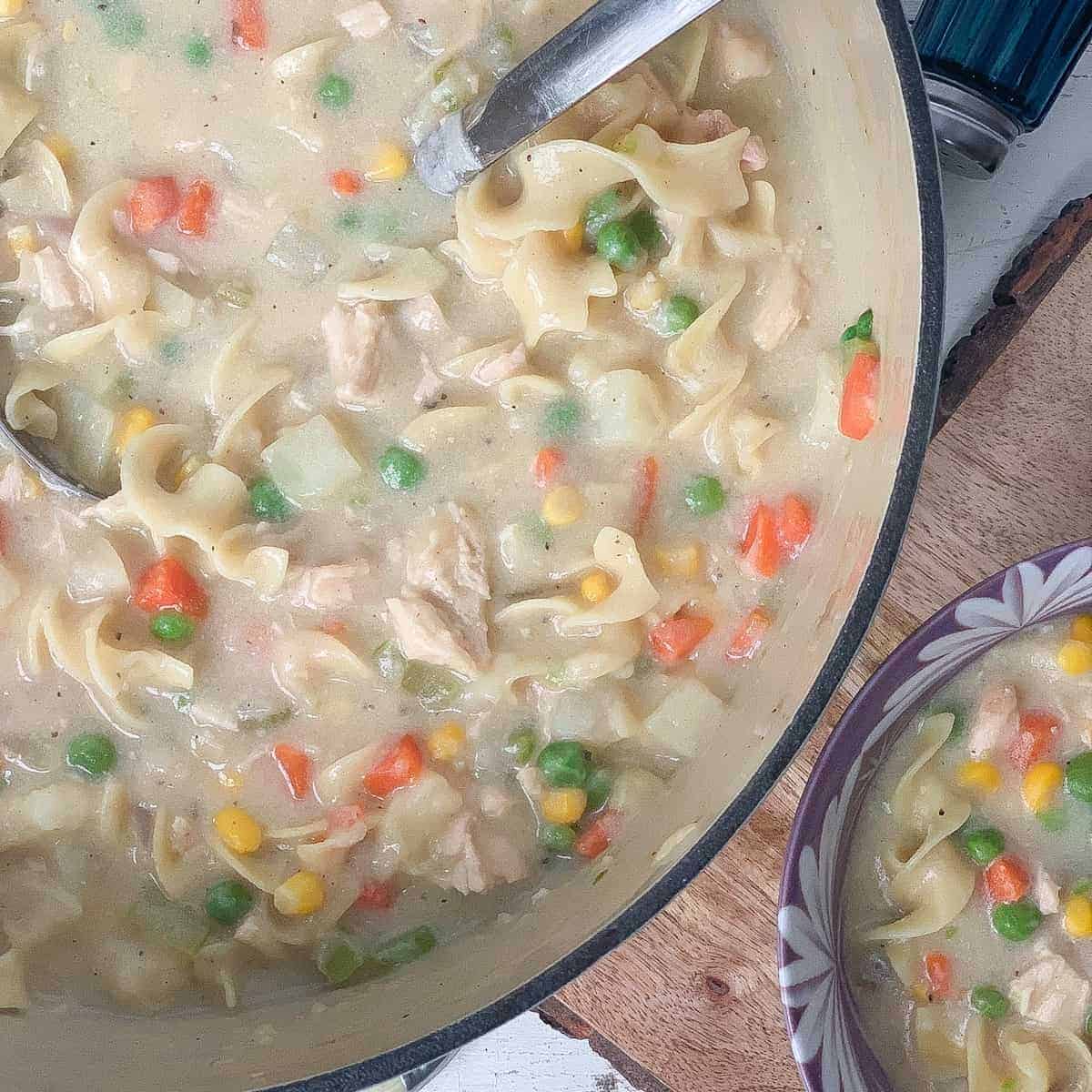 This soup is a recipe I made with my dad in mind. We went to Potbelly recently and they serve a Chicken Pot Pie soup that we both just loved.

Whenever my family goes out to eat, we all share food so everyone can try a little bit of something else. This works great for me, because I can get my regular order and still try lots of new things!

I love to experiment in the kitchen, but when I go out to restaurants I can be a creature of habit. There are just certain dishes I love from certain places! Potbelly is this way for me. I get the same thing every time. A skinny TKY with everything, add extra hot peppers and extra pickles. It's warm, it's spicy, IT'S SO GOOD. Maybe this has something to do with my personality-- that I'm loyal? OR maybe that I fear change. I'd prefer to think the former. Does anyone else stay with the same dishes at restaurants?

Chicken Pot Pie surely is a delicious dish that doesn't need to be changed. However, sometimes soup is just easier to pull off, especially if you don't want to make a pie crust.

I added noodles to this recipe, but feel free to omit them if you would like. There is already chunks of potato, so the soup doesn't need them. At Potbelly, the soup was served with pie crust crumbles on top, which I LOVED. But my thought in making this was to create an easily accessible weeknight dinner, and making a good pie crust seemed like an extra step. Feel free to try that if you want though-- I think it would be awesome.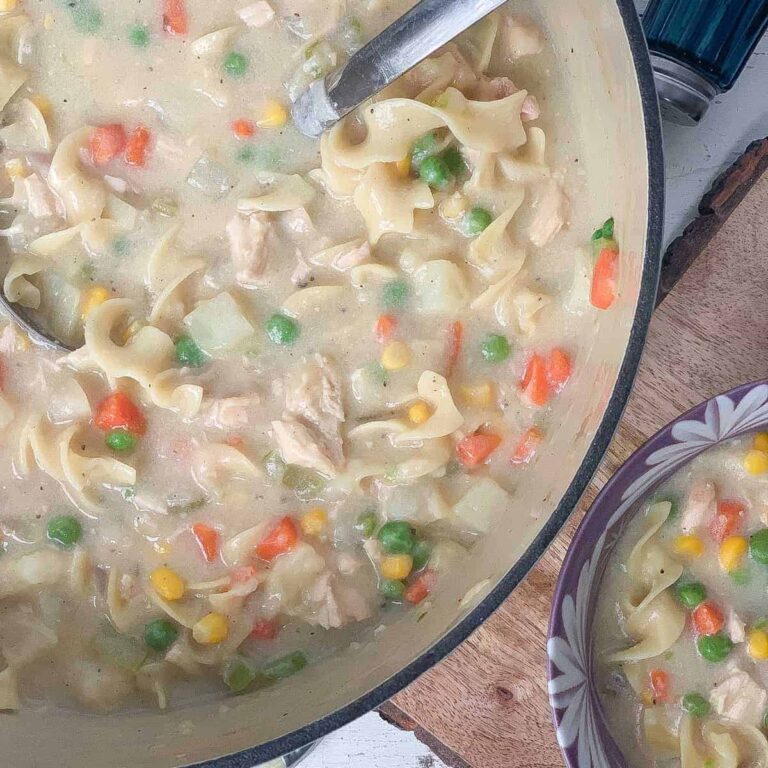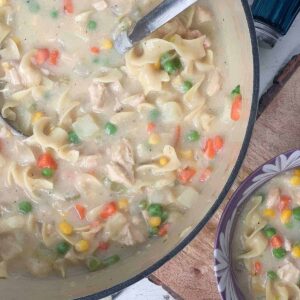 Chicken Pot Pie Soup
Ingredients
4

tbsp.

butter

1

onion

diced

2

carrots

peeled and diced

2

celery stalks

diced

¼

cup

flour

2

cups

whole milk

2

cups

cooked chicken breast

shredded

4

cups

chicken stock

1

tsp.

salt

½

tsp.

pepper

¼

tsp.

nutmeg

1

cup

frozen peas

1

cup

frozen corn

1

potato

peeled and diced

handful of butter noodles

optional
Instructions
Begin by melting butter in a large soup pot. Add in diced onions, carrots, and celery. Sweat for 5-10 minutes until onions are translucent.

Add in flour and stir for 1-2 minutes. Carefully whisk in milk until thickened.

Add chicken stock, potatoes, shredded chicken breast, salt, pepper, and nutmeg.

Simmer on Medium-Low heat for 20-25 minutes, or until potatoes are cooked through.

Add in frozen peas and corn, and cook an additional 5 minutes.

Serve soup as-is or add butter noodles and cook until noodles are softened.