Simple Rocca Salad with Shaved Parmesan is a simple way to serve arugula with a light dressing and a bit of cheese. This salad pairs really well with a wide variety of main dishes.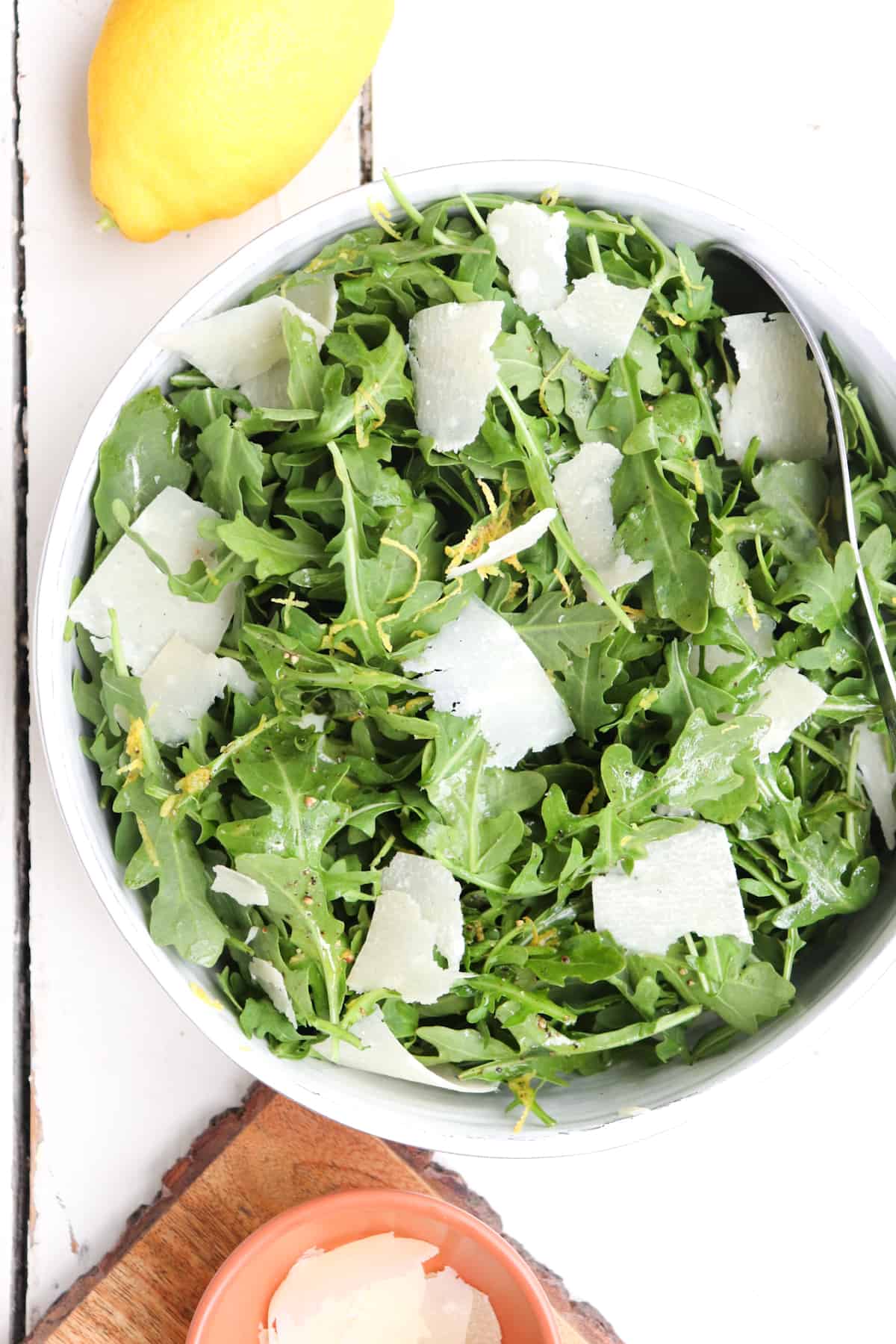 Arugula is one of my favorite greens to use because it truly has a unique flavor that brings a lot to a dish. It has a peppery bite, but it is not bitter. When you use the baby variety, it doesn't even have to be chopped.
I love adding it to pastas, like Lemon and Arugula Pasta and Goat Cheese and Arugula Pasta. It's amazing on sandwiches like Spicy Italian Turkey Pesto Sandwich and appetizers like Steak and Arugula Crostini.
This salad is a great way to showcase the lettuce and let it really stand out for what it is! Lemon pairs perfectly for that acidic bite. Parmesan is great for adding texture and nuttiness. And I love to load on the fresh cracked black pepper to intensify the already peppery leaf.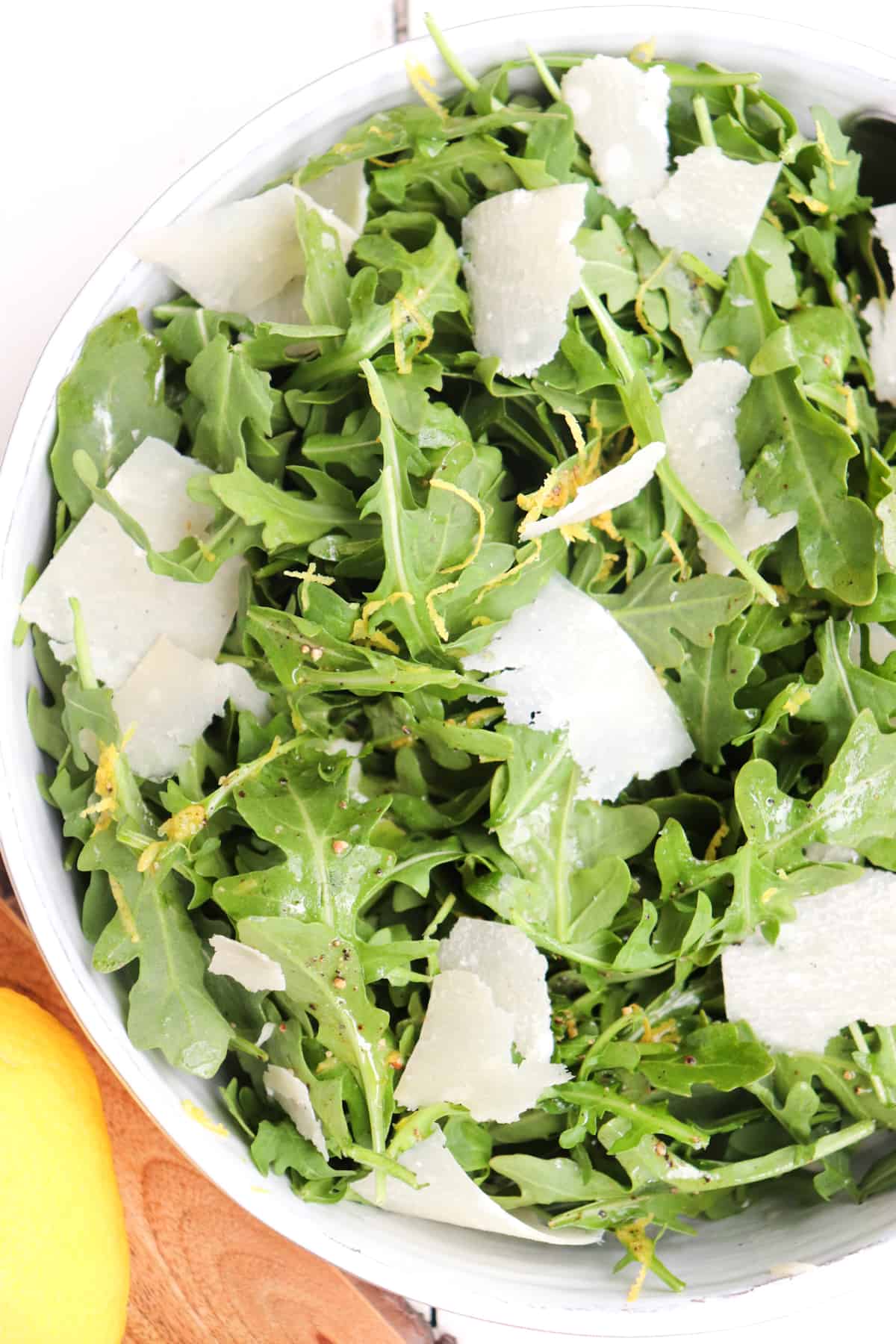 Arugula is very delicate and can wilt pretty fast. Make sure that you dress this salad immediately before serving it.
If you want, this recipe can easily be doubled. The dressing works as a great vinaigrette for lots of salads or chopped veggies!
Is Arugula the same thing as Rocca and Rocket?
Yes it is. In the U.S. this green is called arugula, in the UK it is call rocket, and in the Middle East-- like Lebanon-- it is called Rocca.
Arugula leaves are an herb that come from the mustard family and it is nutty and peppery.
Arugula grows to large leaves but most grocery stores sell baby arugula. Baby arugula is tender leaved and peppery.
Ingredients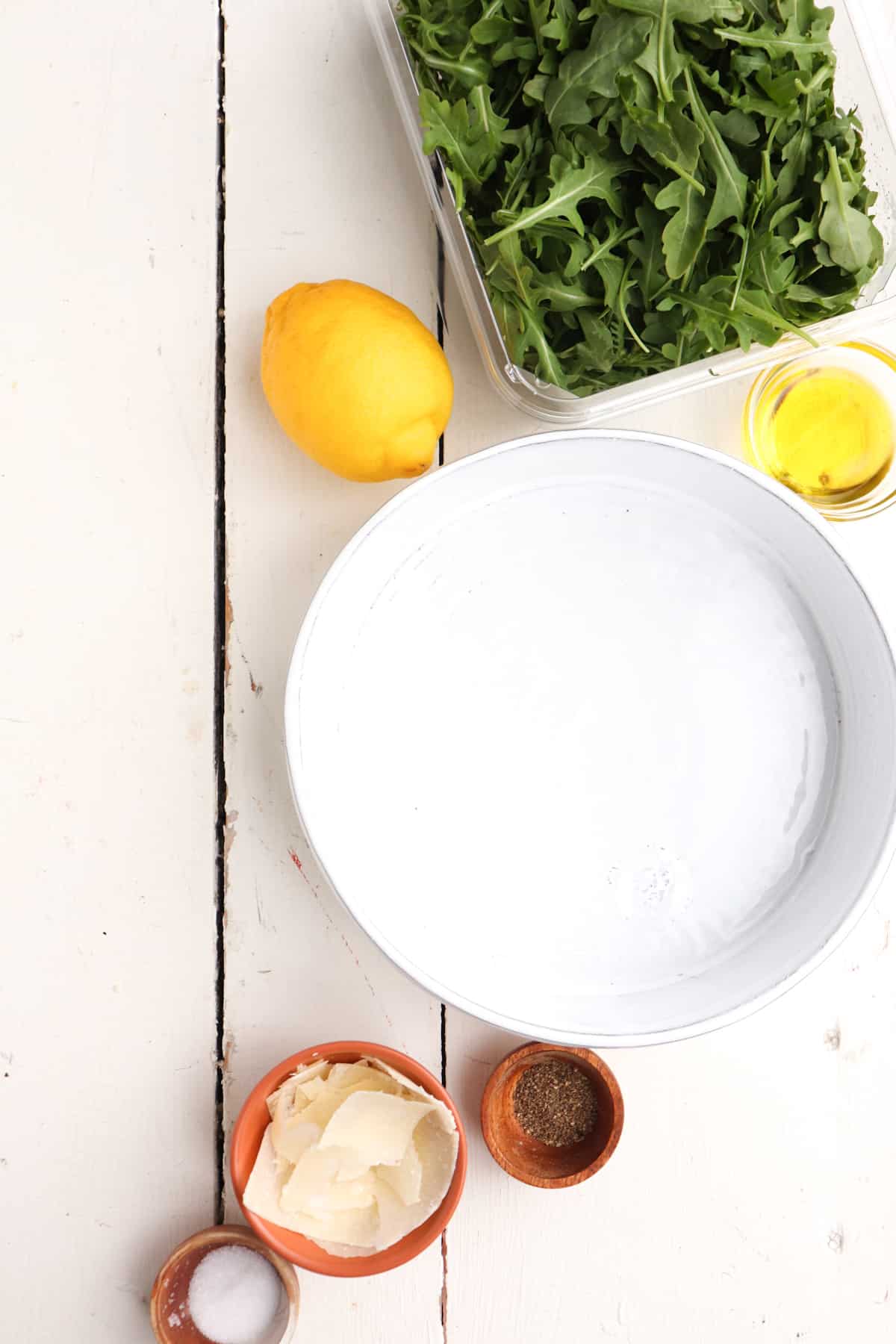 lemon
extra virgin olive oil
salt
pepper
shaved parmesan cheese
baby arugula
How to Make a Rocket Salad
Combine lemon zest, juice, olive oil, salt and pepper in a small bowl and stir to combine.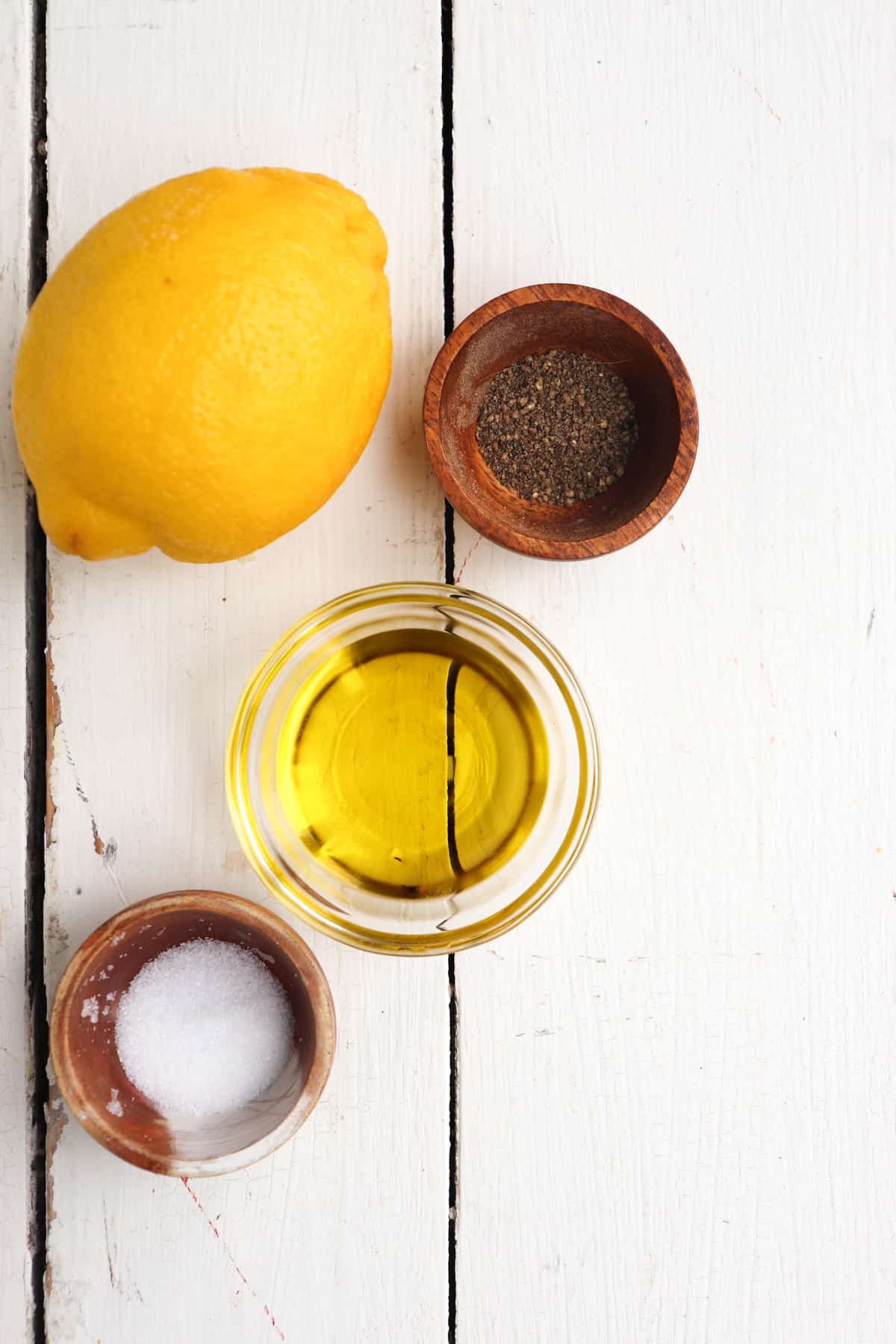 Place arugula in a serving bowl and toss with dressing.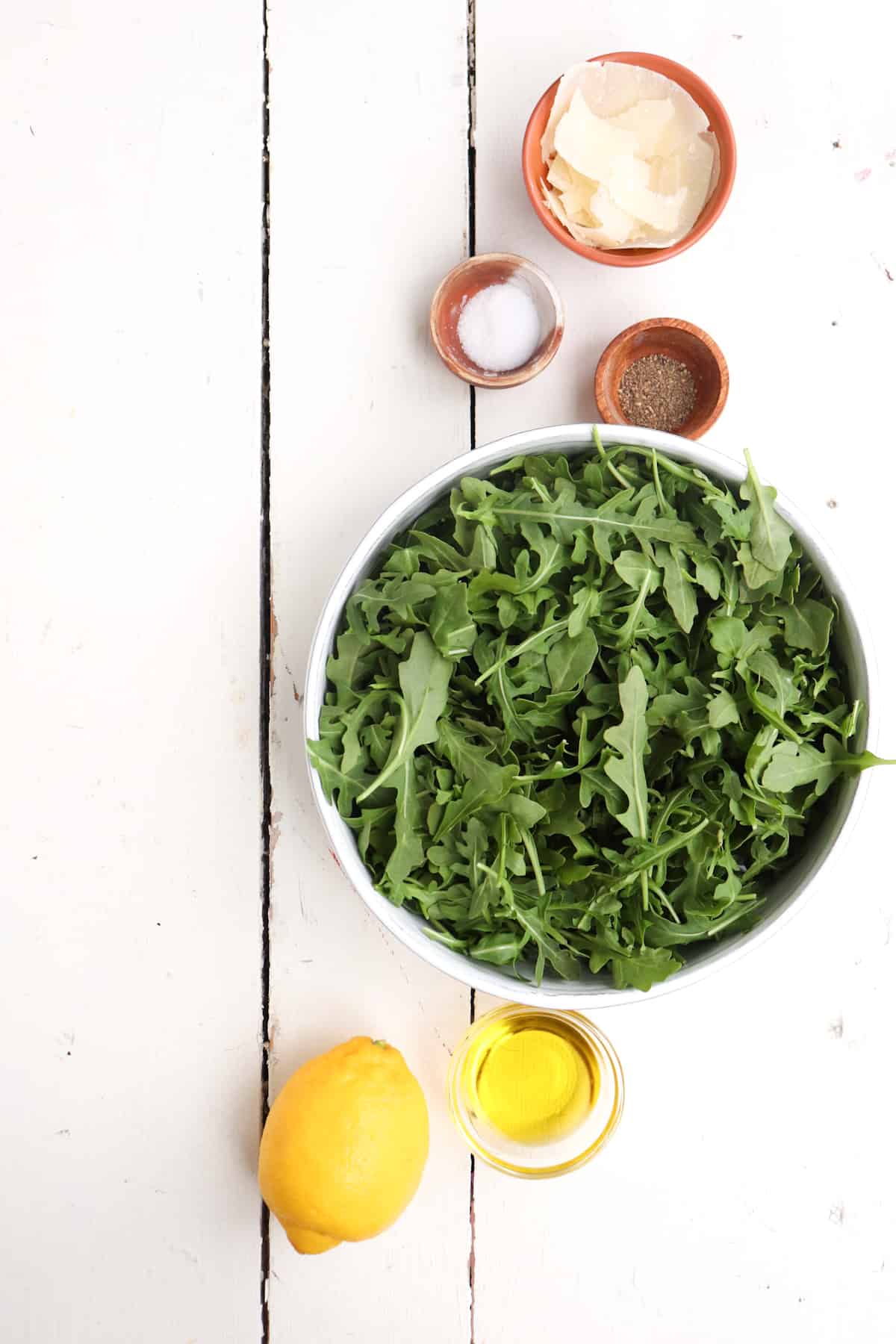 Top rocca salad with shaved parmesan. Serve immediately.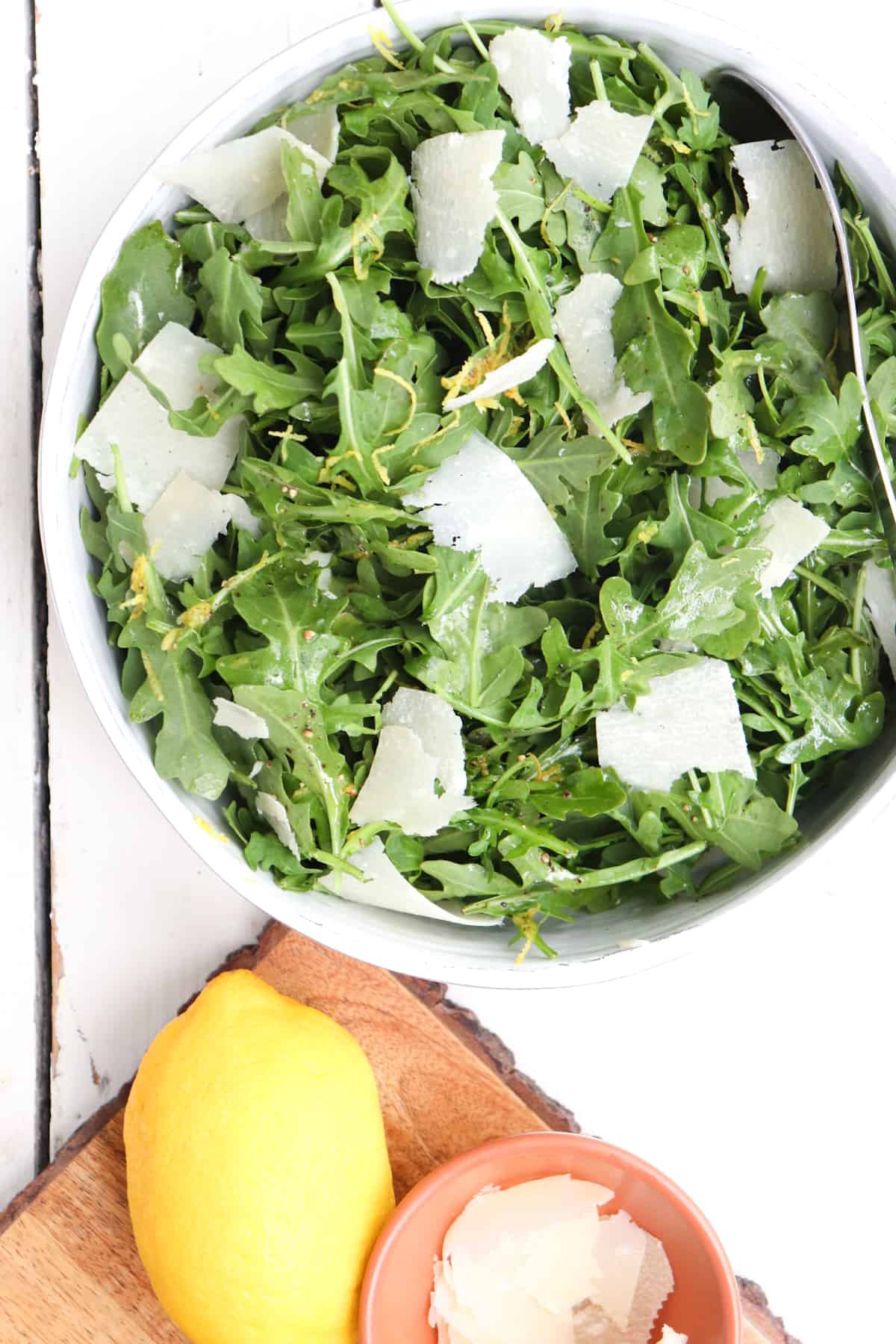 Tip for making shaved parmesan at home
To make big, beautiful pieces of shaved parmesan from a block, I find that a vegetable peeler is the best tool for the job. Hold the block in one hand and the peeler in the other and carefully peel towards yourself for the largest slices.
In general, I keep shaker grated parmesan (the kind in the green container) and a big block of parmesan on hand in the fridge and that gets me through all kinds of recipes!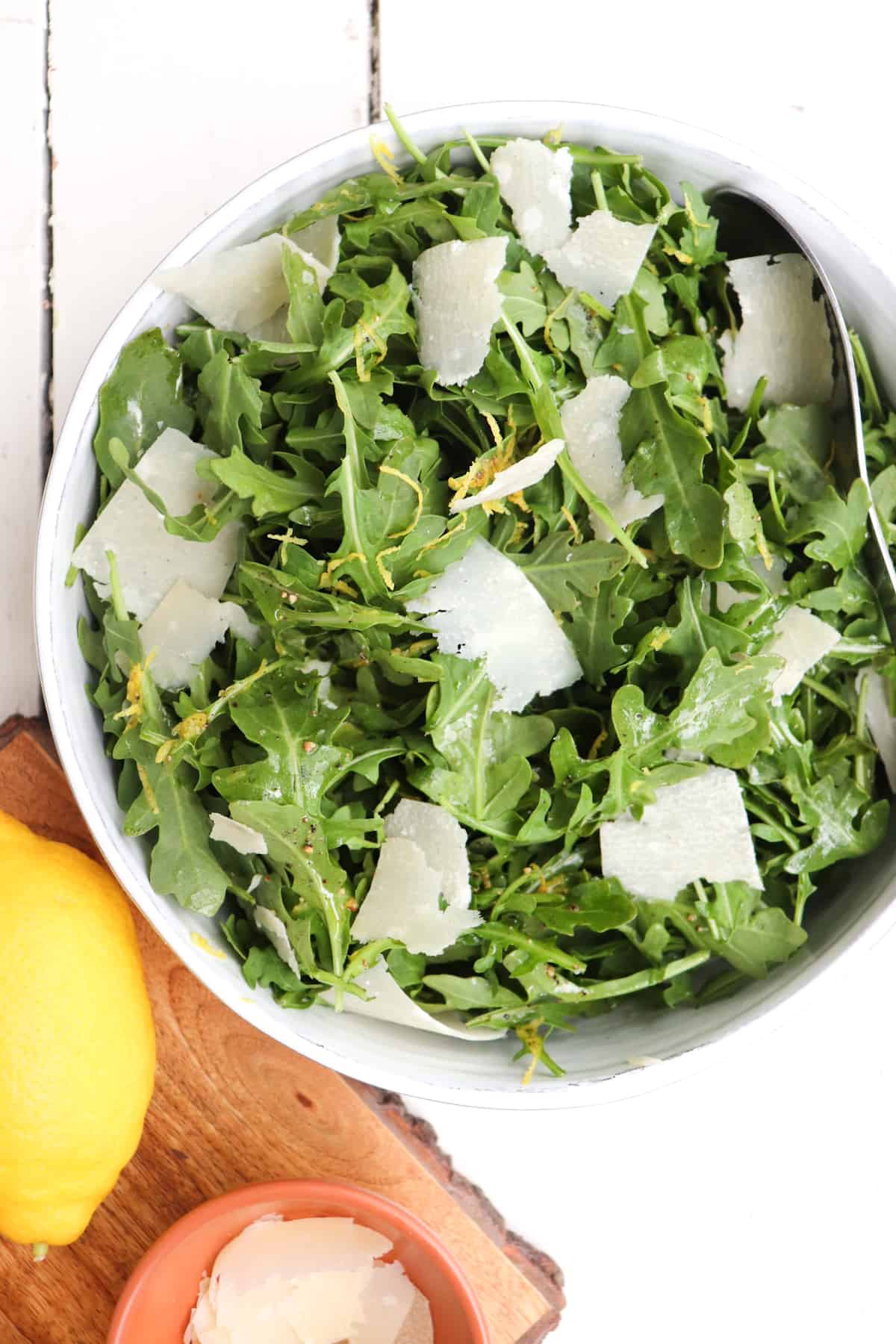 Additional Topping Ideas
substitute the lemon juice for balsamic vinegar for a sweeter dressing
walnuts
pomegranate seeds
pickled red onion or shallots
Storage
The dressing for the arugula salad can easily be made ahead of time and kept in an airtight container container in the fridge for up to a week.
Keep the dressing separate from the salad until just before serving to ensure the arugula leaves stay crisp.
If you are looking for more arugula recipes, try this Goat Cheese and Arugula Frittata or Sweet Corn and Arugula Salad.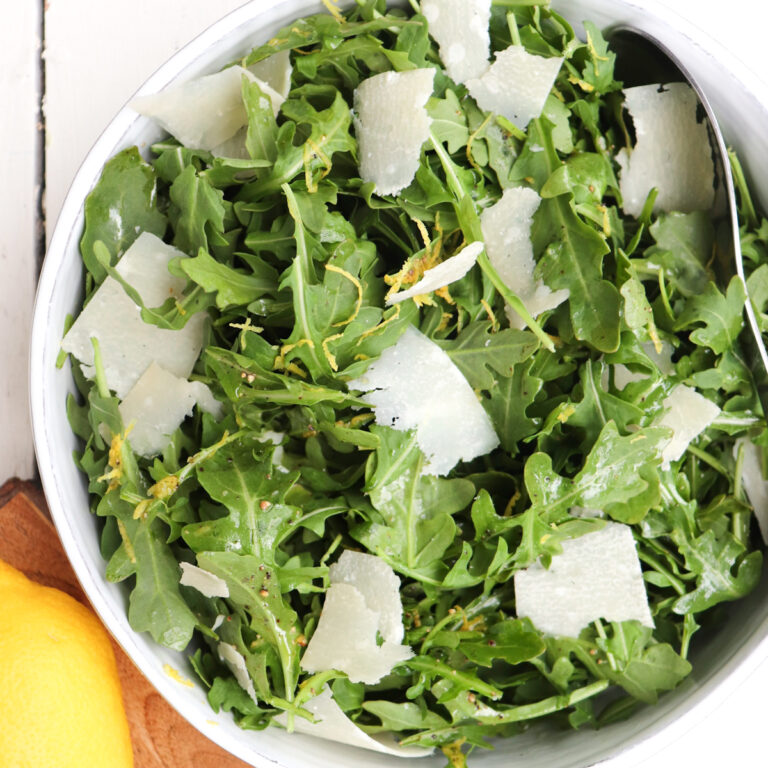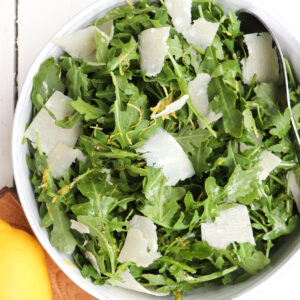 Rocca Salad with Shaved Parmesan
A simple Rocca Salad side dish combines super flavorful lemon, arugula, and parmesan for a wonderful combination.
Ingredients
½

lemon zested and juiced

2

tablespoon

olive oil

salt to taste

pepper to taste

1

oz.

shaved Parmesan cheese

5

oz.

baby arugula
Instructions
Combine lemon zest, juice, olive oil, and salt and pepper in a small bowl and stir to combine.

Place arugula in a serving bowl and toss with dressing.

Top with shaved Parmesan. Serve immediately.
Nutrition
Serving:
1
g
Calories:
100
kcal
Carbohydrates:
3
g
Protein:
3
g
Fat:
9
g
Saturated Fat:
2
g
Polyunsaturated Fat:
6
g
Cholesterol:
6
mg
Sodium:
283
mg
Fiber:
1
g
Sugar:
1
g