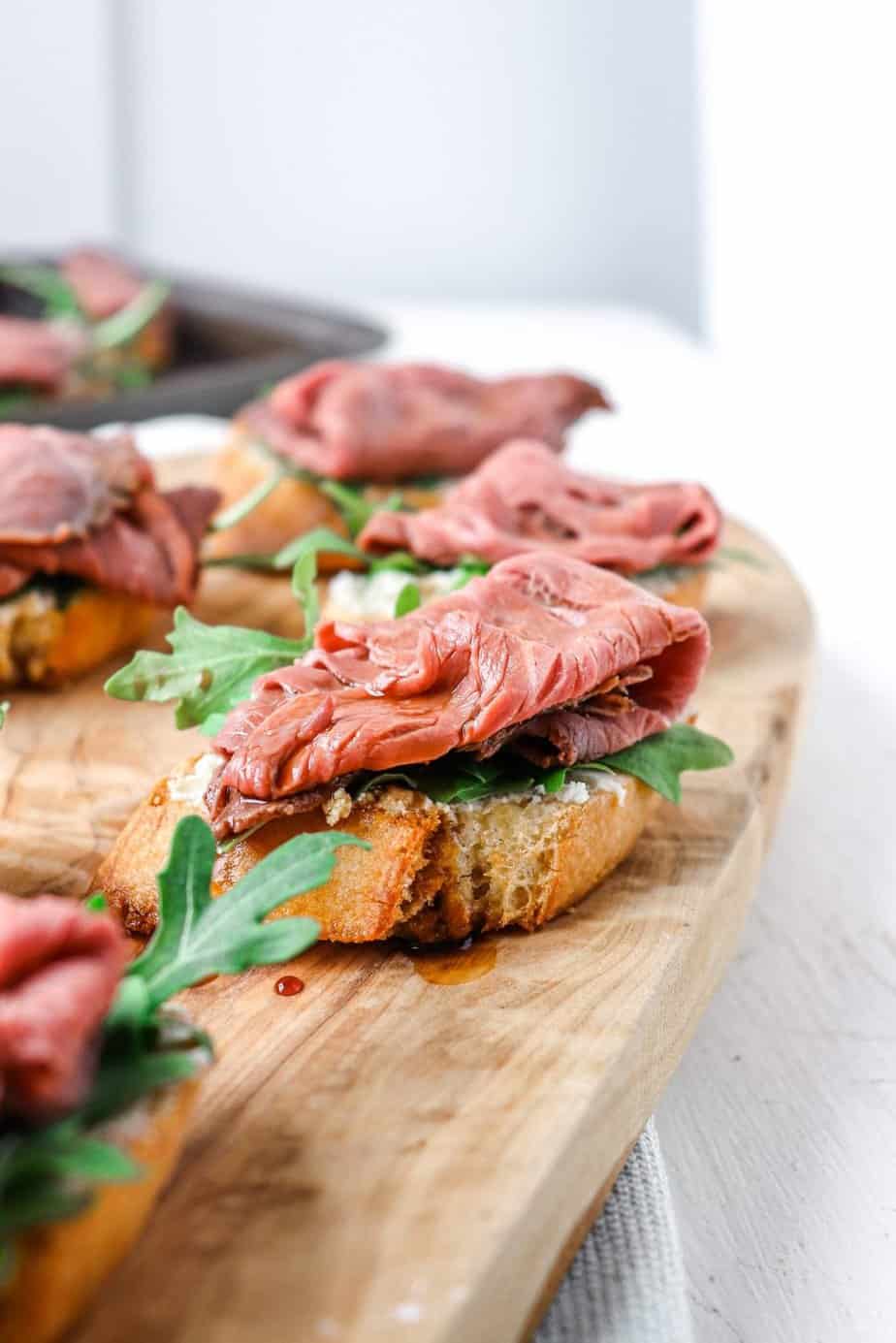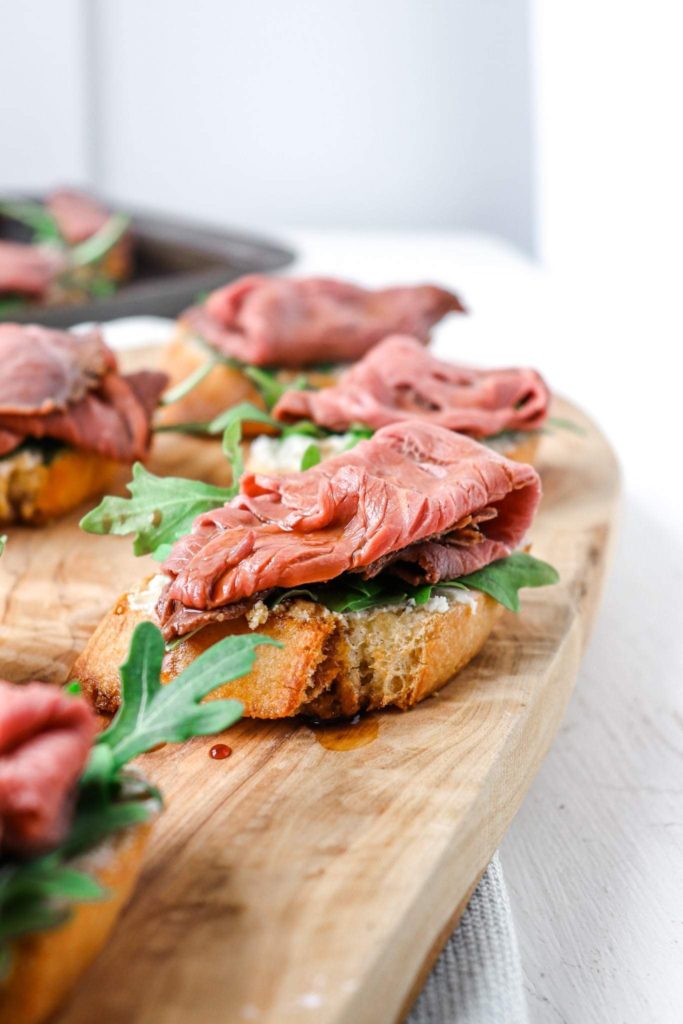 Today I am sharing the easiest, most delicious crostini recipe ever! They are super flavorful, but only take about 20-25 minutes from start to finish. I love finger food for appetizers, because they make it easier on your guests to eat standing, walking, sitting, and everything in between. When you chatting at a party, the easier the better!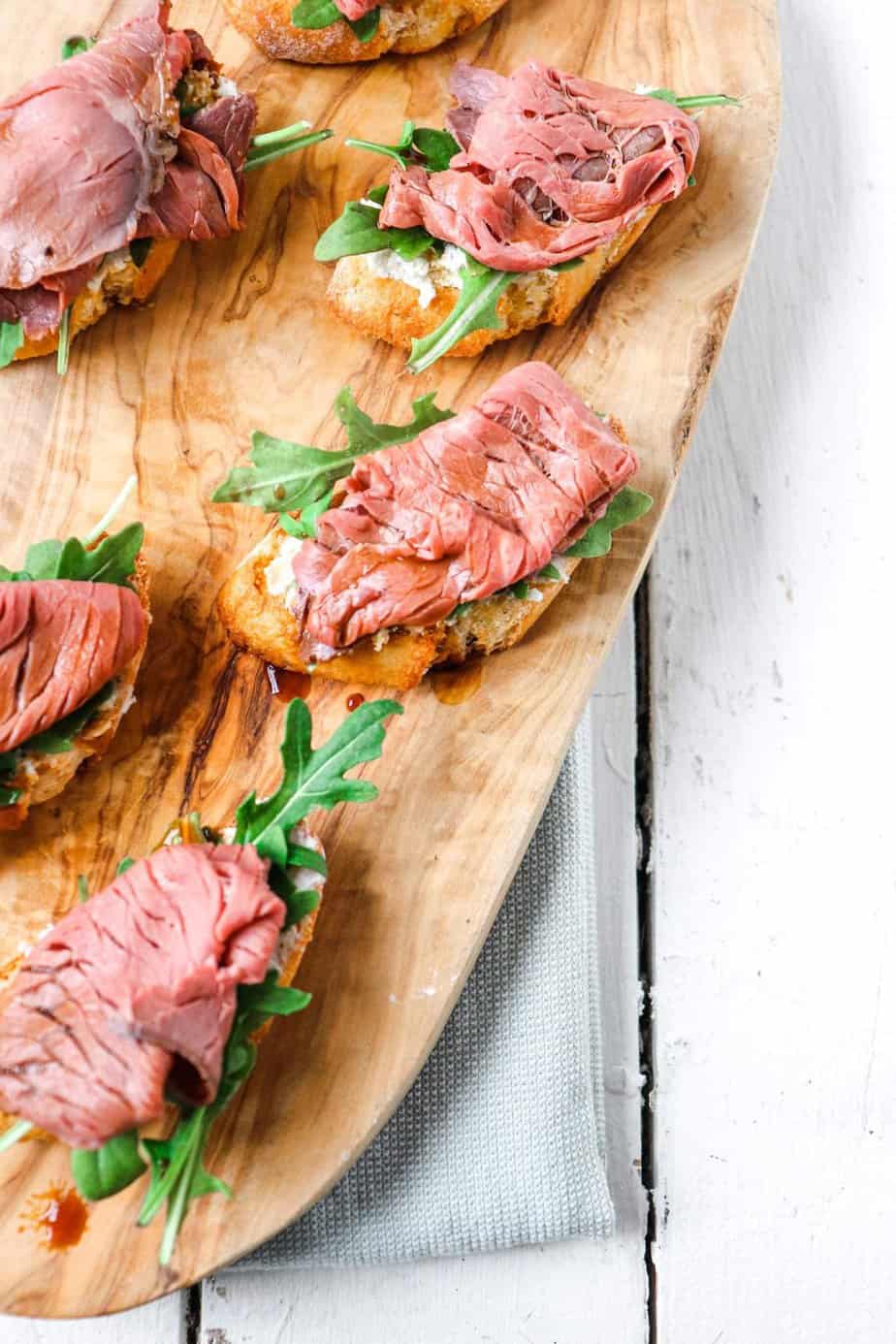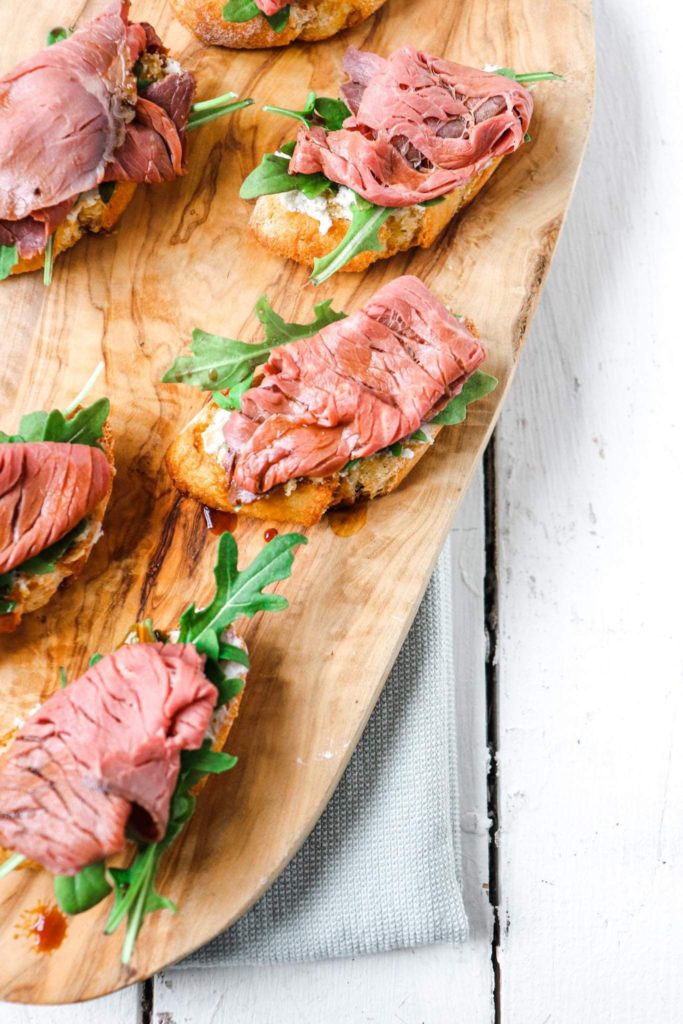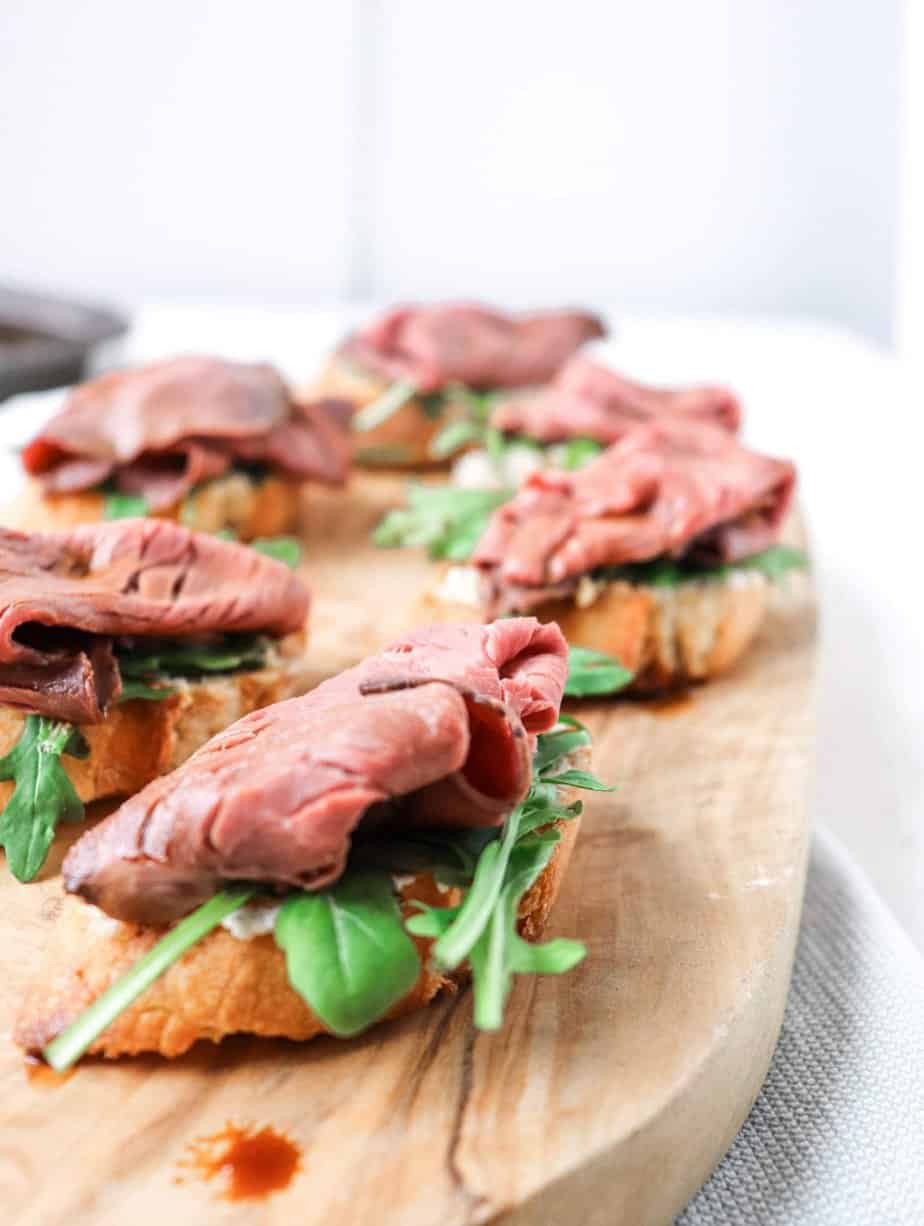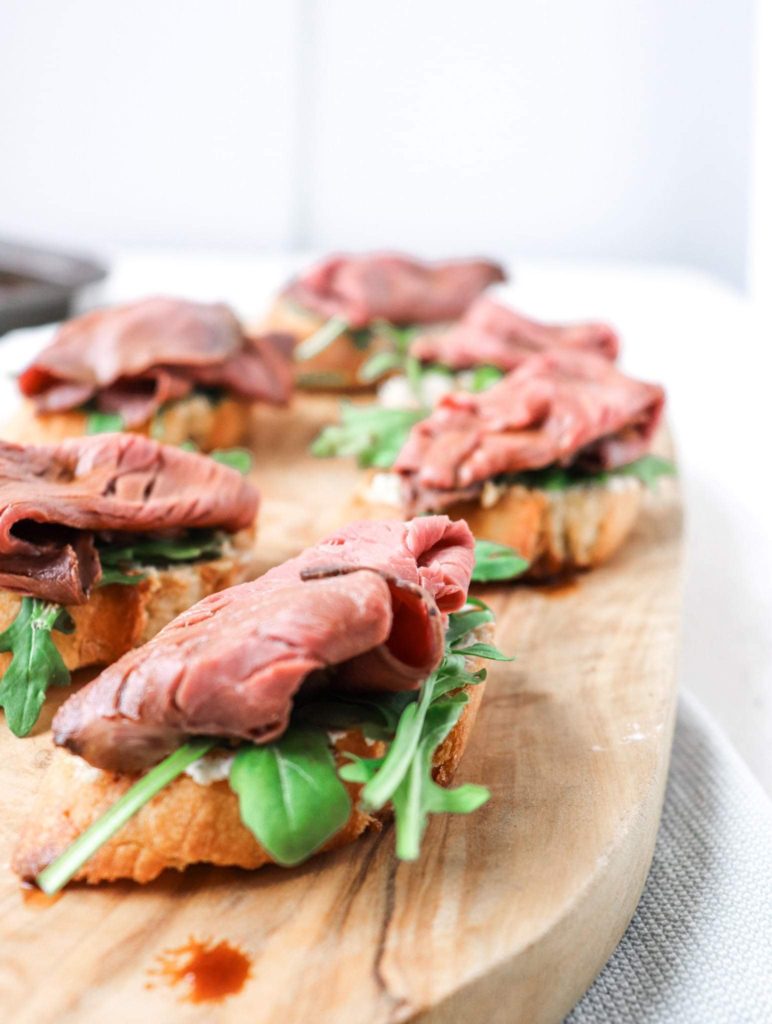 These crostini are not only easy for the guests to enjoy, but easy on the cook as well! They are 5 ingredients, and the only "cooking" you have to do is browning the little toasts in the oven. Everything else is just assembly. Every ingredient is key, and full of flavor.
Your secret weapon for keeping these simple and delicious: high quality roast beef from the deli section of your local grocery store. You heard that right, this is lunchmeat! I swear your taste buds won't be able to tell the difference, and your sanity and kitchen will thank you. I simply went up to my deli counter and asked the man what his favorite roast beef was and explained what I was making! Most often I find they are incredibly helpful and give great suggestions. This time was no different, I left with a mildly seasoned roast beef cut slightly on the thicker side. Another bonus of using deli meat, is the price is very affordable. Even though I was choosing a quality lunchmeat, it was on sale, and for a half a pound, the total came out to about 5 dollars!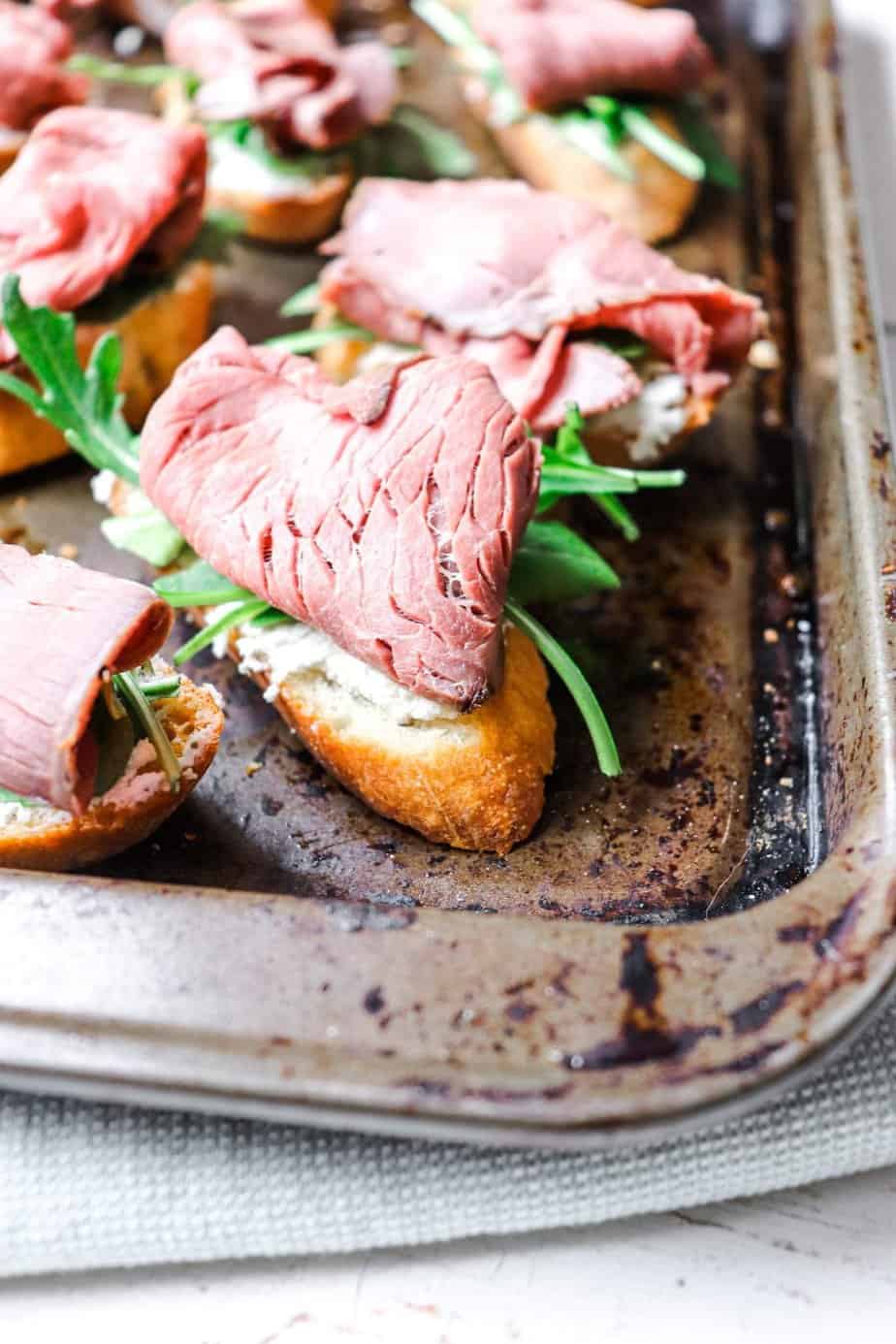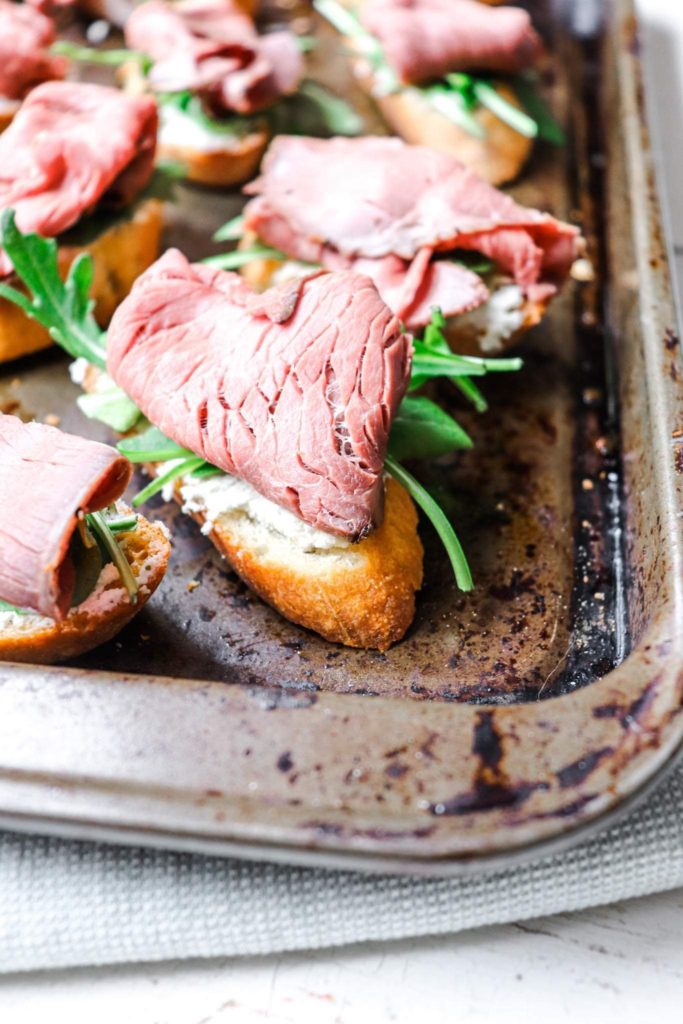 The Boursin cheese is another key player, I chose the shallot and chive variety to bring more flavor to the party! It's still a pretty mild cheese, but with just enough extra zing.
The arugula has nice, small leaves, that fit perfectly on the little toasts. You all know that I love arugula already for the peppery kick it offers.
For the balsamic, I literally just drizzled a bit of vinegar over the top of each toast. You could make a glaze if you want to by cooking down the vinegar until it's syrupy. I bet that would be delicious! My goal was to make these as easy as possible, and that's why I stuck with the regular vinegar. I am happy with the results!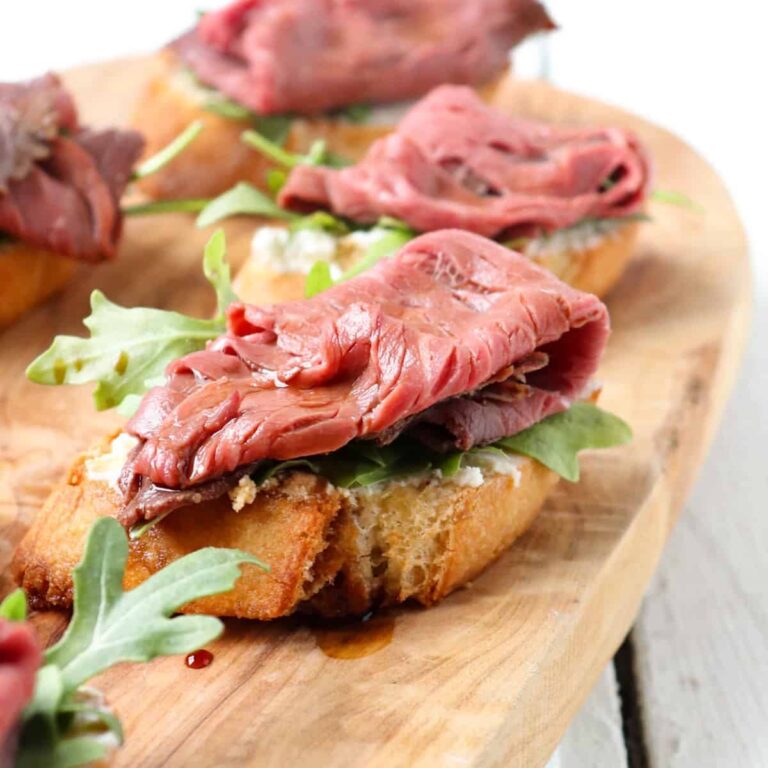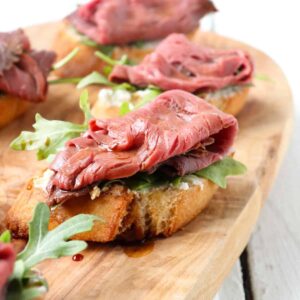 Roast Beef and Arugula Crostini
Ingredients  
1

french baguette

cut into ½-inch rounds

olive oil

for drizzling

2

cups

Baby Arugula

5.2

oz.

package shallot and chive Boursin cheese

½

lb.

quality roast beef

2

tablespoon

balsamic vinegar
Instructions 
Preheat oven to 425 degrees.

On a baking sheet, place pieces of french baguette and drizzle with olive oil. Place in the oven and cook for 10 minutes until they are golden brown.

Remove from oven and spread with cheese, about a ½ tbs. per toast.

Place a few leaves of arugula on top of the cheese.

Top with a bit of roast beef, I used about ⅓ - ½ a slice per round.

Drizzle with balsamic vinegar and serve.