I have tried in the past to make sushi at home, but I never seem to get it right. It doesn't stay together, or when I try to slice it, it all falls apart. I have decided to leave that to the professionals, BUT when I am craving sushi at home, this Cooked Salmon Poke Bowl Recipe is what I turn to! It has all of the flavors of a salmon sushi roll, in an easy to make bowl format. It has cooked salmon, so it is not technically poke, but it uses the same concepts! Below, I will show you how to make a simple poke bowl with salmon, avocado, rice, green onions, and cucumbers.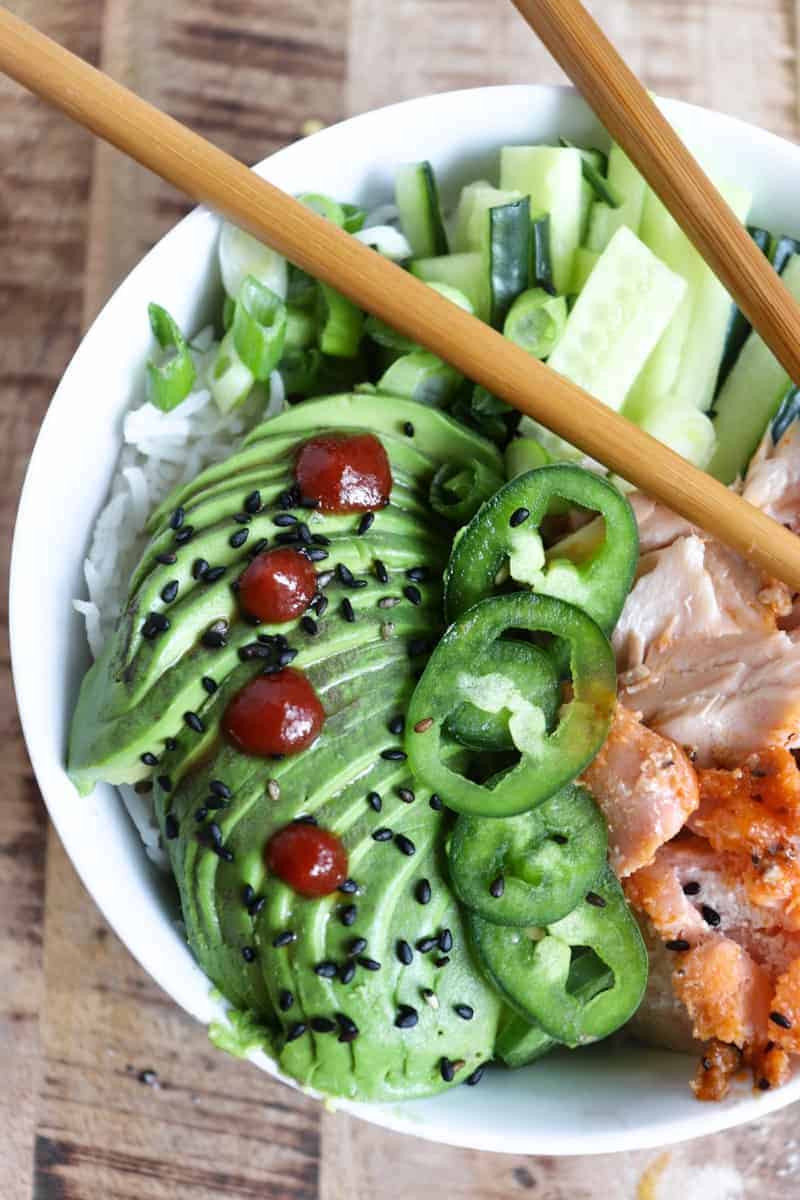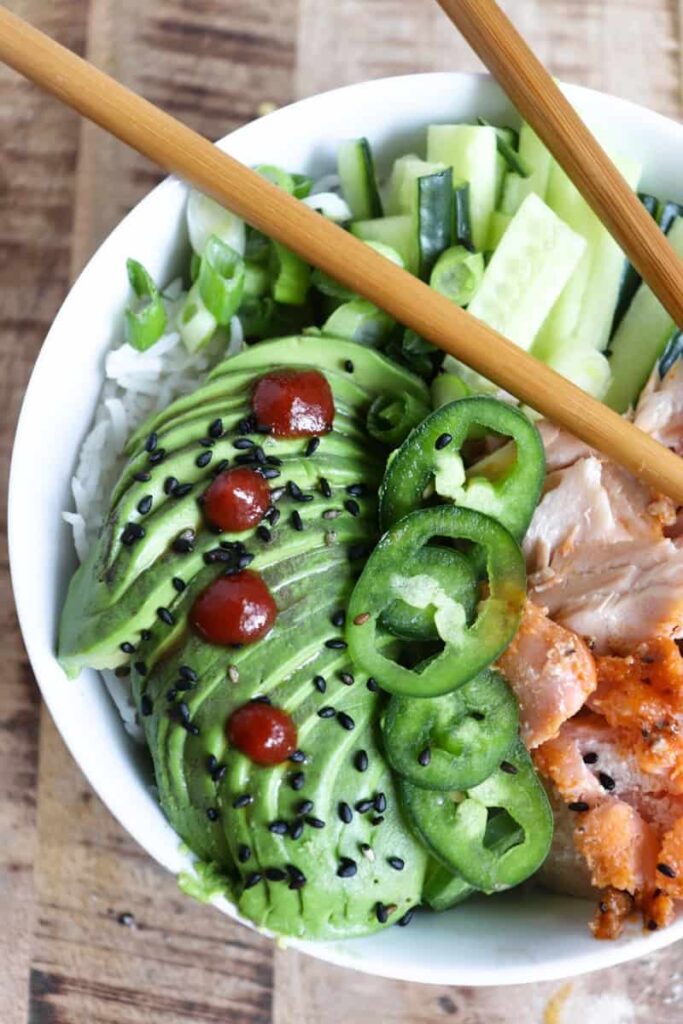 Looking for more seafood inspiration? Try Buttery Shrimp Scampi, Cajun Butter Shrimp, or Creamy Shrimp with Zoodles.
Does a poke bowl have raw fish?
Yes, it typically does! I used cooked salmon here, but if you are able to find raw sushi grade salmon from a reputable source, go for it! Some asian markets, well stocked grocery stores, even local sushi restaurants would be good places to check. Raw fish is absolutely lovely in this, and more traditional. Cooked salmon is what I had on hand, so that's what I used.
What ingredients do you need for a salmon poke bowl?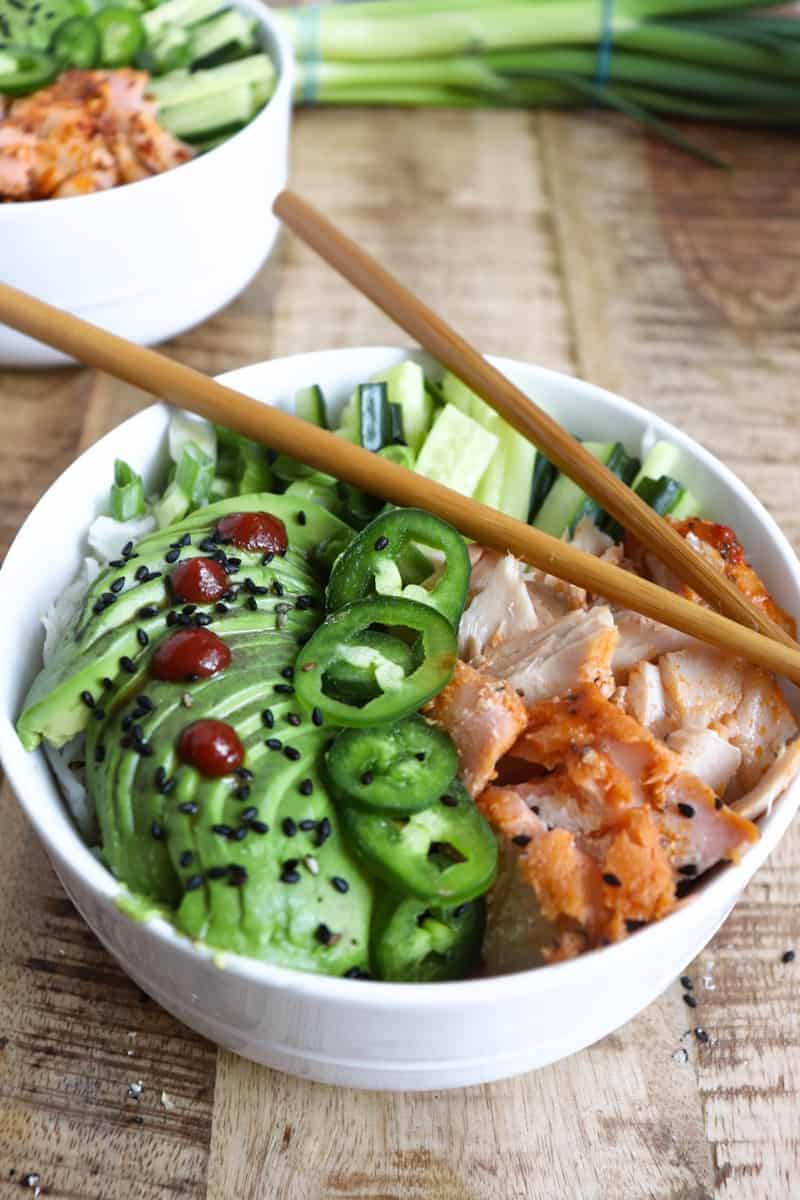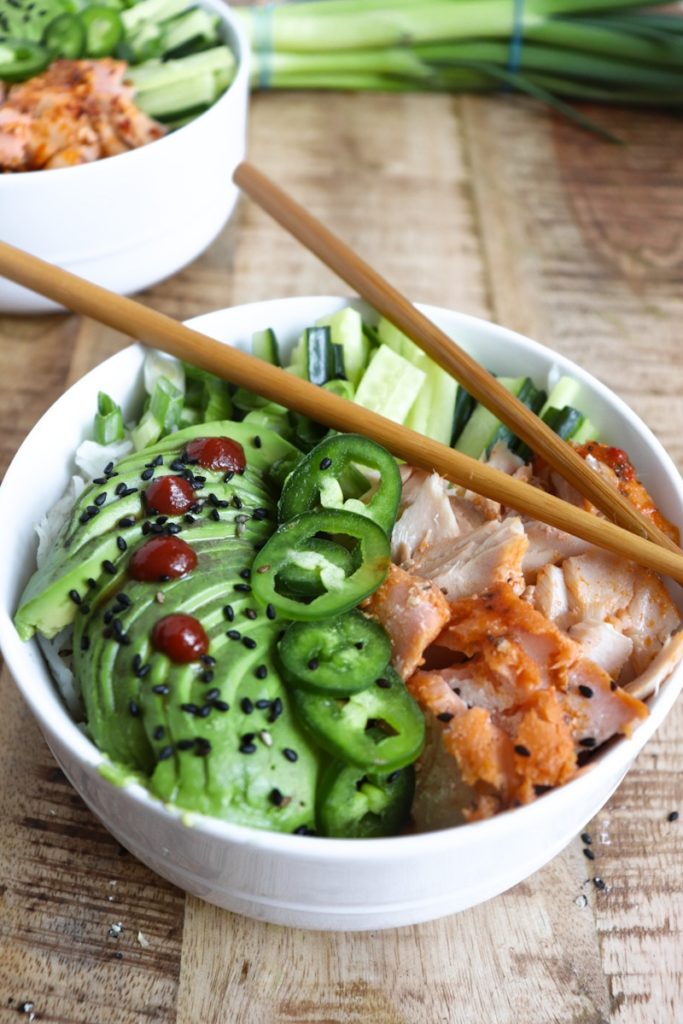 I like to think of my favorite sushi rolls and use those to inspire creativity when making a bowl. One of the best parts of poke bowls is the customization!
Some toppings include:
fish of your choice
cucumbers
avocado
jalapeno (I love the crunch they give!)
rice
sesame seeds
green onions (I used Josie's Organics, of course!)
sriracha
edamame
asparagus spears
bell pepper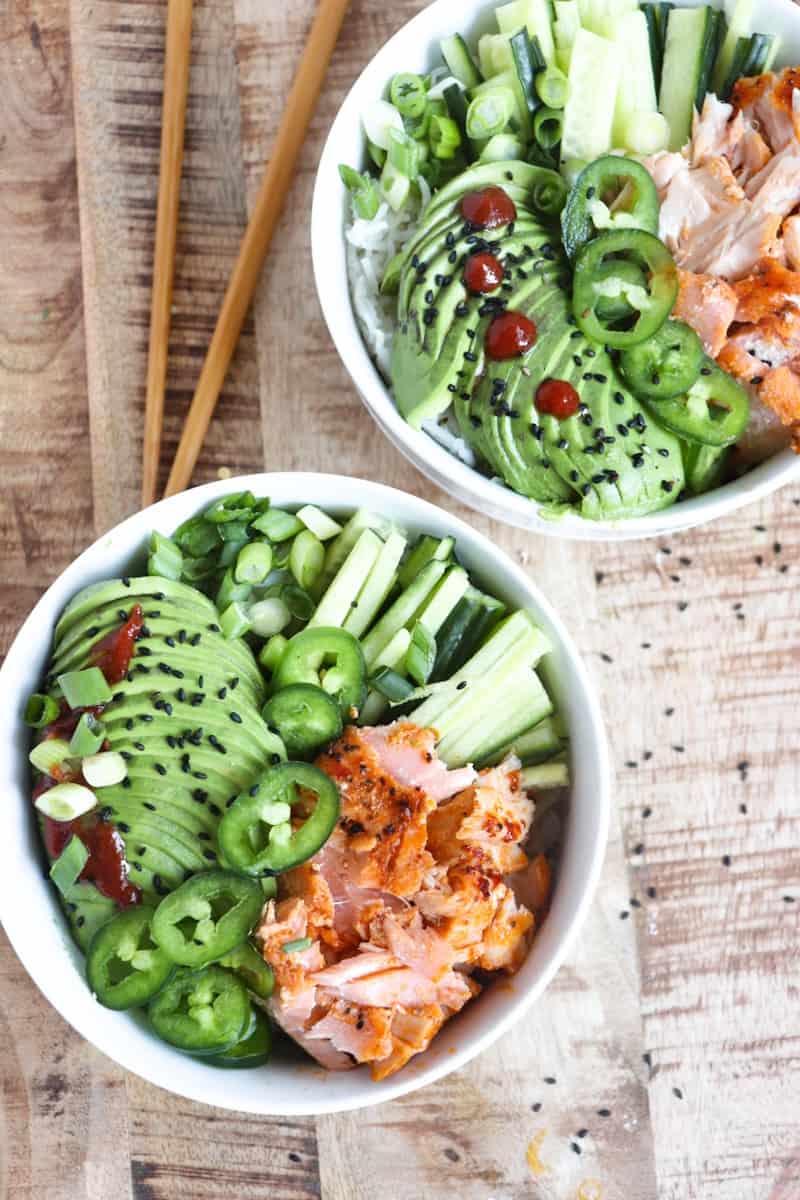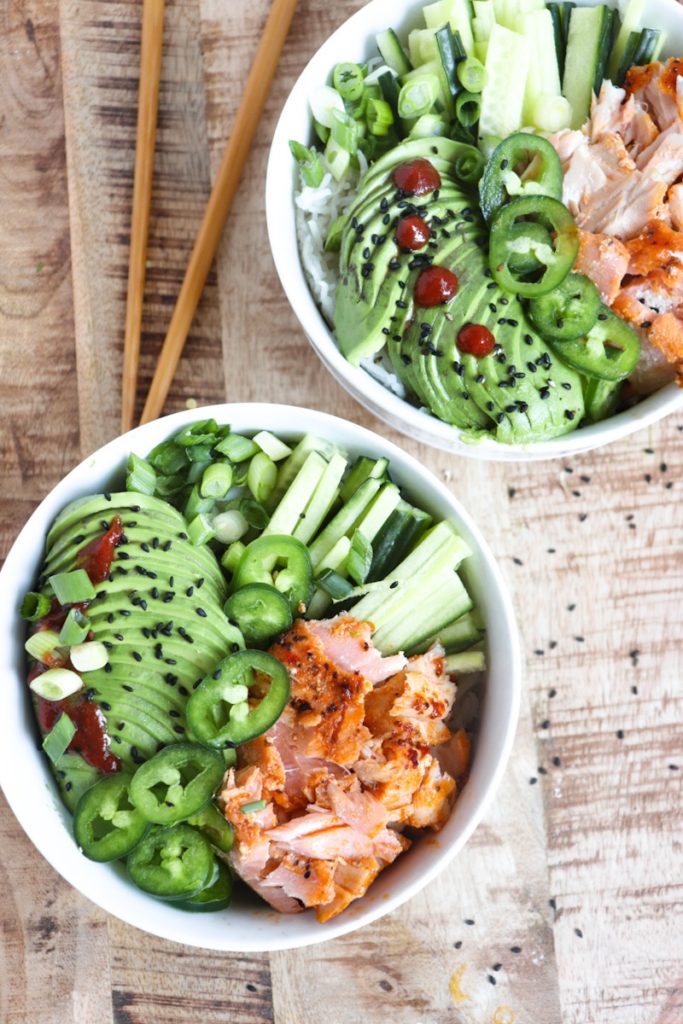 How do you season the fish?
I suggest a very light marinade. Poke bowls are known to be light and refreshing, and there are already lots of toppings like jalapenos, sesame seeds, and green onions to add flavor. For two pieces of salmon:
¼ cup soy sauce
1 tablespoon rice wine vinegar
1 teaspoon toasted sesame oil
Now comes the fun part... Assembling your cooked salmon poke bowl.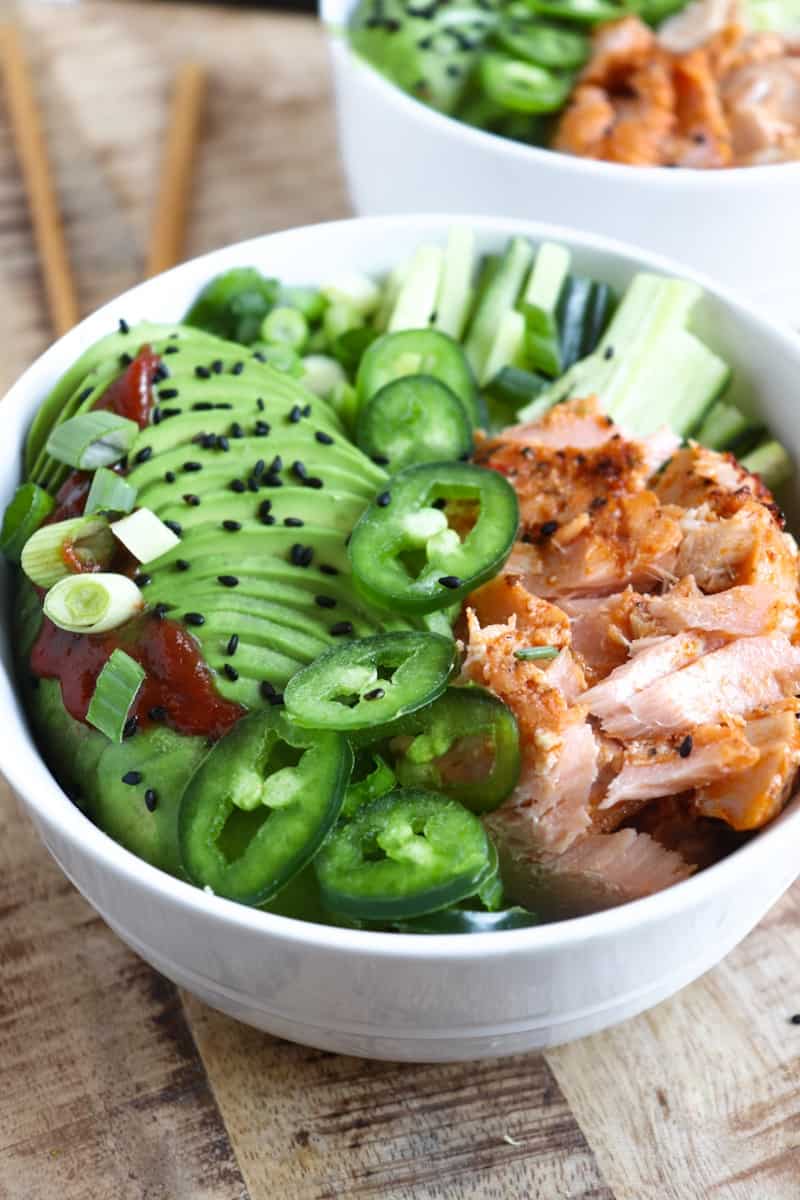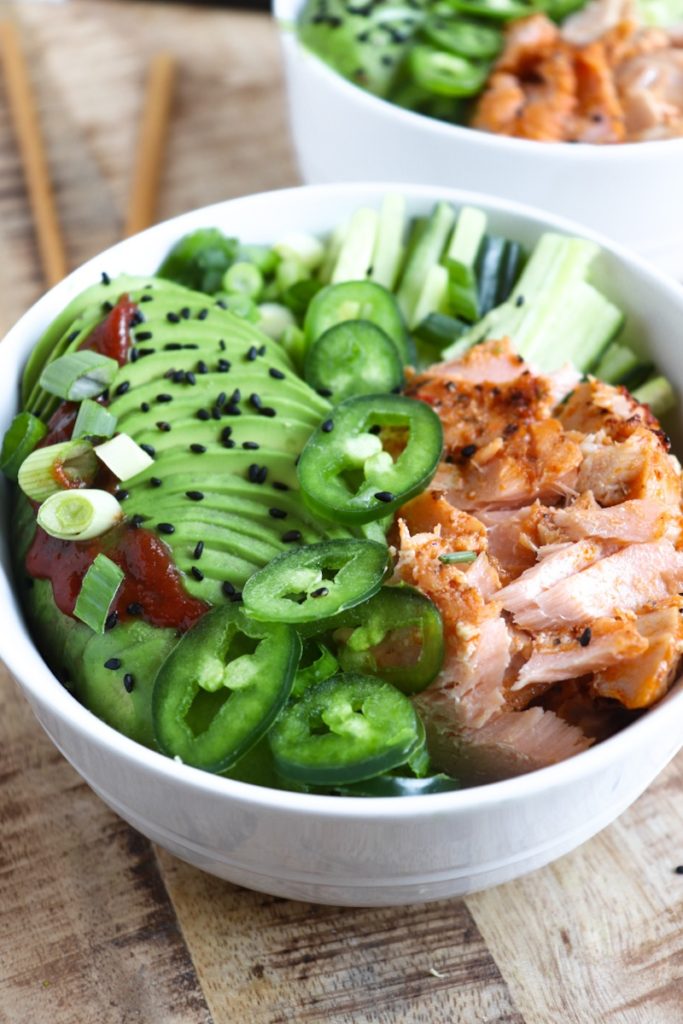 You can be as creative as you want, or just toss everything on a bed of rice.
These bowls work great for meal prep. If you do that, I would suggest doing them without fish or with cooked salmon. The raw poke should be eaten day of.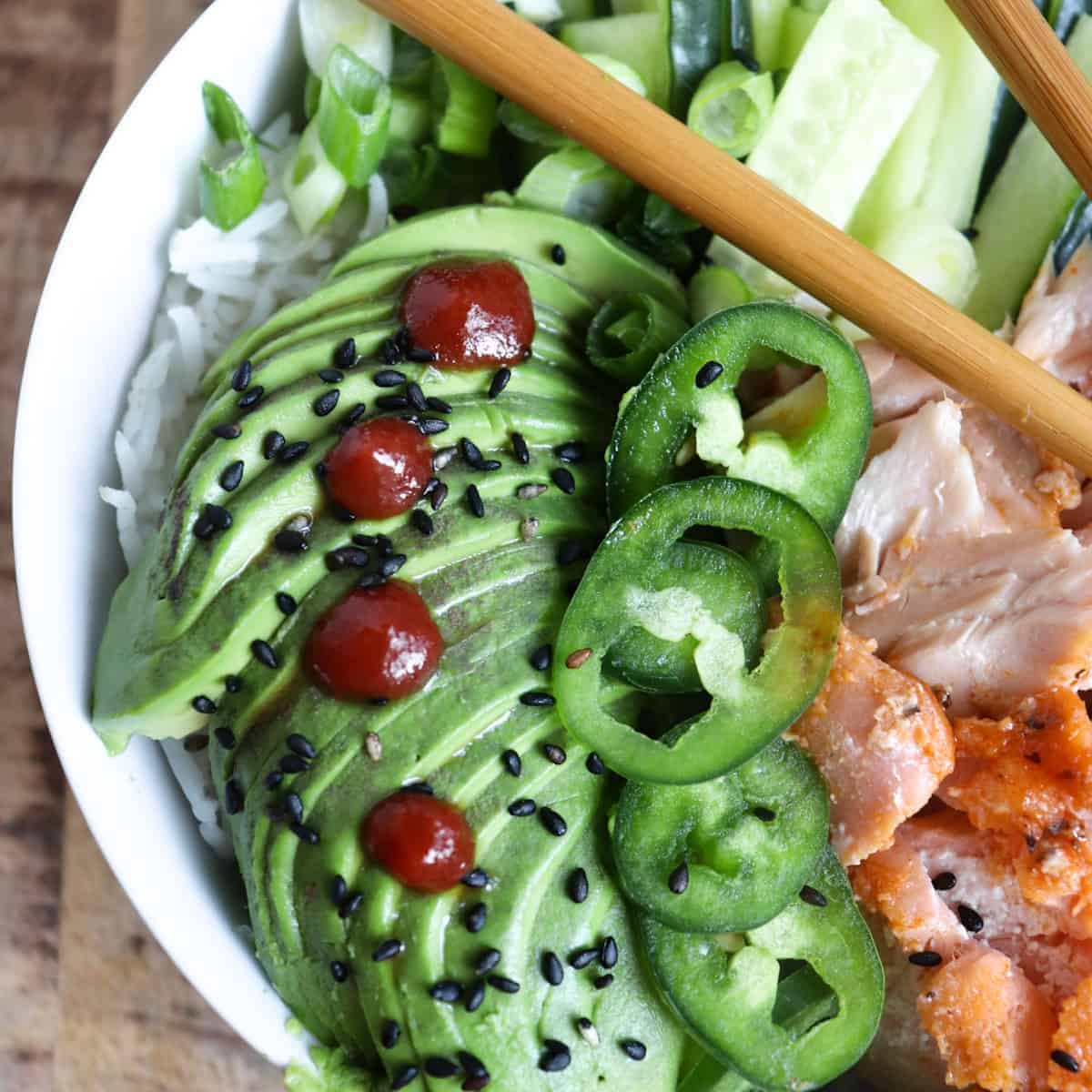 Yield:

2 bowls
Salmon Poke Bowl Recipe
Delicious Cooked Salmon Poke bowls take all of the features of a traditional poke bowl with cooked salmon instead of raw sushi grade fish. Add toppings like cucumbers, jalapenos, and green onions for a fresh crunch!
Ingredients
Salmon (sushi grade or cooked)
¼ cup soy sauce
1 tablespoon rice wine vinegar
1 teaspoon toasted sesame oil
½ english cucumber, cut into matchsticks
1 avocado, sliced thinly
thinly sliced jalapeno 
2 cups, cooked rice
sesame seeds
2 green onions, thinly sliced
sriracha, to taste
Instructions
Start by combining soy sauce, sesame oil, and rice wine vinegar and pouring over the salmon. Allow to marinade for 30 minutes.
Bake at 375 for 20 minutes or until cooked through.
Cook rice according to packaging instructions and fluff. Place in your bowl as a bed for the toppings
Slice all toppings to desired shapes and place on top of rice.
Notes
If you are using sushi grade raw salmon, still use the marinade! Cut up the pieces into bite size chunks first and then marinate for 30 minutes. Skip the cooking and place right on your rice.
Nutrition Information:
Yield:
2
Serving Size:
1
Amount Per Serving:
Calories:

736
Total Fat:

39g
Saturated Fat:

6g
Trans Fat:

0g
Unsaturated Fat:

29g
Cholesterol:

72mg
Sodium:

1903mg
Carbohydrates:

62g
Fiber:

11g
Sugar:

3g
Protein:

37g
I'm very glad to be bringing you this post featuring Josie's Organics Products. I was compensated for my time, but all opinions are 100% my own.