With Valentine's Day around the corner I thought I would re-share one of my favorite posts to date! These cute blueberry hand pies are heart-shaped and are the perfect treat to make for or with the ones you love!
Pie is delicious in all of its' varieties, but sometimes its nice to do something a little different! Hand Pies gorgeous and fun-- well worth the extra effort. And as far as a Valentine's Day dessert, heart-shaped hand pies couldn't look more lovely! They come perfectly portioned and ready to eat-- no silverware required!
If you're in the mood for more blueberry desserts, check out this Easy Lemon Blueberry Ricotta Cake.
This pie dough would work well will any filling really--apple, cherry- and strawberry come to mind. The thing I love about blueberries though is that they are already the perfect size for filling! And making these heart-shaped only adds to the sweetness, dontcha think? Here and here are some heart cooker cutter options!
What is a hand-pie?
A hand pie is a southern pastry with sweet or savory filling that is baked in a biscuit or pastry dough and sealed shut. It can be baked or fried! They are a descendent of "pasties" which is an English food.
How do I prevent my hand-pies from leaking?
Make sure that you crimp them well when you are sealing the hand pie shut! A fork works well to do this job. Remember-- a little leaking doesn't affect the taste, and adds to the pretty rustic look!
How do I make sure the hand-pie retains its heart shape?
The butter is the main culprit here! Keeping the butter as cold as possible not only helps with the flakiness, it also helps the hand pie retain its shape. Freezing the butter and working in stages helps with this. You are working against the heat of your hands and the air, so work quickly and if necessary, in batches.
A tip for the butter:
Cut into small cubes and freeze for 10 minutes. This ensures that the butter stays cold during the mixing process. The pockets of butter are what ensures a flaky pie crust!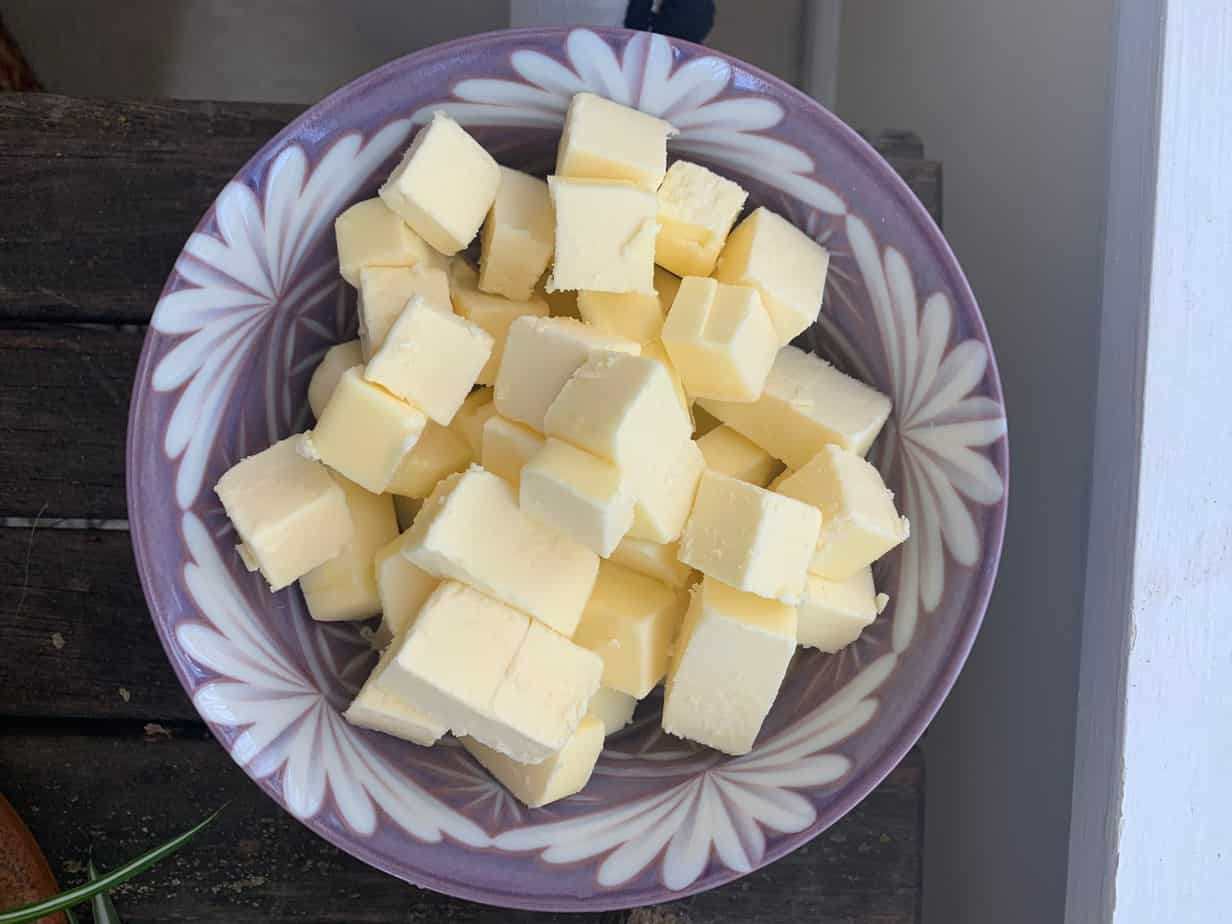 If you don't have a Kitchenaid: A hand dough blender works well! This takes a little extra work, but only marginally. The dough shouldn't be worked too much as it is, so you won't be mixing long.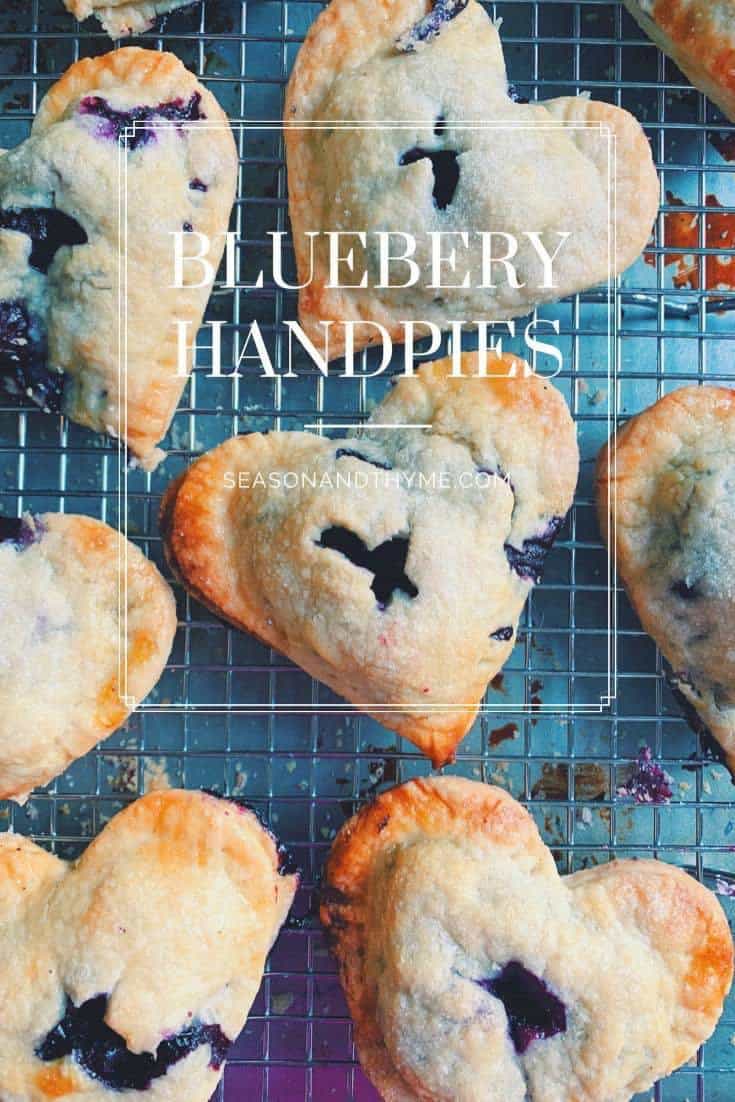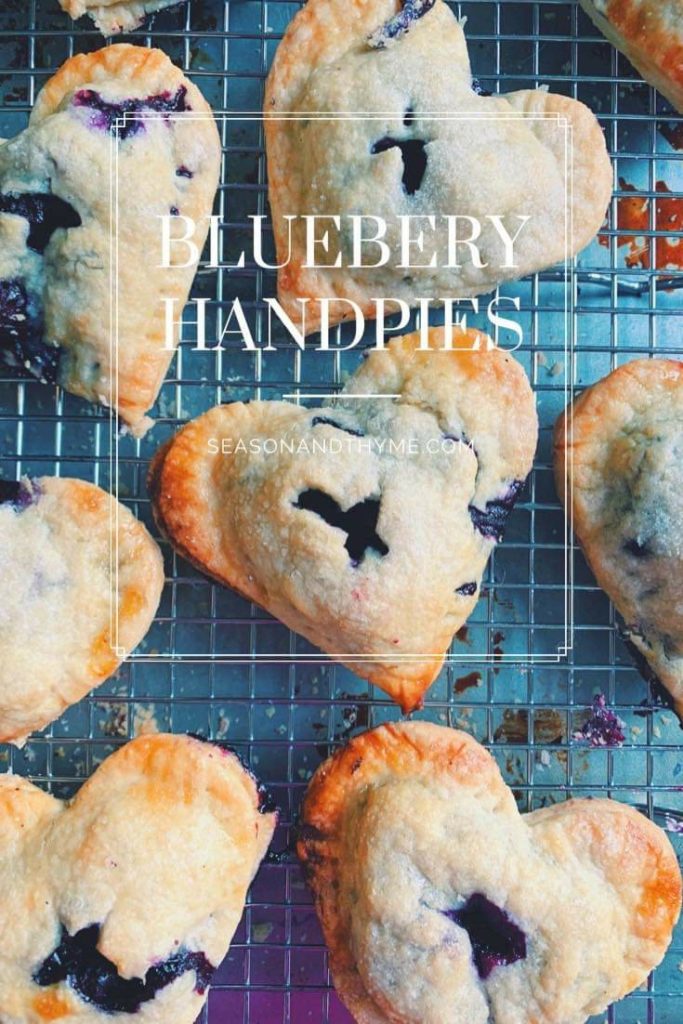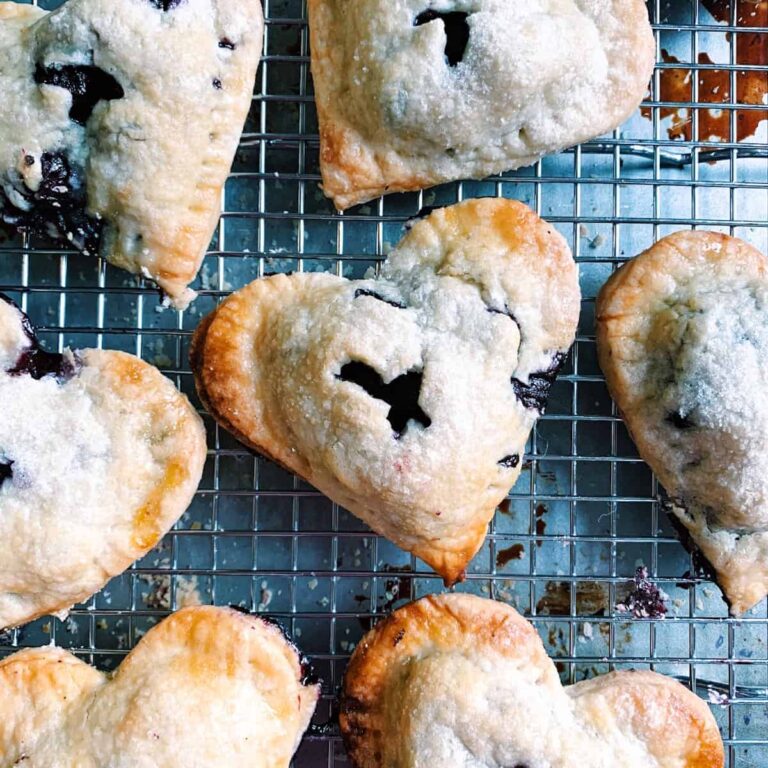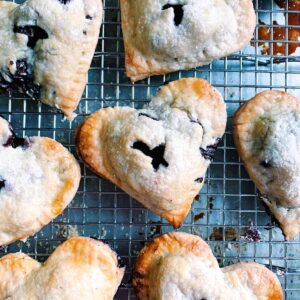 Blueberry Hand Pies
Blueberry Hand Pies are a fun twist on a classic! Delicious and portable pastries, these hand pies are a great Valentine's Day dessert.
Ingredients
Pie Crust
2

sticks

butter

very cold, cubed

2

cups

flour

4

tbsp.

water

ice water

1

tsp.

sugar

plus more for sprinkling

pinch of salt
Filling
3

cups

blueberries

fresh or frozen

1

tbsp.

corn starch

1

tsp.

lemon juice

¼

cup

sugar

1

tsp.

vanilla

1

egg

beaten
Instructions
For pie crust:
In a Kitchen-aid mixer combine flour, salt, and sugar. On a low speed add in cubes of butter, a few at a time.

Once all butter has been added, add in water, a tablespoon at a time. The dough is ready when it is just able to be formed together in a ball--Do not over mix! (Adjust water as needed)

Divide dough into two parts and form them into 1-inch thick discs. Chill for 2 hours.
For blueberry filling:
In a mixing bowl, combine blueberries, lemon juice, sugar, cornstarch, and vanilla. Stir to combine.
Assembling the pies:
Preheat oven to 375 degrees.

Roll out dough to ⅛-inch thick. Using a cookie cutter or a knife, cut the dough into your desired shape. Roll out your other disc and repeat.

To make a pie, take a top piece and bottom piece of dough. Brush egg wash along the edge of the bottom piece. Add about a tablespoon of filling. Place top piece on and securely press edges together all the way around. Repeat for rest of pies.

Brush egg wash over the top of the pies and sprinkle with sugar.

Bake for 20 minutes or until golden brown.
Nutrition