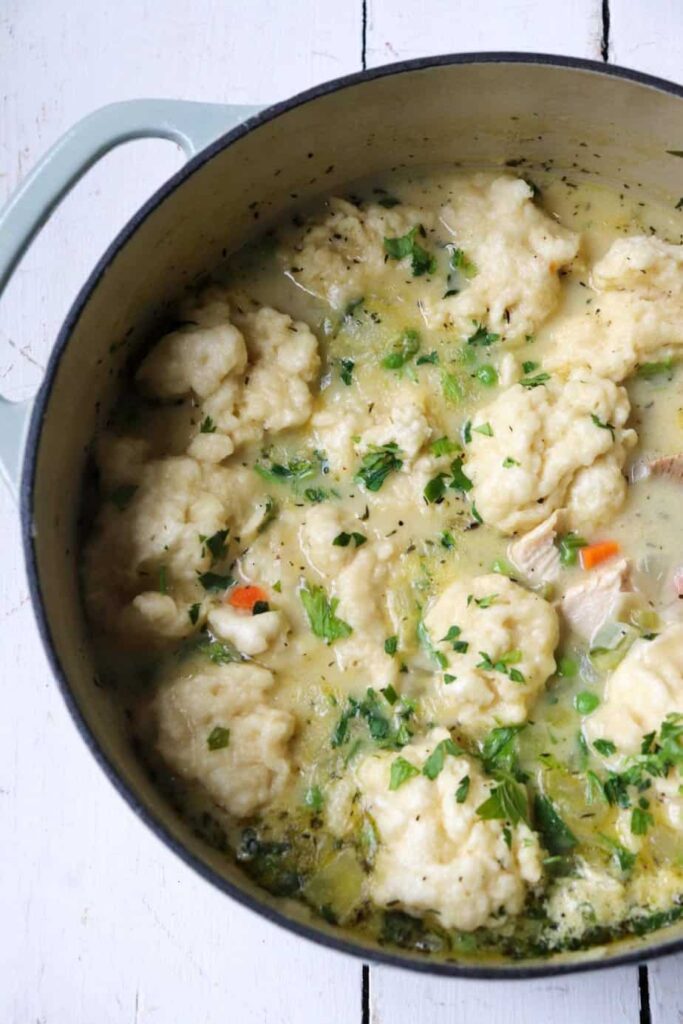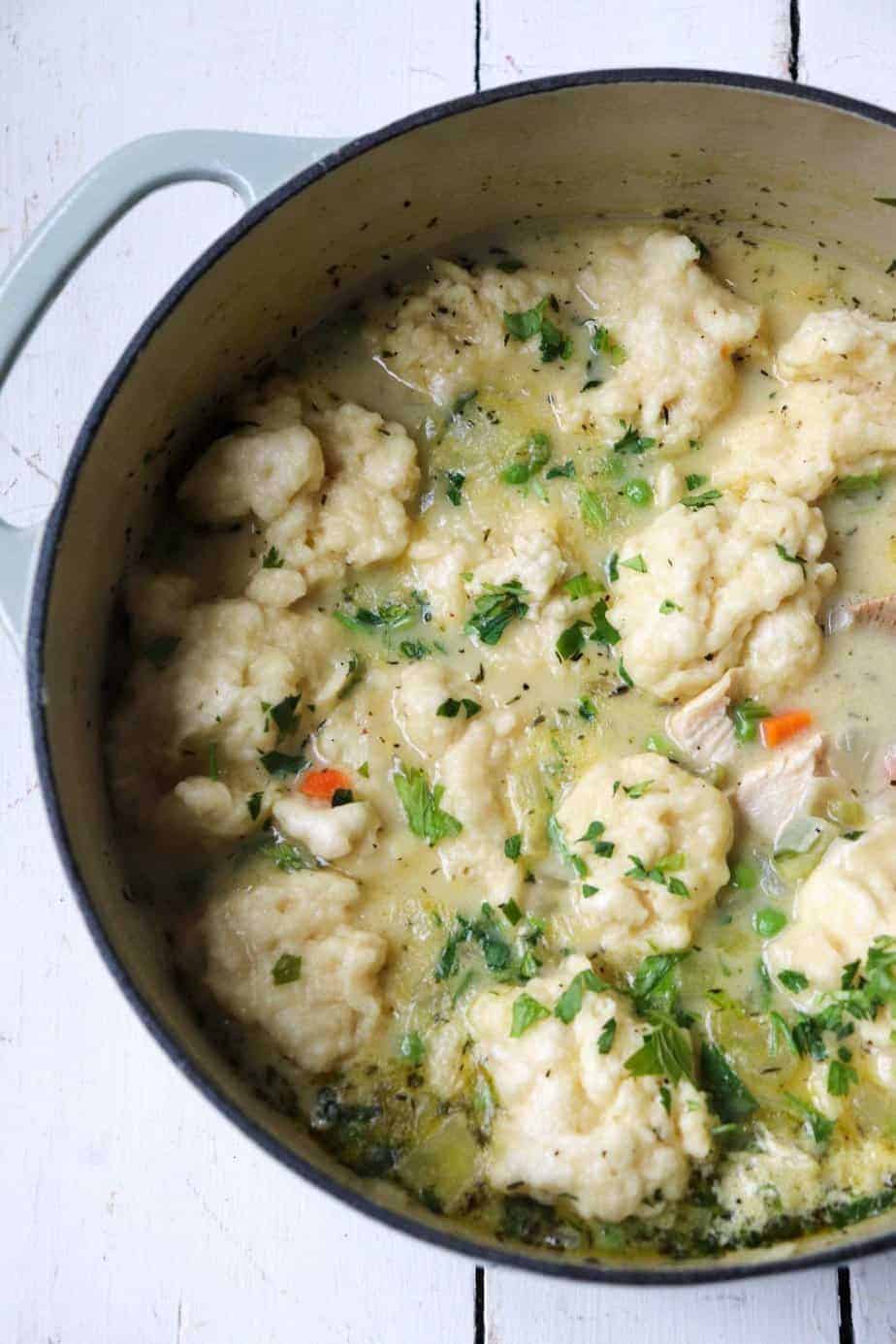 Pillowy soft dumplings float on top of a bed of rich creamy broth that's filled with veggies and hunks of tender chicken, Chicken and Dumplings is the ultimate fall dish.
It's officially time for a fall recipe, and this is a good one. Chicken and dumplings are the perfect bowl to cozy up to on a blustery day. A bowl of this is sure to warm you from the inside out and fill you right up!
I love making things like noodles, biscuits, and dumplings homemade. They really take recipes to the next level and make them taste so special! They may seem hard or time-consuming, but they rarely are. In fact, they are generally less than 5 ingredients. The dumplings in this recipe are crazy easy to prepare and I swear you will appreciate the difference. Each bite is like a little cloud.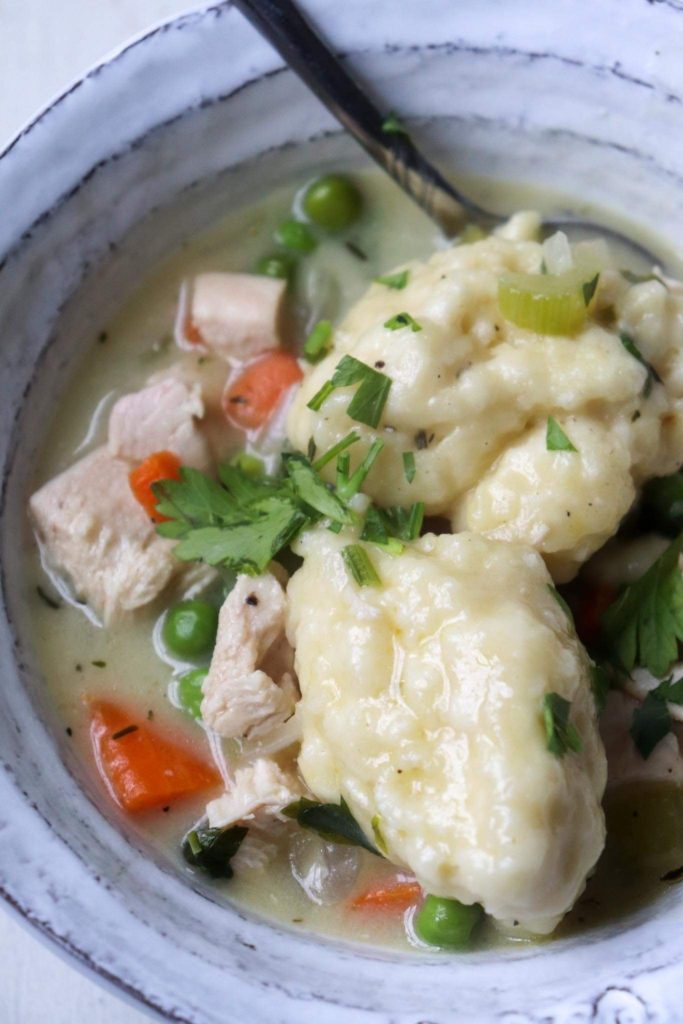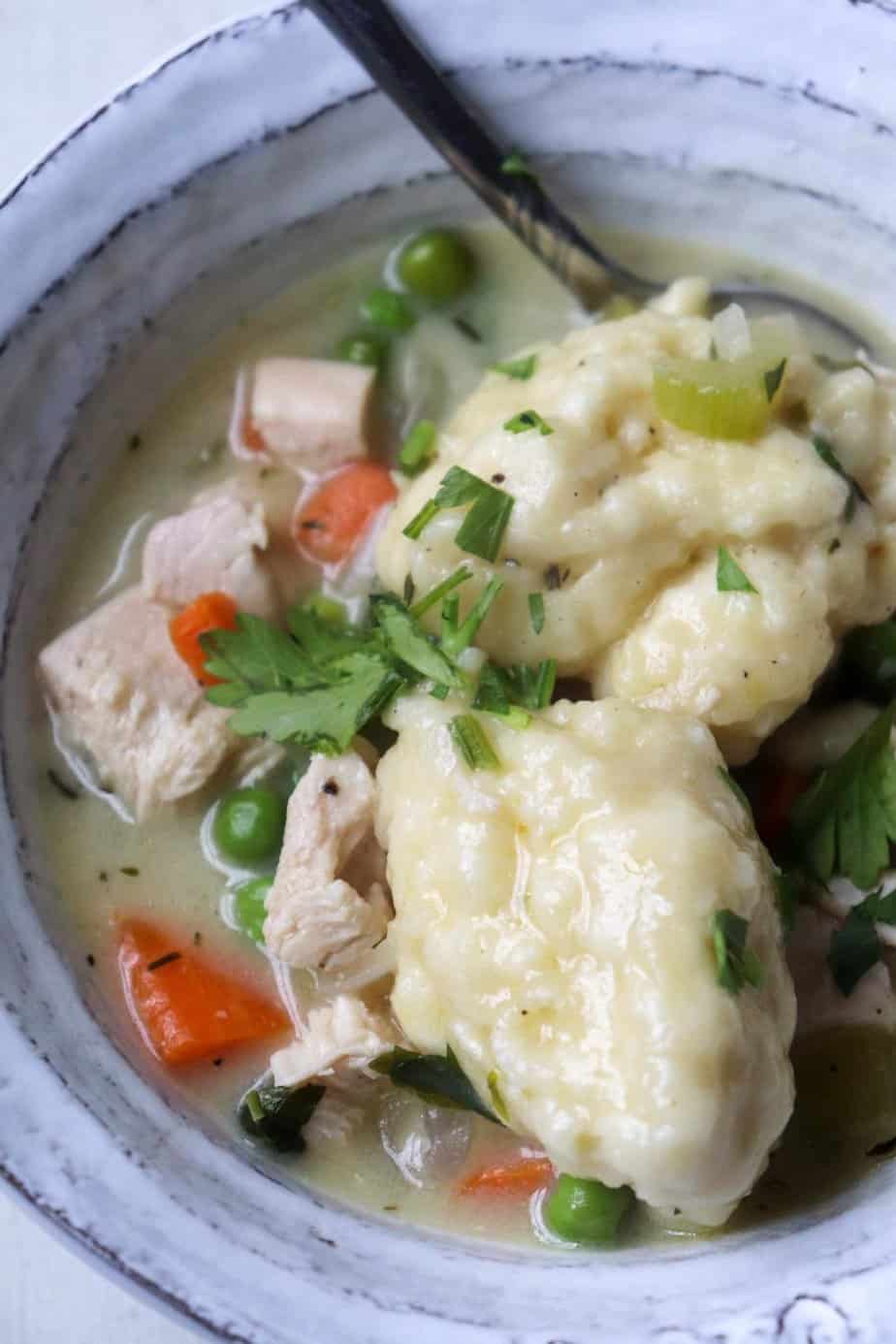 To start the base of this recipe, and ensure you have a rich, thick broth, you are going to need to create a roux. A roux is a fancy french term for flour and fat cooked together and used as a thickening agent for soups and sauces. The fat here is butter, and that's most traditional.
This recipe starts off with a base of mirepoix-- carrots, onions, and celery (Josie's Organics, of course!). They are sauteed in butter and then flour is added to that without removing the veggies. Broth is slowly added, and voila, and a rich soup-base is born!
The dumplings are made separately and plopped right in-- no need to shape them. Just tear a bit of dough off and place it into the simmering broth to cook.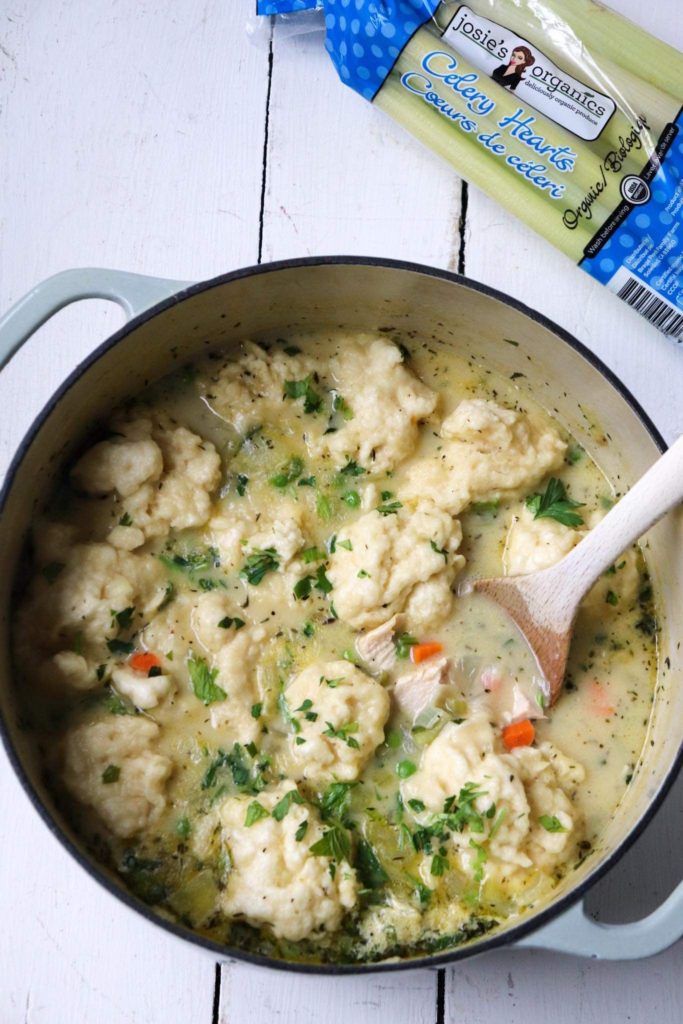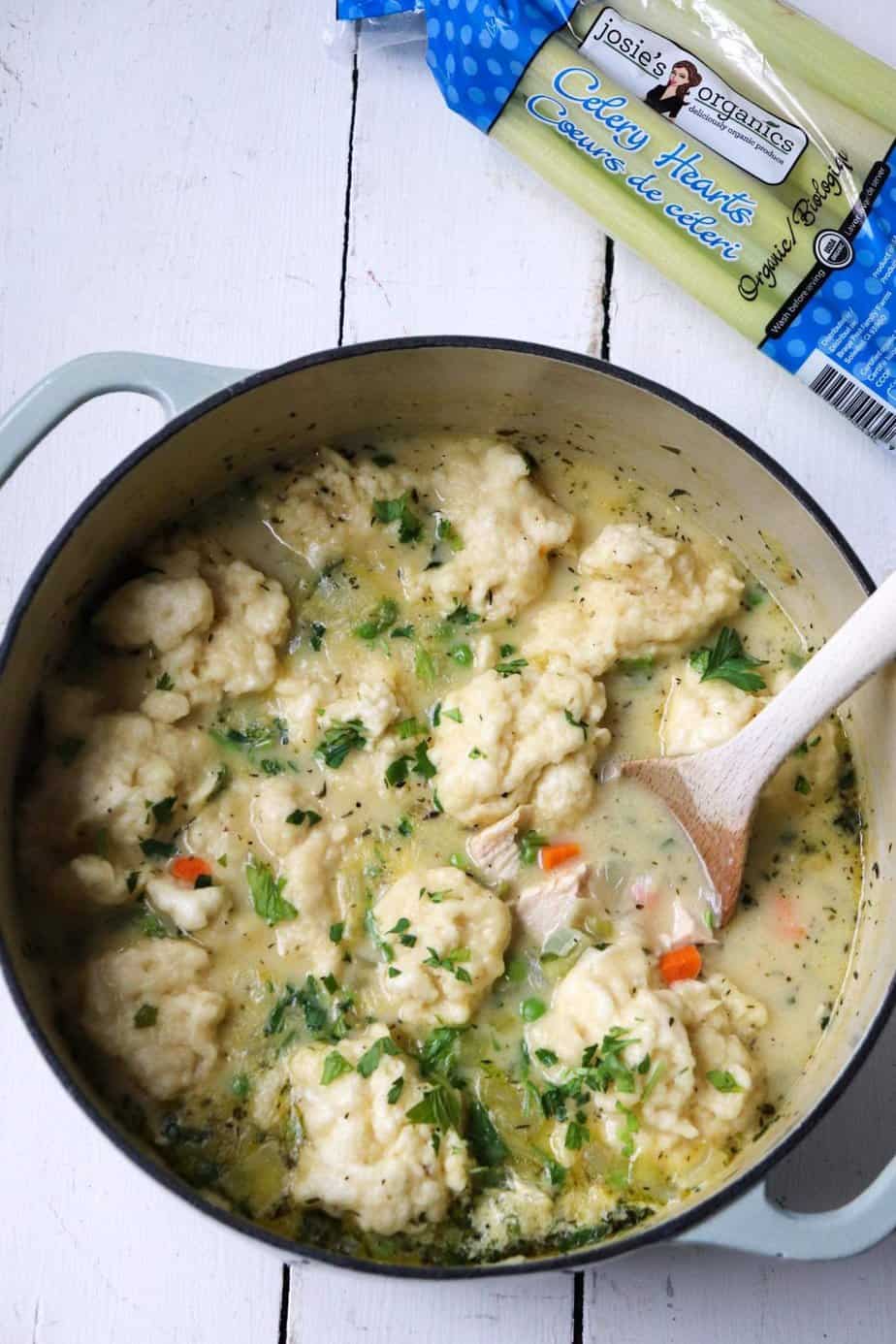 I'm very glad to be bringing you this post featuring Josie's Organics Products. I was compensated for my time, but all opinions are 100% my own.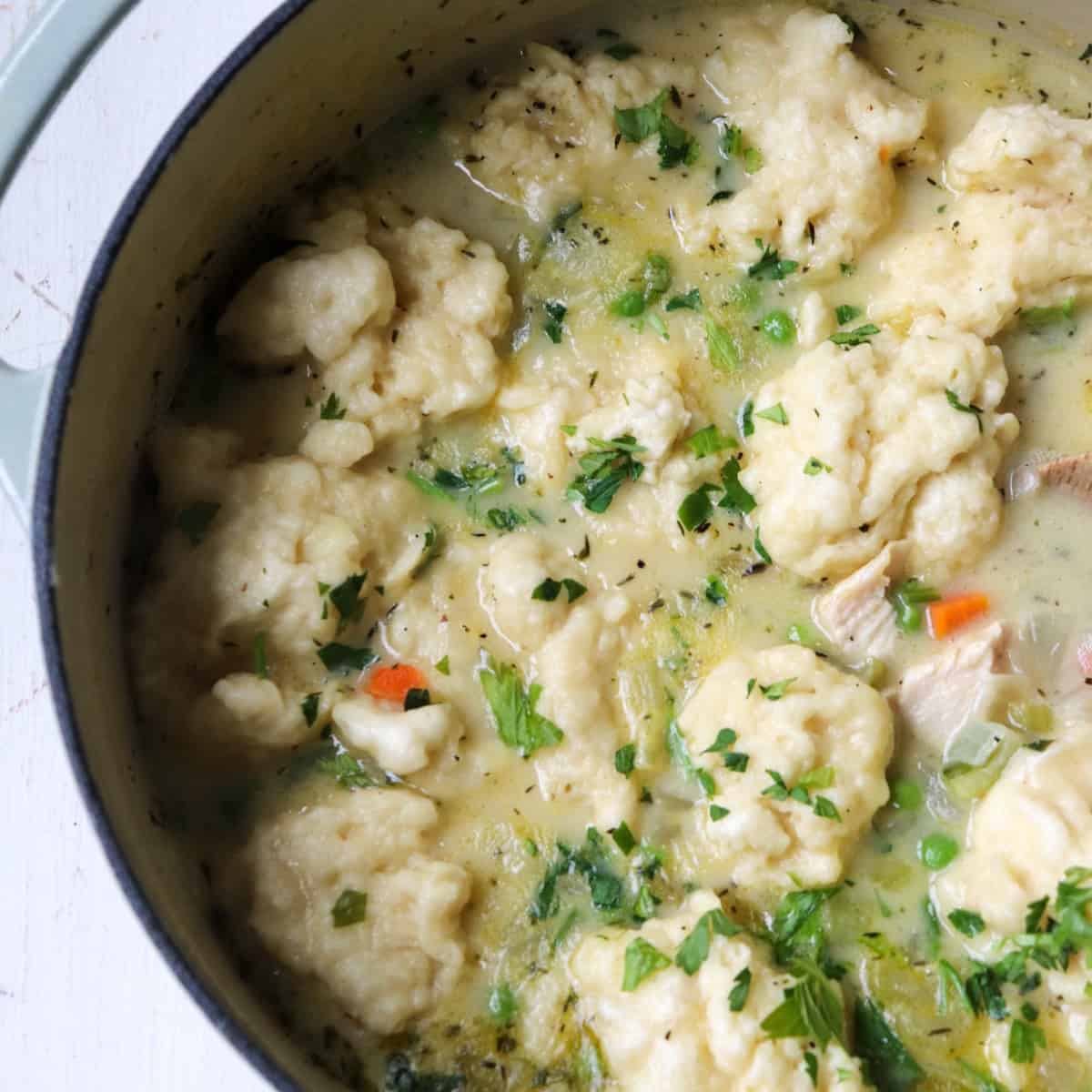 Yield:

6 servings
Homestyle Chicken and Dumplings
Total Time:
1 hour
15 minutes
Pillowy soft dumplings float on top of a bed of rich creamy broth that's filled with veggies and hunks of tender chicken, Chicken and Dumplings is the perfect fall dish.
Ingredients
1 yellow onion, diced
2 carrots, diced
2 ribs celery, diced
4 cups chicken, cooked and diced
¼ cup flour
½ stick butter
½ cup milk
4 cups chicken stock
1 teaspoon salt
1 teaspoon dried thyme
1 teaspoon freshly cracked pepper
¼ cup freshly chopped parsley
1 cup frozen peas
Dumplings
2 cups flour
1 teaspoon salt
1 tbs baking powder
2 tbs butter, melted
1 cup milk
Instructions
In a large stock pot, melt butter on medium heat. Add diced onions, carrots, and celery. Saute until just tender, about 15 minutes.
While the veggies are sauteing, preheat oven to 400 degrees and bake chicken breasts until fully cooked, about 20 minutes. Once cool, dice the chicken into bite-sized pieces.
To the pot of cooked veggies with butter, add flour and stir to create a roux. Cook until the flour taste disappears--1-2 minutes.
Slowly whisk in chicken stock until thickened. Add thyme, peas, cooked chicken, parsley, salt and pepper. Simmer for 10 minutes.
To make dumplings-- In a medium bowl, combine flour, salt, and baking powder. Add in melted butter and milk until the dough just comes together.
Gently tear of pieces of dough and add to the pot that's simmering. It is ok if the dumplings are touching.
Cover and let cook for 15 minutes, flipping the dumplings halfway through.
Serve warm.
Nutrition Information:
Yield:
6
Serving Size:
1
Amount Per Serving:
Calories:

598
Total Fat:

27g
Saturated Fat:

12g
Trans Fat:

0g
Unsaturated Fat:

13g
Cholesterol:

125mg
Sodium:

1477mg
Carbohydrates:

53g
Fiber:

4g
Sugar:

5g
Protein:

35g