Pappardelle comes from the verb "pappare" meaning "to gobble up," and that is certainly what you will want to do with a plate of these noodles! Traditionally, this style of pasta is a wide, long, and flat noodle, like big, beautiful strands of ribbon!
I love using this pasta dough different ways and cut into a wide variety of shapes! If left thicker and cut into smaller noodles it makes an awesome addition to chicken noodle soup. You can learn all about italian pasta and its various shapes here.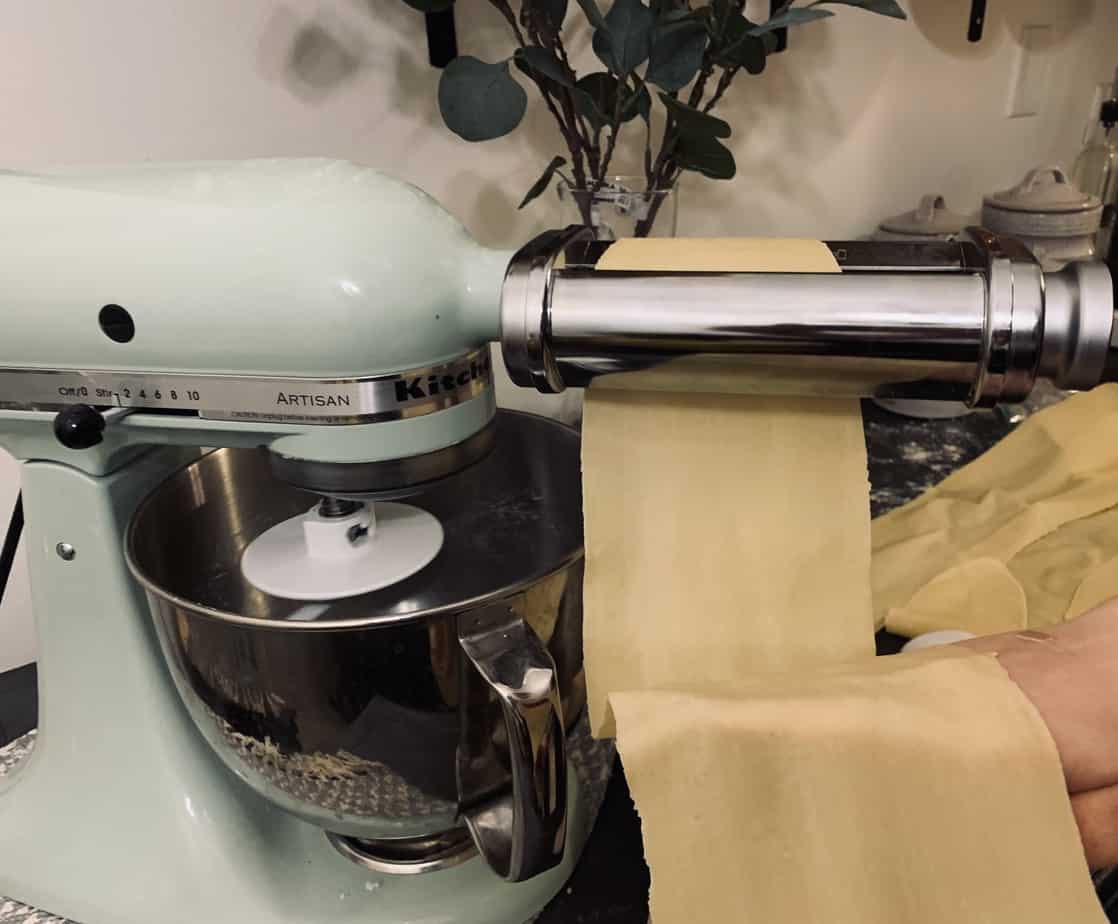 Homemade pasta is so simple and it doesn't have to be intimidating. Yes, it's true that boxed pasta is cheap and easy in its' own right. But when you want to take your dish to a new level, fresh pasta is the way to go!

Traditionally, pasta is made with semolina flour. This is a coarse grain, high gluten flour that helps the pasta to hold its' shape when cooked. Although this may be traditional, I have found that regular flour works just fine. Especially for beginners, this recipe literally requires three ingredients--flour, eggs, and olive oil. These are pantry staples that most people have on hand.
Once you feel up to it, you can do add ins like in this spinach pasta recipe.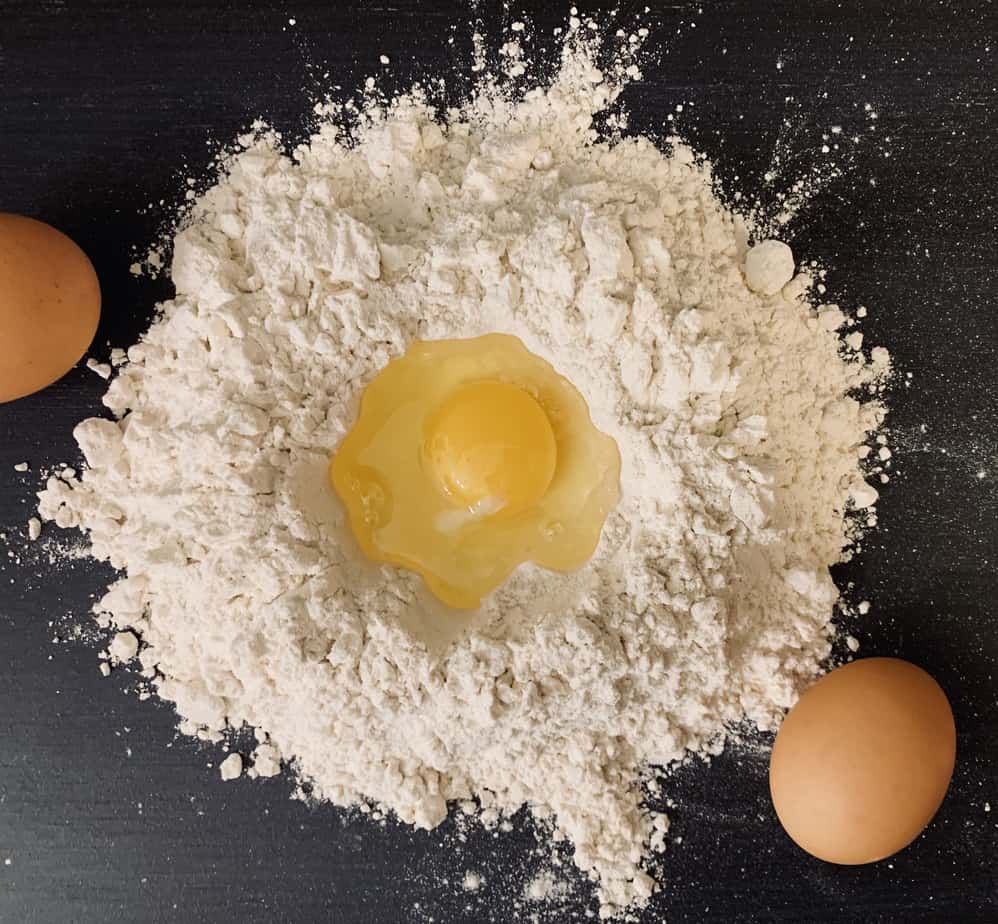 Be aware that the cooking time for fresh pasta will be significantly less than that of dried pasta, 2-3 minutes is all you will need.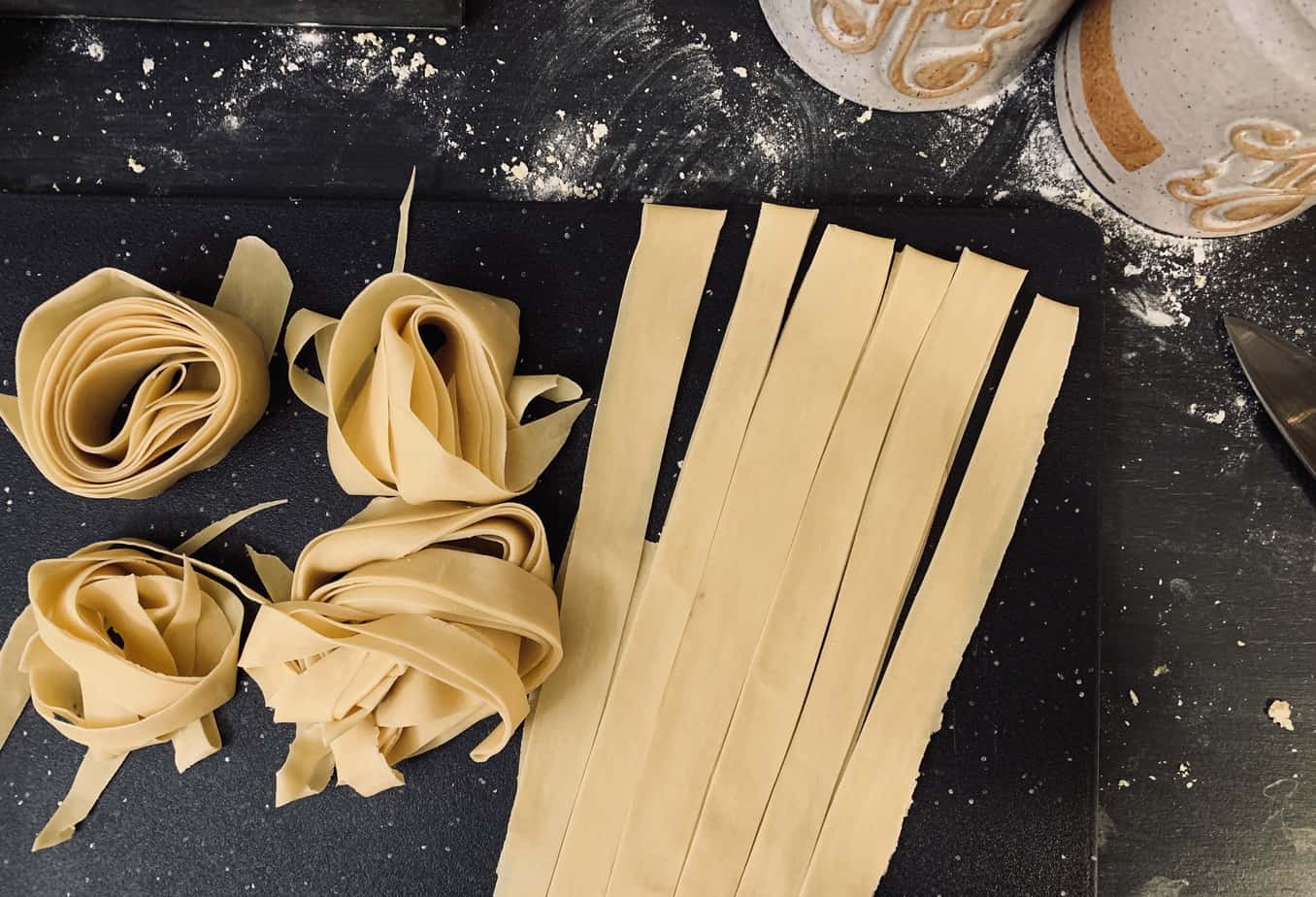 There are a lot of different ratios you will find on the internet for how to make fresh pasta, but I feel like this one works very well. After kneading the dough in the Kitchen Aid for 10 minutes, it was the perfect texture. When I ran it through the pasta machine it rolled beautifully. Even after it was cut it didn't stick to itself!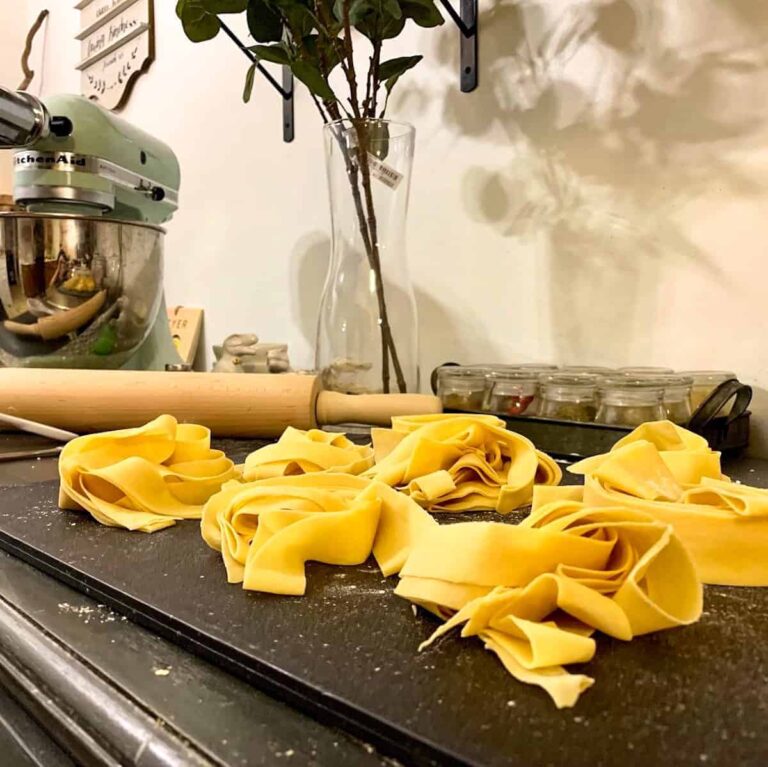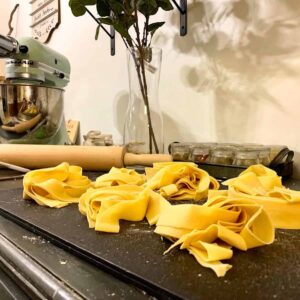 Homemade Pasta (Pappardelle)
Ingredients
2

cups

flour, plus more for sprinkling

3

eggs

1

tsp.

olive oil

water

as needed
Instructions
On a clean surface (or large bowl if you prefer) add flour and mound up like a volcano. Create a dip in the volcano and crack in your three eggs and add oil.

With a fork whisk together eggs and oil. Then, with your hands begin to incorporate flour with egg mixture. Do this until a rough ball of dough has been created. It will be tacky and textured to start-- don't worry, it just needs to be kneaded.

On a floured surface begin to knead until it is smooth, this will take 8-10 minutes (You may need a little water to help the dough form, try a tsp. at a time). If you have a Kitchenaid mixer, place dough into bowl and use dough hook to knead on low speed for the 8-10 minutes.

Cover dough in plastic wrap, and let rest for 30 minutes.

Once the dough has rested, flour surface and roll it very thin with a rolling pin and create the noodles of your choice. (I used my Kitchenaid Pasta attachment and I highly recommend it).

Cook pasta in salted, boiling water for 2-3 minutes.
Notes
Pappardelle:
To specifically make pappardelle: roll dough as thin as you can (dough puffs up when cooked). Then with a sharp knife, cut noodles to size. Pappardelle are long strands and about 2 cm. wide.