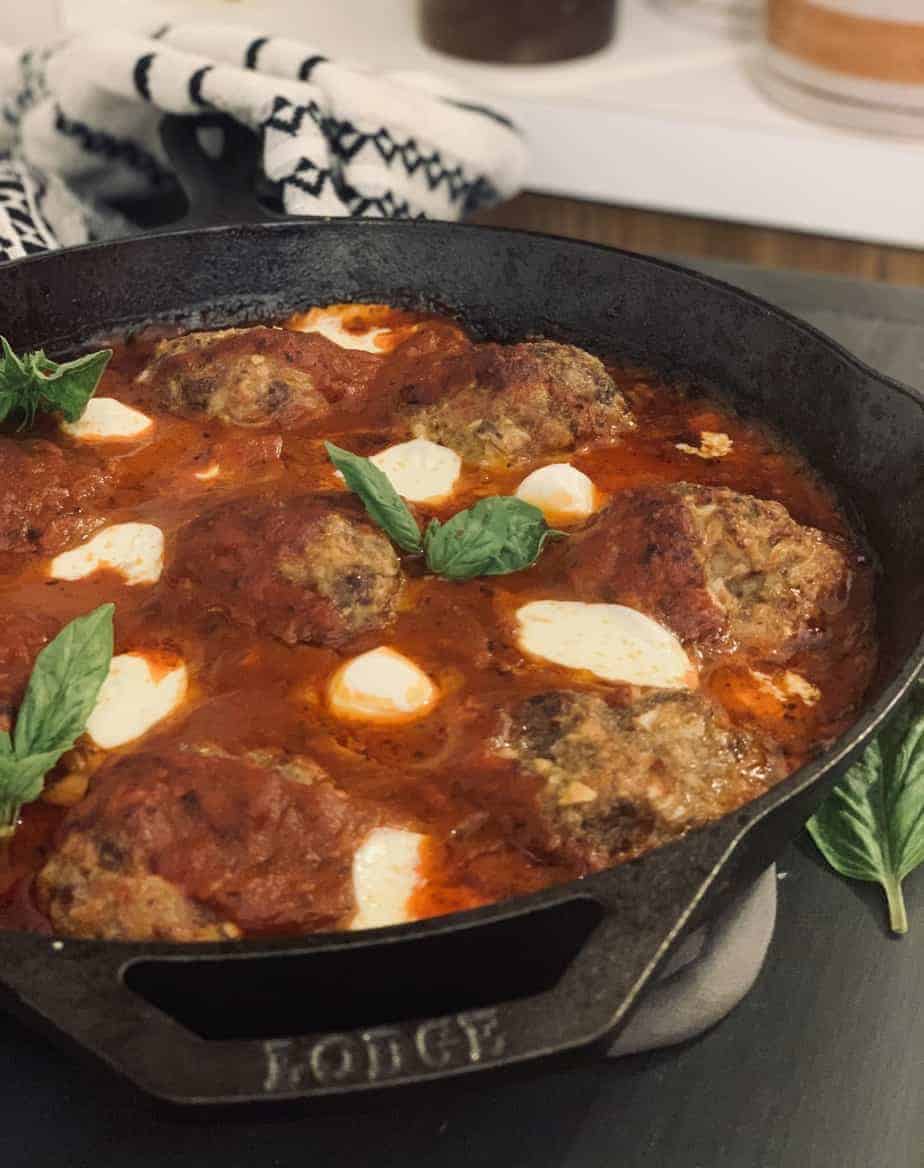 Take meatballs to a whole new level with the secret ingredient found here-- Italian sausage. The combination of ground beef and pork sausage gives a layered flavor and extra moisture.

Finishing the meatballs by baking them in sauce ensures that they remain moist and flavorful.

You may find after you bake the meatballs initially (before adding the sauce and cheese) that there is a good deal of fat in the pan. This will depend on the fat ratio in the ground beef you use, but be aware that some of the fat may need to be drained . It's no big deal-- simply use a spoon, or better yet, a turkey baster and remove the fat that has accumulated. You could avoid this by using a ground beef with a very high meat to fat ratio, however this will take away flavor and may make your meatballs more dry. Personal preference can be used here!

Some people advise against cooking tomatoes in cast iron. I find that as long as the pan is well-seasoned, there isn't a problem. However if you don't have a seasoned cast iron pan, a deep glass baking dish will work just fine!

Giant Baked Meatballs
Ingredients  
⅓

cup

plain bread crumbs

½

cup

milk

1

lb.

ground beef

½

lb.

italian sausage

2

eggs

1

cup

onion

diced

5

cloves

garlic

minced

½

teaspoon

red pepper flakes

1

teaspoon

dried Italian herb blend

2

tablespoon

grated Parmesan cheese

1

teaspoon

salt

1

teaspoon

ground black pepper

1

jar

marinara sauce

1

cup

mozzarella balls (bocconcini)
Instructions 
In a large mixing bowl, add milk and bread crumbs and let soak together for ten minutes (this creates something called a panade or binder, and it helps ensure a juicy, tender meatball).

Preheat oven to 400 degrees. 

To bread-milk mixture add italian sausage, ground beef, eggs, diced onion, minced garlic, red pepper flakes, italian herbs, parmesan, salt and pepper.

Combine mixture with hands for best incorporation. Create into 1 ½ to 2 inch diameter meatballs and place in a cast iron skillet. 

Bake meatballs without sauce for 20 minutes. After 20 minutes, remove fat from pan if necessary. 

Pour jar of marinara sauce over top meatballs, and place in mozzarella balls. Bake for another 20-25 minutes.