Finding new and exciting ideas for lunch isn't always easy. We all get used to our regulars and it can seem like too much of a hassle to try something new. I assure you, this Steak Fajita Taco Salad is delicious, nutritious, and a great lunch or dinner option! Tender, medium-rare steak is served on top of a bed of baby field greens with sauteed peppers and onions and a tangy yogurt dressing drizzled generously over the top.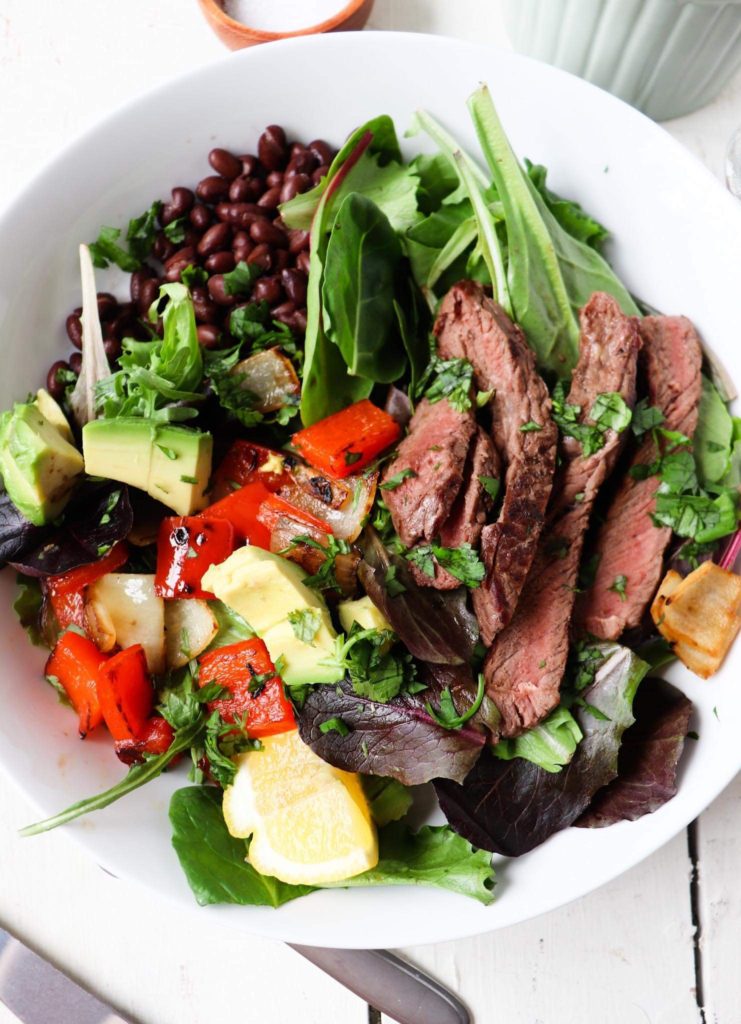 What makes this salad good for lunches?
It is perfectly well-rounded! There's a huge bed of spring mix lettuce that is full of fiber and vitamins and minerals. On top of that there's steak and black beans for protein and iron, avocado for healthy fat, peppers and onions for more vitamins, and yogurt dressing for calcium! Everything adds flavor and nutrition.
The majority of the elements of the salad can also be made ahead of time-- making it a perfect meal prep option! A big batch of veggies can all be sauteed together, the beans all rinsed at once (or cooked from dry if making beans in the instant pot), the steak cooked and then split into portions, and the dressing mixed and poured into separate containers. Everything can be done at the beginning of the week and then portioned out!
My only suggestion would be to not cut the avocado too early, since it browns very quickly once it is cut.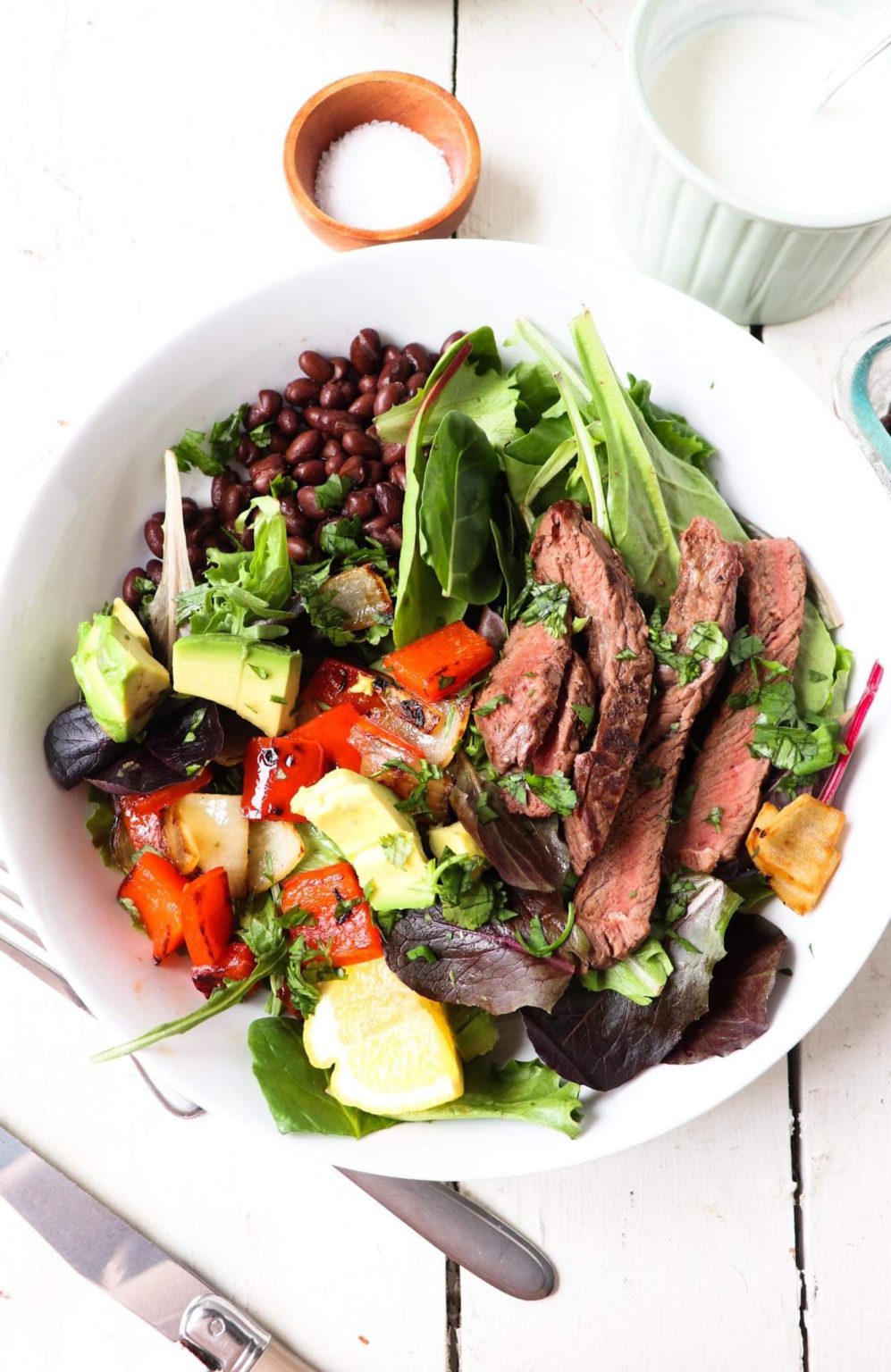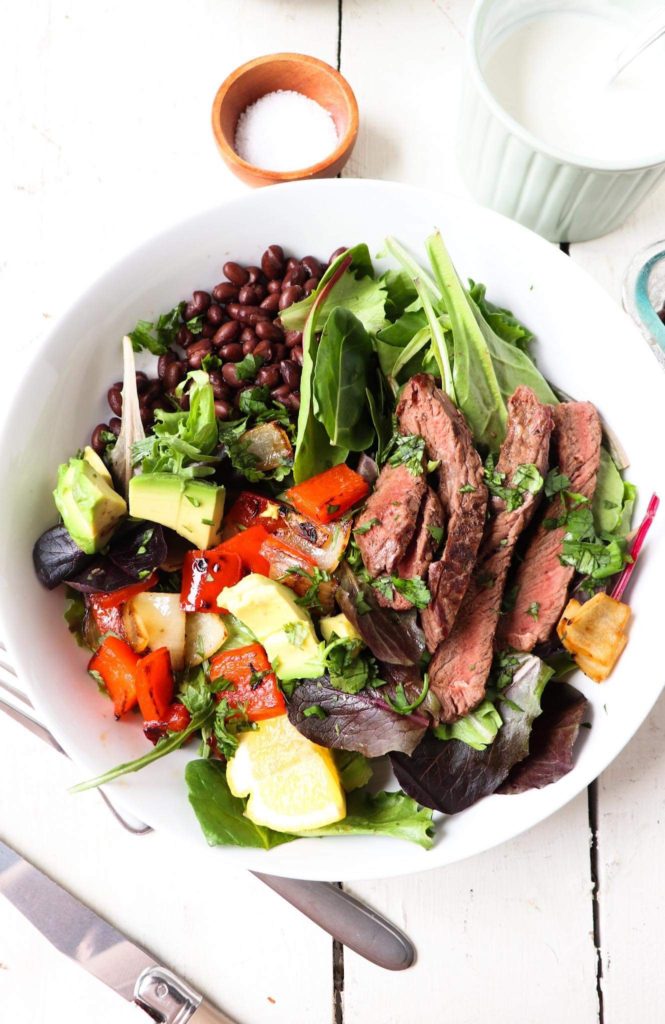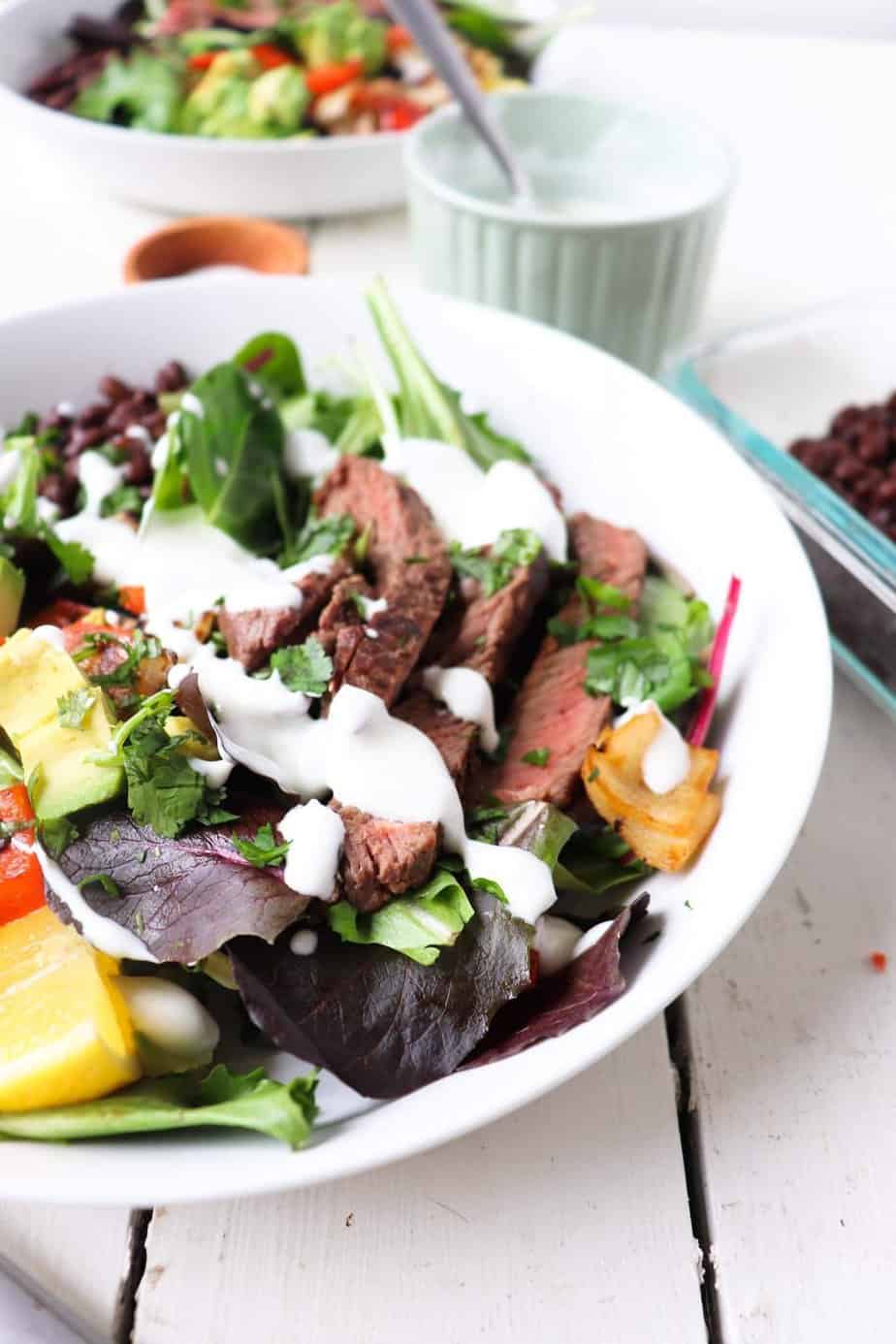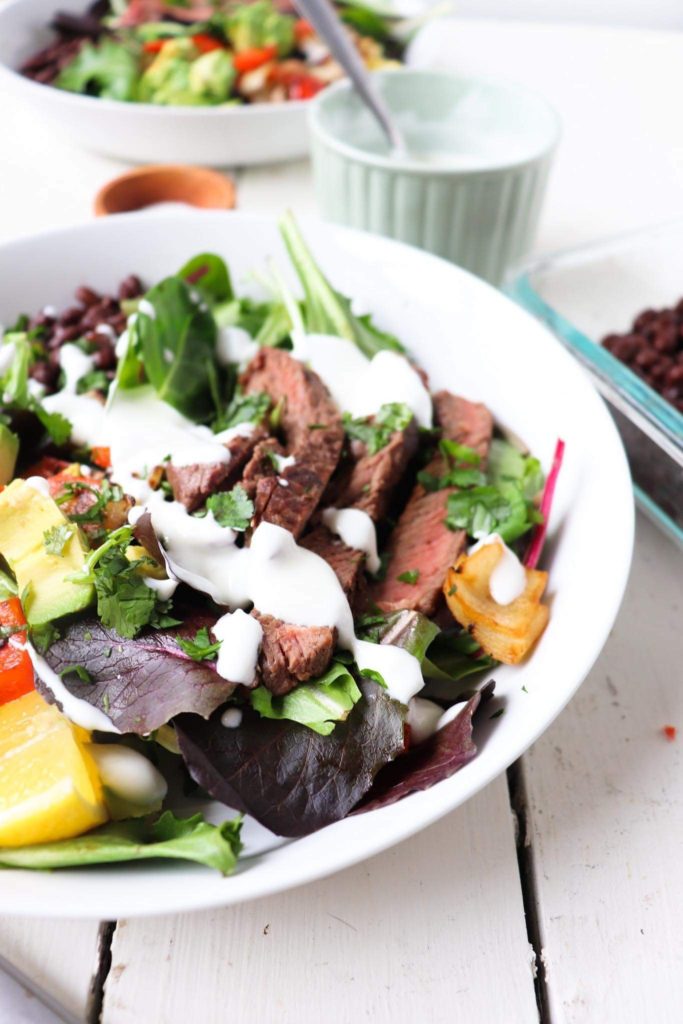 What cut of steak should I use for steak salad?
You can use a lot of different varieties. Sirloin, filet mignon, and strip, are all good options. I like sirloin steak here because it's one of the more inexpensive choices and it sears really well! This salad is a great way to enjoy steak in a more economical way because your portion of meat can be smaller in combination with the plethora of other salad toppings!
I love salads like this, because not only do I know I am eating healthy, I am not left hungry at the end of my meal. This Steak Fajita Salad will sustain you for hours-- and leave you excited for the next time you get to enjoy it!
Other Delicious Salads to try: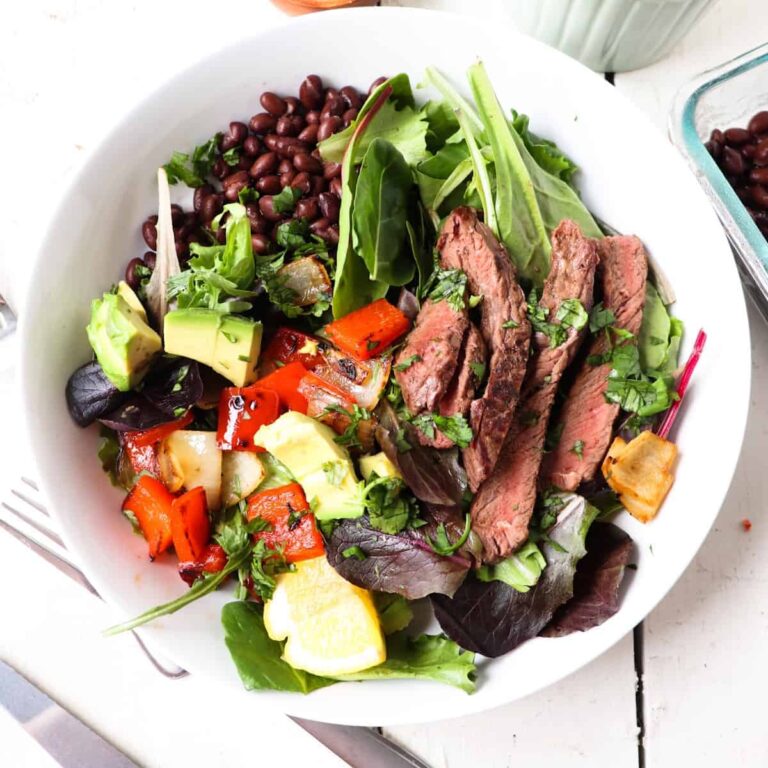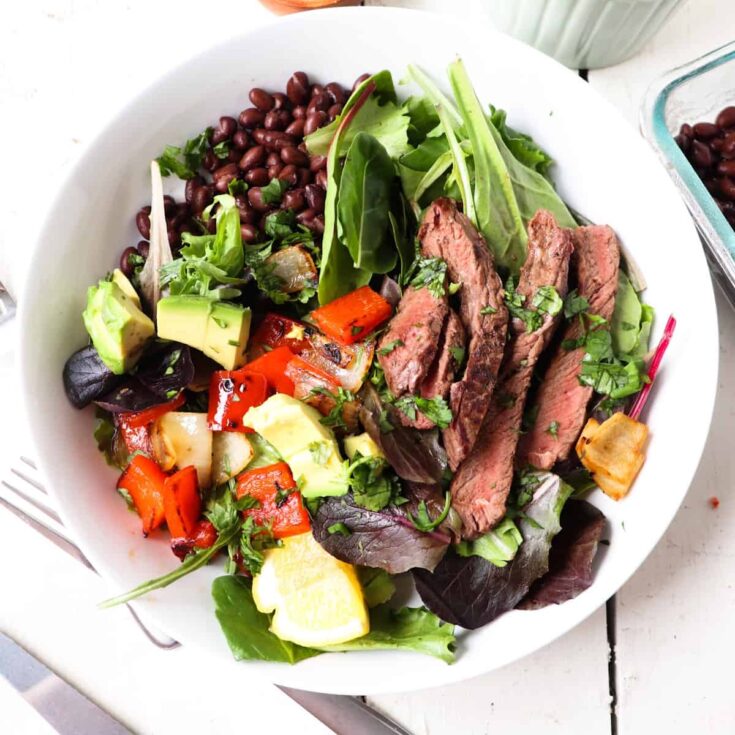 Yield:

2 servings
Steak Fajita Salad
Tender steak is served on top of a bed of baby field greens with sauteed peppers and onions and a tangy yogurt dressing drizzled generously over the top.
Ingredients
4 cups Josie's spring mix, assorted lettuce
1 8 oz. sirloin steak
½ cup canned black beans, rinsed
1 small onion, large dice
1 bell pepper, large dice
1 tbs. fresh cilantro
½ avocado, diced
1 tbs. olive oil
Greek Yogurt Sauce
¼ cup Greek yogurt
juice of half a lemon
¼ tsp. salt
Instructions
Grill or pan fry steak until it is cooked to your liking. Once cooked, set to the side to cool and then slice thinly against the grain.
In a saute pan, heat oil on medium-high heat. Add onions and peppers and saute until browned but still slightly crunchy.
To a serving plate or bowl, add a generous helping of field greens. Top with rinsed beans, cooked steak, peppers, onions, and sliced avocado.
In a small mixing bowl, combine yogurt, lemon juice, and salt. Stir well to combine. Drizzle over the top of the salad. Sprinkle with fresh cilantro.
Notes
These measurements create enough for two salads.
Nutrition Information:
Yield:
2
Serving Size:
1
Amount Per Serving:
Calories:

612
Total Fat:

31g
Saturated Fat:

9g
Trans Fat:

0g
Unsaturated Fat:

19g
Cholesterol:

106mg
Sodium:

707mg
Carbohydrates:

45g
Fiber:

12g
Sugar:

20g
Protein:

41g