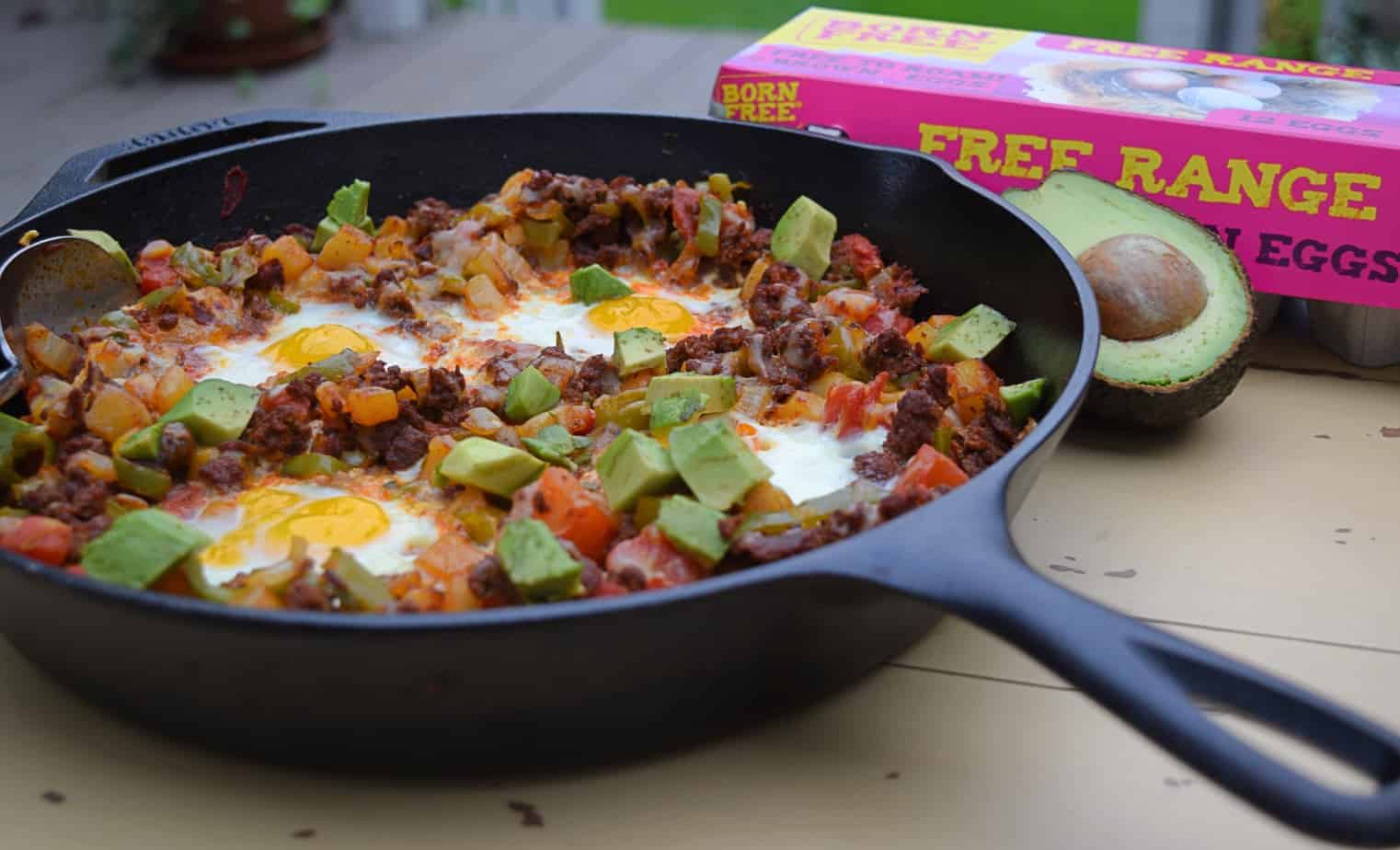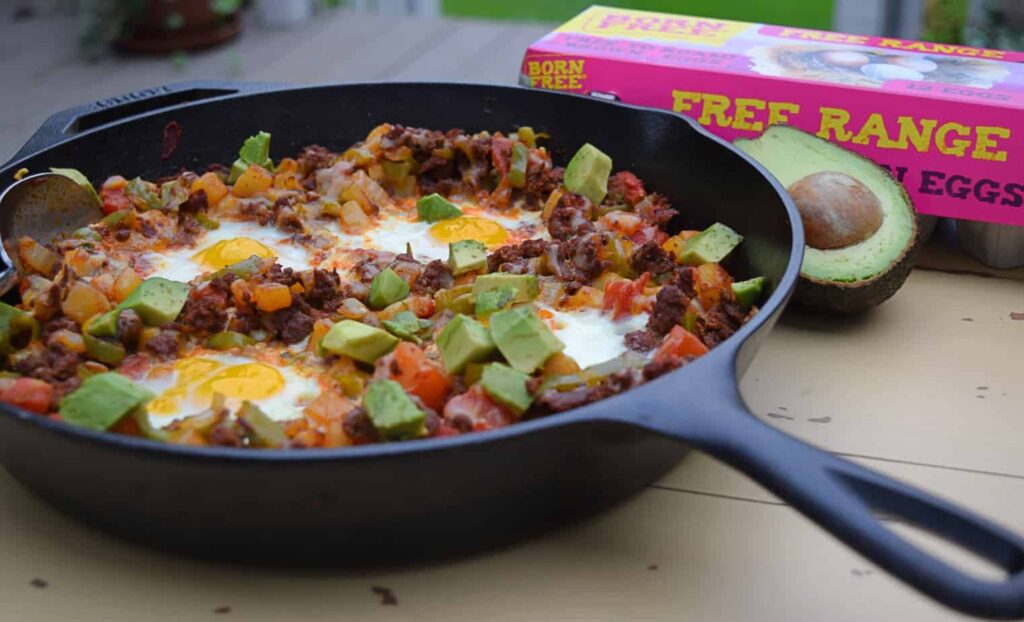 I haven't always been a big breakfast person. Michael on the other hand, LOVES it. I think it may be his favorite meal of the day. Whenever we go out for breakfast, he always loves to get whatever Mexican/Southwest skillet that the restaurant offers. I eventually realized it was the chorizo that kept him coming back.
There's just so much flavor there! Especially in skillets like this, where everything is cooked in one pan and the flavors all meld together, chorizo shines.
I like to bake the eggs right in, because then they soak in all the delicious flavor. AND, you don't have to dirty a second dish. Double win!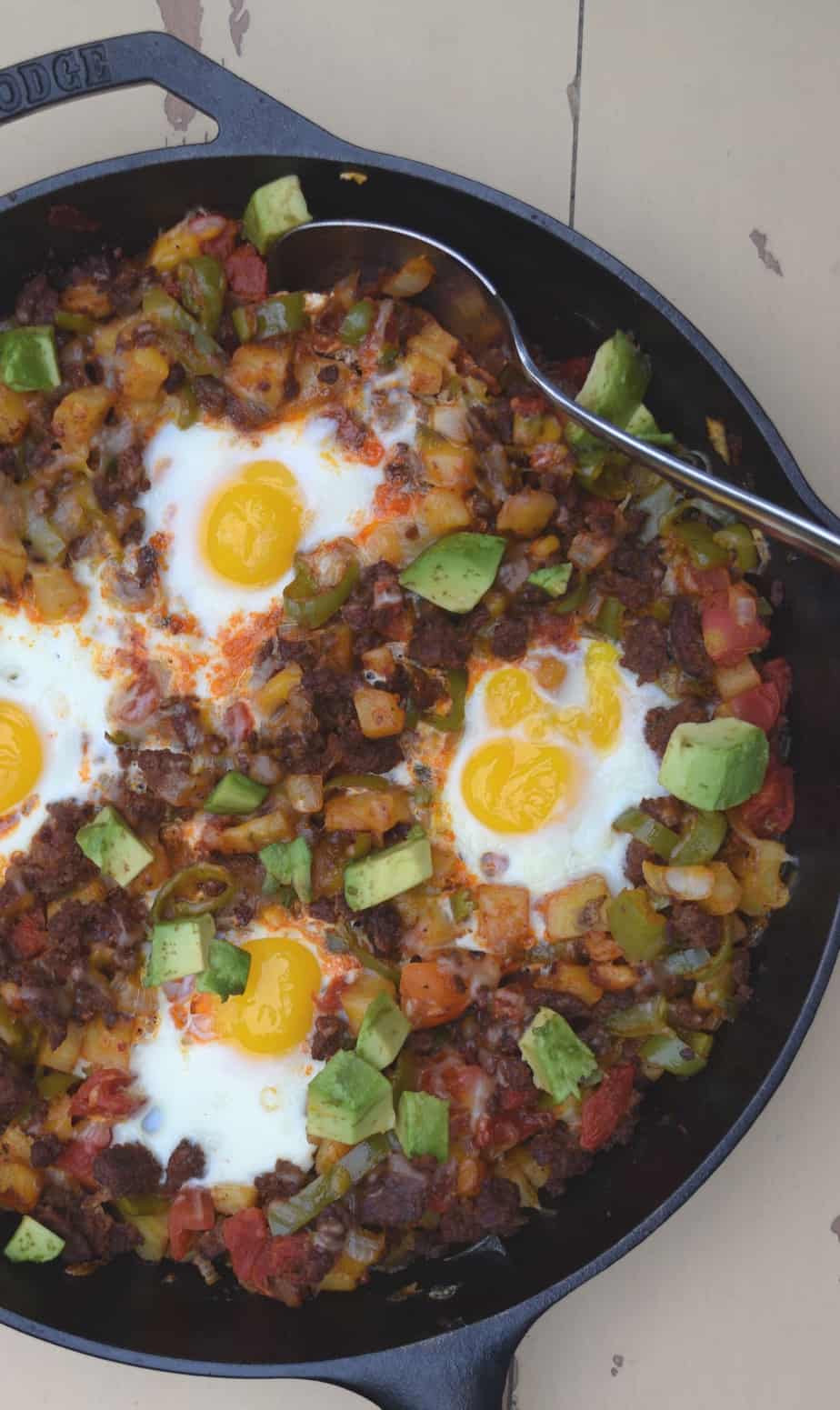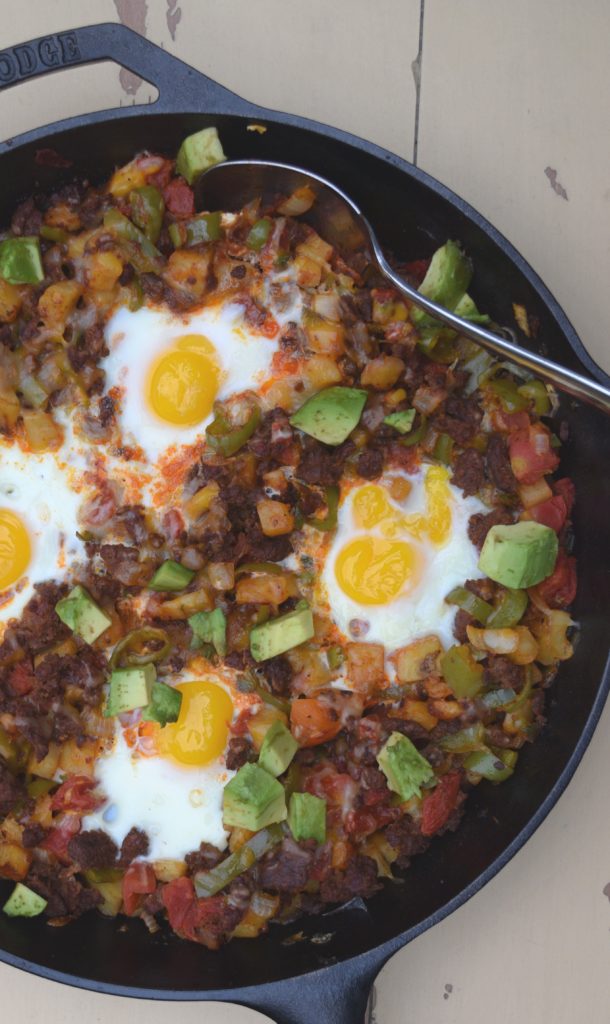 I used my favorite Born Free eggs for this recipe. Even before I was contacted by the brand, I would choose Born Free eggs as my go-to source for quality, humanely sourced eggs. When browsing the large section of eggs at my local grocery store, I always gravitated toward Born Free because of their easy to read packaging and straightforward explanation for how their hens are treated. This is something that is super important to me and I appreciate that Born Free is so clear and forthcoming.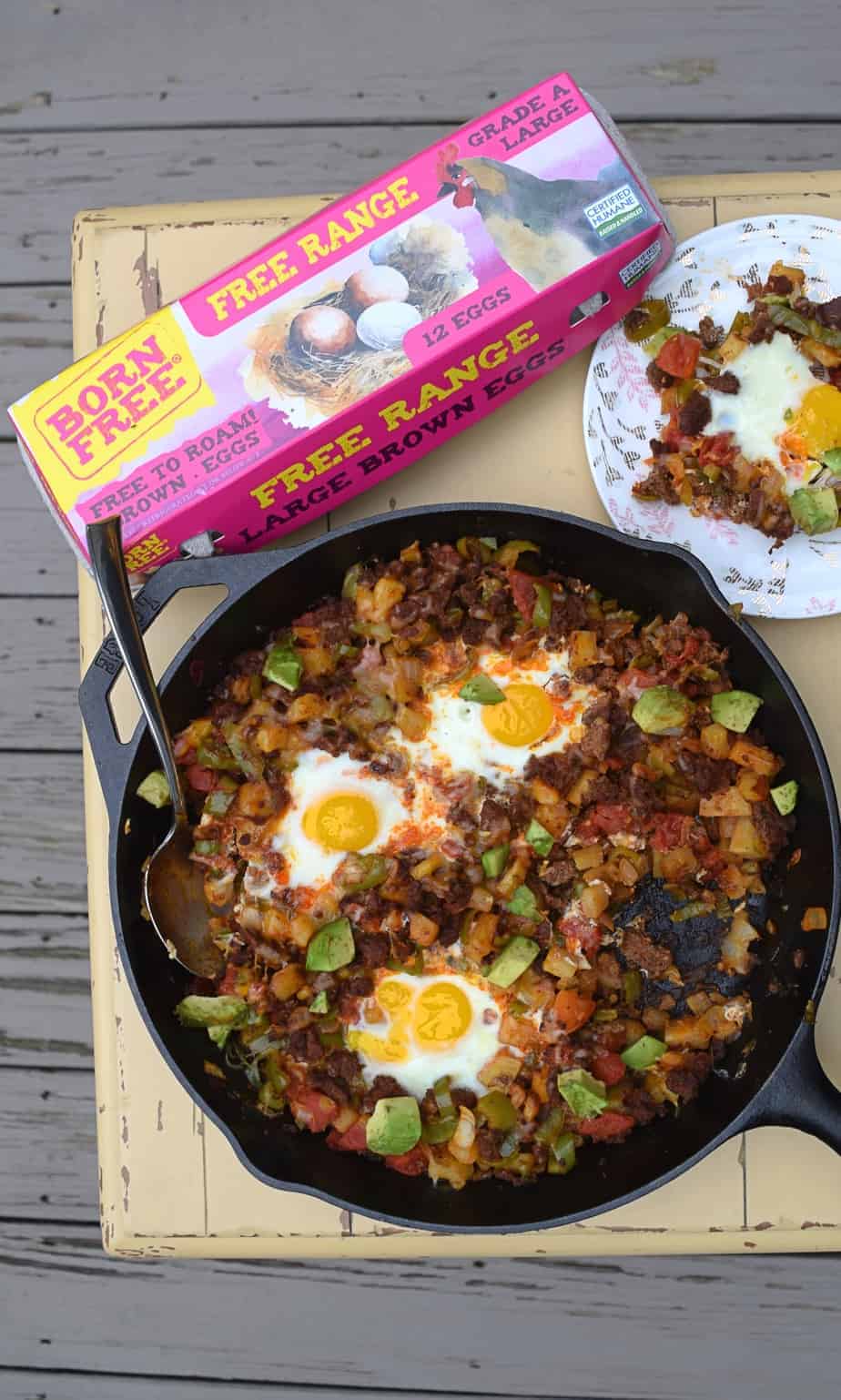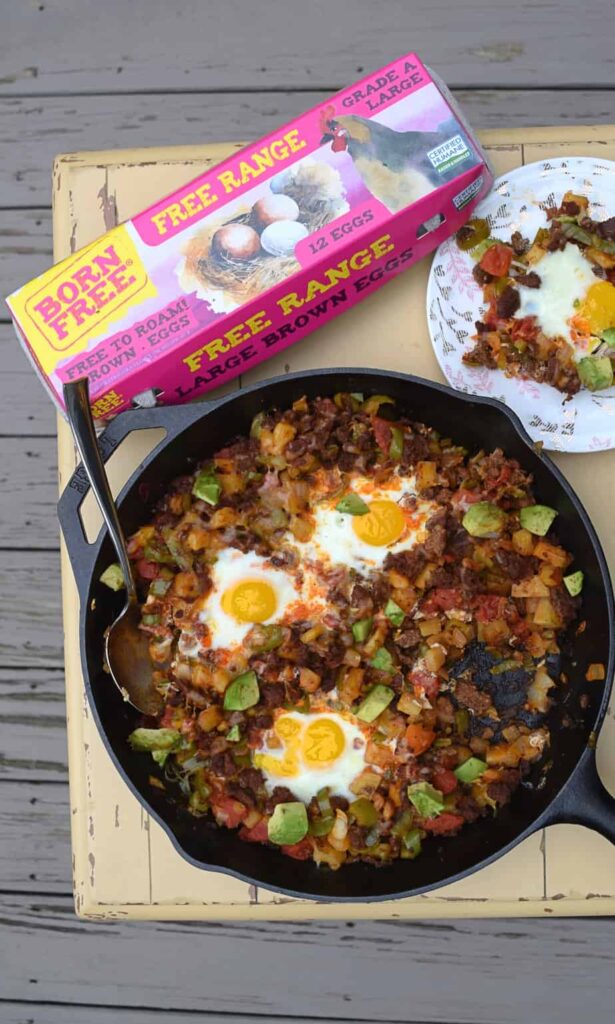 Born Free eggs are free range. This means "hens are free to roam in spacious barns, and they have access to the outdoors.  The outdoor access can vary from outdoor runs that are covered with a roof to more extensive fenced pasture area with no roof overhead."
Buzz words like free range can often get used flippantly, but in this case the eggs are certified by an outside source, either the American Humane Association or Humane Farm Animal Care program.
Knowing that my eggs are coming from an ethical source is very important to me, and with Born Free the guess work is taken out and I always know what to grab at the store!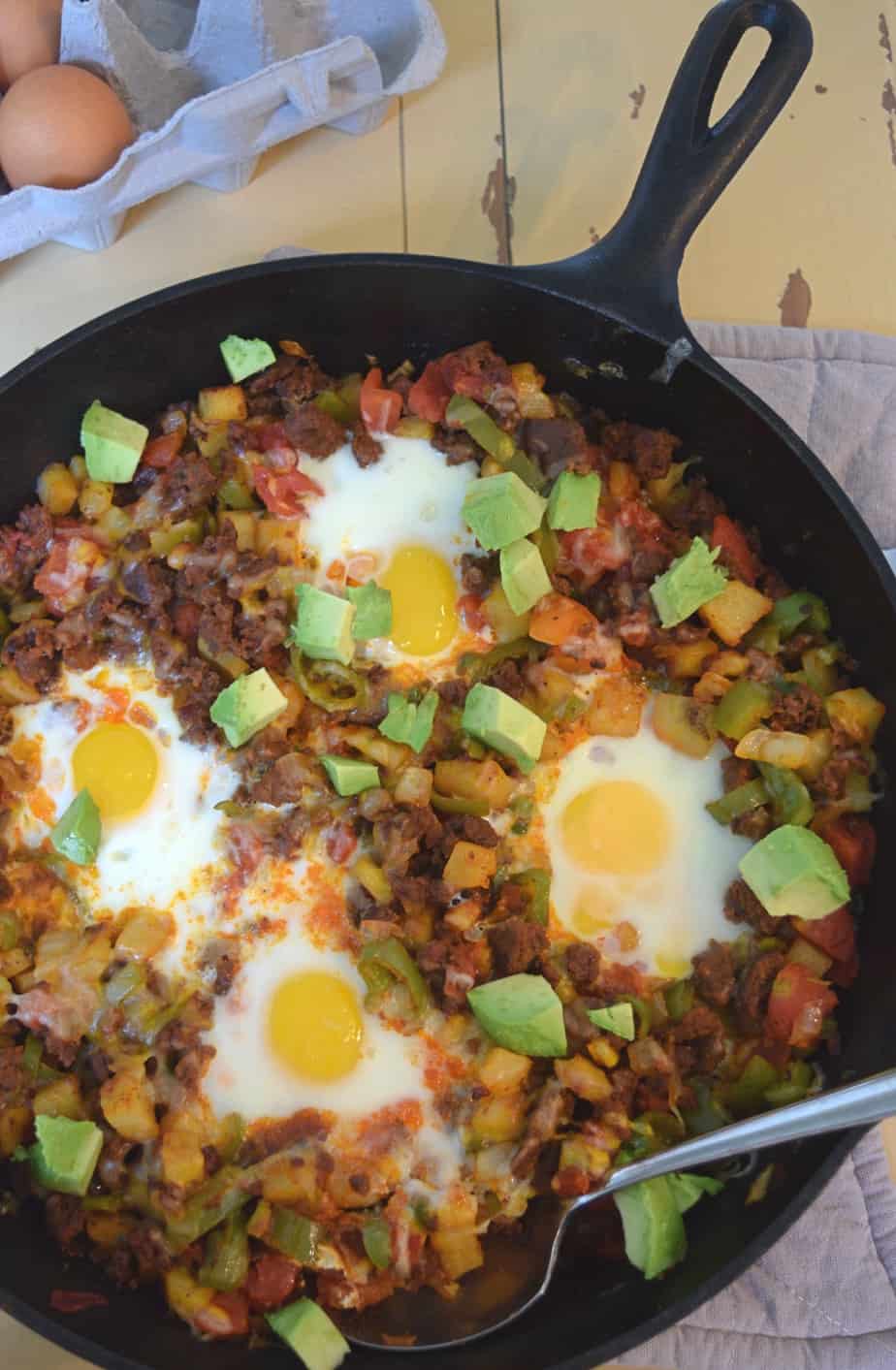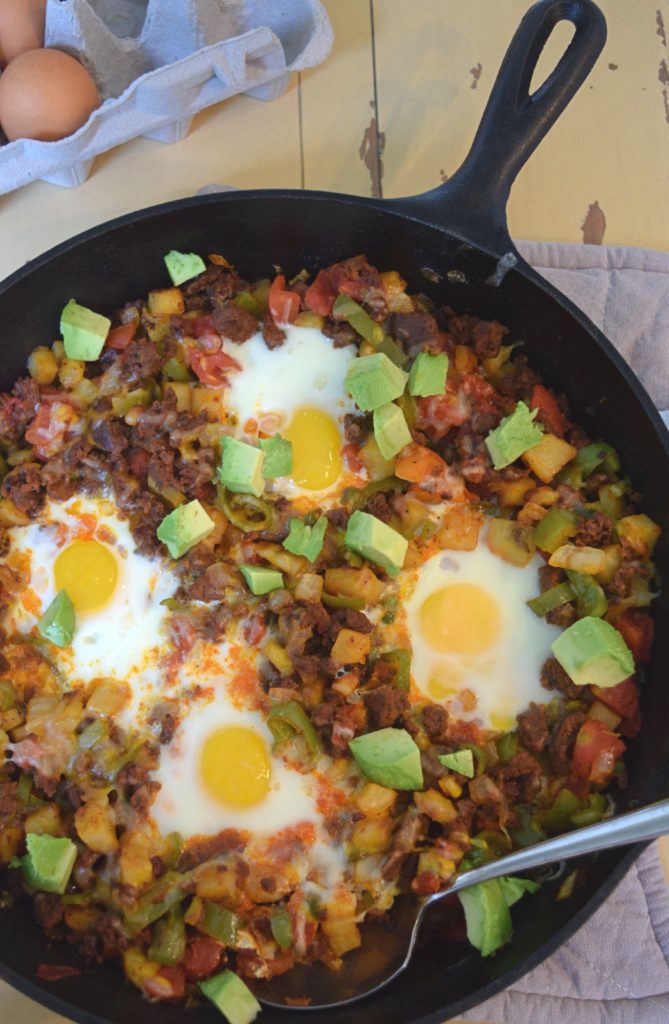 I'm very glad to be bringing you this post featuring Born Free Eggs. I was compensated for my time, but all opinions are 100% my own.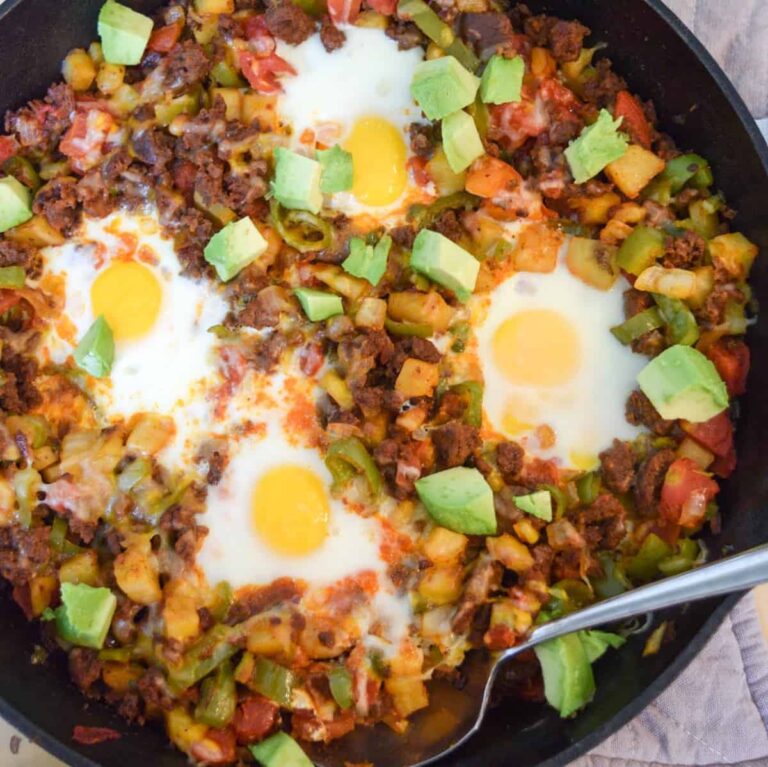 Chorizo Breakfast Skillet
Ingredients  
4

Born Free Free range eggs

1

lb

chorizo

1

jalapeno

finely diced

1

onion

diced

2

Russet potatoes

diced, par cooked

2

poblano peppers

diced

salt

pepper

butter

½

cup

Monterey jack cheese

1

15 oz can

diced tomatoes
Instructions 
Preheat oven to 375 degrees.

Start by cooking the chorizo in the skillet. Once cooked through, remove from the pan and set aside.

Next, cook the onion and jalapeno in the pan until translucent. Then remove from the pan and set aside.

Finally, you will cook the diced potato in the skillet until it is soft. I find it best to par cook the potato before dicing, such as putting it in the microwave for 5-6 minutes (make sure to poke a few holes in it if you do this).

Once potatoes are cooked, add chorizo, onion, and jalapeno back to the skillet and mix. Place cheese over the top.

Next, create little pockets where the eggs will sit in while they cook. Crack eggs and place in the pockets.

Place in preheated oven and cook until eggs are desired doneness, about 20-25 minutes. Serve using a large spoon.