A homemade white bean hummus recipe to easily make your delicious greek favorite at home, using white beans instead of the traditional garbanzo beans. An easy dip, that can be used with pitas, veggies, kabobs, and more!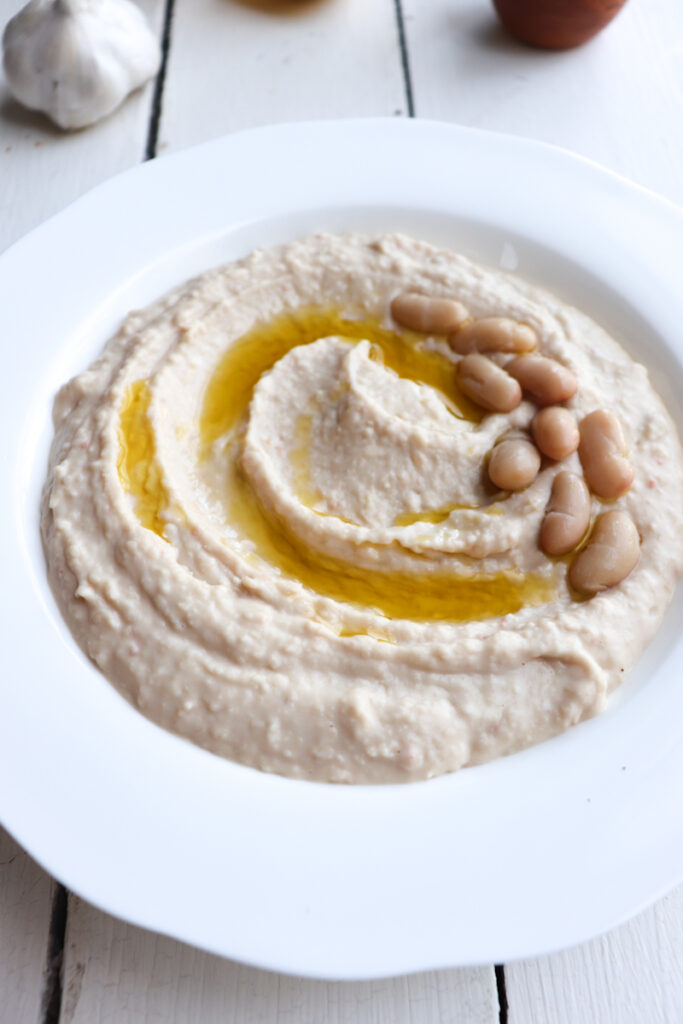 I LOVE homemade hummus. There are some great store bought varieties, but there's just something about making it fresh that sets it apart. For one, you can definitely taste the lemon more strongly. And you can add all the garlic you want, which in our household would arguably border on too much. It takes just minutes to prepare, and is totally worth it.
You're going to love the texture of homemade hummus. There are no stabilizers or preservatives added, so it's often thinner and more creamy. A dip that's just waiting to be scooped up with warm pita bread or slathered on a gyro.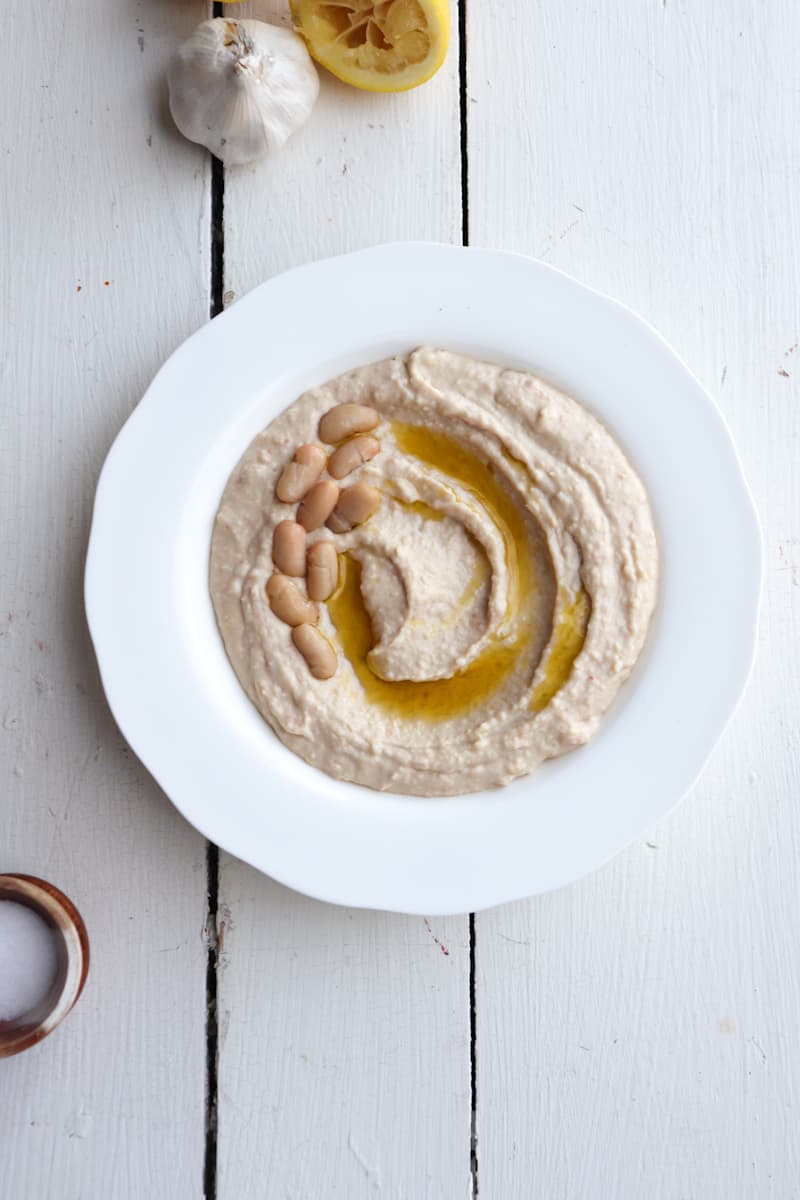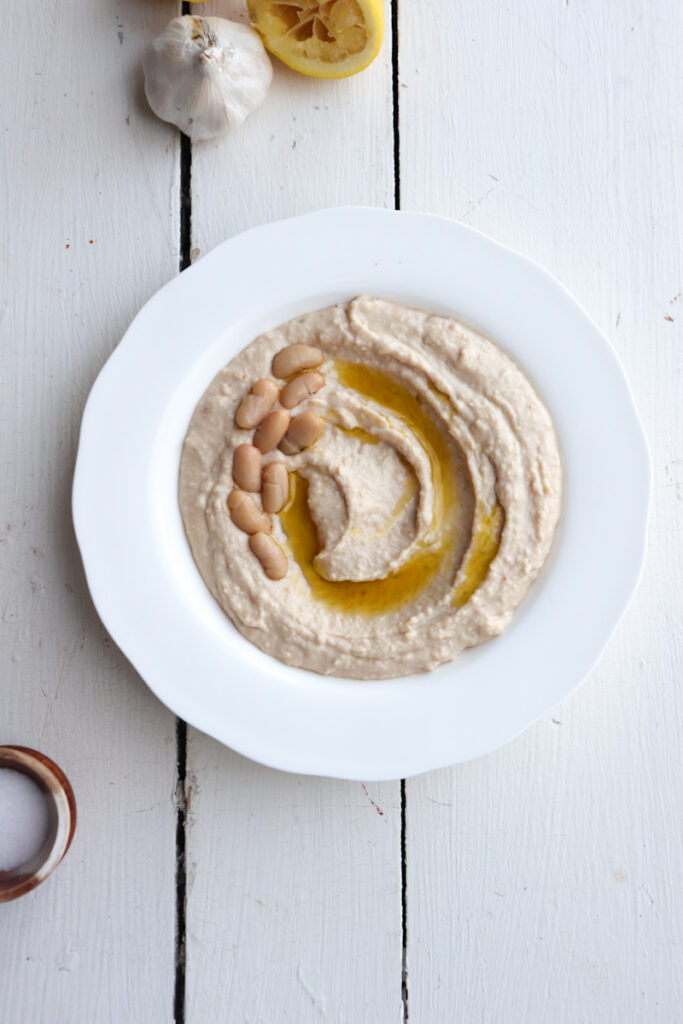 Middle Eastern Hummus is traditionally made with chickpeas, or garbanzo beans, but other beans can be used as well, like white beans. If you have garbanzo beans, feel free to supplement them in here. All the rest of the measurements can remain the same.
Hummus is hard to mess up. It's pretty much the same key ingredients anywhere you go. Beans, quality olive oil, tahini, lemon, and garlic. The quantities might vary a bit, but the ingredients stay pretty standard.
Another name for cannellini beans?
White beans are another name for cannellini beans. You may also see them labeled as northern beans or great northern beans. All of these are the same type of bean and are what this recipe calls for.
Ingredients in white bean hummus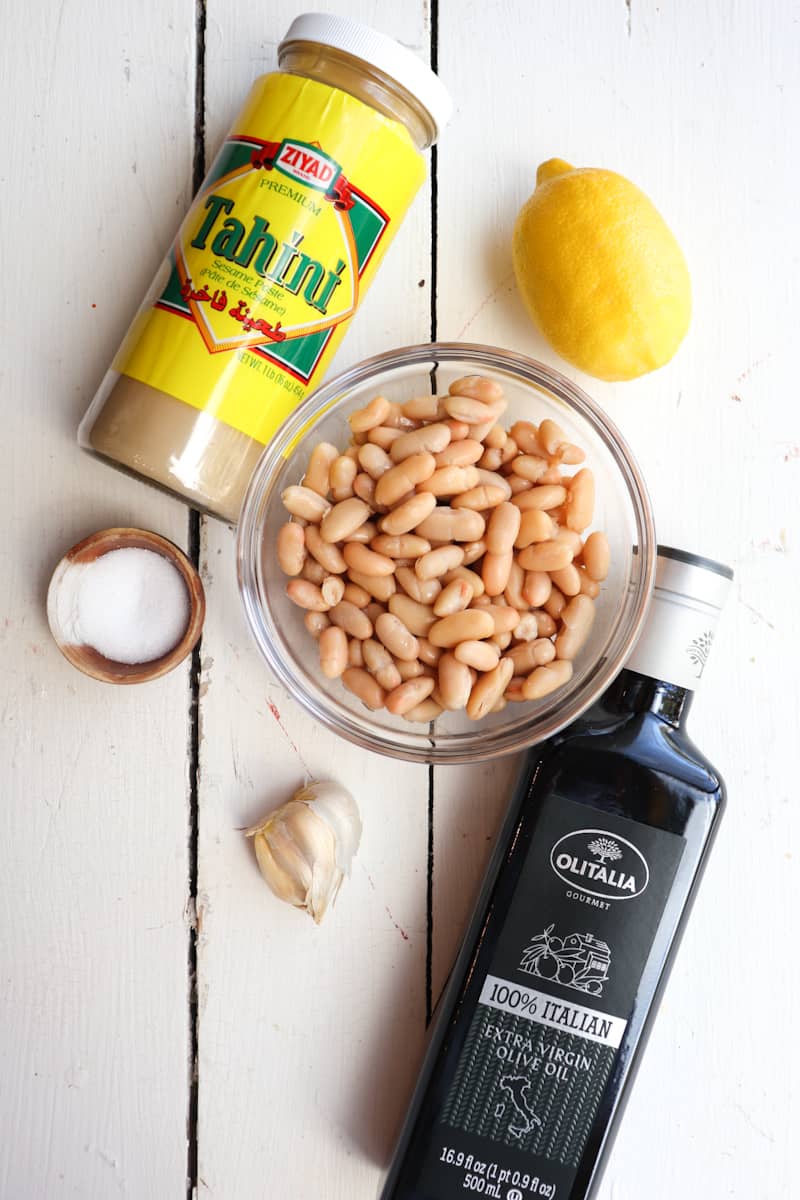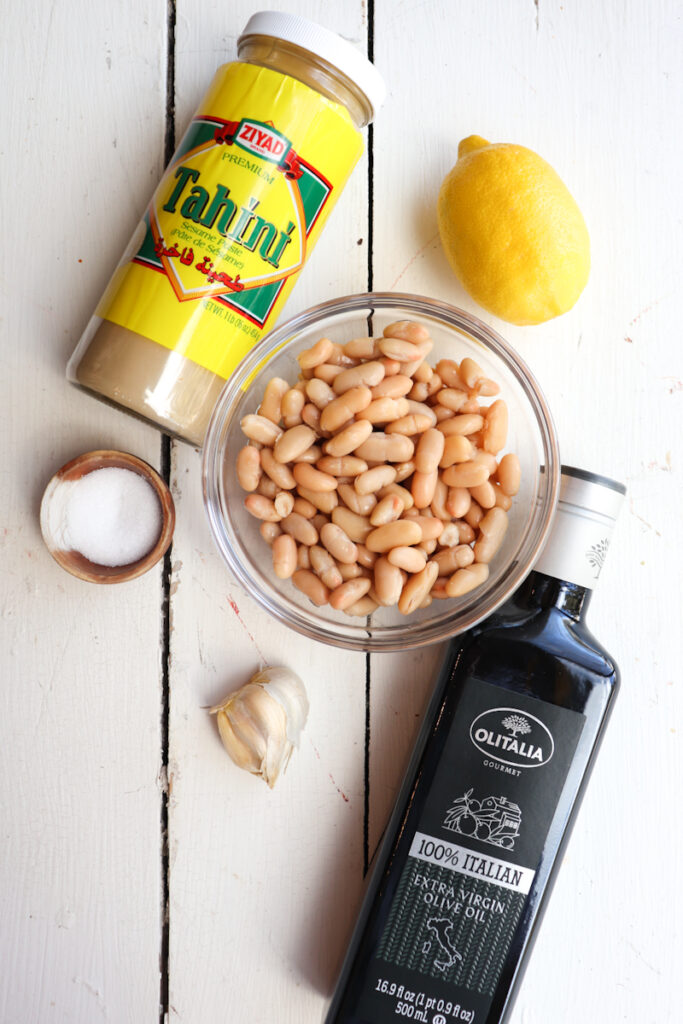 Northern beans. Also called cannellini beans or white beans, this mild bean works as a great garbanzo bean substitute and blends perfectly in this hummus recipe.
Extra virgin olive oil. A good portion of olive oil is used in this recipe to help thin it out and enrich the texture. I suggest using a high quality olive oil here.
Tahini paste. Tahini paste is a middle eastern pantry staple made from ground sesame seeds and oil. The taste is vaguely reminiscent of peanut butter, and in the jar it separates like natural peanut butter does, but it is truly a unique ingredient all its own. Tahini is an essential hummus ingredient that you will find in almost every recipe.
Fresh lemon juice. This helps thin out the recipe and also adds a great brightness to the dip to offset the rich flavors.
Garlic cloves. We like a lot of garlic in our hummus, and generally add around 3 cloves. Because the garlic is uncooked, start with one clove of peeled garlic, taste it, and add another (or two!) if you would like.
Kosher salt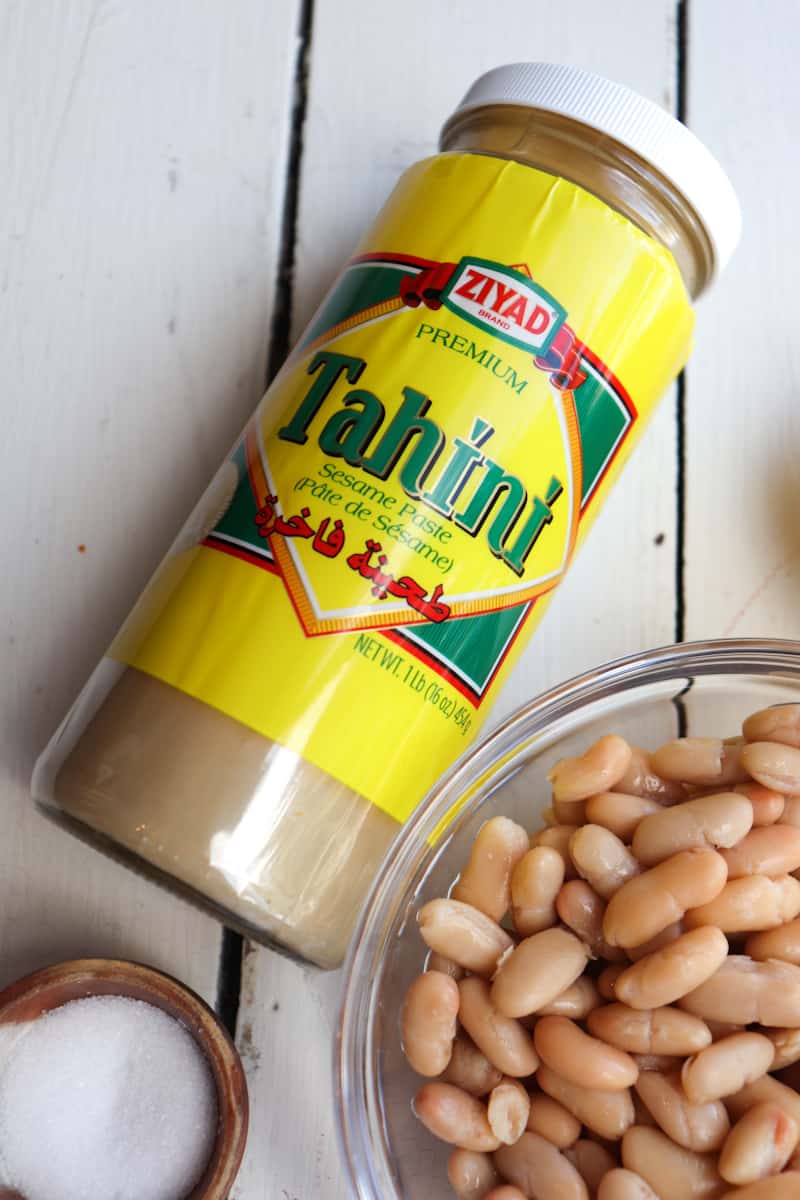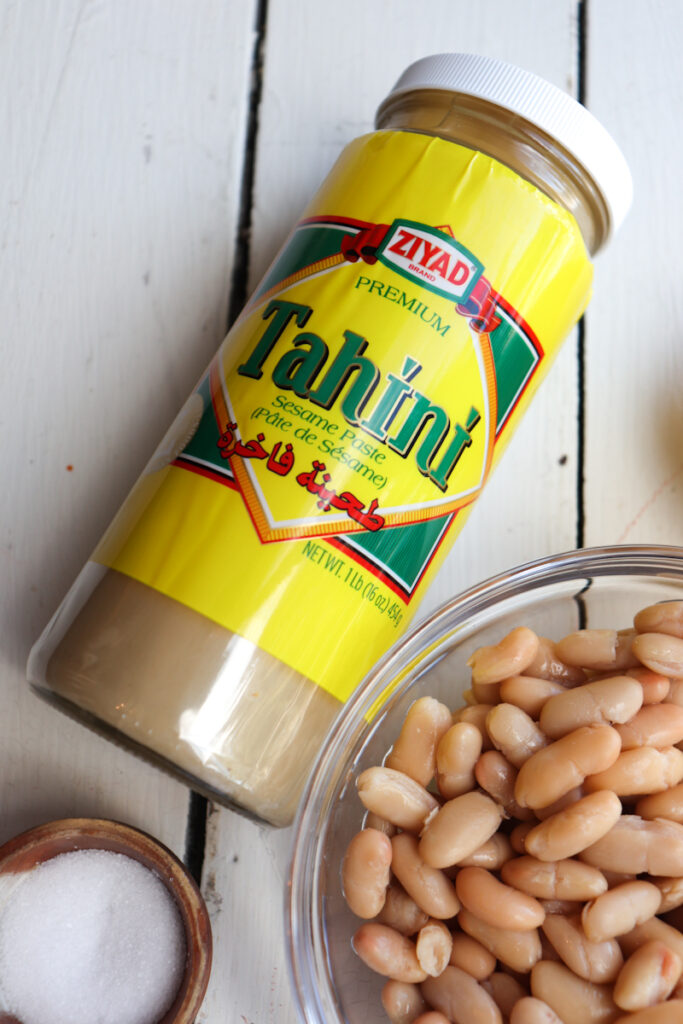 How to make cannellini bean hummus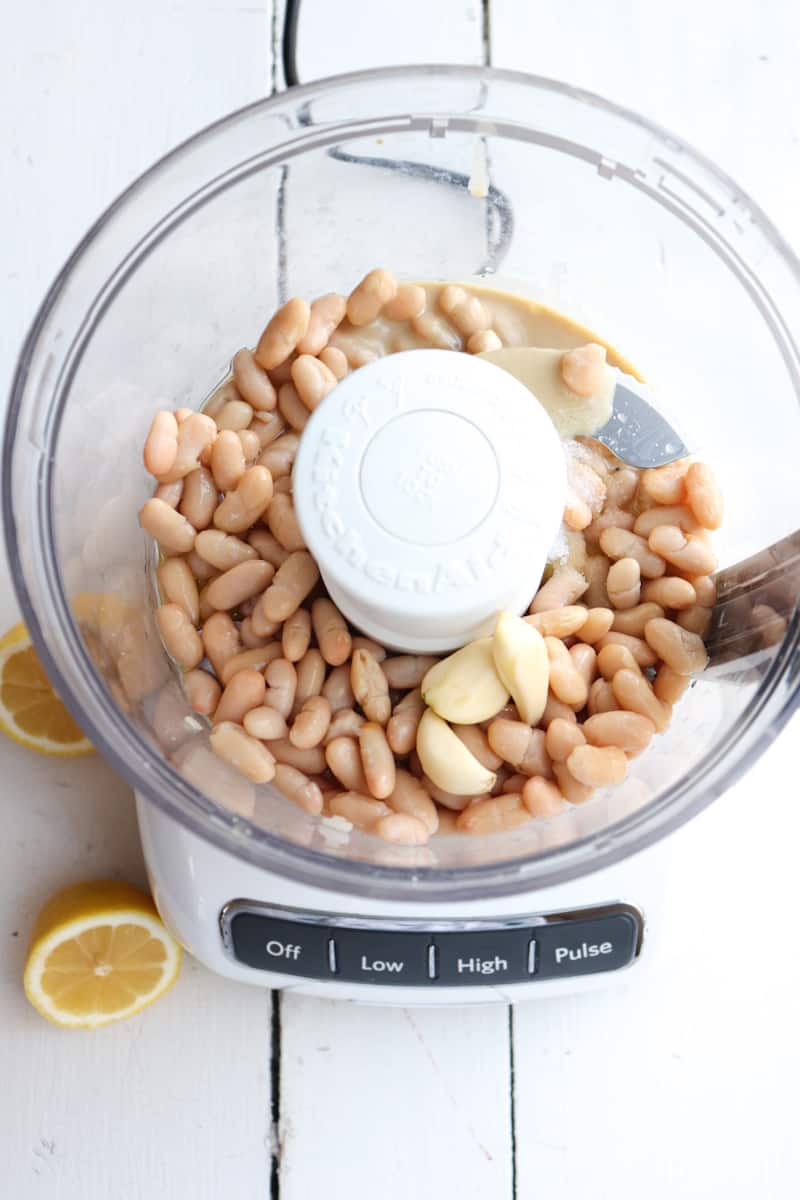 Add ingredients to food processor and pulse until smooth.
Adjust seasoning as needed.
What to serve with hummus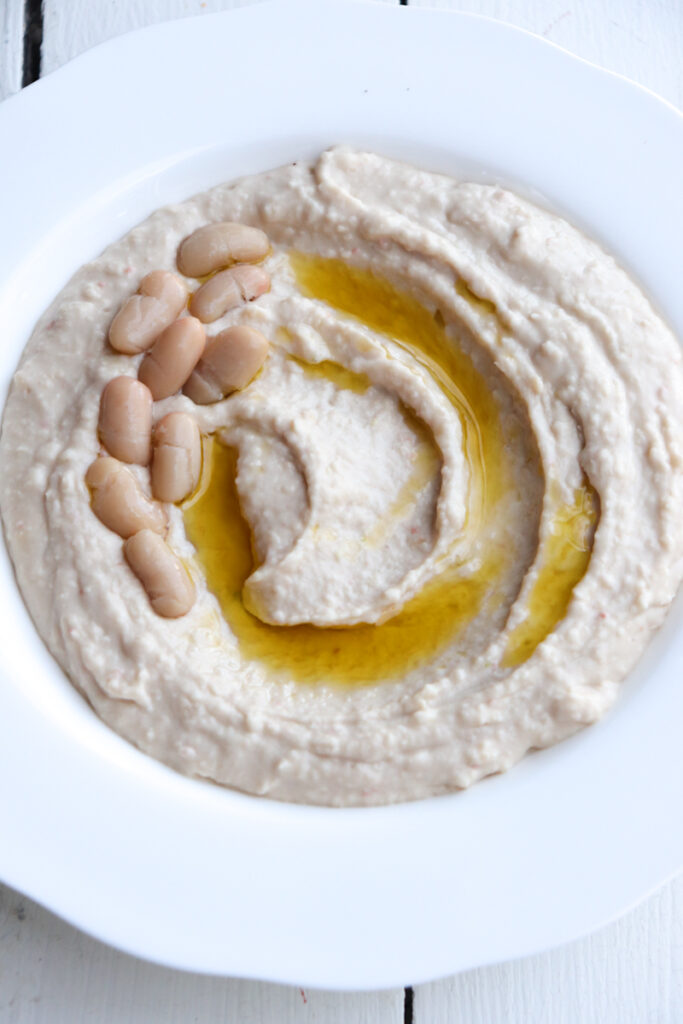 Now that you have your delicious creamy white bean hummus, it is time to enjoy it! Serve this gluten free bean dip with something as simple as fresh cut veggies, pitas, or pretzel chips. Some other ideas for foods to serve with hummus are:
rotisserie chicken
sliced bell peppers, snap peas, and carrots
warm pita bread
gyros
alongside tzatziki sauce in a greek chicken wrap
What's the best tool to make homemade hummus?
I do suggest using a food processor here. A good, smooth hummus is difficult to create without one. A blender is a good supplement in a pinch!
How to store homemade hummus
Store finished hummus in an airtight container in the fridge for up to a week.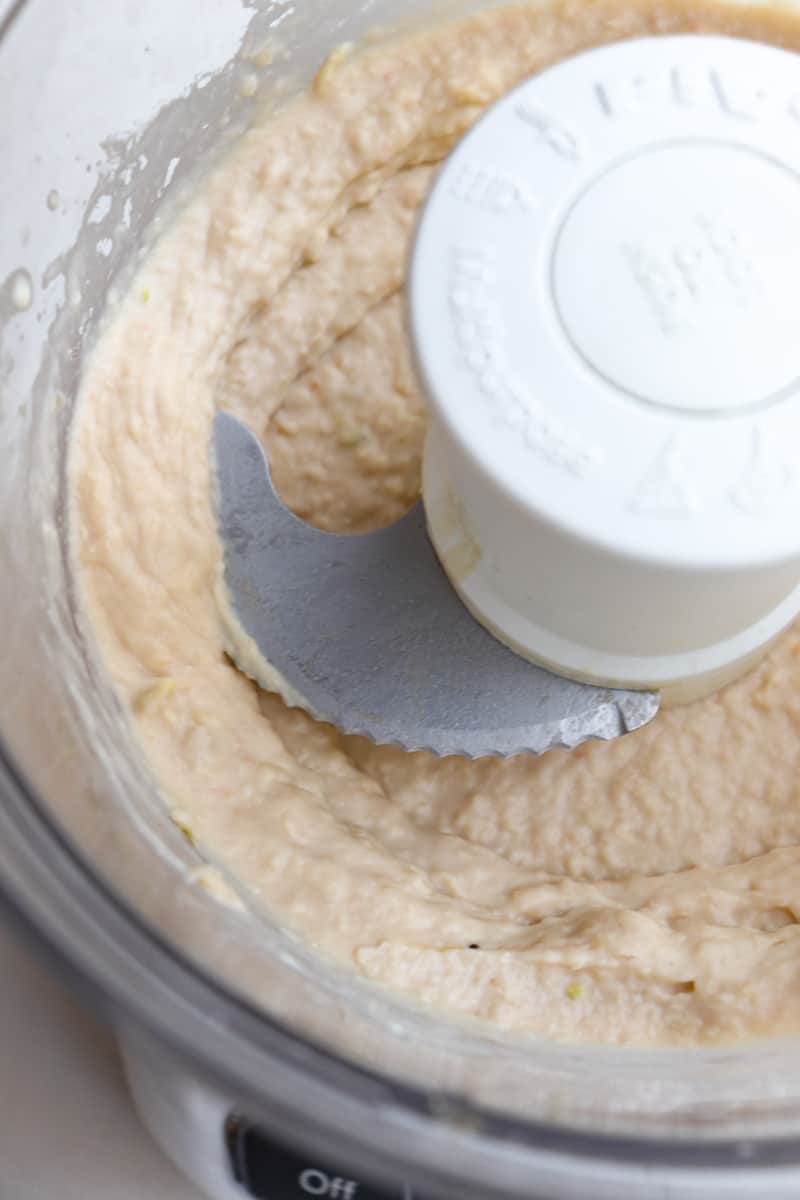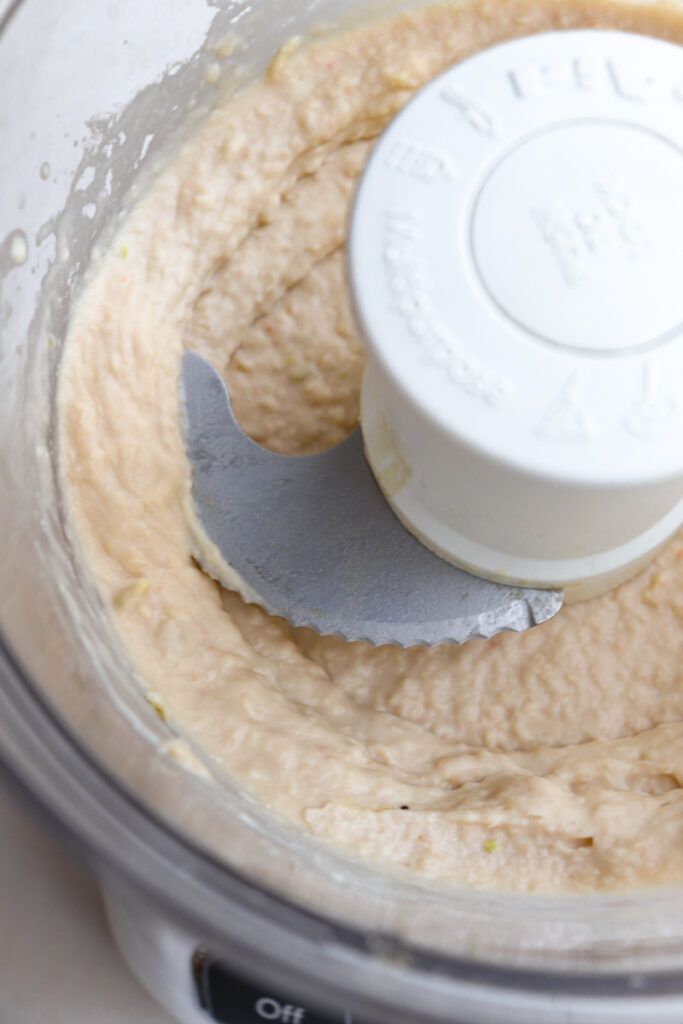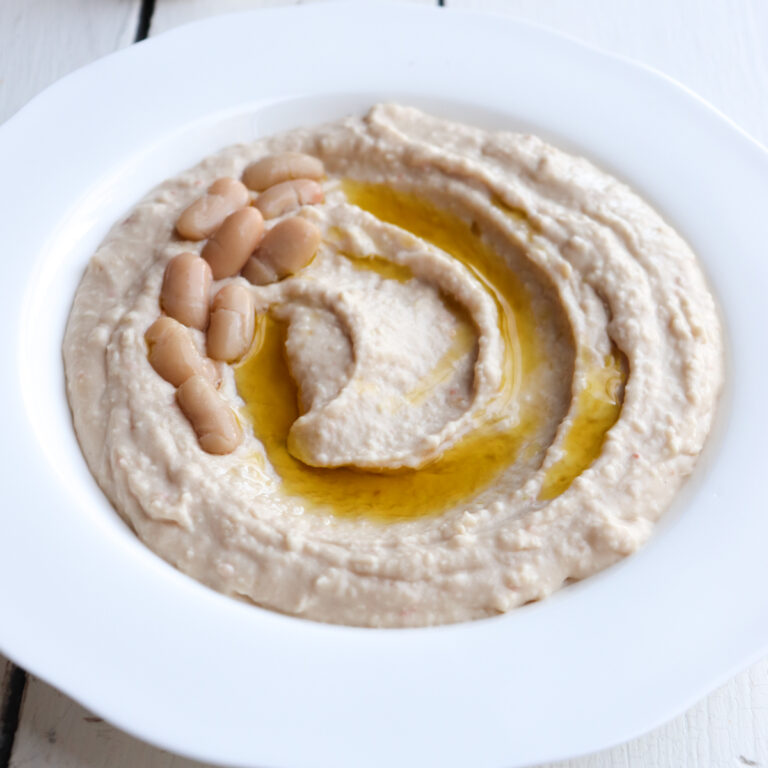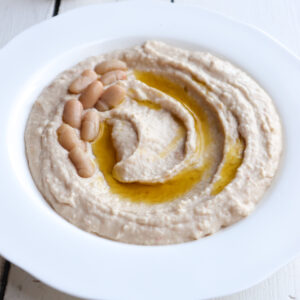 Homemade White Bean Hummus
Homemade White Beans Hummus is made just like traditional garbanzo bean hummus, just with cannellini beans instead!
Ingredients
1 15

oz.

can of Northern beans rinsed

¼

cup

olive oil

2

tbsp.

tahini paste

2

tbsp.

fresh lemon juice

1-2

garlic cloves

peeled

½

tsp.

salt
Instructions
Add ingredients to food processor and pulse until smooth.


Adjust seasoning as needed.
Nutrition
Serving:
1
g
Calories:
293
kcal
Carbohydrates:
25
g
Protein:
10
g
Fat:
18
g
Saturated Fat:
3
g
Polyunsaturated Fat:
15
g
Sodium:
296
mg
Fiber:
8
g