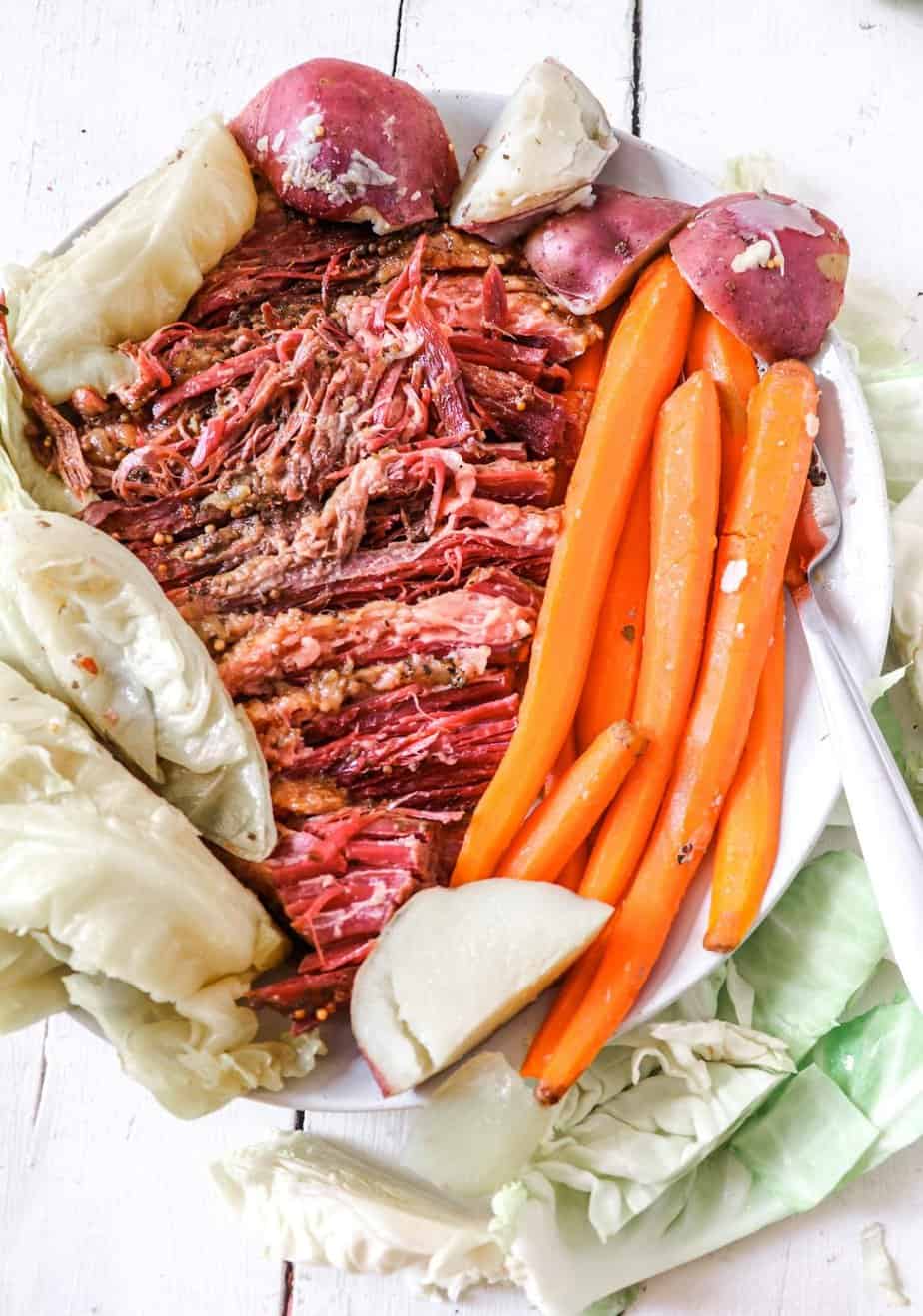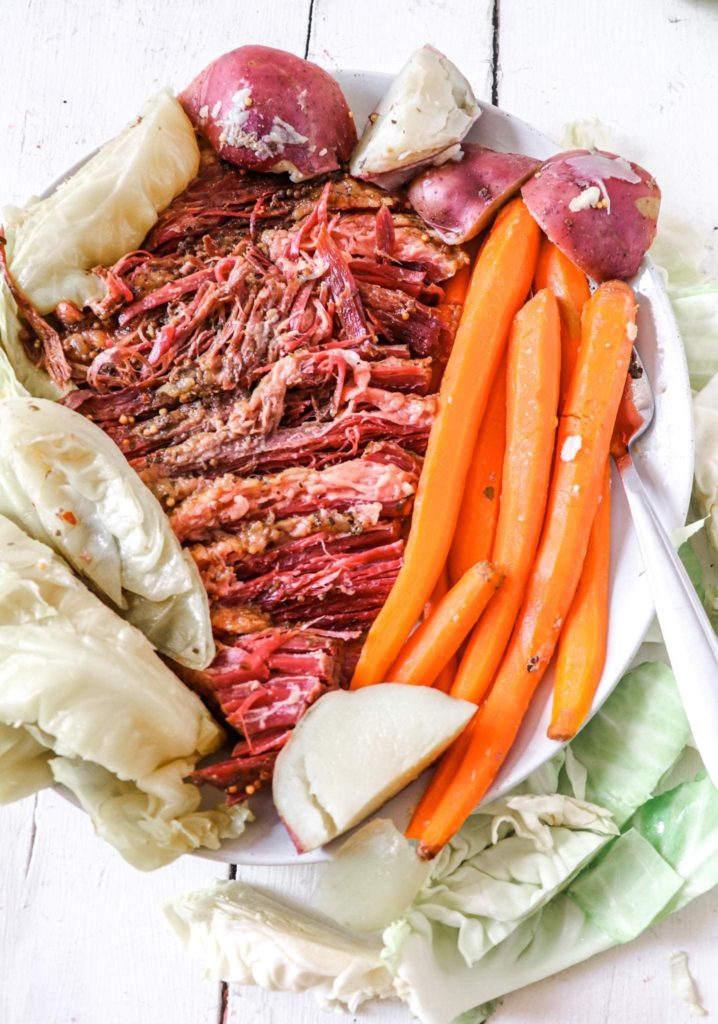 With St. Patrick's Day coming up quick, I thought it would be good to share a recipe for Slow Cooker Corned Beef and Cabbage! This a classic dish to have on the holiday and many people look forward all year to celebrating with this meal!
Corned Beef is made from the brisket cut of beef. The beef is brined, and then cooked at a low temperature for a long time until it is fork tender. Although St. Patrick's Day is thought of as an Irish holiday, corned beef is actually originally jewish! When the Irish immigrated to America, they faced discrimination like the Italians and Jews, and often lived near to them. The Irish went to Jewish deli carts and noticed the similarity of Jewish corned beef to their Irish bacon.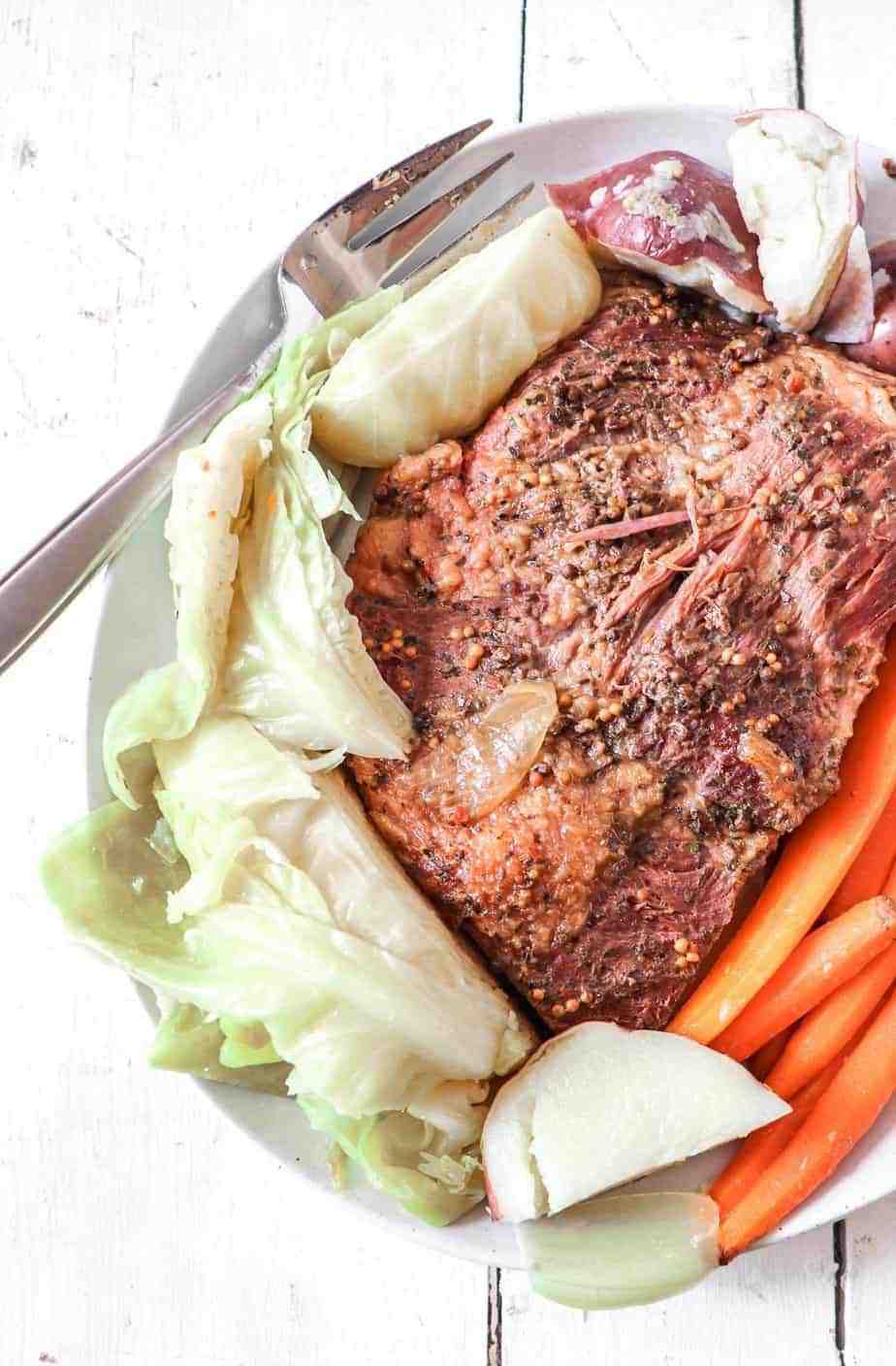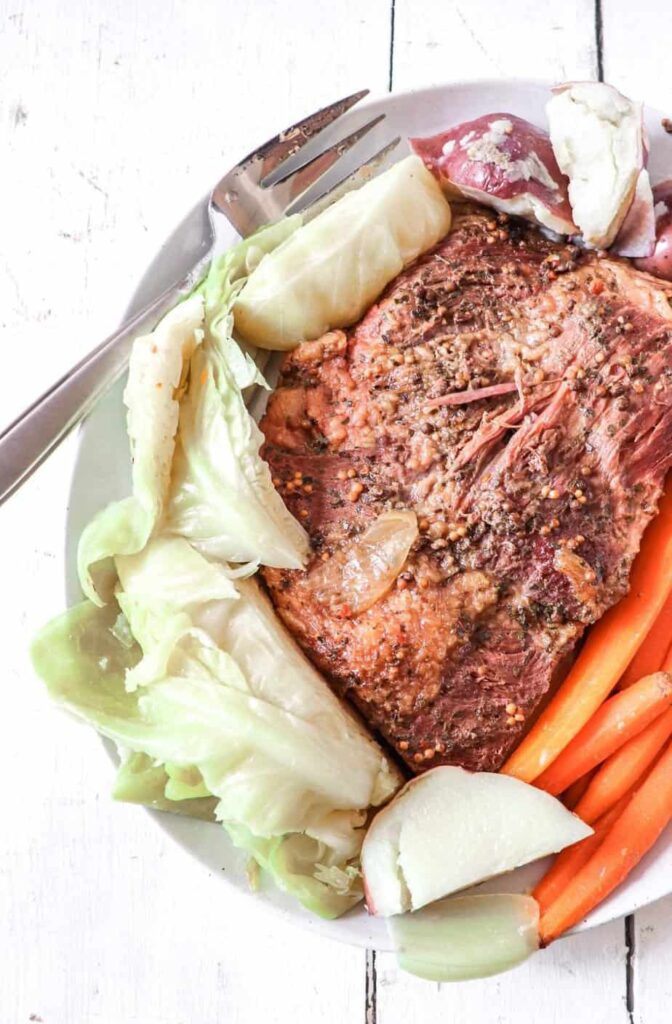 You will traditionally see the beef cooked with veggies like red potatoes, carrots, and cabbage. This was a cost effective way to create a filling meal. It is an incredibly simple dish, that takes time, but not much effort!
Of course, the beef is an important component of Slow Cooker Corned Beef and Cabbage, but the cabbage shouldn't be forgotten. In fact, my mom says it is her favorite part! I love cooked cabbage when it gets tender and buttery. Combine that with the flavors of the beef, pickling spices, and beer and you have a recipe for success!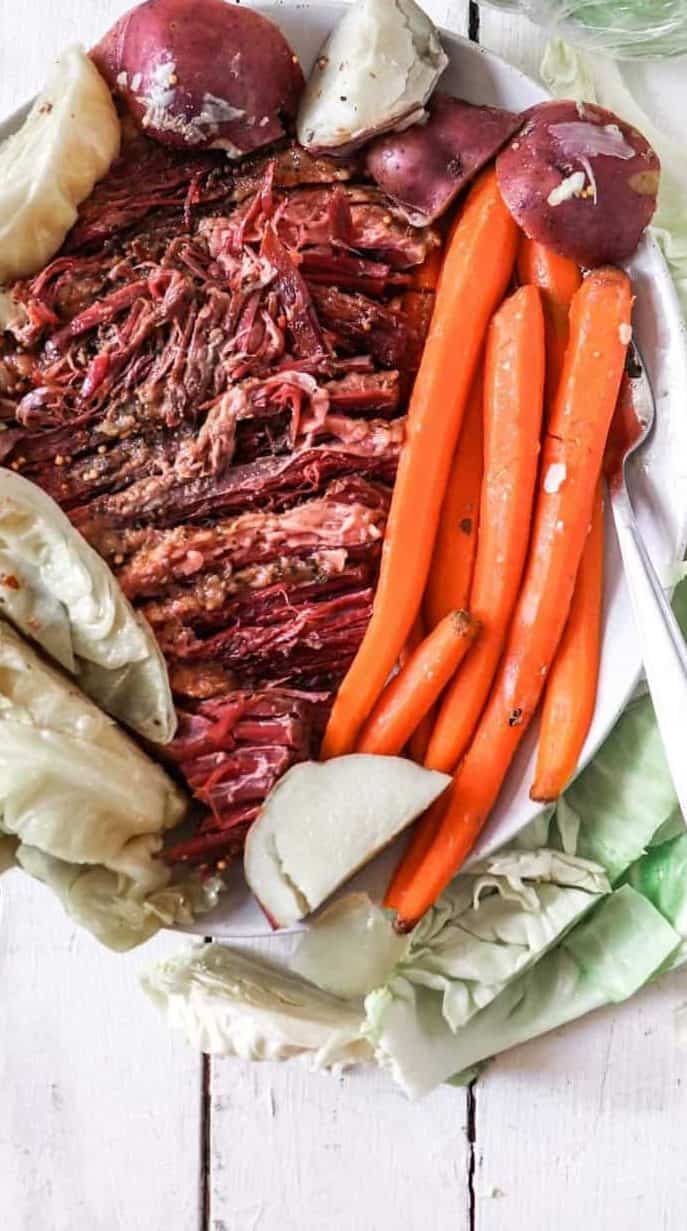 For the cabbage, I simply removed the outer two leaves, and trimmed the bottom of the cabbage. Then I cut in eighths and let the core hold the leaves together!
Why is it best to cook corned beef in the slow cooker?
Low temperature cooking is essential for a tender corned beef! Learn from my mistakes. The first time I tried to make this, I cooked it on the stove, and I accidentally allowed it to boil. This caused a real shoe leather situation to happen. The meat should be cooked low and slow, never getting above a simmer, and the slow cooker on low provides that for you.
Cooking this dish in the slow cooker is also just easiest! It's basically a fix-it and forget-it situation, and 8 hours later you have dinner!
What liquid should I use to cook my corned beef?
Beer! OR-- any liquid. Beer is great though. It has an earthy, nutty flavor that adds nuance to the dish. Beer also adds moisture to the meat and tenderizes it! This is important for a cut like brisket, which can be more tough. The majority of the alcohol does cook off, especially during such an extended cooking time. If you want, you could also supplement water or beef broth instead.
Why do I have to wait to add the veggies?
You don't, technically. However, the veggies take way less time to cook and may end up more mushy than desired if they stay in the slow cooker the entire 6-8 hours. Especially the cabbage, which tenderizes pretty quickly.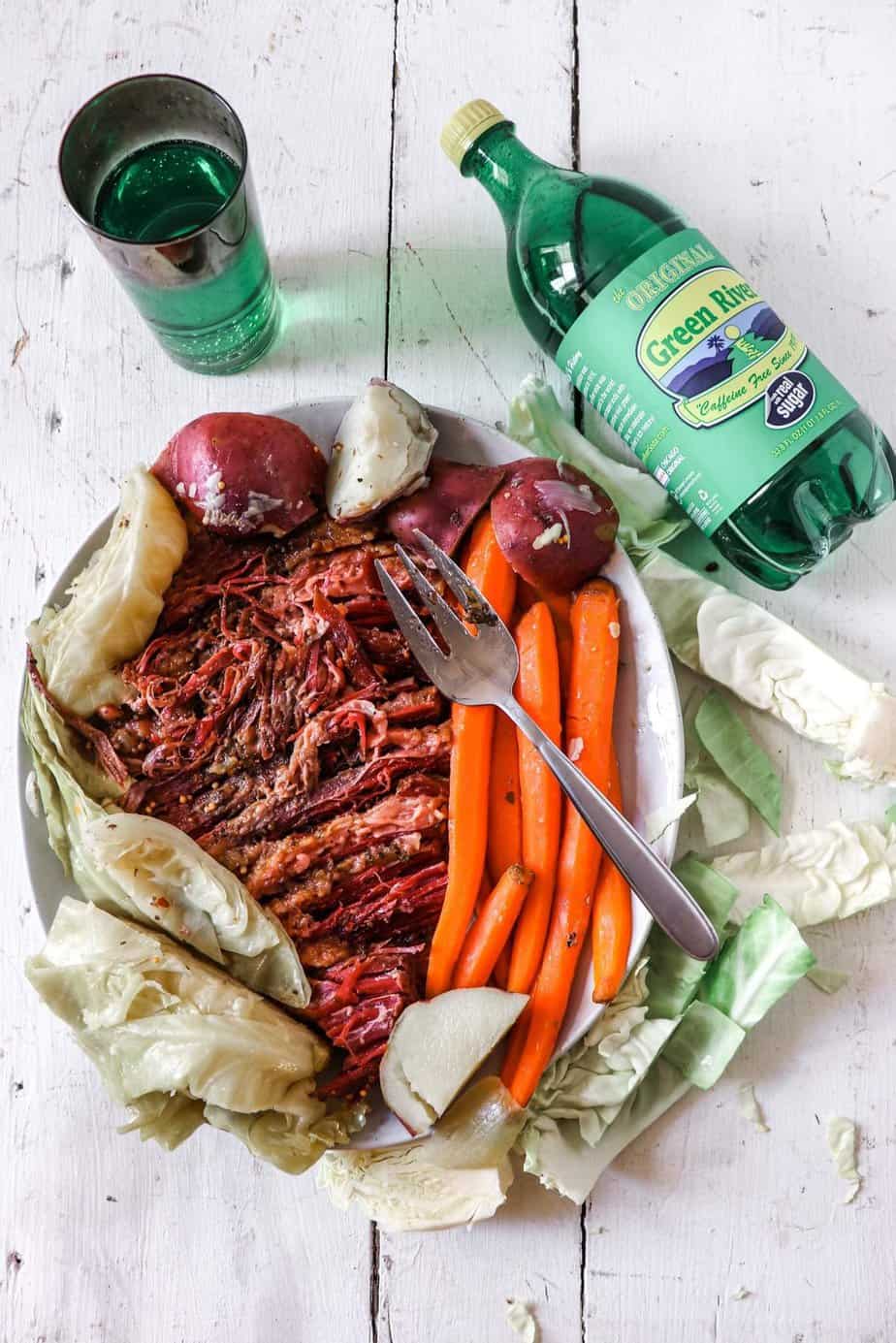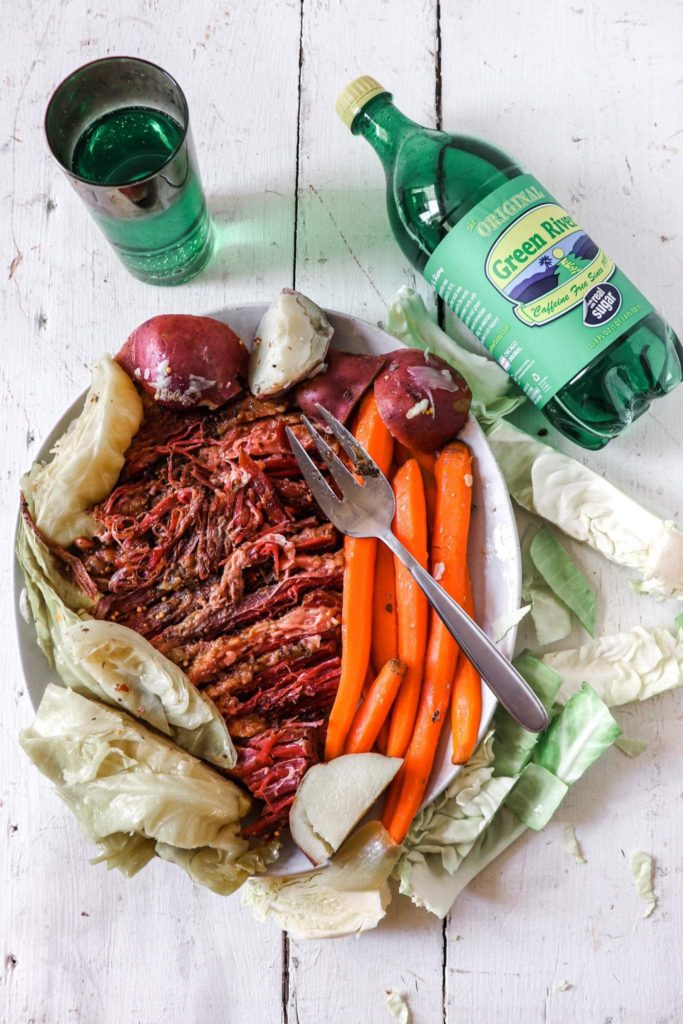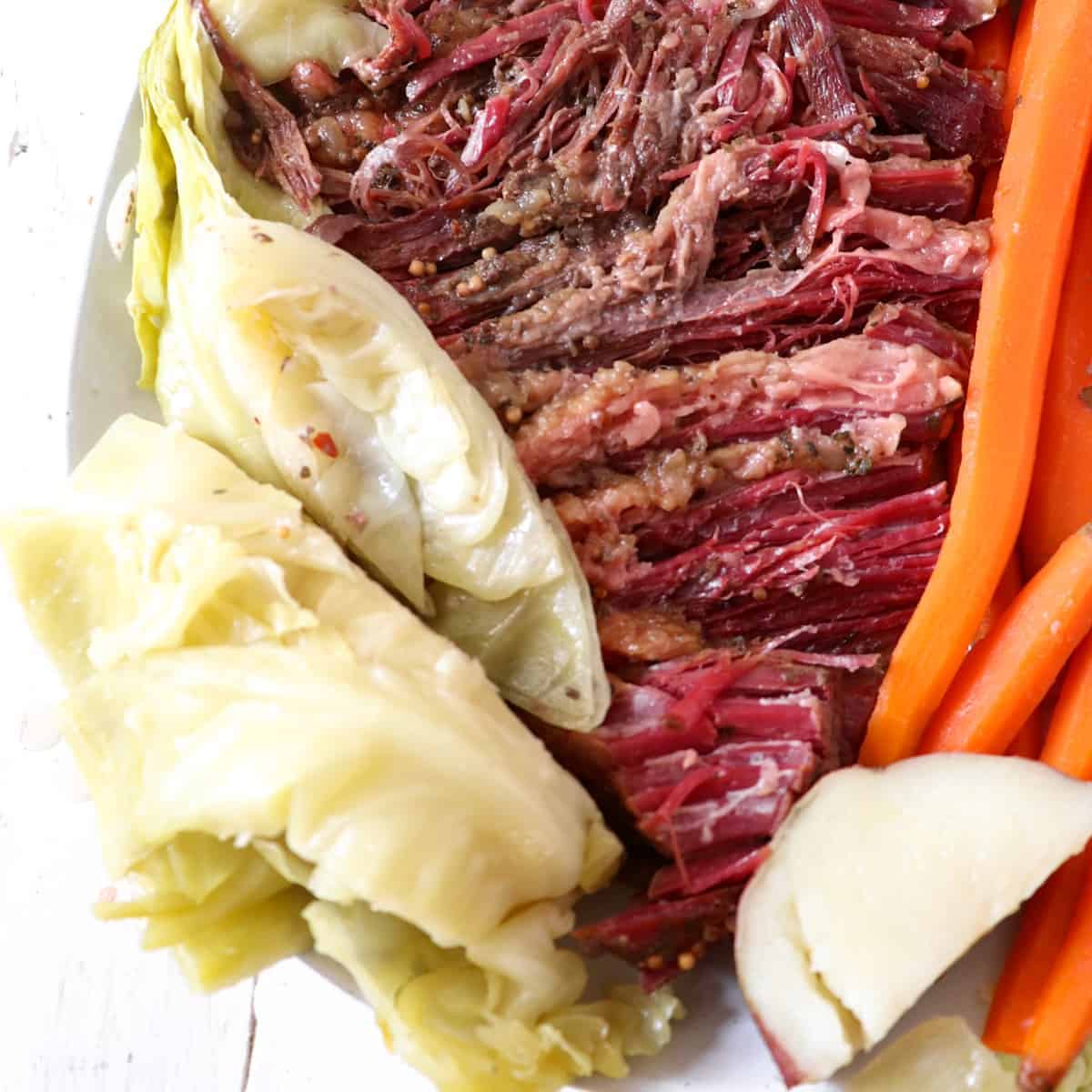 Yield:

6-8 servings
Slow Cooker Corned Beef and Cabbage
Total Time:
8 hours
5 minutes
Ingredients
3 lb. Corned Beef Brisket
1 12 oz. Bottle of Beer
2 bay leaves
1 cup of water
5 medium red potatoes, quartered
1 small head of cabbage, cut into eighths 
8-10 carrots, peeled. Cut in half lengthwise if large.
1 medium yellow onion, peeled and quartered.
Instructions
Place meat in slow cooker and add spice packet and bay leaves.
Pour beer and water over top.
Cover and cook on Low heat for 4-5 hours.
After the 4-5 hours are up, add in onions, carrots, potatoes, and cabbage and cook for another 2-3 hours, or until tender.
Thinly slice corned beef against the grain and serve with the cooked vegetables.
Nutrition Information:
Yield:
8
Serving Size:
1
Amount Per Serving:
Calories:

635
Total Fat:

32g
Saturated Fat:

12g
Trans Fat:

0g
Unsaturated Fat:

15g
Cholesterol:

180mg
Sodium:

132mg
Carbohydrates:

29g
Fiber:

4g
Sugar:

4g
Protein:

52g