Yes, it's true. Another one of my Olive Garden favorites that was discontinued. Olive Garden Ravioli di Portobello features tender mushroom ravioli, a sun dried tomato and smoked gouda sauce, and is topped with chopped tomatoes and sliced green onions. Just because we can no longer get it at the restaurant, doesn't mean we can't still enjoy it! Looking to recreate this Olive Garden dish at home? Look no further than this homemade Mushroom Ravioli with Sun-dried Tomato Cream Sauce.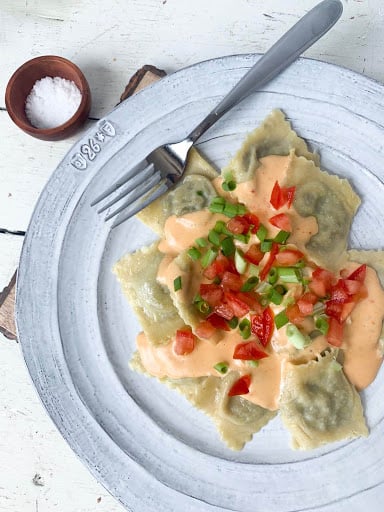 I'm beginning to realize just how many Olive Garden inspired dishes I enjoy making! If you would like to try others, Chicken and Gnocchi Soup, Chicken Veronese, Steak Gorgonzola. And finally, everybody's favorite-- Zuppa Toscana!
I love mushroom ravioli. More than cheese, more than brisket, in my opinion portobello mushrooms create the perfect filling. They give a nice richness, an umami flavor. Enter, Mushroom Ravioli with Sundried Tomato Cream Sauce. It's cheesy, warm, and oh so filling. This recipe tastes so close to the Olive Garden version, you won't believe it! Just be sure to top it with green onions and fresh chopped tomatoes-- it totally completes the dish.
What makes Olive Garden's cream sauce so special?
Smoke gouda and sundried tomatoes. The sauce is creamy, cheesy, acidic, and salty. It hits all the right notes!
Can you use store-bought ravioli?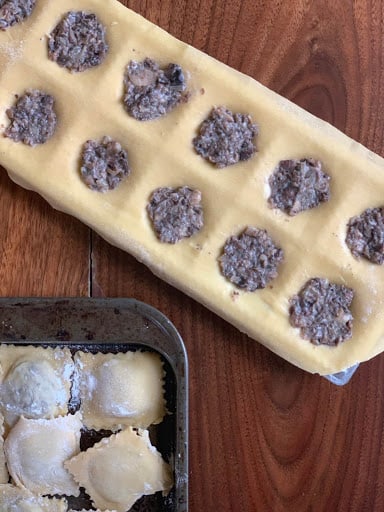 This recipe features homemade pasta dough and homemade mushroom filling. One of my favorite parts of Olive Garden's raviolis was that they had large chunks of mushrooms and finer ground mushrooms, as well. Store Bought ravioli typically just have finer ground mushrooms.
Homemade ravioli are not difficult to make. It can be done entirely by hand or with a tool such as this one.
Making your own ravioli can, however, be a little time consuming. If you want, you can definitely use store bought ravioli for this recipe! This will significantly cut down on the time it takes for this meal to come together (all you will have to make is the sauce), and it will still be delicious!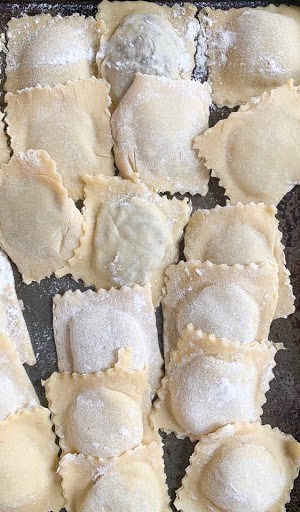 Can you freeze the homemade mushroom ravioli?
That would be a great idea. My suggestion would be to first lay the fresh mushroom ravioli on a baking sheet and freezing them that way, before transferring them to an airtight container. This will help them not all stick together. When cooking then from frozen, give them 1-2 extra minutes of cooking time.
What ingredients do you need for Olive Garden Ravioli di Portobello copycat recipe?
Pasta Dough
Mushroom Filling
olive oil
portobello or cremini mushrooms
shallot
garlic
dried thyme
ricotta
freshly grated parmesan
salt and pepper
Sun Dried Tomato Cream Sauce
butter
flour
heavy cream
sun-dried tomatoes
salt
smoked gouda cheese shredded
cup milk
Instructions on how to make this delicious Olive Garden copycat can be found below.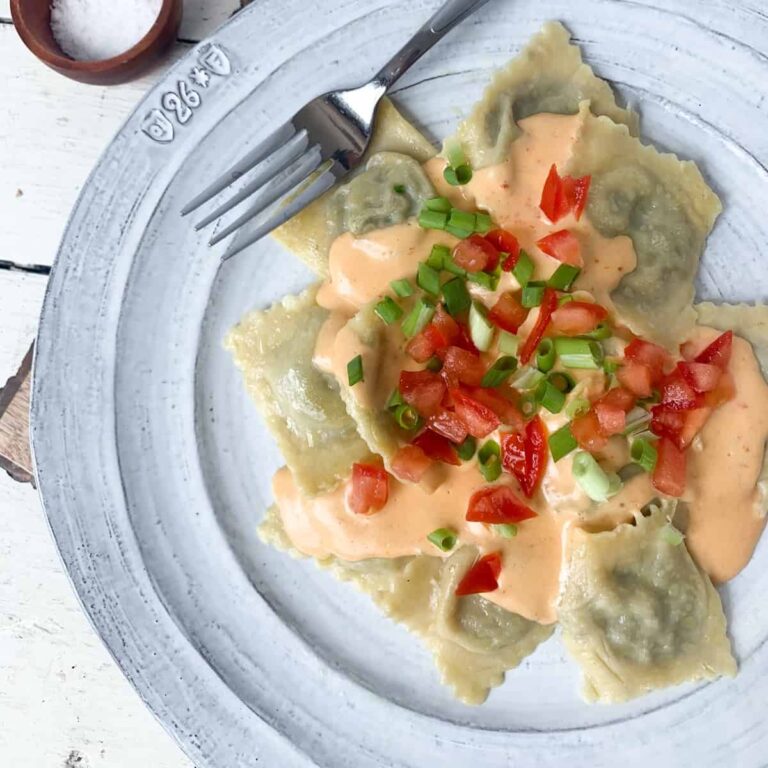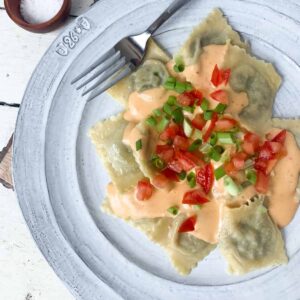 Homemade Mushroom Ravioli with Sun-dried Tomato Cream Sauce
Olive Garden Ravioli di Portobello features tender mushroom ravioli, a sun dried tomato and smoked gouda sauce, and is topped with chopped tomatoes and sliced green onions.
Equipment
Food processor

Ravioli Mold

Immersion Blender
Ingredients
Pasta Dough
2

cups

flour

plus more for sprinkling

3

eggs

1

tsp.

olive oil

water

as needed
Mushroom Filling
1

tbsp.

olive oil

20

oz.

portobello or cremini mushrooms

sliced

1

shallot

diced

3

garlic cloves

minced

1

tsp.

dried thyme

2

tbsp.

ricotta

2

tbsp.

freshly grated parmesan

salt and pepper

to taste
Sun Dried Tomato Cream Sauce
2

tbsp.

butter

1

tbsp.

flour

1

cup

heavy cream

3

sun-dried tomatoes

½

tsp.

salt

4

oz.

smoked gouda cheese

shredded

½

cup

milk
Garnish
4

green onions

chopped

1

medium tomato

diced
Instructions
Making the Ravioli
In a large bowl add flour and mound up like a volcano. Create a dip in the volcano and crack in your three eggs and add oil.

With a fork, whisk together eggs and oil. Then, with your hands begin to incorporate flour with egg mixture. Do this until a rough ball of dough has been created. It will be tacky and textured to start-- don't worry, it just needs to be kneaded. (Don't we all)

On a floured surface begin to knead until it is smooth, this will take 8-10 minutes (You may need a  little water to help the dough form, try a tsp. at a time). If you have a Kitchenaid mixer, place dough into bowl and use dough hook to knead on low speed for the 8-10 minutes. Otherwise, this is the time to give your muscles a workout!

Cover dough in plastic wrap, and let rest for 30 minutes. 

While the dough is resting, begin making your mushroom filling.

In a saute pan heat olive oil over medium high heat. Add in sliced mushrooms, diced shallots and garlic. Saute for 5-10 minutes, until the mushrooms have released their liquid and cooked down.

Add cooked mushroom mixture to a food processor and pulse several times until it reaches desired consistency (I like it at a slighter coarser size).

Transfer mixture to a bowl and add ricotta, thyme, parmesan, and salt and pepper to taste.

Once the dough has rested, break off about ¼ off the dough. Place it on a floured surface and roll it very thin with a rolling pin. The dough should be thin enough that you are able to slightly see your hand through it. Make sure the dough is coated in flour, so that it doesn't stick.

Using a ravioli maker, begin creating your ravioli. (I used about a teaspoon and a half of filling per ravioli, but it will vary depending on the size you want to create). Place one layer of thin pasta dough down, pressing gently into the mold. Add filling, taking care not to overfill, you don't want it spilling out the sides. Place second layer of dough on top.

Press the sides together firmly until they are fully sealed.

Cook ravioli by dropping them in boiling water for 5 minutes. If you aren't going to use them right away, you can freeze them!
Sauce
For the sauce, melt butter in a sauce pan and whisk in flour to create a roux. Cook for 1-2 minutes.

Add heavy cream, milk, sun-dried tomatoes, and salt and whisk to combined. Cook on a low heat for about 5 minutes. Use an immersion blender until the sun-dried tomatoes are incorporated fully, and the sauce is a light orange color.

Add in cheese and allow to melt while stirring.

Pour finished sauce over cooked ravioli and garnish with green onions and diced tomatoes.
Nutrition
Calories:
801
kcal
Carbohydrates:
66
g
Protein:
29
g
Fat:
48
g
Saturated Fat:
27
g
Polyunsaturated Fat:
3
g
Monounsaturated Fat:
15
g
Trans Fat:
0.3
g
Cholesterol:
251
mg
Sodium:
734
mg
Potassium:
1066
mg
Fiber:
4
g
Sugar:
8
g
Vitamin A:
1846
IU
Vitamin C:
7
mg
Calcium:
475
mg
Iron:
6
mg