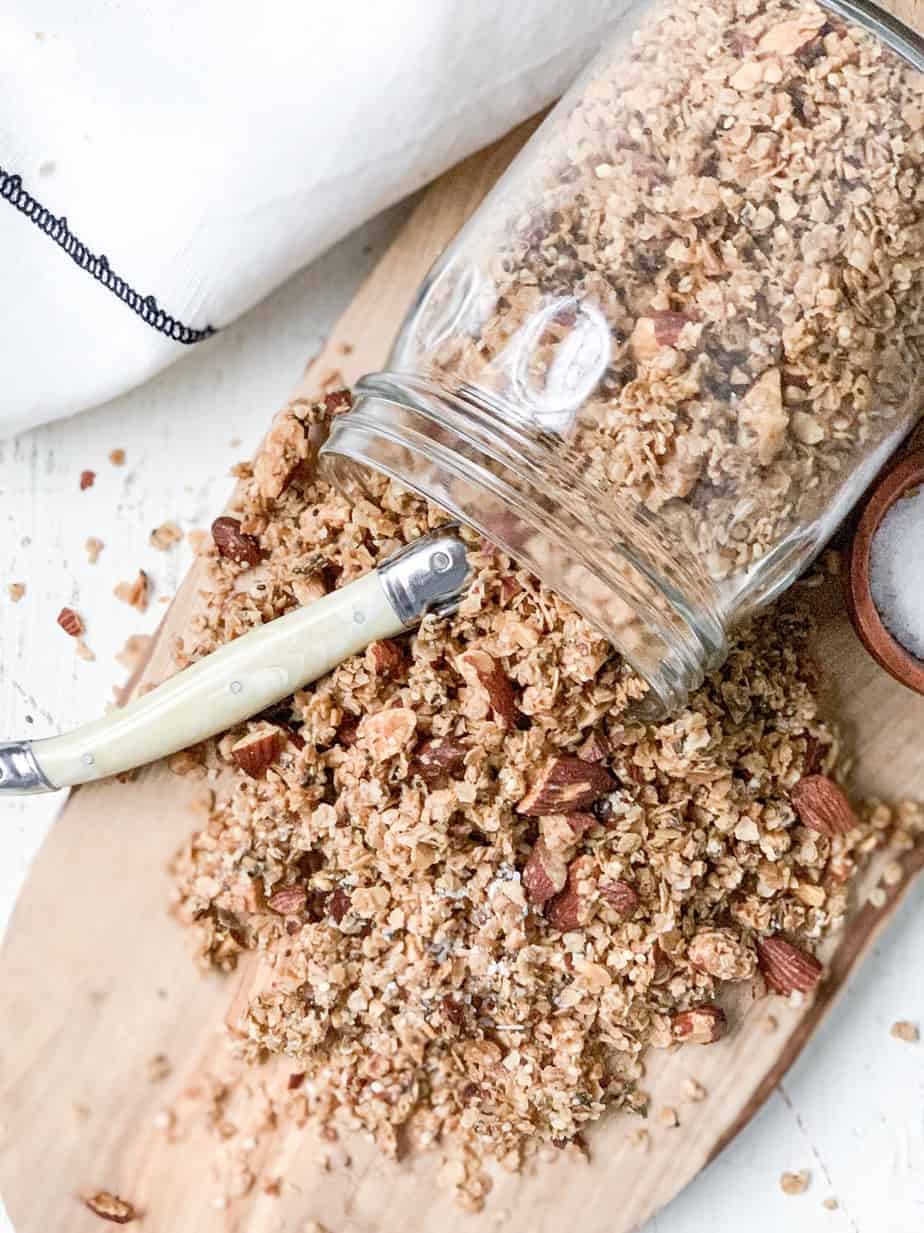 I created this recipe for my husband and sister. My husband loves to have granola for breakfast as a healthier alternative to traditional cereal. My sister has been craving a yogurt parfait, and you need a good granola for that!
Store bought granolas are delicious, but are often chock-full of sugar and very expensive. Making your own is so easy! The recipe I am sharing is pretty basic, so feel free to adjust with your favorite toppings. This granola is slightly sweet, but not overpoweringly so. If you want it sweeter, try adding chocolate chips or dried fruit.
The secret ingredient here is the chia seeds! When chia seeds are mixed with a liquid, they create a gel. The gel helps to bind the granola together and create some wonderful clumps. This is the reason that the chia seeds are mixed directly into the wet ingredients, and then the mixture is added to the dry.
Regarding texture, be aware that the granola will take about 10-15 minutes to harden after coming out of the oven. When it first comes out, it will still be malleable. This may cause you to think it isn't finished cooking, but rest assure that it is! Just let the room temperature air work its' magic. Don't mess around with it until it's hardened, or it won't clump!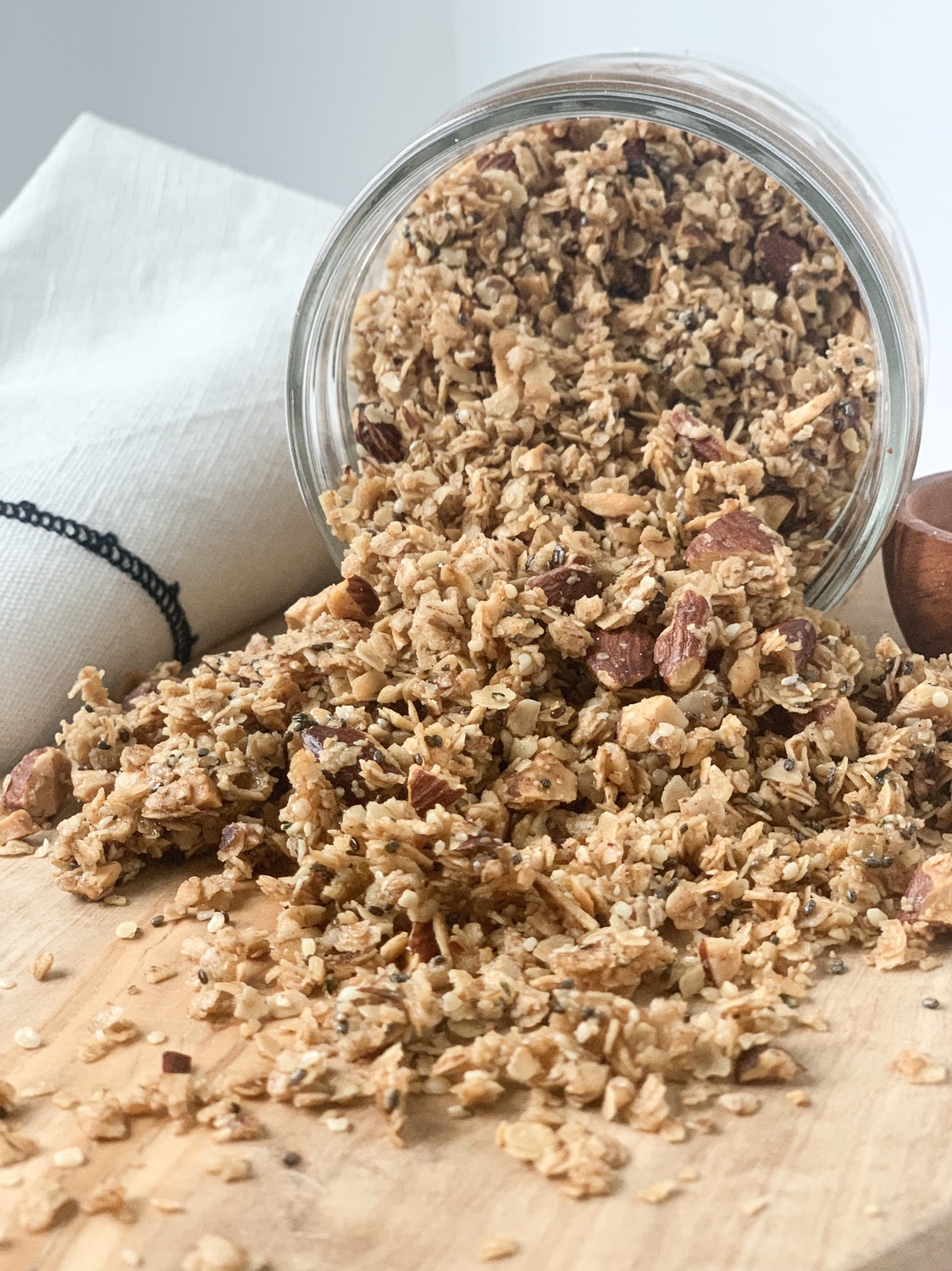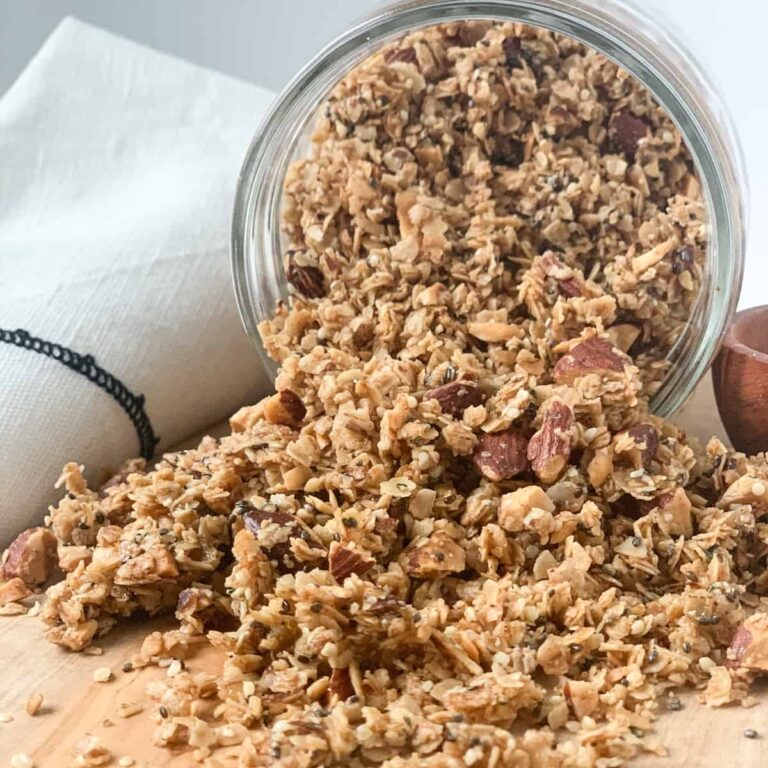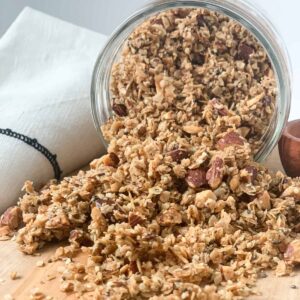 Homemade Granola
Ingredients  
2

cups

Rolled Oats

1

cup

almonds

chopped

2

tablespoon

hemp seeds

1

teaspoon

cinnamon

1

teaspoon

sea salt

⅓

cup

honey

⅓

cup

coconut oil

1

teaspoon

vanilla

2

tablespoon

chia seeds
Instructions 
Preheat oven to 300 degrees. In a large mixing bowl, combine dry ingredients except for the chia seeds (oats, chopped almonds, hemp seeds, salt, and cinnamon)

In a glass dish, combine honey and coconut oil. Microwave for about 30-45 seconds. This will liquify the coconut oil, and help everything to combine more easily.

Add vanilla and chia seeds to the warmed wet ingredients and stir. Pour over top of the dry ingredients and stir until everything is evenly coated. 

Place on a baking sheet flat and packed together (this will also help to encourage clumping). 

Bake for 30 minutes, turning the pan halfway through for even toasting. Let granola cool completely before storing in an airtight container. It will stay fresh on the counter for two weeks-- but I doubt it will last that long!