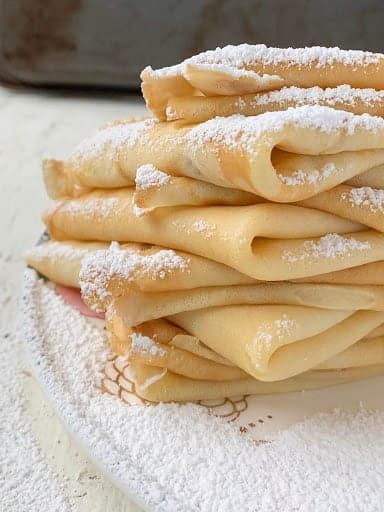 The thinner, more versatile counterpart to American pancakes, French crepes are vessels to all kinds of wonderful toppings. Nutella, whipped cream, fresh fruit, even plain powdered sugar all work wonderfully with the delicate crepe. They are reminiscent of the german Pfannkuchen.
Crepes get a bad rap for being difficult to make, but that really isn't the case at all! They may seem fancy, but they are very simple to make.
There are two important things to keep in mind that will ensure your crepe making goes smoothly.
Let the batter sit for a little while after making it to allow some of the bubbles to die down. This makes a big difference in ensuring that the crepe doesn't tear while cooking. I tried not to let it sit the first time, and it was a mess. I let the batter sit overnight, and had zero issues when making the crepes the next morning. They all came out perfect. One hour in the fridge should do the trick, but you can leave it for up to 48 hours.
Use a really hot, nonstick pan. There is no need to go out and buy a crepe pan for this one dish-- we all have enough gadgets in our kitchen as it is. A nonstick pan, the same as what you would use for an omelet, works very well. Because crepes are so thin, they cook up in less than a minute with high heat.
Savory version: If you want to have savory crepes instead, omit the sugar. The batter will still be wonderful, and the crepes will be ready for toppings such as fresh herbs, gruyere, and ham. Yum!
What is everyone's favorite crepe topping?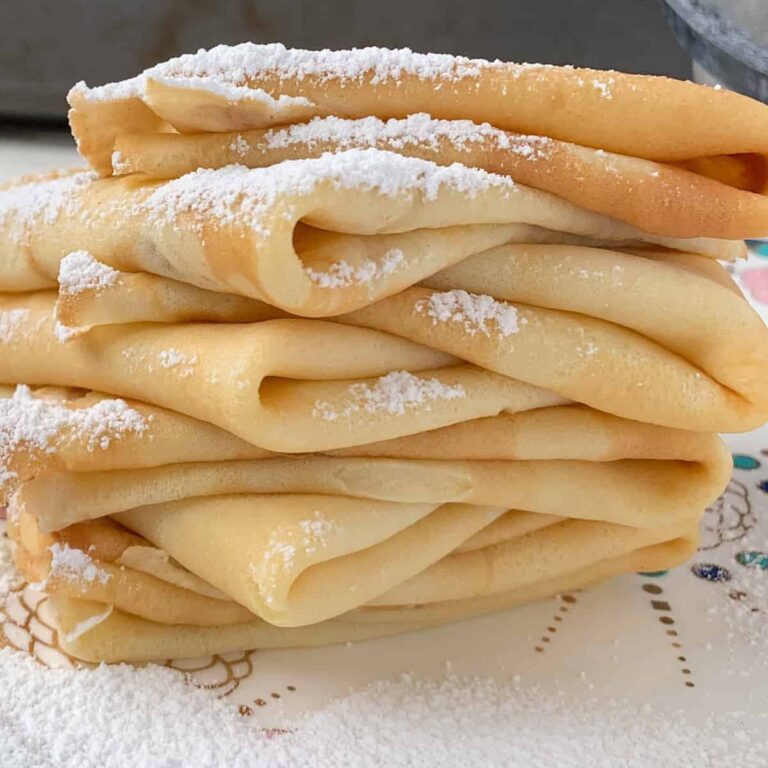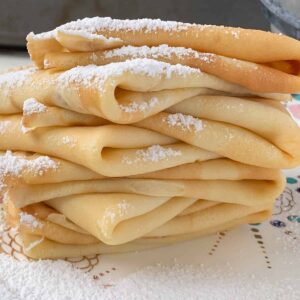 How to Make Classic Crepes
Basic French Crepes are made with a simple recipe for a sophisticated breakfast. Top with whipped cream and fresh fruit.
Ingredients
1 ¾

cups

milk

½

tsp.

salt

3

eggs

1

tbsp.

sugar

1 ½

cups

flour

3

tbsp.

melted butter
Instructions
In a blender, combine all of the ingredients and pulse for 10-15 seconds until everything is well combined. Let rest in the fridge for 1 hour (or up to 48 hours).

Heat an 8-inch nonstick pan on high and pour in batter (about ⅓ cup per crepe), tilting the pan to evenly coat the bottom. Cook for 45 seconds, and then flip and cook for another 15. Transfer to a plate and repeat the process to finish making remaining crepes. Any leftover crepes can be refrigerated or frozen.

Nutrition
Calories:
376
kcal
Carbohydrates:
45
g
Protein:
13
g
Fat:
16
g
Saturated Fat:
9
g
Polyunsaturated Fat:
1
g
Monounsaturated Fat:
4
g
Trans Fat:
0.4
g
Cholesterol:
159
mg
Sodium:
398
mg
Potassium:
259
mg
Fiber:
1
g
Sugar:
9
g
Vitamin A:
628
IU
Calcium:
160
mg
Iron:
3
mg