This asian chicken marinade is full of flavor and spice. Use it for chicken thighs or boneless skinless chicken breasts before cooking for perfectly seasoned meat full of flavors like cilantro, lime, and spiciness from sambal oelek.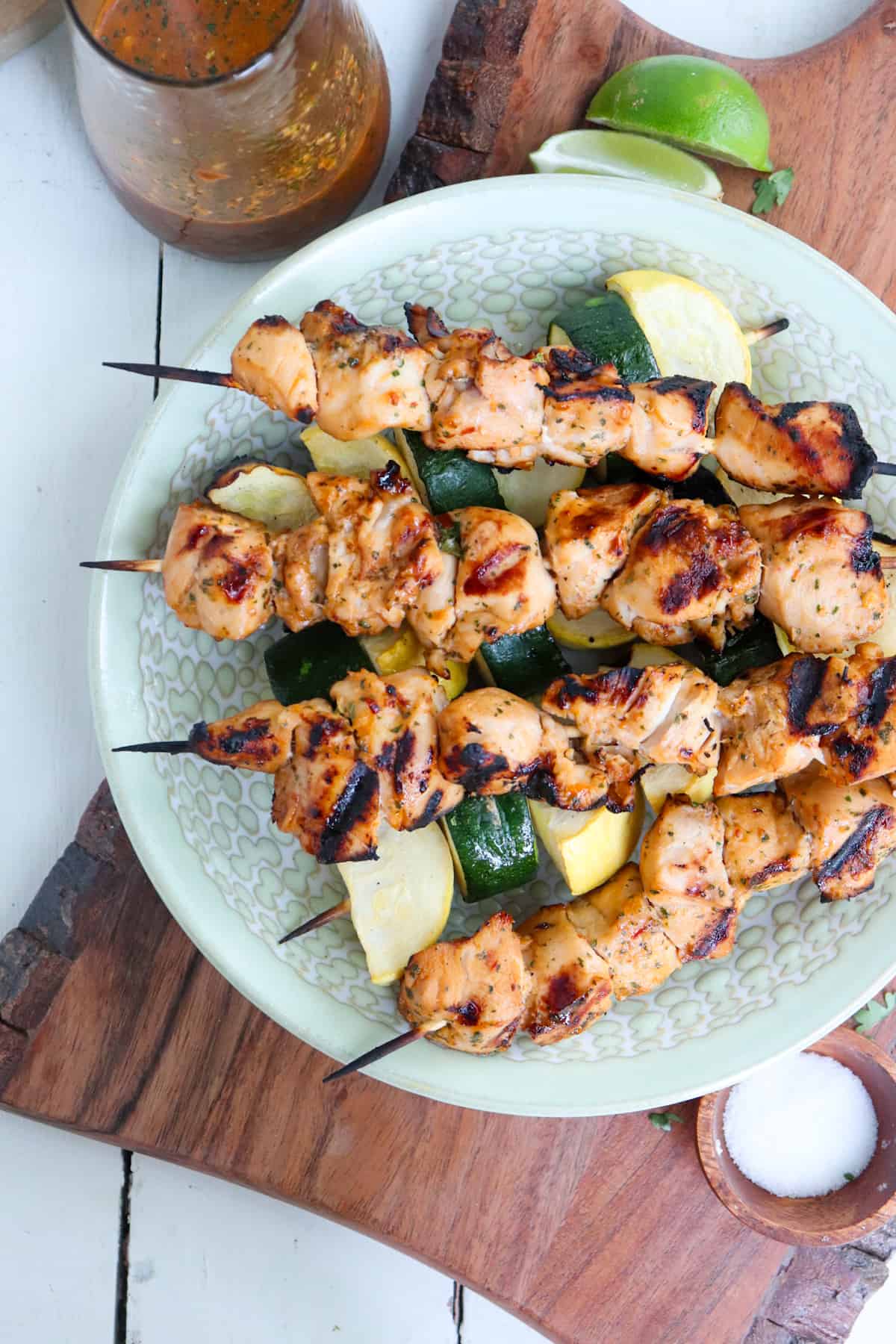 Jump to:
Marinades are a great way to add flavor and juiciness to any cut of meat. This asian chicken marinade recipe can easily be used for steak or pork as well!
It has all of the components of a great marinade with an asian twist, acid from rice wine vinegar and lime juice, oil for moisture, sambal oelek for heat, and soy sauce for salt and flavor.
After the chicken marinades, you can simmer the remaining liquid in a small saucepan to use as a delicious marinade sauce.
Cook up on the grill or a cast iron skillet for juicy chicken that is brimming with asian flavors.
Components of a good marinade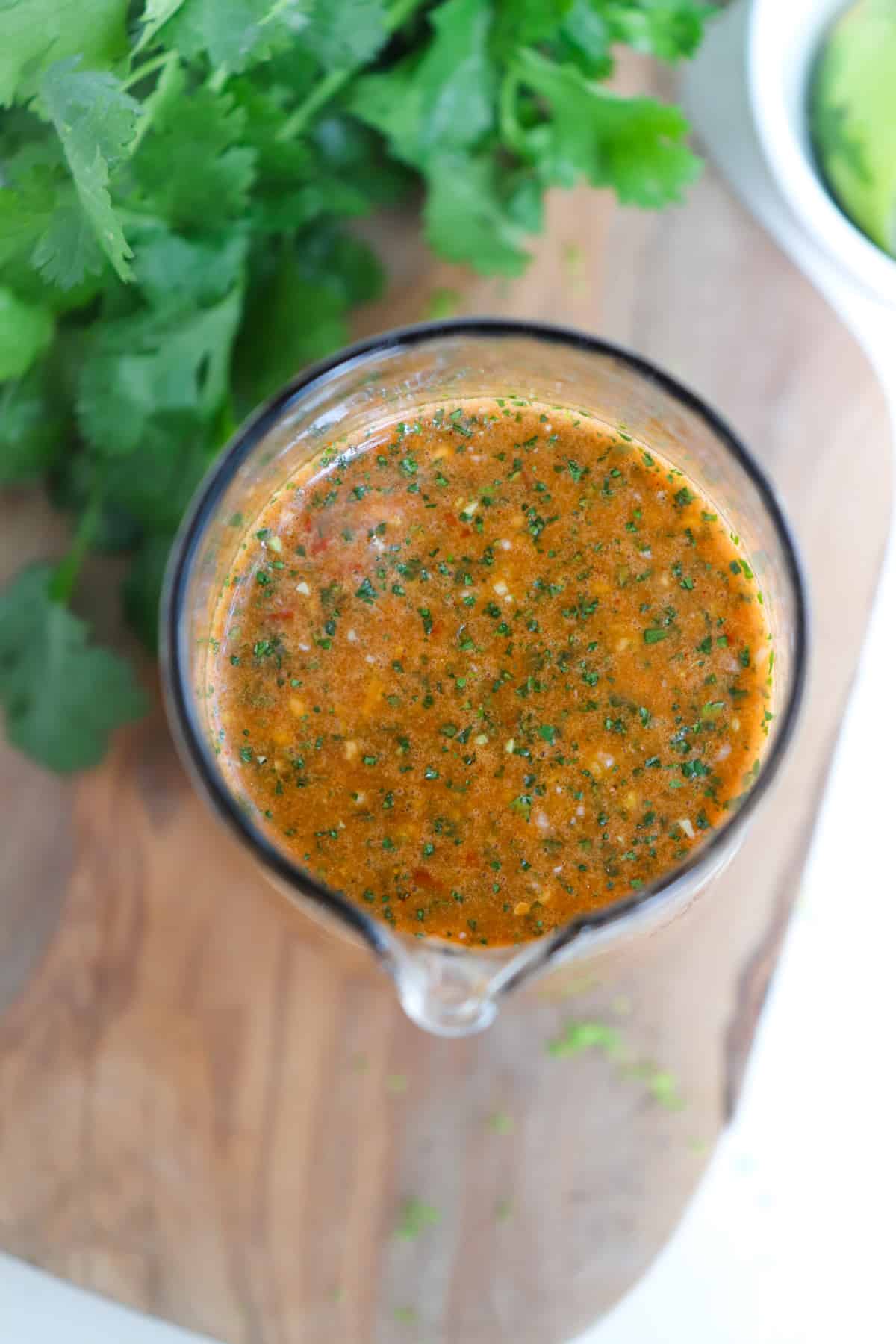 Something Acidic: An acidic component helps to break down the muscle fibers in the meat, making it more tender. Common acidic ingredients include citrus juices (such as lemon, lime, or orange), vinegar, or yogurt.
Oil: Oil helps to carry the flavors of the marinade and keeps the meat moist during the cooking process. It also aids in preventing sticking and helps with caramelization.
Flavorings and aromatics: This is where you can get creative! These ingredients provide the distinctive taste to marinade. Some examples include herbs, spices, minced garlic, minced ginger, soy sauce, Worcestershire sauce, honey, or brown sugar.
Salt: Salt not only enhances the overall flavor but also helps with the tenderizing process. It helps to break down proteins, allowing the marinade to penetrate the meat more effectively.
Ingredients in this asian chicken marinade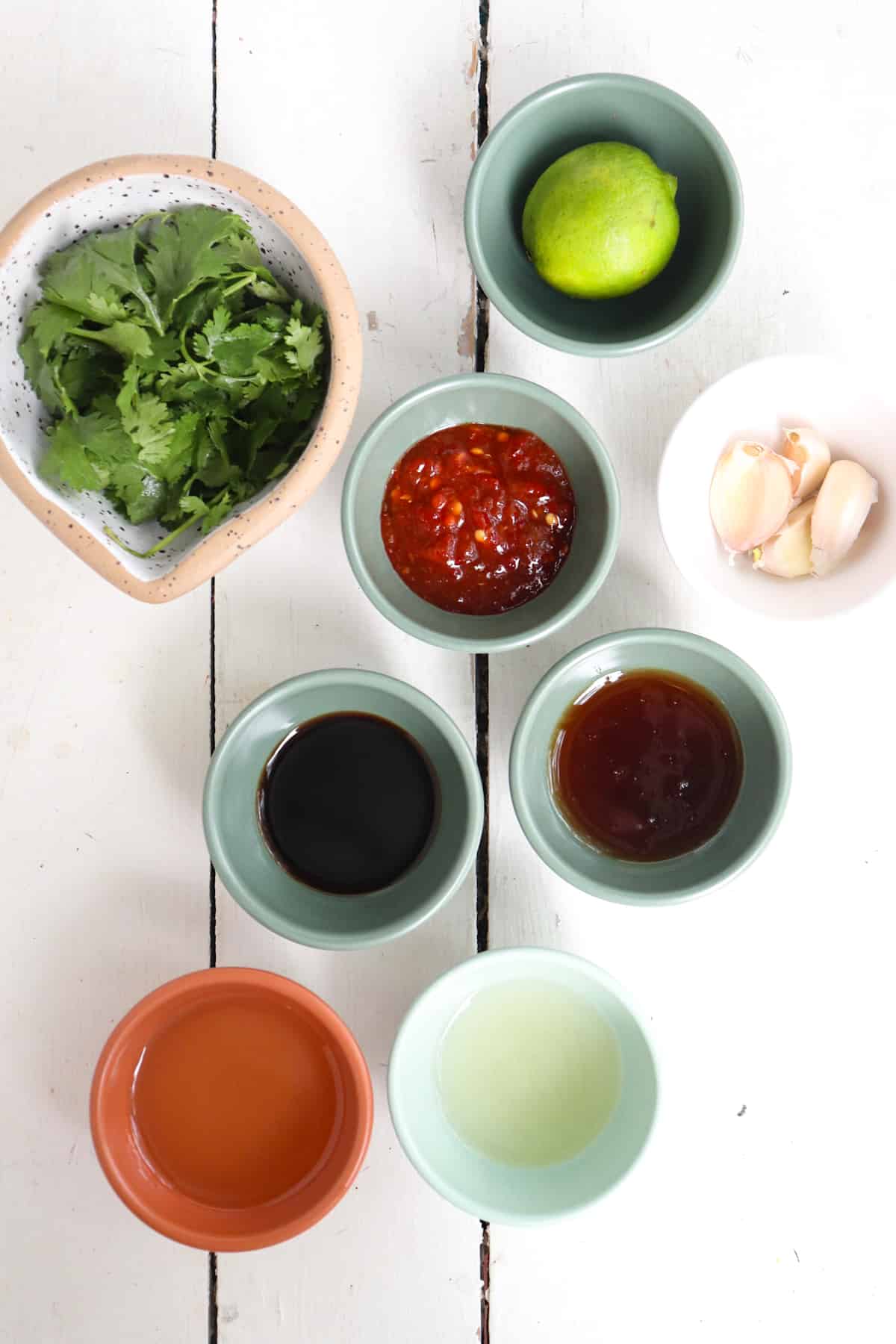 cilantro
garlic
lime Use both the juice and zest.
sambal oelek chili paste Check out this post for more information on What is Sambal Oelek? Red pepper flakes can be used as a substitute, but you will want to add way less. Around 1 tsp. to start, and adjust as necessary.
soy sauce Liquid aminos work as well.
honey
rice vinegar
oil You can sub in part of the more neutral oil with sesame oil, but avoid adding any more than a tablespoon of season oil, as it is very pungent.
How to Make (2 ways)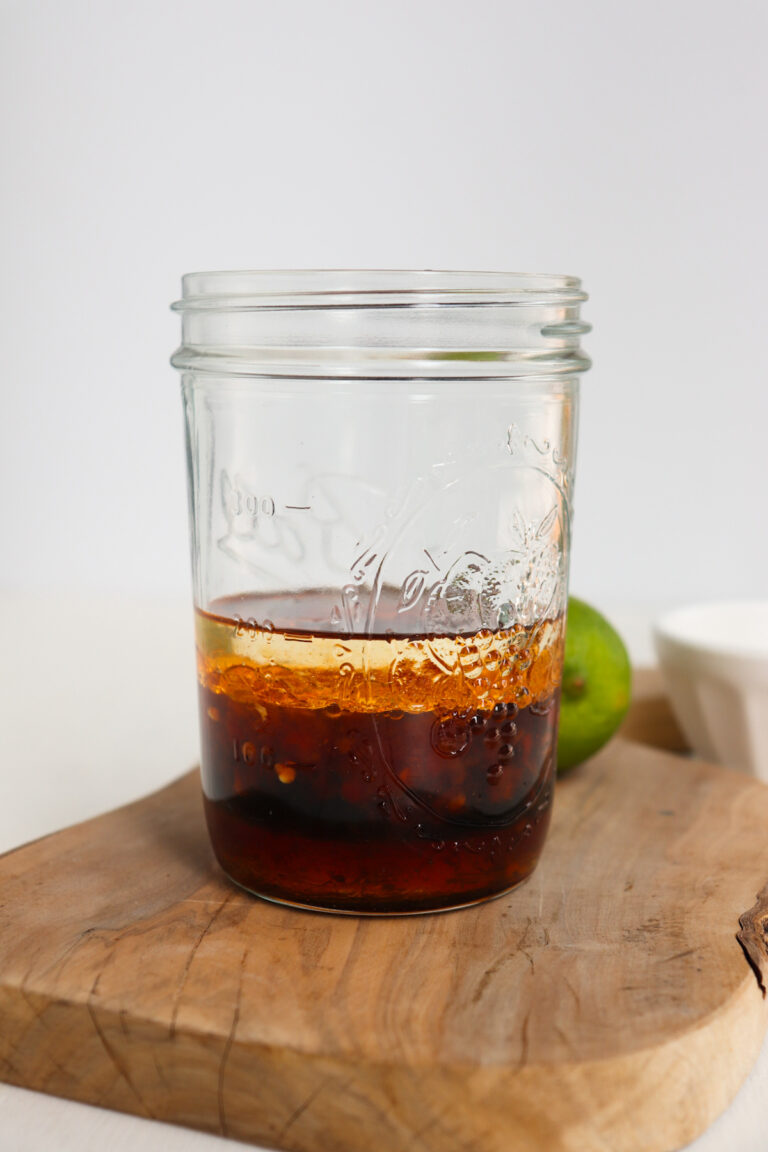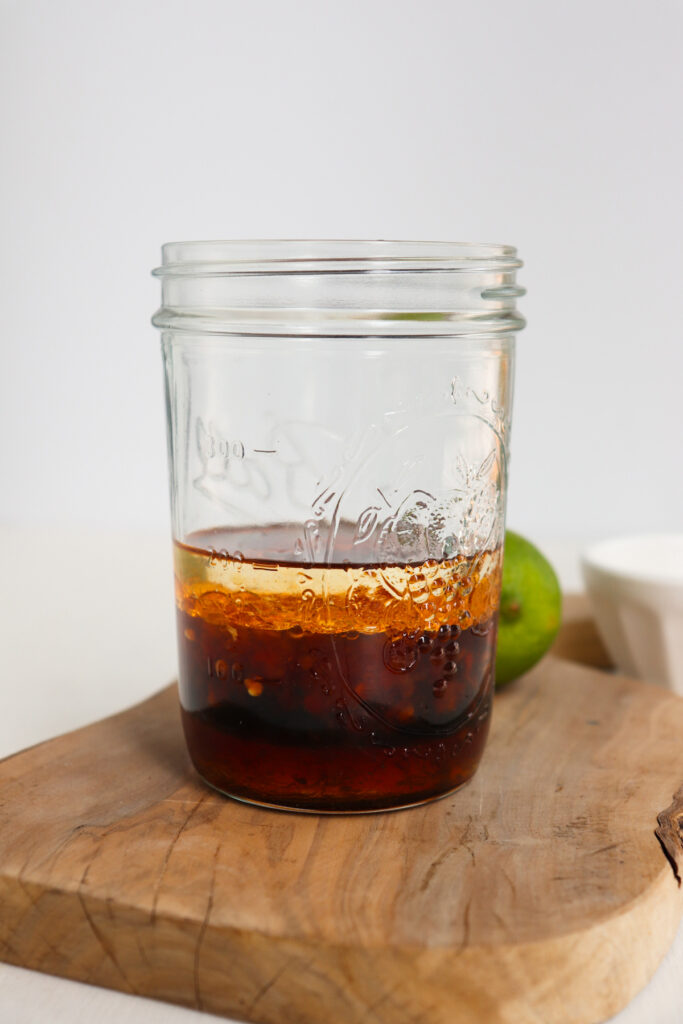 By Chopping
Chop up fresh cilantro (pretty fine), and mince 4 cloves of garlic.
In a small mixing bowl, add cilantro, garlic, lime juice and zest, chili paste, soy sauce, honey, rice wine vinegar, and oil.
Whisk to combine.
By Using a blender/immersion blender/food processor
Add all ingredients to the blender or bowl a glass measuring cup (if using an immersion blender).
Pulse for 4-5 seconds. Do not overblend.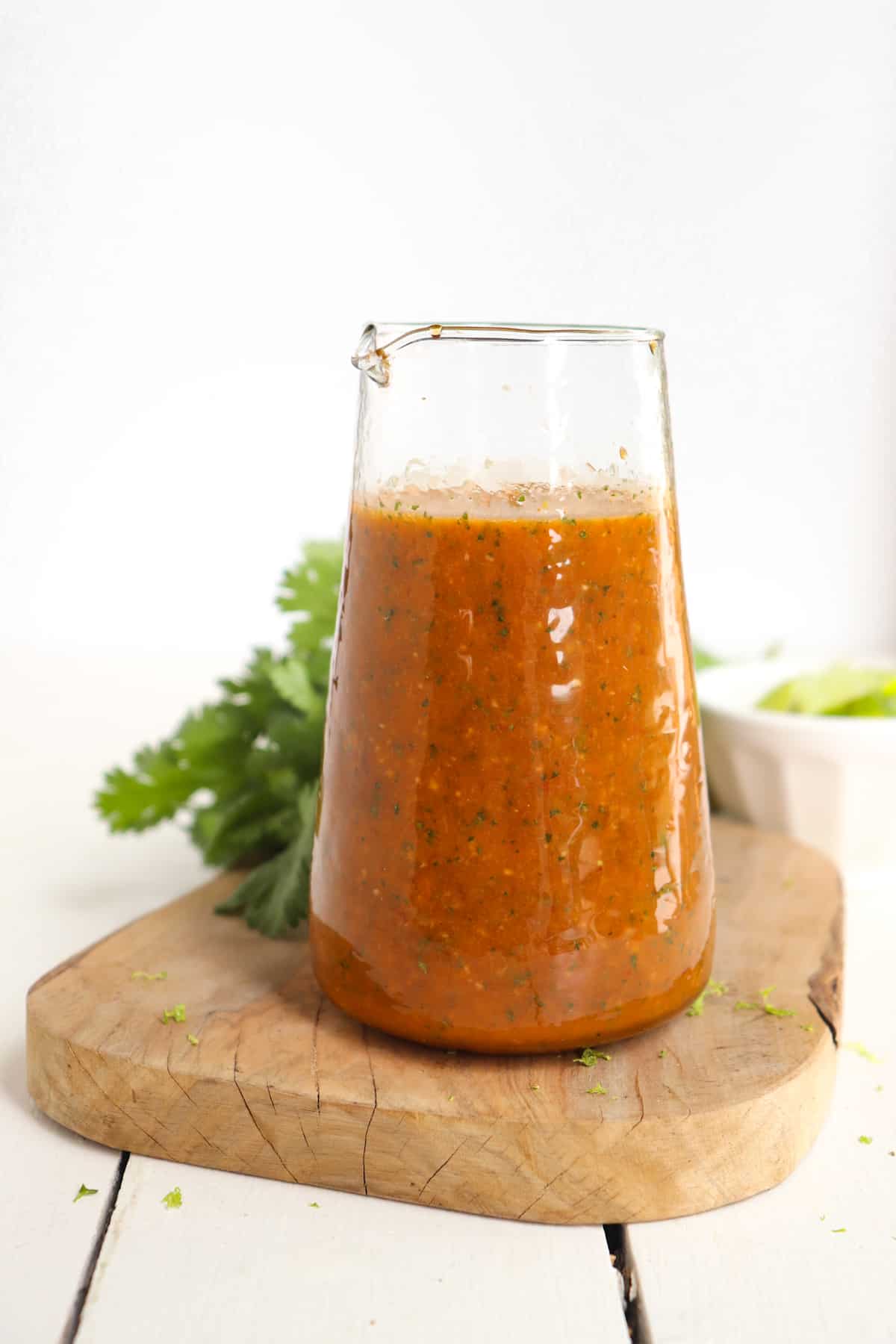 Recipe Tips:
Experiment with different cuts of chicken such as boneless chicken breasts, thighs, or drumsticks. Adjust the cooking time accordingly.
If you prefer a milder marinade, reduce the amount of sambal oelek or omit it altogether.
Feel free to substitute the honey with maple syrup or brown sugar for a slight variation in sweetness.
To infuse the flavors more deeply into the meat, you can pierce the chicken pieces with a fork before marinating.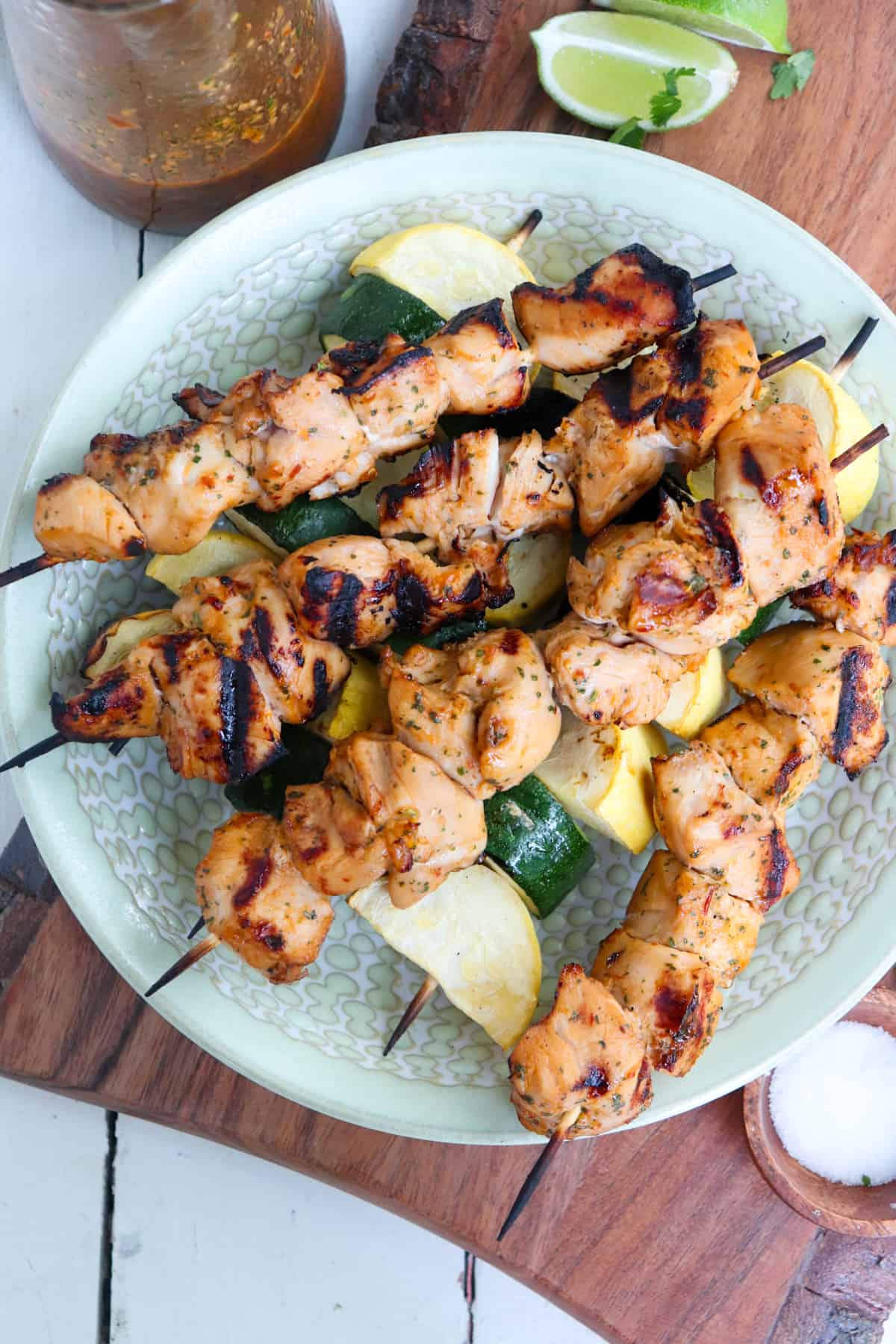 How to marinate chicken
To make sure it is completely coated in marinade, place chicken either in a glass bowl covered with plastic wrap or in a freezer bag with all the air pushed out. You want all of the meat to come into contact with the delicious marinade.
Marinate chicken for 3-4 hours to allow the flavors to really penetrate the meat.
Store unused marinade that hasn't come in contact with raw meat, in the fridge for up to 4 days before using.
more chicken marinades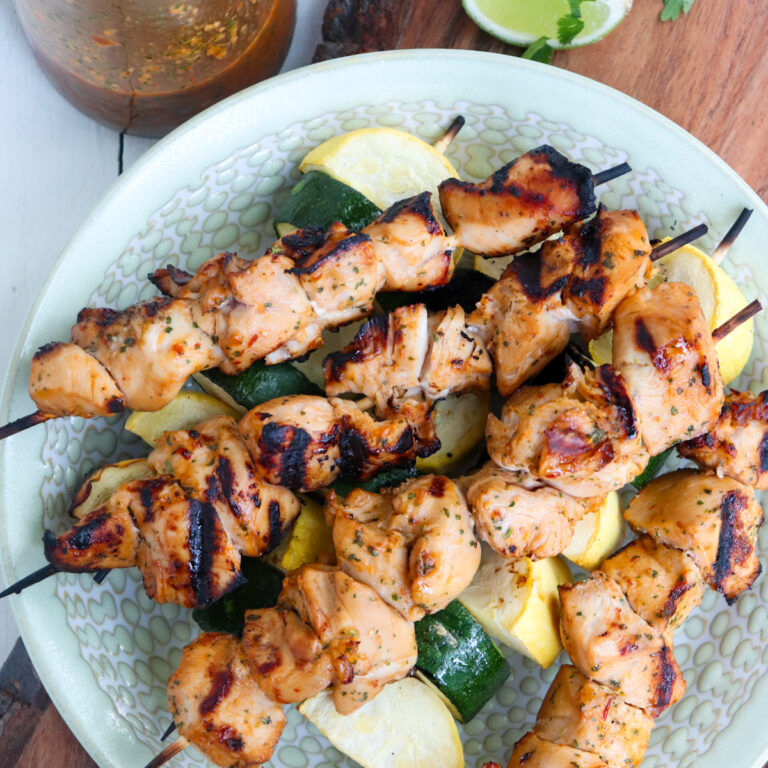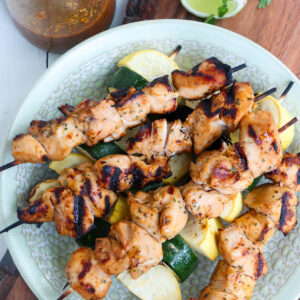 Asian Chicken Marinade
This asian chicken marinade is full of rich flavor from rice vinegar, soy sauce, sambal oelek, and cilantro, and is perfect for tenderizing and flavoring your meat.
Ingredients
4

tbsp.

cilantro

chopped

4

garlic cloves

minced

zest of one lime

¼

cup

lime juice

2-3 limes

2

tbsp.

chili paste

2

tbsp.

soy sauce

3

tbsp.

honey

¼

cup

rice wine vinegar

¼

cup

oil

olive oil, avocado oil, or safflower oil
Instructions
Chop up fresh cilantro (pretty fine), and mince 4 cloves of garlic.

In a small mixing bowl, add cilantro, garlic, lime juice and zest, chili paste, soy sauce, honey, rice wine vinegar, and oil.
Nutrition
Calories:
719
kcal
Carbohydrates:
58
g
Protein:
6
g
Fat:
55
g
Saturated Fat:
7
g
Polyunsaturated Fat:
6
g
Monounsaturated Fat:
40
g
Sodium:
1692
mg
Potassium:
624
mg
Fiber:
3
g
Sugar:
41
g
Vitamin A:
4080
IU
Vitamin C:
43
mg
Calcium:
89
mg
Iron:
3
mg