Spicy, tangy, and sweet, this Brown Sugar Bourbon Marinade is about to elevate your grilled meats to the next level. Simple ingredients coming together to make something special, you're going to love this easy marinade recipe.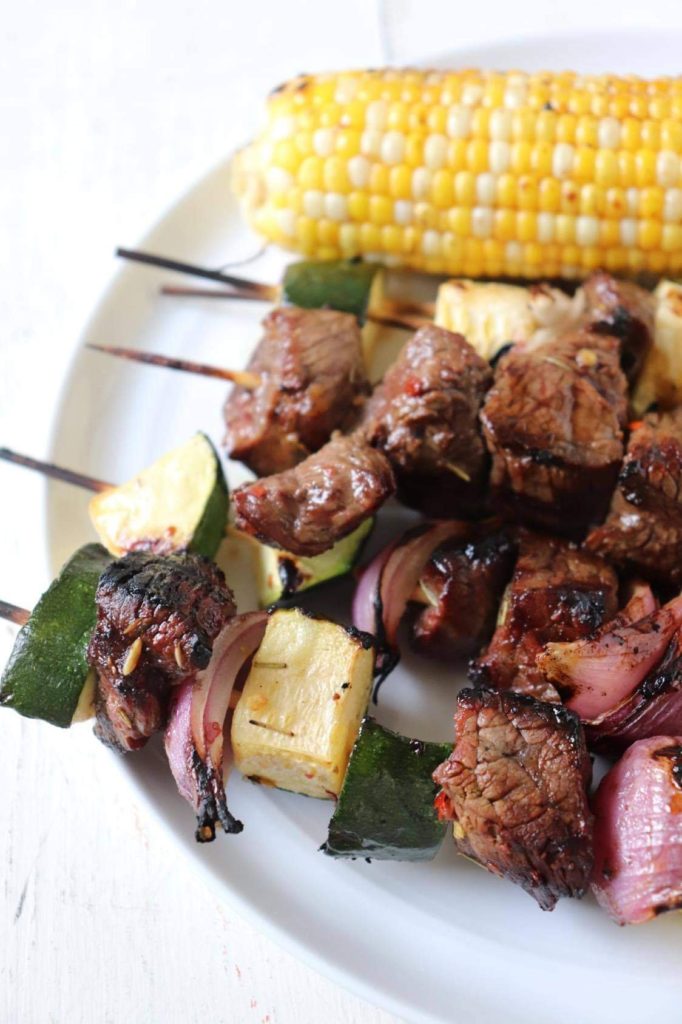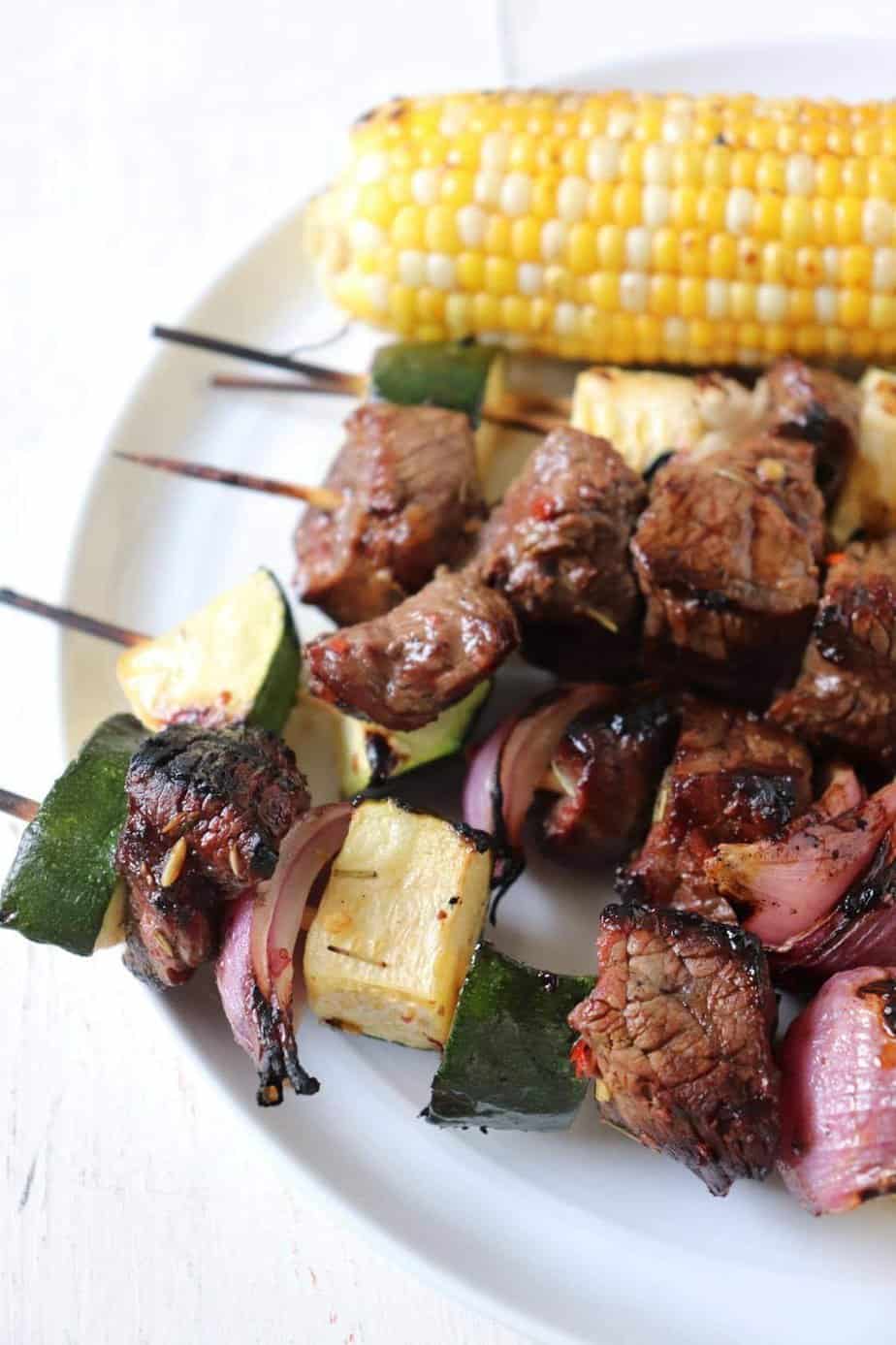 Michael has dubbed this his new favorite beef marinade ever. And that is no small claim because we make a lot of marinades.
Whether you are a whiskey lover or not, this bourbon brown sugar marinade is for you! The flavors all complement each other perfectly and after a few hours marinating, the meat is tenderized, seasoned, and oh, so good.
Jump to:
Why You'll Love this Recipe
Easy: All you have to do is measure everything into a bowl and whisk, and this marinade will do the rest of the work of flavoring your meat.
Pantry staples: I would venture to guess you have the majority of these ingredients already in your pantry. So why not try something new and different with them?
Sweet and spicy flavor profile: This marinade has it all! Sweetness from the brown sugar and spicy from the red pepper flakes, with a little kick in the background from the bourbon whiskey.
Versatile: Here it is used as a marinade for steak bites, but it is great on chicken, pork chops, and fish as well. If can even be brushed on as a glaze for shrimp.
Make ahead: Marinades are your best friend when you're feeling busy or you just need a little extra help getting dinner on the table. They allow you to get a lot of the work done ahead of time so that when dinner time comes all you have to do is the actual cooking part. This is great because if you have a part of your morning or afternoon free for even just 10 minutes you're halfway done with dinner and feeling a lot less stressed.
Ingredients
Bourbon
Brown Sugar
Garlic Cloves
Balsamic Vinegar
Olive Oil
Salt
Red Pepper Flakes
Dried Rosemary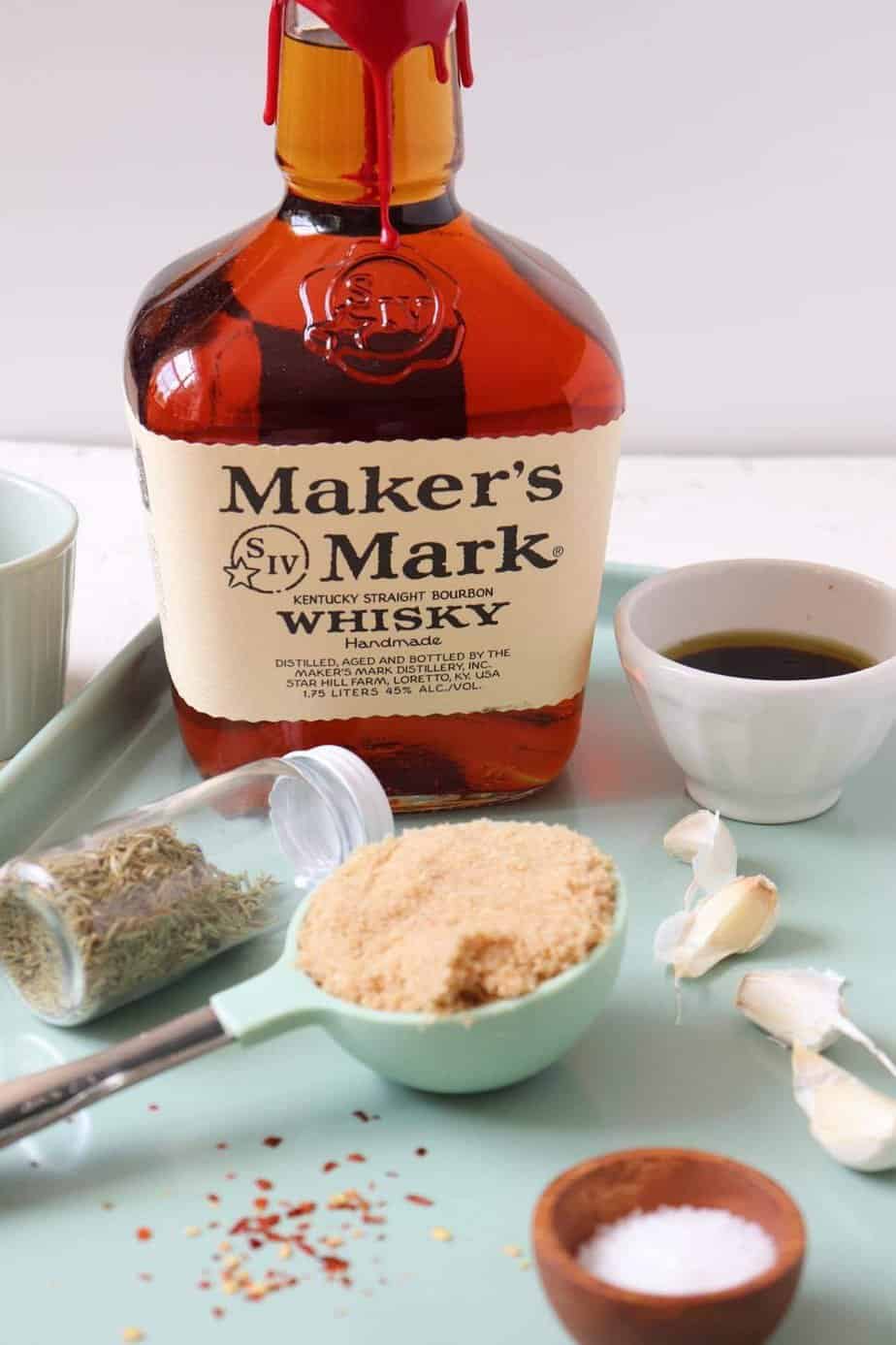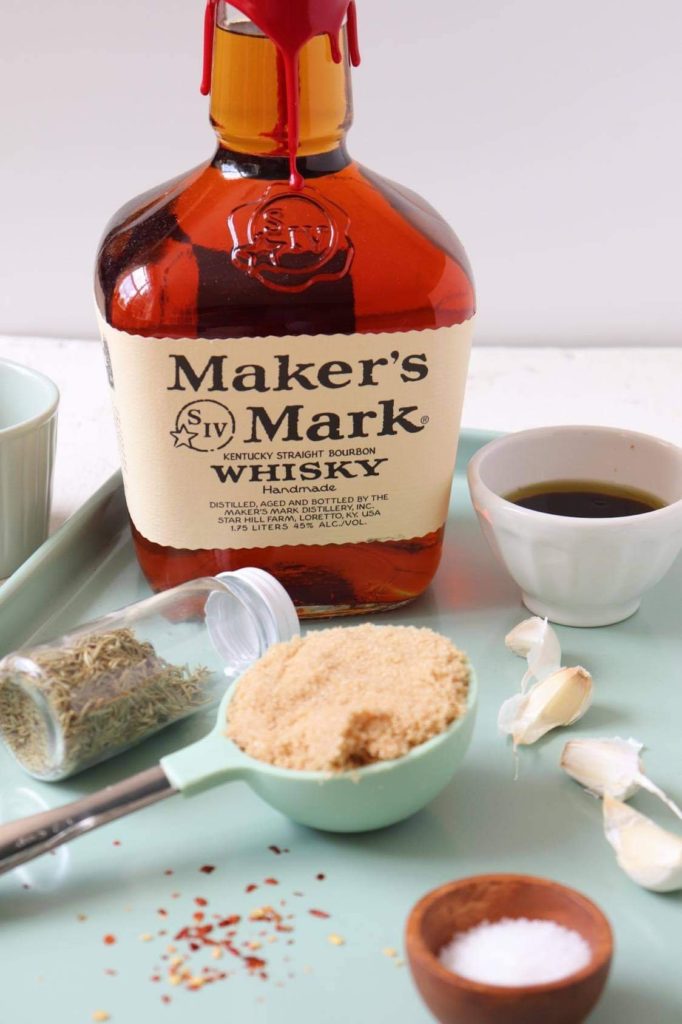 How to make a brown sugar bourbon marinade
Mix all of the ingredients together into a medium size bowl, add your cut up meat and refrigerate for 6 hours.
Recipe Tips
After you remove the meat from the marinade, transfer marinade to a sauce pan and simmer on low for 5 minutes to cook down to a glaze. This can be brushed over the meat or used as a sauce.
Make this recipe up to 5 days ahead of time and use when needed.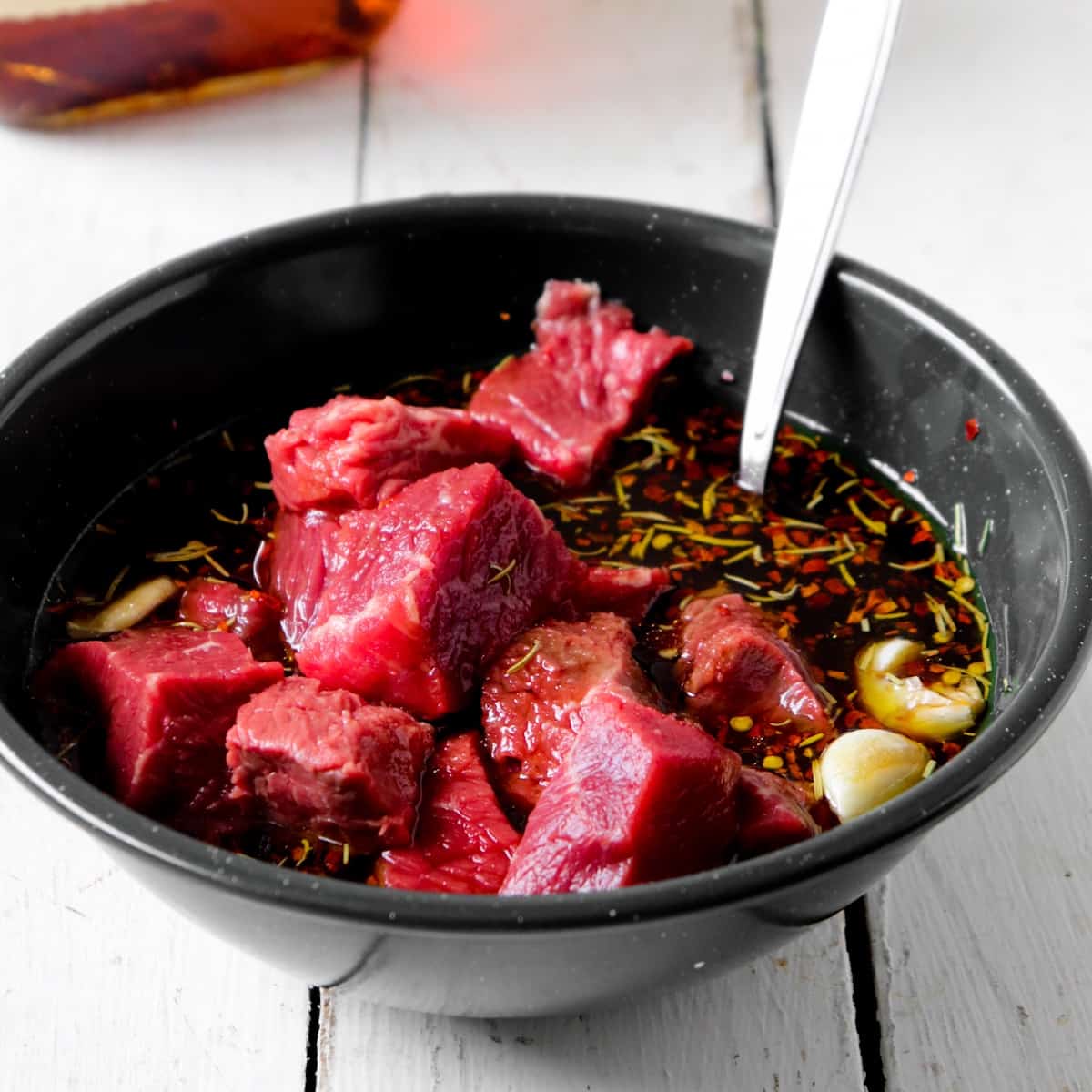 Approximate Marinating Time
This will vary depending on the meat you use. All of these are approximate numbers and you can go longer if you choose, especially if using beef, chicken, or pork.
For Beef: Beef can handle the longest marination time, anywhere from 6-24 hours for best taste.
For chicken and pork: Chicken and pork should marinate for several hours, 4-6.
For seafood: Seafood like shrimp and salmon is delicate and needs very little time. 30 minutes to an hour is all you need.
Marinade Uses
I created shish kabobs and grilled them, but go ahead and use the marinade however you would like! It's great with chicken breasts, pork chops, and grilled veggies too.
more tasty marinades
Recipe FAQs
How do you use a brown sugar bourbon marinade?
Use this tasty marinade on your favorite proteins, like beef, chicken, and pork for a sweet and spicy marinade with a kick.
What does brown sugar bourbon taste like?
Brown sugar bourbon is a flavored bourbon that combines the traditional characteristics of bourbon whiskey with the sweet and caramelized flavors of brown sugar. The taste profile can vary slightly depending on the brand, but brown sugar bourbon offers a blend of sweetness, caramel, vanilla, and oak. This recipe uses traditional whiskey with the additional of brown sugar, but you can always sub in brown sugar bourbon.
How do I avoid burning while grilling marinated meat?
To help avoid burning, you will want to monitor the heat level and adjust as needed. Often marinated meats burn from the sugar in the marinade cooking on the high heat of the grill. To avoid this, preheat the grill properly before placing on the meat, use indirect heat for larger cuts, and monitor and turn down the temperature as needed.
This recipe was created in collaboration with several talented food bloggers in honor of the Kentucky Derby. Find other scrumptious, bourbon-themed recipes here.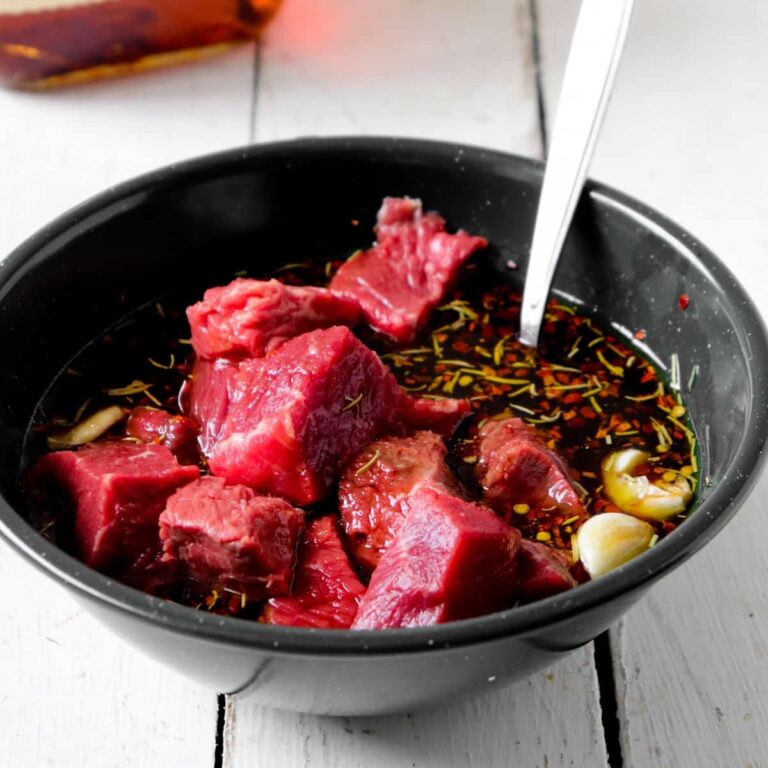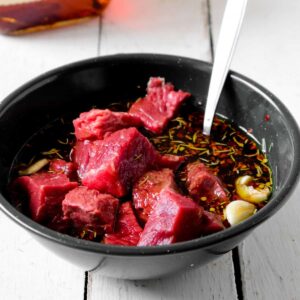 Brown Sugar Bourbon Marinade
Quick and easy marinade using bourbon, brown sugar, and a hint of spice, this Brown Sugar Bourbon Marinade is the perfect addition to your summer grilling menu.
Ingredients
½

cup

Bourbon

½

cup

Brown Sugar

5

Cloves

Garlic

peeled and smashed

2

tbs.

Balsamic Vinegar

2

tbs.

Olive Oil

1

tsp.

Salt

½

tsp.

Red Pepper Flakes

½

tsp.

dried rosemary
Instructions
Whisk together ingredients in a medium sized bowl. Add whatever meat you're using and refrigerate for 6 hours before cooking using your desired method.
Nutrition
Serving:
1
g
Calories:
210
kcal
Carbohydrates:
25
g
Fat:
7
g
Saturated Fat:
1
g
Polyunsaturated Fat:
6
g
Sodium:
591
mg
Sugar:
23
g