Slow Cooker Shredded Beef Sandwiches are great way to enjoy this Chicago classic at home. Utilizing your crockpot is a space and time saver, and it serves to create incredibly tender beef and mouth watering au jus at the same time!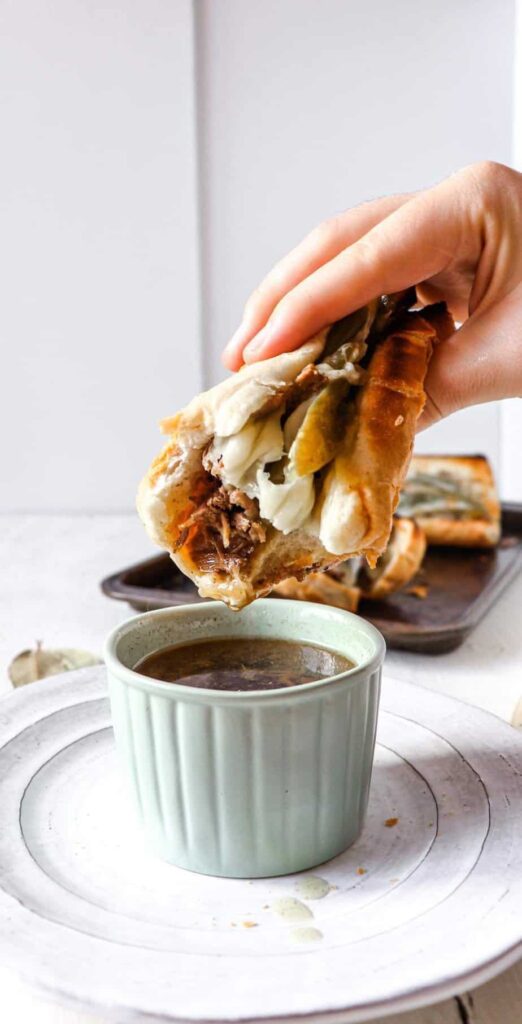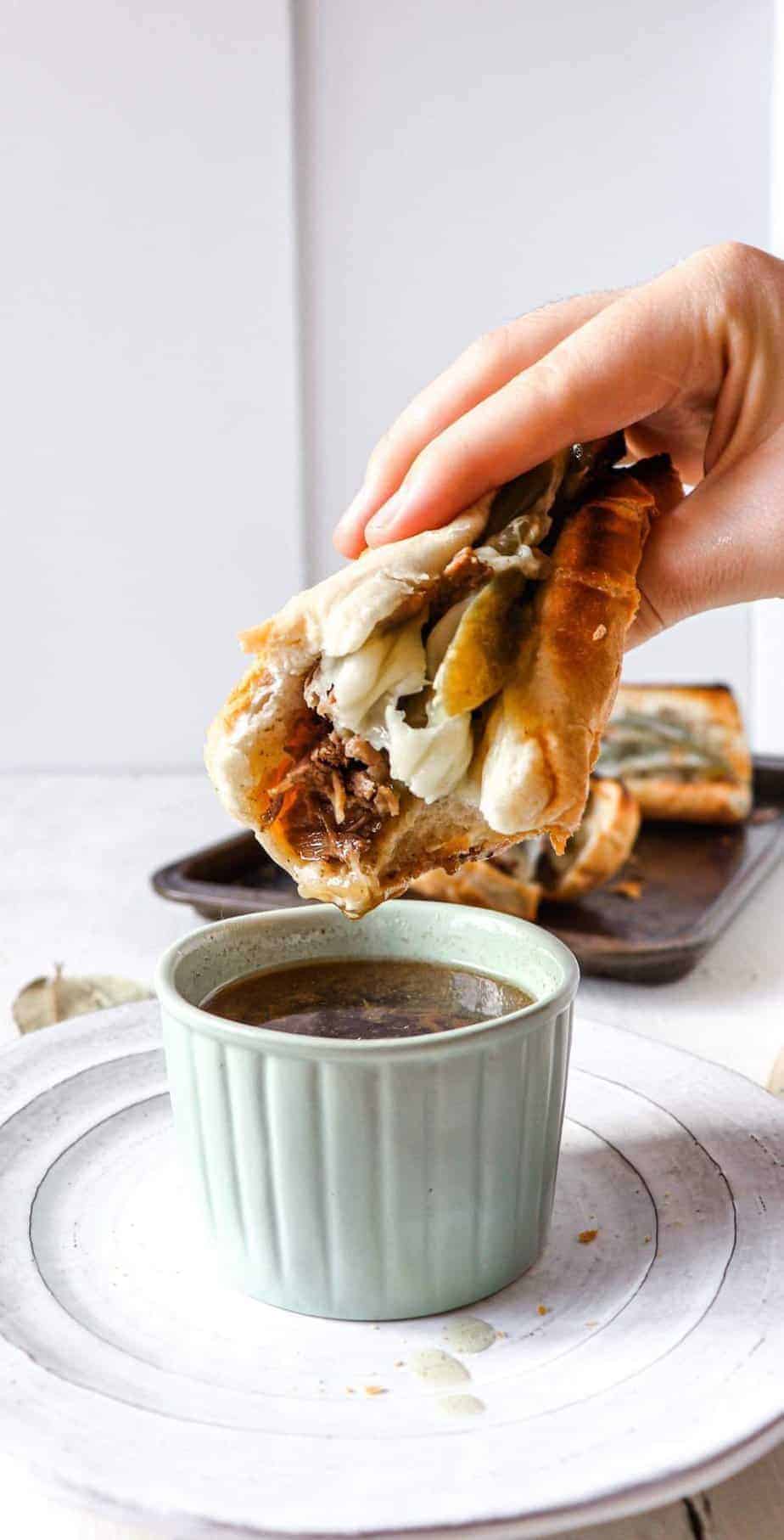 Anybody from Chicago will tell you we are known for 3 foods--deep dish pizza, Chicago-style hot dogs, and Italian beef sandwiches. I, for one, am a fan of all three. There are lots of great places to get these classics, and everyone has their opinion on which place is best! Lou
Malnati's, Giordano's, Uno, and more all compete for first place in the deep dish category. Portillo's is a classic for Chicago-style hot dogs and beef sandwiches, as is Al's Beef and Buona Beef. All these are delicious and I highly recommend trying them out if you ever visit!
Some background on Italian Beef sandwiches. They are thought to have originated in Chicago in the early 1900's. Italian immigrants were looking to take cheaper cuts of meat and make them taste better. Slow roasting and serving with savory jus was the way to do that! Locals now call the au jus "gravy." Even though it's thin like broth, it's packed with rich flavor!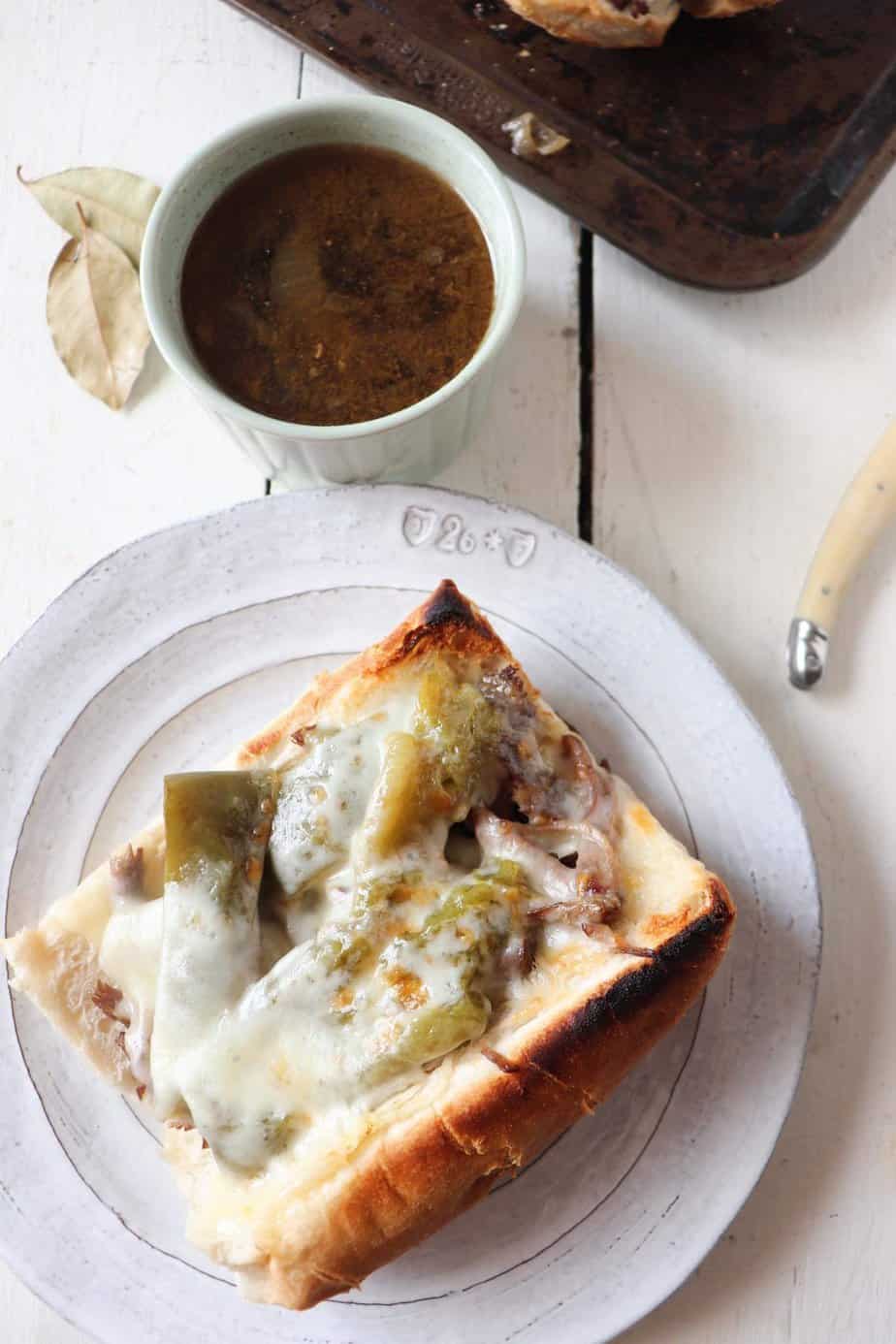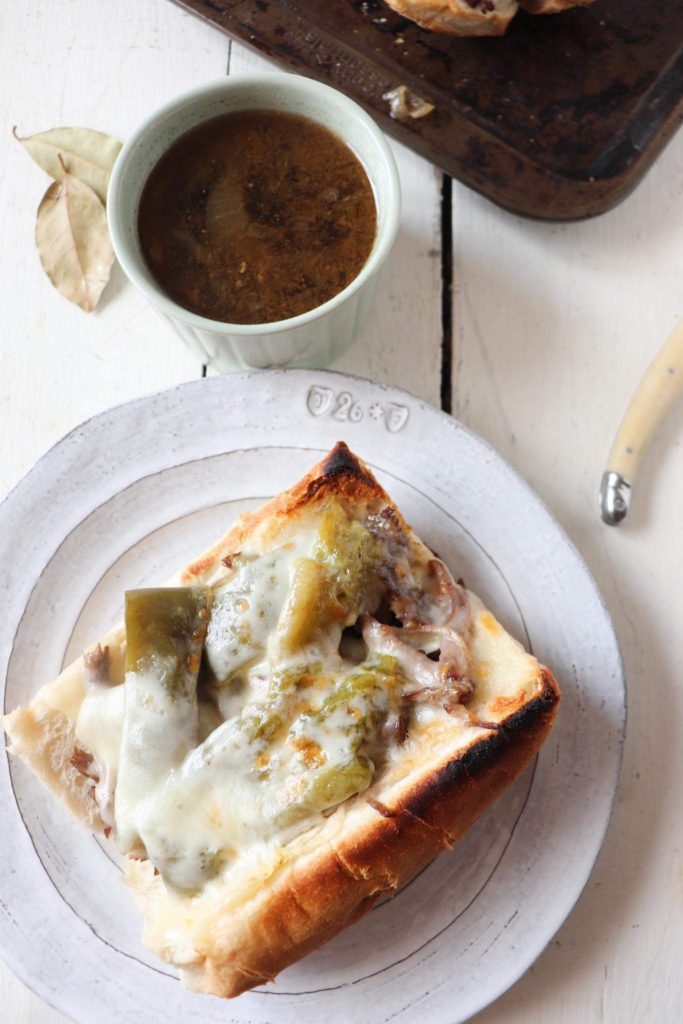 These sandwiches are traditionally served on long Italian-style rolls with melted cheese on top. There is all kinds of jargon to go with this sandwich.
Italian beef sandwich lingo
"hot"- means served with giardiniera (hot peppers)
"sweet"- means served with cooked green bell peppers
"wet"- means the whole sandwich is completely submerged in au jus and then served
"dipped"-the same thing as wet
"double-dipped"- same, but done twice
I highly recommend visiting the city and trying all the delicious food we have to offer! In the meantime, I am going to share with you how to make a delicious beef sandwich with savory au jus at home!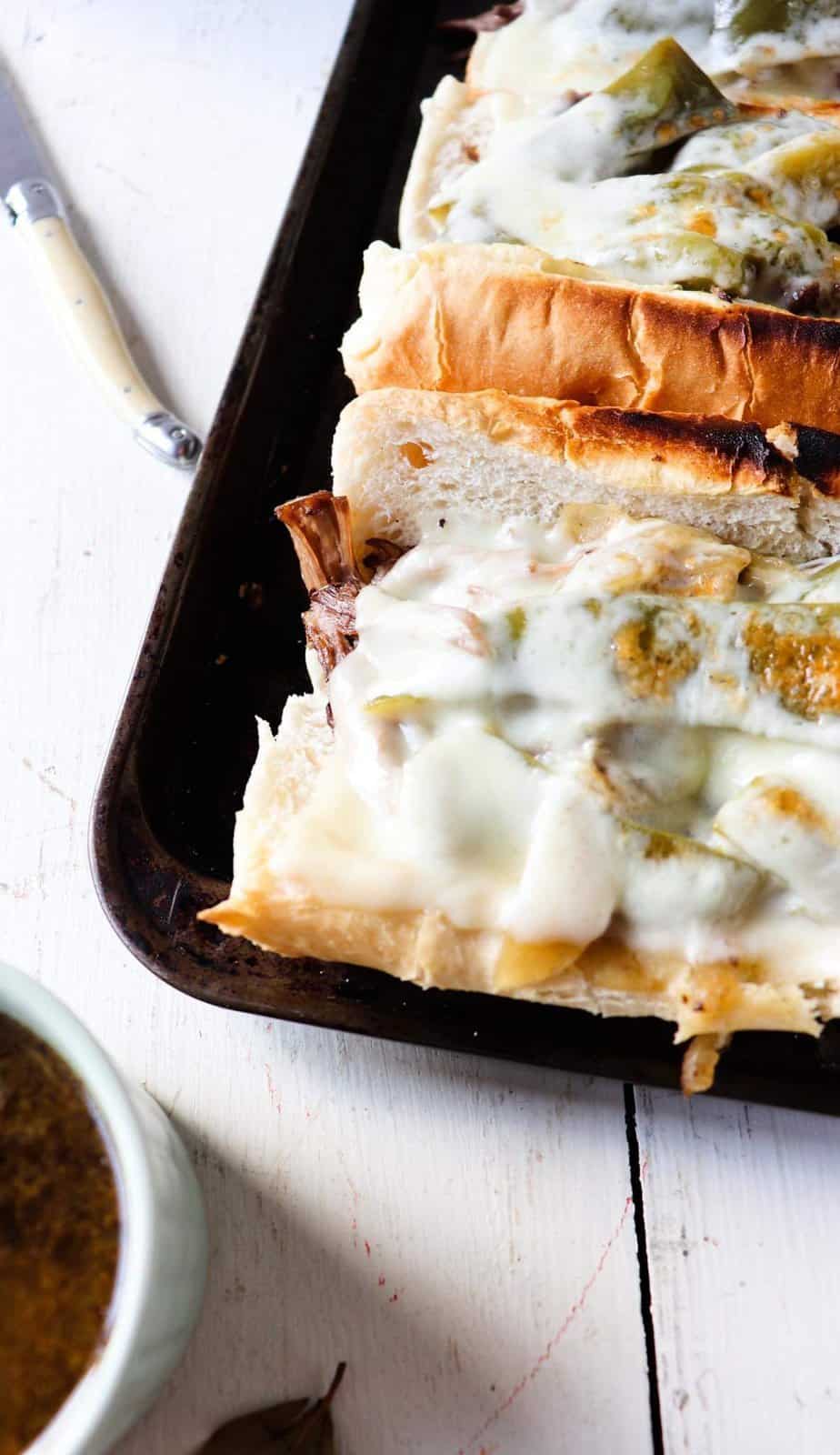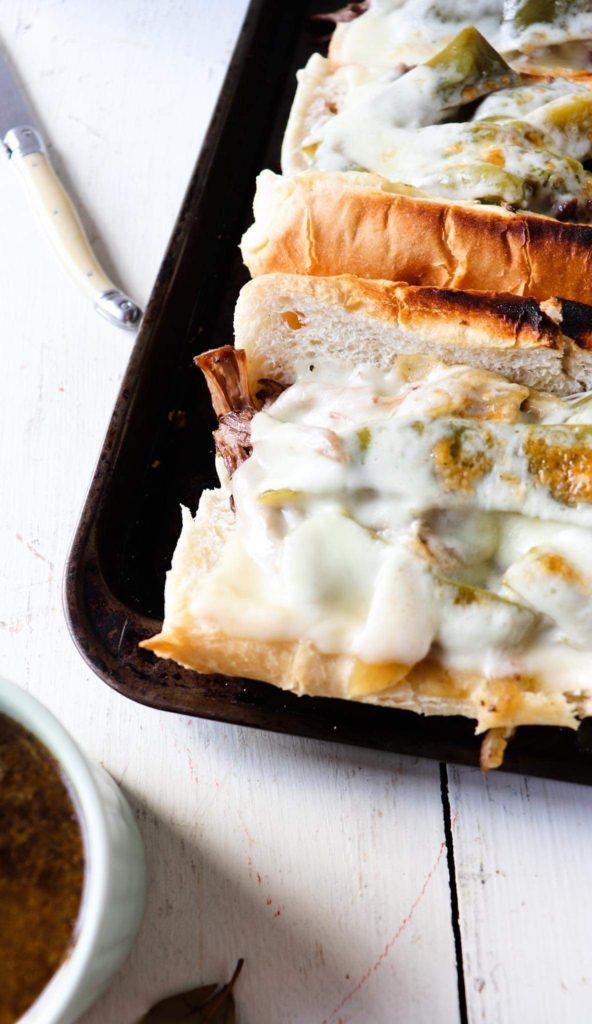 These sandwiches are not completely traditional, as they don't include the thinly sliced beef. Italian beef is most often sliced thin using a deli slicer. However, since most of us don't have deli slicers at the ready in our homes, I think shredding the beef is the way to go. It's so tender from cooking it low and slow in the crock pot, they it easily shreds with a fork.
While one of these sandwiches may not physically transport you to Chicago, the flavor will get you pretty close! Not to toot my own horn-- but they turned out delicious! While it's not mandatory, I highly recommend browning the roast in a pan before adding it to the slow cooker. This makes the meat taste delicious, and it also really helps deepen the flavor of the au jus!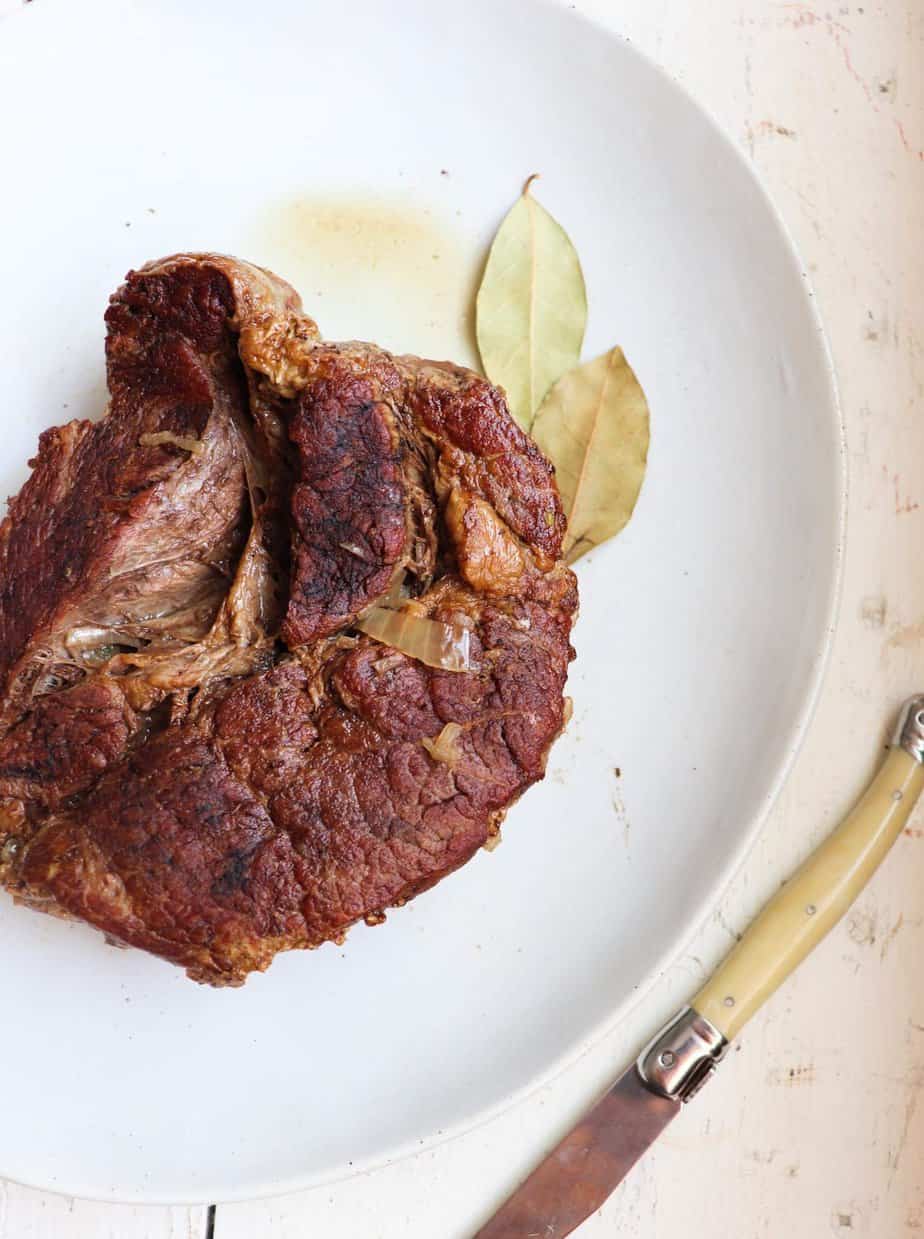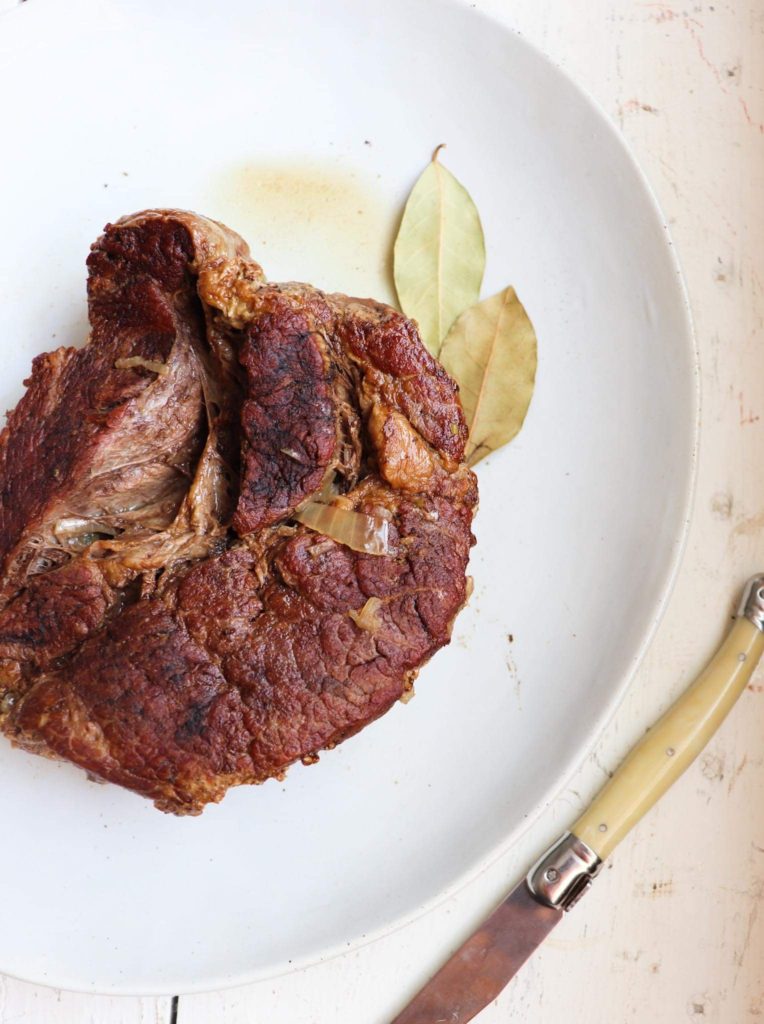 Load up your bread with lots of the tender beef, peppers and cheese. Hot peppers are a must in my opinion. You can chose to have the au jus on the side, or dip them completely!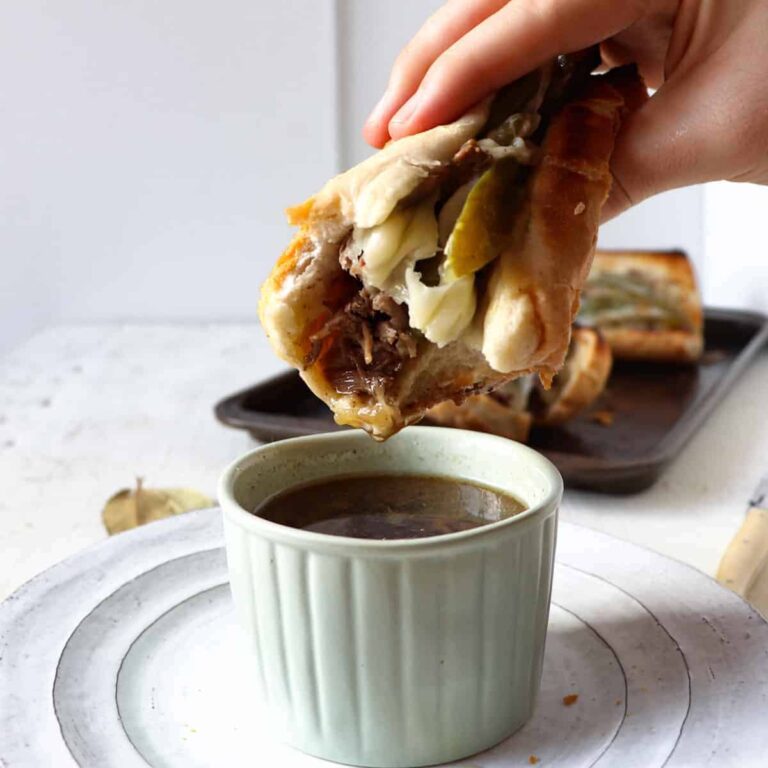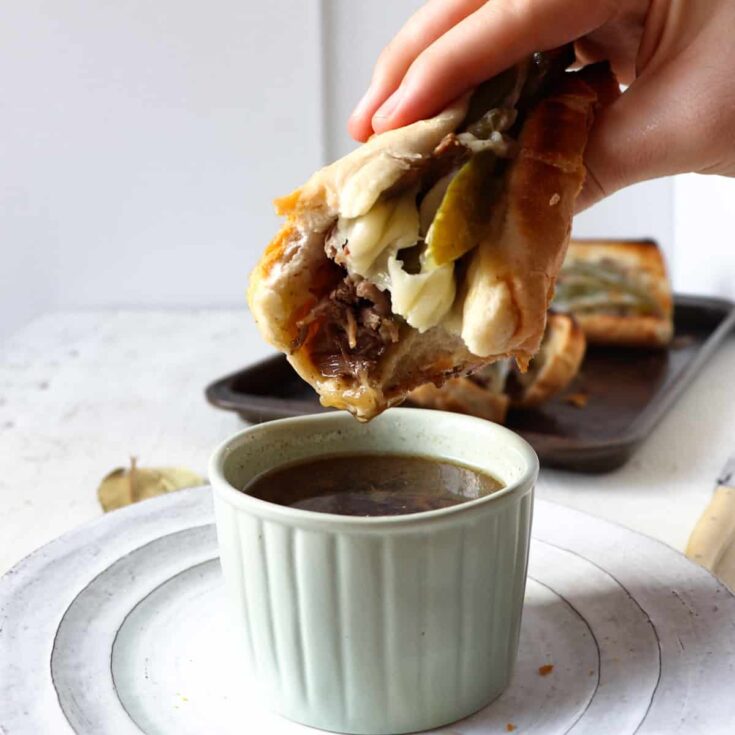 Yield:

8 sandwiches
Slow Cooker Beef Sandwiches
Total Time:
6 hours
15 minutes
These sandwiches are a cross between a French Dip sandwich and a Chicago-style Italian Beef sandwich. A chuck roast is cooked slowly in a crock pot creating a savory au jus while it cooks!
Ingredients
1 2-3 lb. chuck roast
1 bay leaf
3 cups beef broth
1 large onion, sliced
1 tsp. garlic powder
1 tbs. olive oil
sea salt and pepper
2 large green bell peppers, cut in 1-inch slices
For Serving
Crusty oblong sandwich rolls (Turano or Gonella)
Mozzarella or Provolone slices
Hot Peppers (giardiniera)
Instructions
Begin by heating olive oil in a large skillet on the stove on medium-high heat.
Brown chuck roast well, on top and bottom (about five minutes on each side)
Remove from skillet and place browned roast into slow cooker. Add beef broth, bay leaf, sliced onion, garlic powder, and salt and pepper.
Cook on low for 4-5 hours.
During the last hour or two of cooking, add your thick cut bell peppers to the slow cooker.
After another 1-2 hours, your roast should be fork tender. Remove the meat from cooker and shred it with two forks. Place meat back into the juice.
To serve: Place a portion of meat on sandwich roll. Add sweet peppers, hot peppers, and cheese. Place under the broiler for 2-3 minutes and serve with a side of the juice from the slow cooker.
Nutrition Information:
Yield:
8
Serving Size:
1
Amount Per Serving:
Calories:

884
Total Fat:

56g
Saturated Fat:

23g
Trans Fat:

3g
Unsaturated Fat:

29g
Cholesterol:

288mg
Sodium:

723mg
Carbohydrates:

8g
Fiber:

1g
Sugar:

2g
Protein:

88g