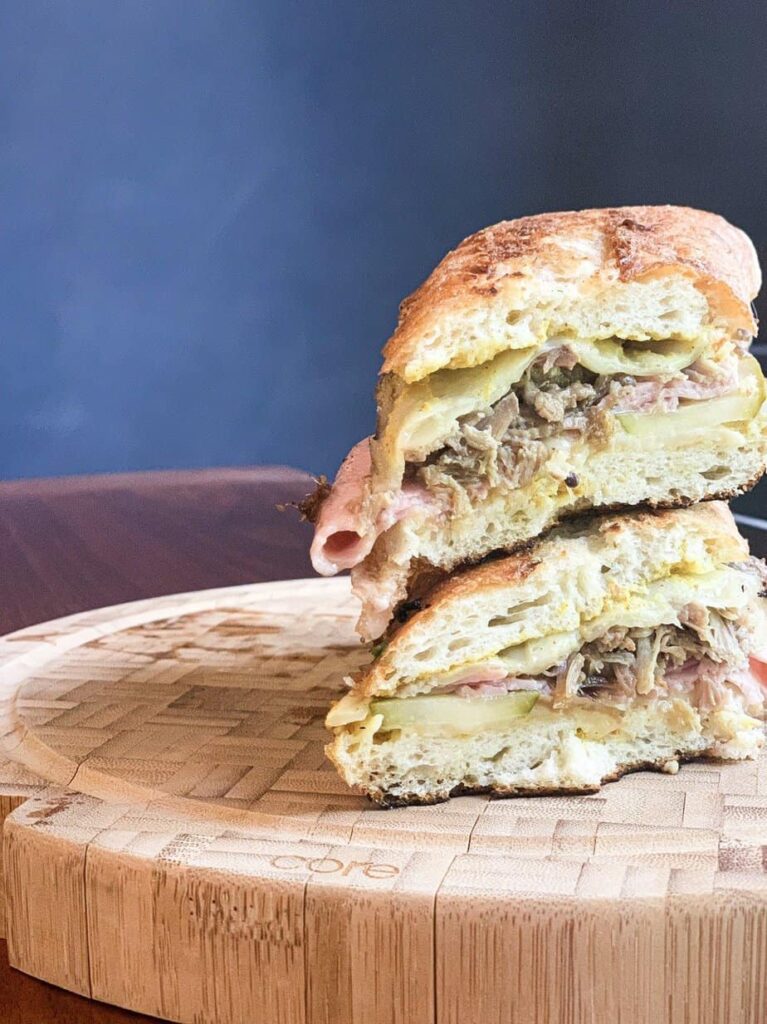 Ever since Michael and I saw the movie Chef we have been itching to make our own homemade Cubano sandwich. If you have seen the movie, you know the exact scene I am talking about.
Carl Casper (John Favreau) is in his food truck with his sous chef, Martin, and son, Percy. Martin makes a pork shoulder. There's laughter and goading. And then they take it a step further and make cubans.
I am being intentionally sparse with my words because I don't want to give any spoilers. But even more so, I could not do justice to the way this movie is filmed. Throughout the movie you feel like you're in the kitchen with the characters. Every slice of the knife, clang of the oven, sizzle in the pan is so vivid and inviting.
If you haven't seen the movie, I suggest you pick it up at your local library. It's heart-warming and fun. Just make sure you have something to eat-- it will make you hungry!
As far as making the sandwich goes-- the ingredients don't vary much from chef to chef. A traditional Cuban is known for its bread, pork, ham, pickles, swiss cheese, and mustard (in my opinion lots of mustard). And an ever important step-- coating the sandwich in butter before pressing it.
We lucked out and had pulled pork shoulder already in the fridge that had been very well prepared by a friend. Tyler Florence has a great recipe if you need one!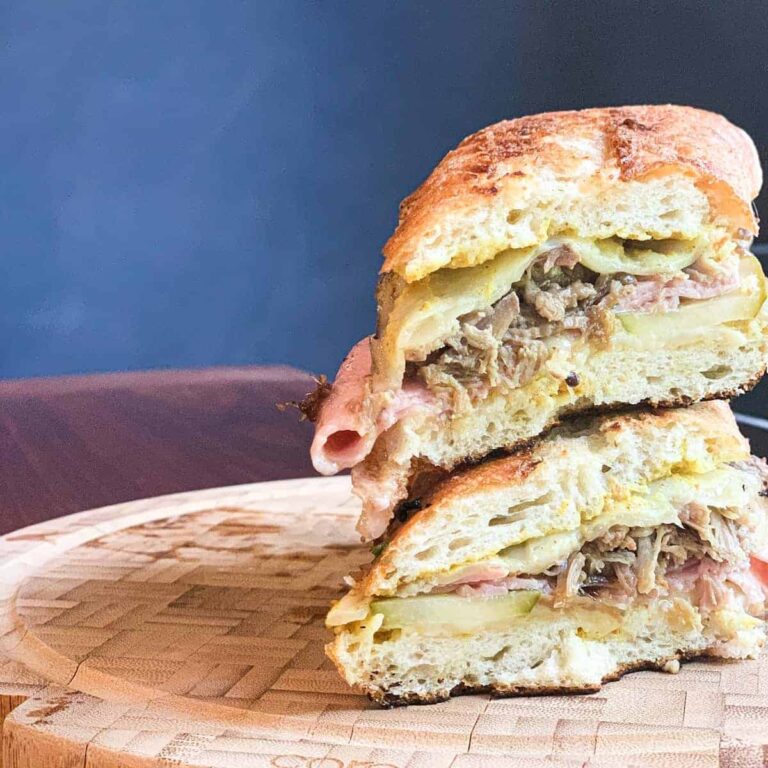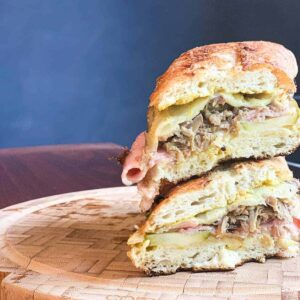 Traditional Cuban Sandwich
A favorite of many, this Traditional Cuban Sandwich combines all of the classic ingredients for one delicious, juicy, crunchy sandwich!
Ingredients
1

long cuban loaf

or ciabatta or a soft baguette

4

long cut dill pickle slices

2

tbsp.

spicy mustard

4

slices swiss cheese

6

deli ham slices

½

lb.

shredded pork shoulder

cooked
Instructions
Slice bread length-wise and slather the inside generously with mustard on both the top and bottom pieces. 

Layer on pork, ham, swiss cheese, and pickles. Place the top of the bread over top.

Spread softened butter over the outside of the bread (this really makes it). Place sandwich on a hot cast iron skillet and press a heavy pan or brick on top.

Cook until the sandwich is brown but not burned, and the cheese is melted. Cut the sandwich in half, if you haven't already.
Notes
Depending on the size of your skillet/bread, you have have to cut the sandwich in half before pressing it.
Nutrition
Calories:
840
kcal
Carbohydrates:
62
g
Protein:
62
g
Fat:
37
g
Saturated Fat:
15
g
Polyunsaturated Fat:
5
g
Monounsaturated Fat:
14
g
Cholesterol:
160
mg
Sodium:
2194
mg
Potassium:
844
mg
Fiber:
3
g
Sugar:
6
g
Vitamin A:
325
IU
Vitamin C:
1
mg
Calcium:
472
mg
Iron:
7
mg