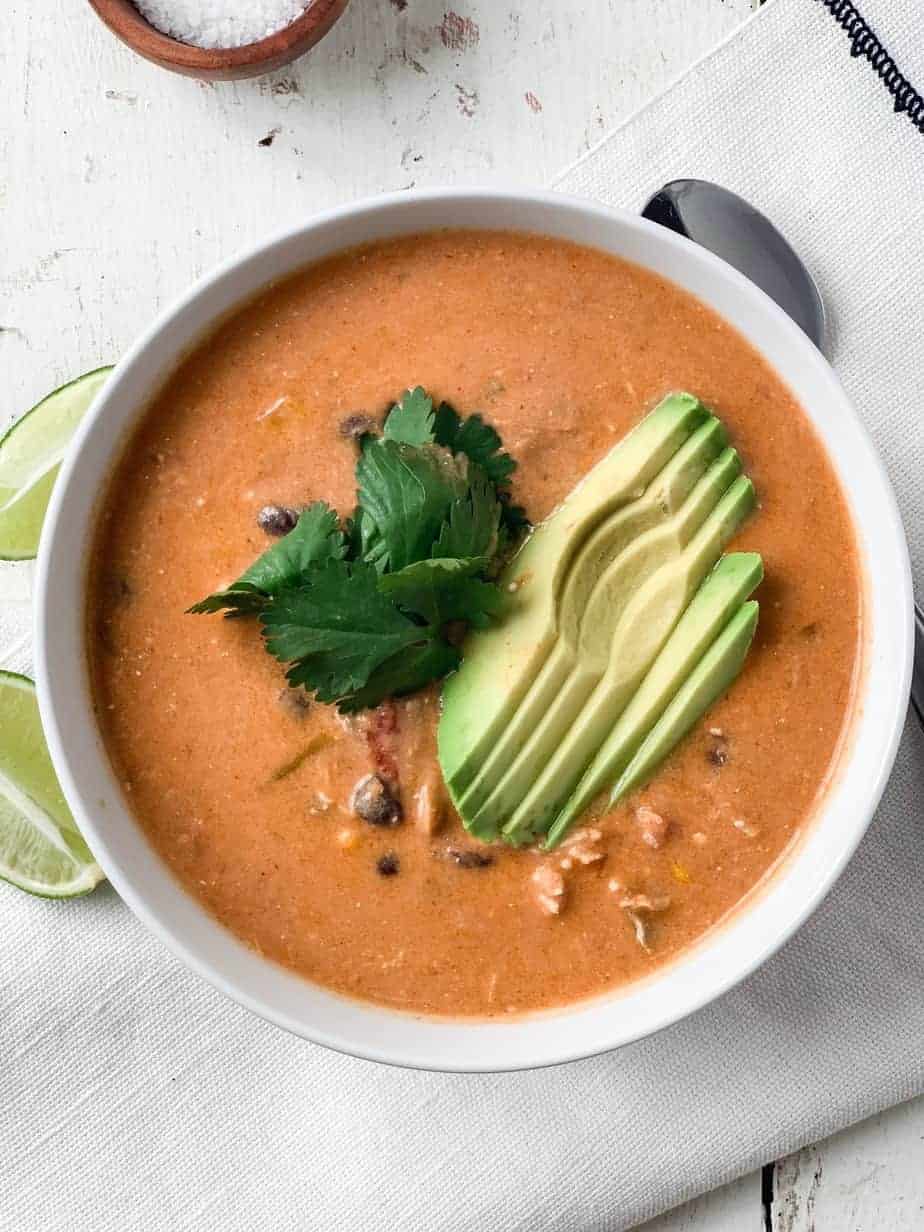 This soup is a new one in our household, but is likely to become a staple. I love that you get the flavors of chicken enchiladas, with much less effort. Be sure to top the soup with tortilla chips, cilantro, lime, and avocado!

Instant Pot's took the world by storm a few years back-- and they are still readily used in many kitchens. An updated version of the classic pressure cooker, they are a kitchen "gadget" that actually does serve multiple purposes.

I am not a full-fledged Instant Pot lover (there are many things I still prefer traditional stove top or slow cooker methods for). But I do think that they are helpful for soups and meats, especially if you forget to thaw your meat the night before. I have cooked chicken breasts from frozen by simply adding a few minutes on to the cooking time.

A word on Instant Pots: I often think "Instant" is a misnomer here. Although the soup below technically has a cooking time of 8 minutes, the time it takes for the device to come up to pressure and "natural release" the pressure is going to easily quadruple the time. This is all hands-off time, and I think that's what makes the Instant Pot remain such a staple. There is no need to worry about stirring, burning, or things becoming overcooked. Once you have it on, as long as you have entered the time correctly, you are free to walk away.
Be mindful when deciding what time to start cooking, in relation to when you want to actually eat. The "cooking time" is not an accurate depiction of the entire time the meal will take. Below I share the difference between Quick Release and Natural Release. In general, I do a combination of the two. I favor Natural Release, and after 15-20 minutes if all the steam hasn't been released, I finish with a Quick Release.
Natural Release vs. Quick Release:
Natural Release: After the cooking time as ended, the device will begin counting back upwards, as it comes down to normal pressure. Carry-over cooking continues during this time, which is why delicate things like fish and vegetables don't often use this method. You will know it's finished when the silver circle next to the venting/sealing knob, drops. This is my preferred method, but definitely the slower of the two.

Quick Release: Using a towel or pot holder to toggle the knob from sealing to venting manually. If you are short on time, this can be carefully used. Be aware that if you are cooking meat, this often results in it being tougher, as the change in pressure is fast and drastic. It can also make a mess when cooking very liquid-y dishes. Be very careful not to have any exposed skin in the way of the releasing steam-- it will be HOT!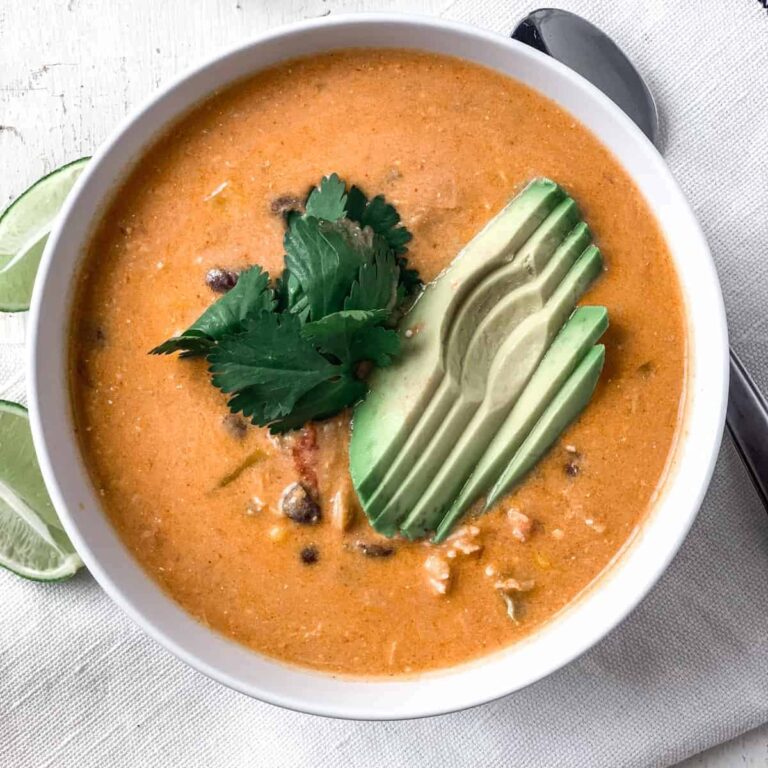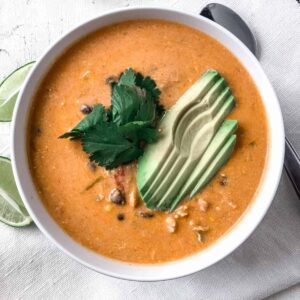 Instant Pot Chicken Enchilida Soup
Ingredients  
1

large onion

diced

1

green bell pepper

diced

2

4 oz.

cans green chiles

1

teaspoon

garlic powder

1

teaspoon

onion powder

1

teaspoon

salt

1

tablespoon

cumin

1

cup

frozen corn

1

15 oz. can

black beans

rinsed

1

15 oz. can

tomato sauce

1

15 oz. can

diced tomatoes

4

cups

chicken broth

3 if you want a thicker soup

1

8 oz.

package of cream cheese

room temperature

1

cup

finely shredded colby jack cheese

tortilla chips, cilantro, lime wedges, avocado

for serving
Instructions 
Turn Instant Pot on to the saute function. Saute onions and bell pepper, about 5 minutes. Add in spices and saute for 1 minute-- to bring out their flavors. Turn off saute function.

Place whole chicken breasts on top, and add in both cans of green chilies, diced tomatoes, tomato sauce, black beans, corn, chicken stock, and salt. 

Turn on Instant Pot to High pressure for 8 minutes. When the time is up, allow to natural release. 

Once the pressure has been released, remove chicken from pot and shred with a fork (it should shred very easily). Place chicken back into the pot, along with softened cream cheese. Stir until everything is well combined. 

Serve with crushed tortilla chips, cilantro, avocado, and a squeeze of fresh lime.