These Cream Cheese Chicken Pillows are a family favorite, and I thought I should share the recipe with you all! This was one of my favorite meals my mom made growing up (although we always called them chicken packets), and I think a lot of you will love this crescent roll chicken as well.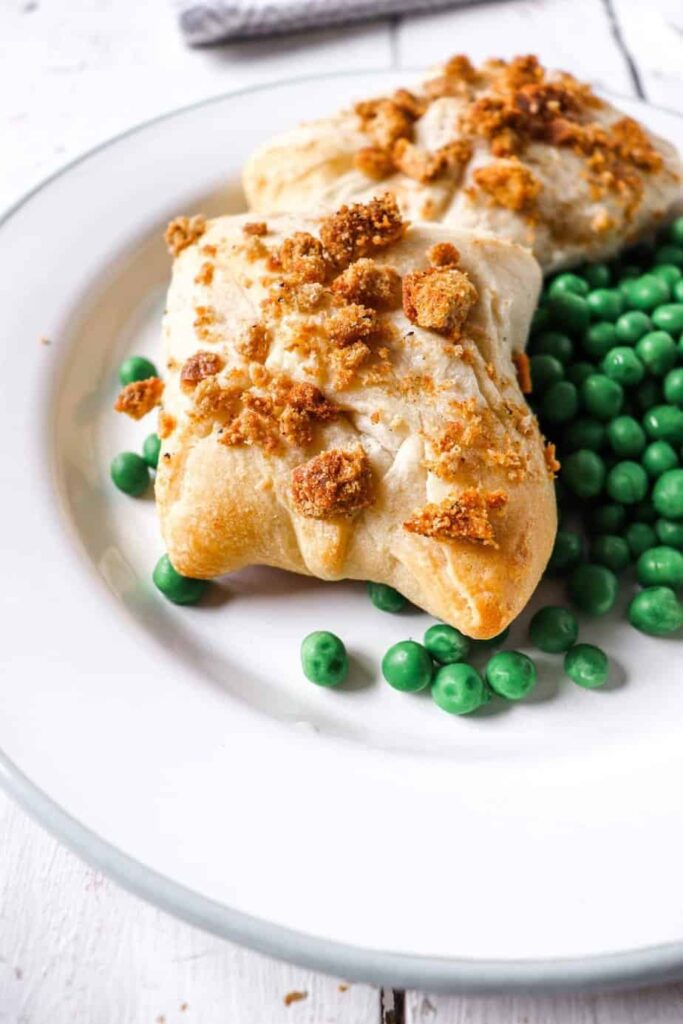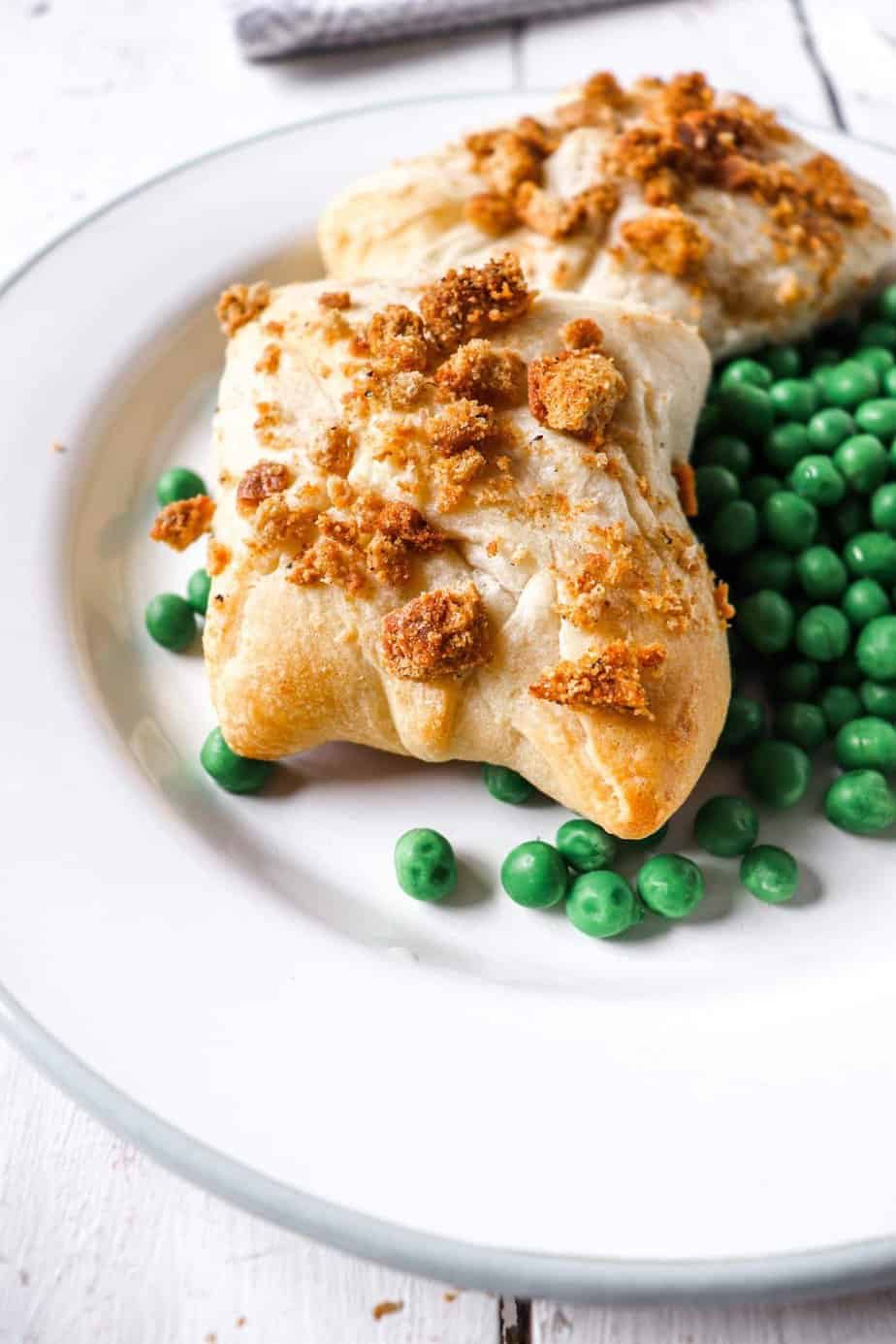 It's actually pretty easy to see why these are so good, you are taking buttery crescent rolls, filling them with chicken that's been mixed with cream cheese, and dipping them in butter! They are rich and savory. They are also filling! This comfort food recipe is great for hungry families that need something that will keep people satisfied. There's a great amount of protein, carbs, and fat to do the job! Chicken packets, chicken crescent rolls, chicken pillows, whatever the name-- they sure are good!
These packets are extremely simple to make, there are not a lot of elements to measure or chop, and there are only seven ingredients. Somehow, those seven ingredients come together to make a filling and delicious main dish. My family loves them (and I think yours will too)!
Looking for other recipes using crescent rolls? Try this cold veggie pizza recipe (it's extremely popular on Pinterest!).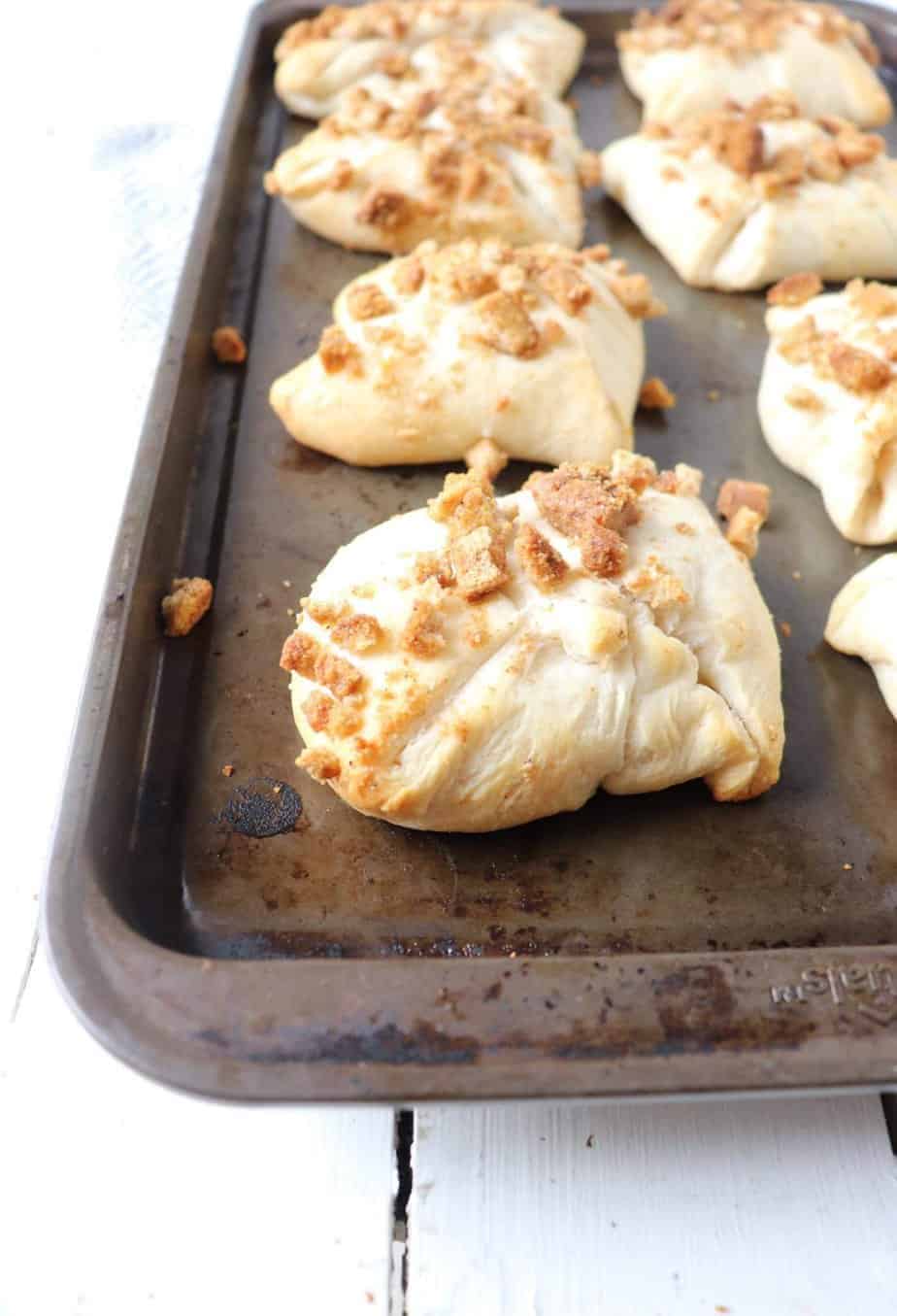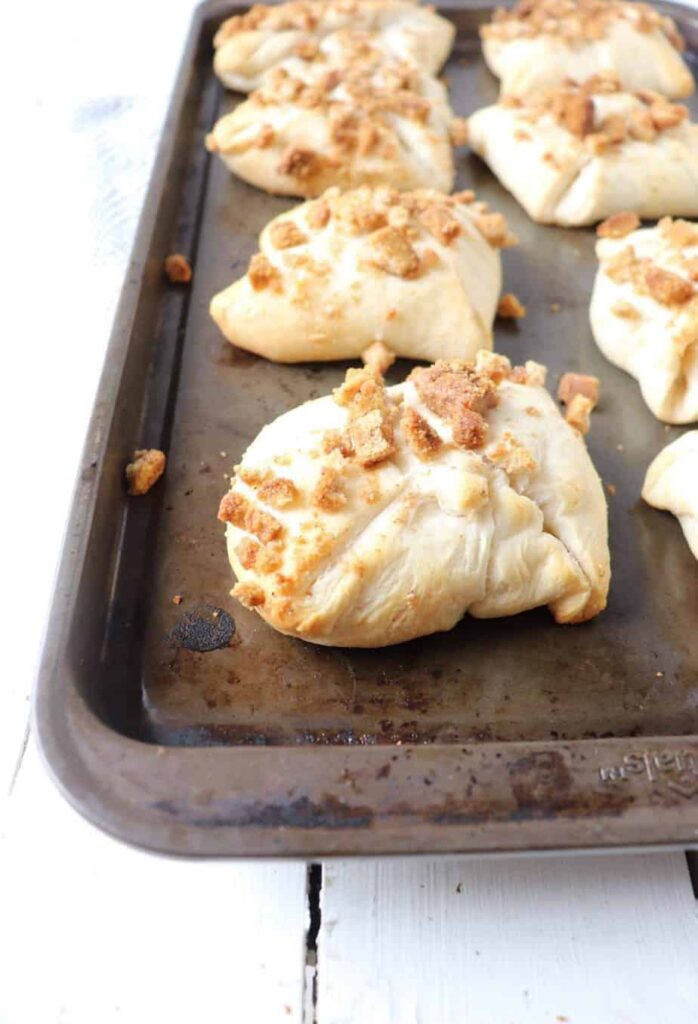 Ingredients
refrigerated crescent rolls
shredded cooked chicken breasts
cream cheese
milk
chopped chives
salt
melted butter
croutons
How to Make Chicken Pillows
Preheat your oven to 375 degrees.
Chicken: Start with 2 cups of prepared shredded chicken. If you are in a pinch, or want to cut the cost a bit, canned white meat chicken breast can be substituted.
Sauce: Stir softened cream cheese (make sure it's really soft, or else it will be difficult to work with) with milk. The milk will help thin out the cream cheese so that it can more easily coat the chicken.
Filling: Combine cream cheese mixture with chopped chives and shredded chicken, as well as salt.
Assemble: Each package of crescent rolls has 4 rectangles that are separated by a diagonal perforation. You will want to press the perforation of the crescent dough together to form a solid rectangle. Place about ¼ cup of the creamy chicken mixture in the middle of each rectangle. Pinch seams together. Start by connecting the opposite corners and then pinching together the seams.
Topping: Now, it's time to add the crispy topping. I find it easiest to have the butter and croutons in two bowls side by side and doing a little assembly line. Crush the croutons up so they adhere more easily. An easy way to do this is by pouring them into a sandwich baggie. Then, simple roll over them a few times with a rolling pin. Dip the top of the chicken pillow in the melted butter and then press it into the croutons.
Bake for 25 minutes and serve.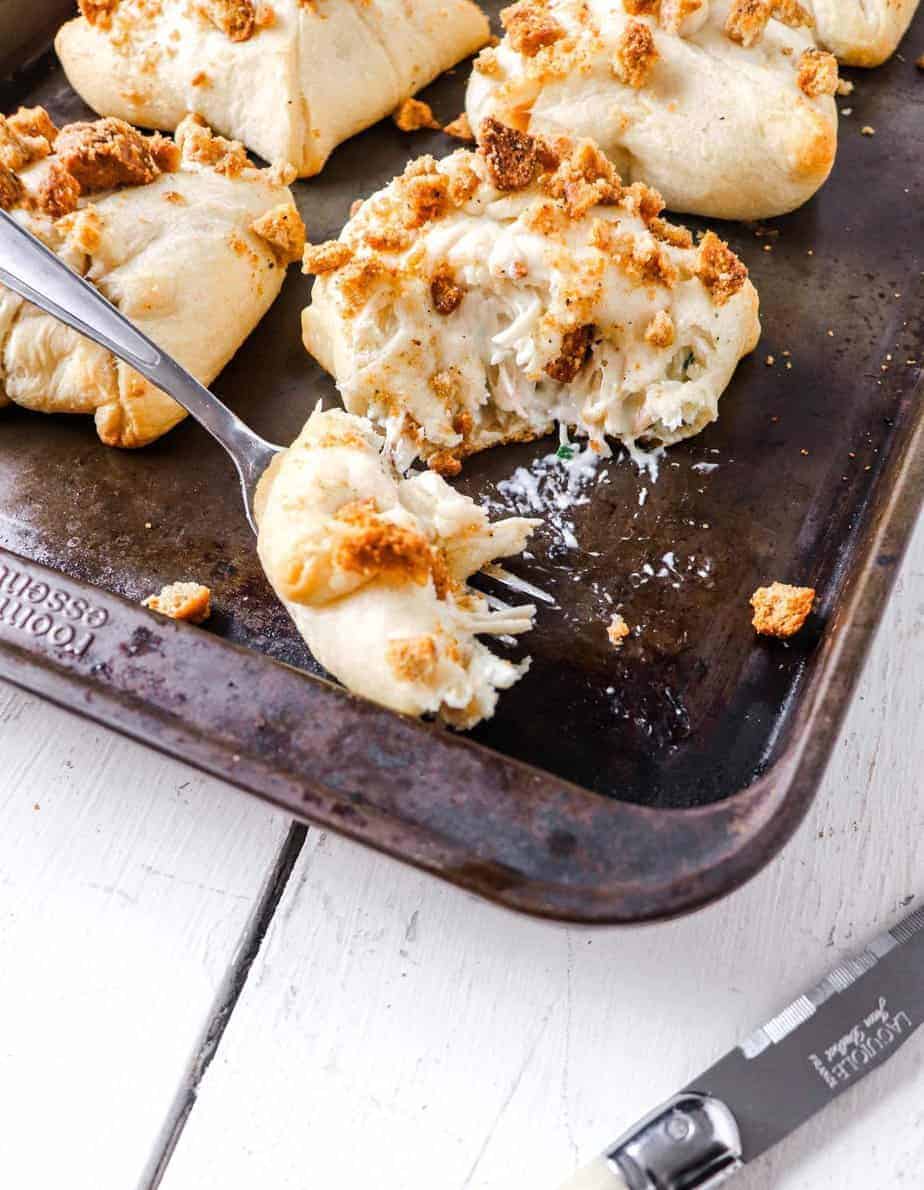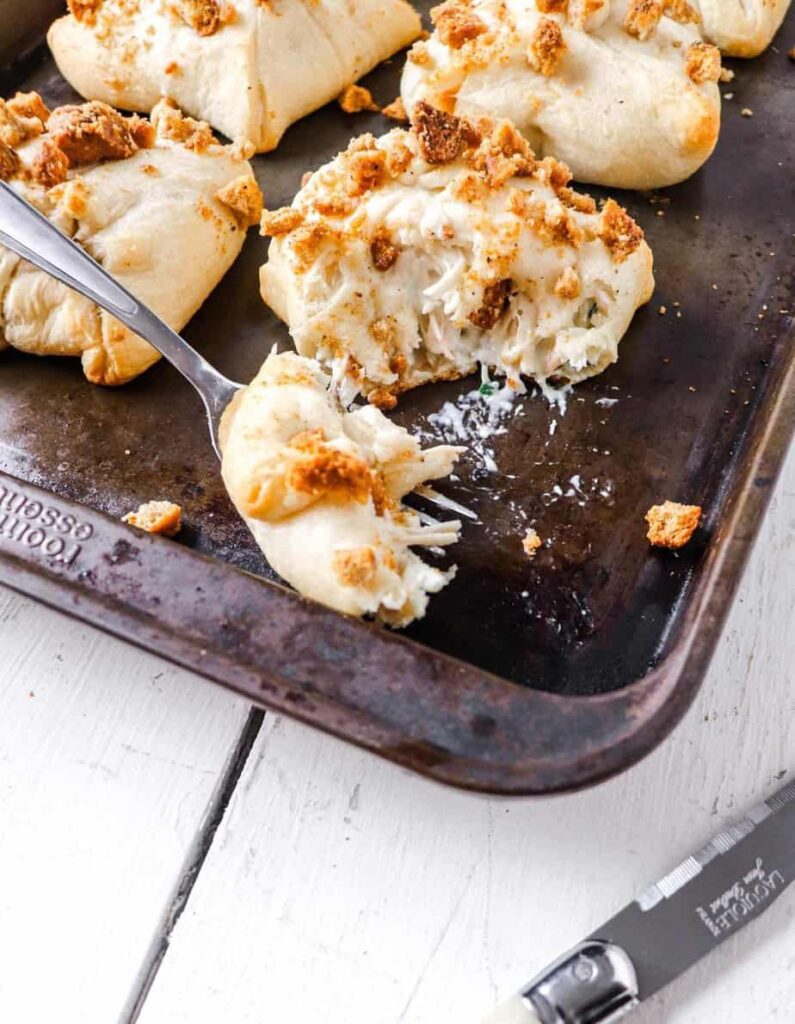 Substitution for chives
The major source of "flavor" for these chicken cream cheese pillows comes from the chives. They give a light, onion-y flavor with no bitterness or crunch that needs to cook off. If you don't have chives on hand, you could substitute in the green tops of green onions and chop them up finely. You could even try very finely minced shallots for another subtle way to add onion flavor.
Other substitutions
Don't have cream cheese? Try chicken soup, sour cream, or Greek yogurt.
Try store bought pie crust or puff pastry instead of crescent roll dough. Puff Pastry is what is used in French Chicken Friand.
Canned chicken. As mentioned above, if you want to reduce the cost of this budget-friendly dinner even further, supplement in canned chicken. Just make sure to drain the chicken well so that the filling isn't soggy!
If you don't have croutons on hand, bread crumbs would work well as a topping.
What goes with chicken packets?
Since these Cream Cheese Chicken Packets are already wrapped in a crescent roll, they really only need a vegetable to go alongside them! I love peas, but a simple salad or roasted broccoli would be great too.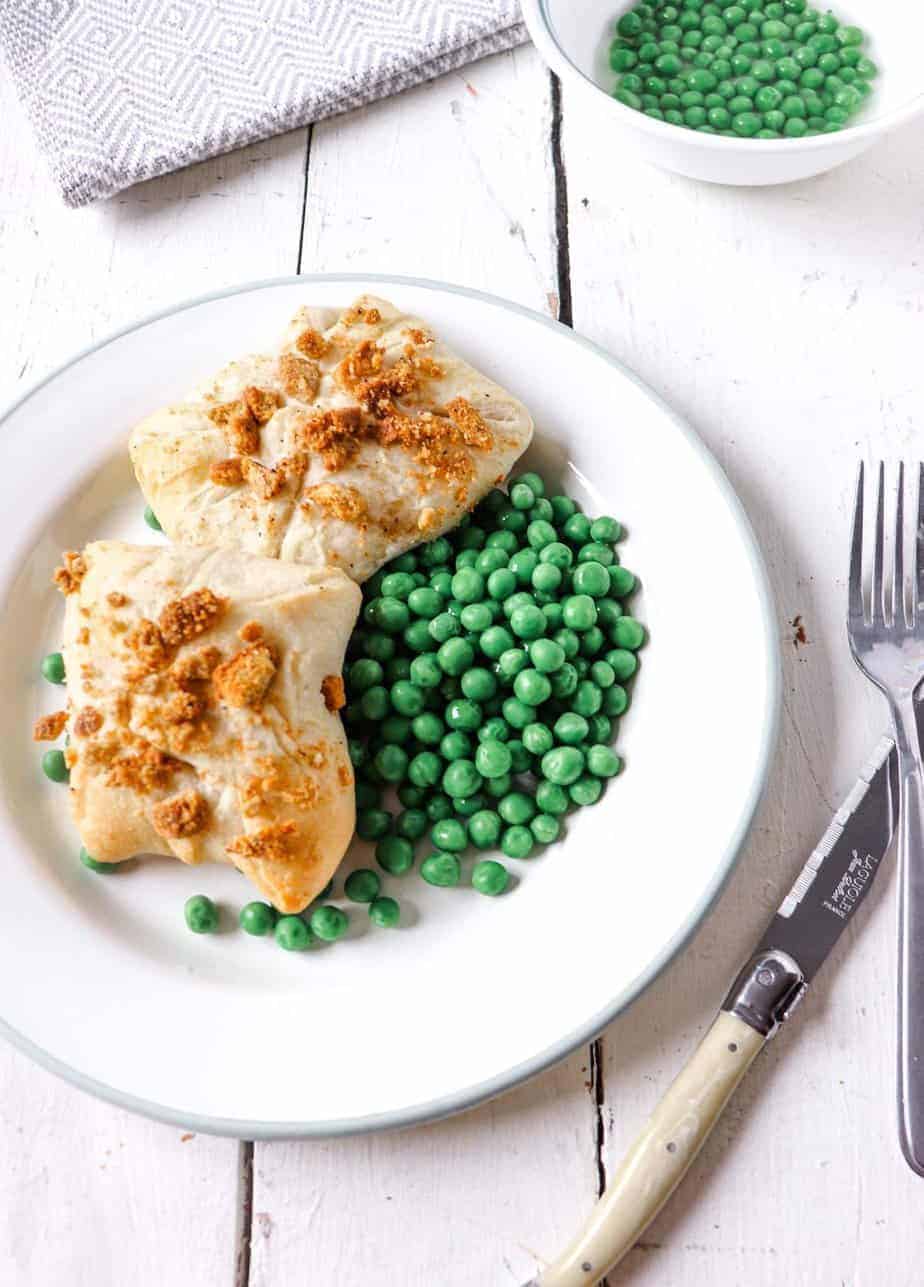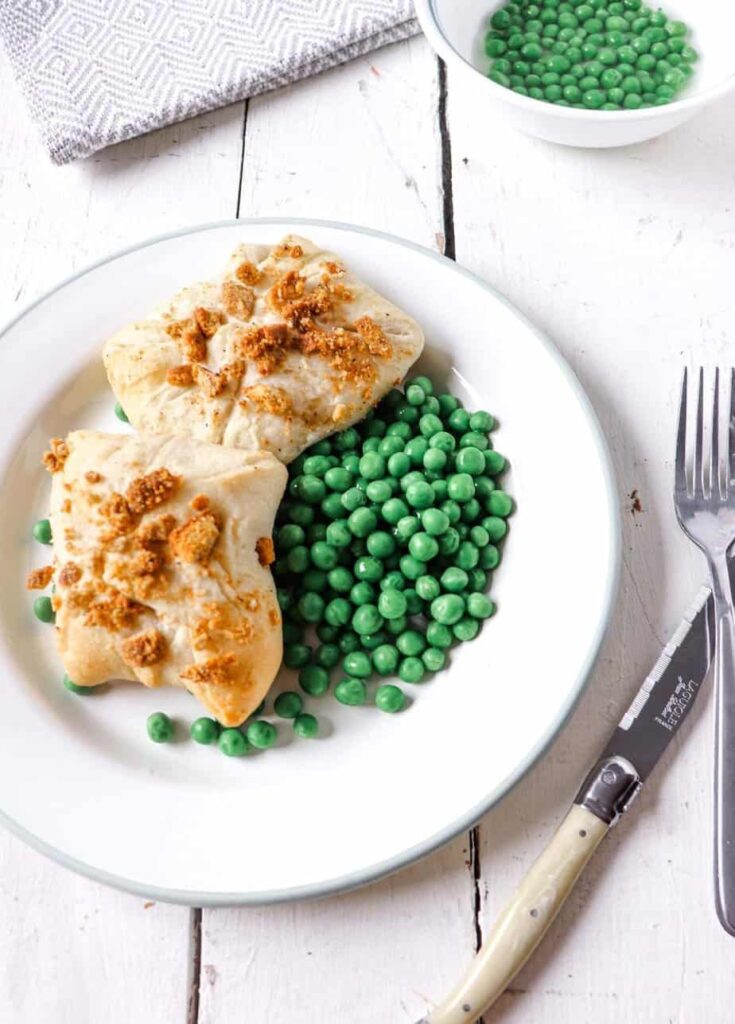 Storage
Room Temperature: These packets have both dairy and chicken in them, so the longest you want to leave them at room temperature is 2 hours.
Fridge: Can be kept in an airtight container for 3-4 days.
Freezer: Freeze these fluffy chicken pillows in a ziploc baggie for several months. They heat up really well in a toaster oven!
Can Chicken Packets Be Eaten Cold?
Yup! That's my husband's favorite way to eat them! These puffs are kind of like little sandwiches-- you have your bread, meat, and spread (cream cheese).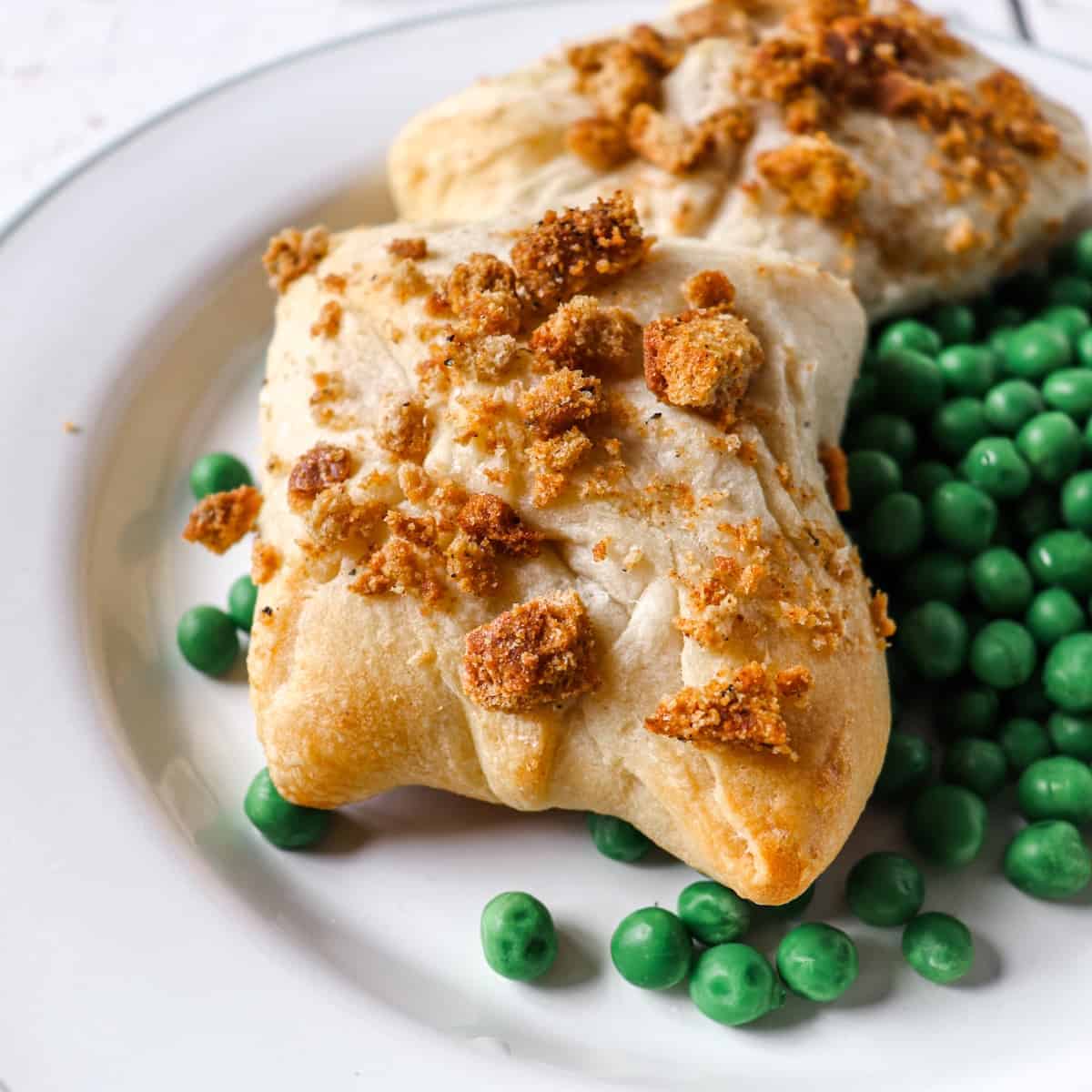 Yield:

8 packets
Cream Cheese Chicken Packets
Cream Cheese Chicken Packets are an easy weeknight dinner that combine buttery crescent rolls, shredded chicken, and cream cheese for a dinner thats full of protein!
Ingredients
2 (8 oz.) packages refrigerated crescent rolls
2 cups shredded cooked chicken
1 (8 oz.) block cream cheese, softened
2 tbs. milk
2 tablespoons chopped chives
½ tsp. salt
½ stick butter, melted
½ cup croutons, crushed 
Instructions
Preheat oven to 375 degrees F.
In a mixing bowl, combine softened cream cheese, shredded chicken, milk, chives, and salt. Use a spoon or your hands to combine.
Each package of crescent rolls has 4 rectangles that are separated by a diagonal perforation. You will want to press the perforation together to form a solid rectangle.
Scoop ⅛ of the filling in the middle of each rectangle. Pinch seams together. (I start by connecting the opposite corners and then pinching together the seams.
Dip the tops in melted butter and then dip that into the crushed croutons. Place on baking sheet.
Bake for about 25 minutes until the biscuits are cooked through.
Nutrition Information:
Yield:
8
Serving Size:
1
Amount Per Serving:
Calories:

164
Total Fat:

13g
Saturated Fat:

6g
Trans Fat:

0g
Unsaturated Fat:

5g
Cholesterol:

53mg
Sodium:

270mg
Carbohydrates:

3g
Fiber:

0g
Sugar:

1g
Protein:

9g