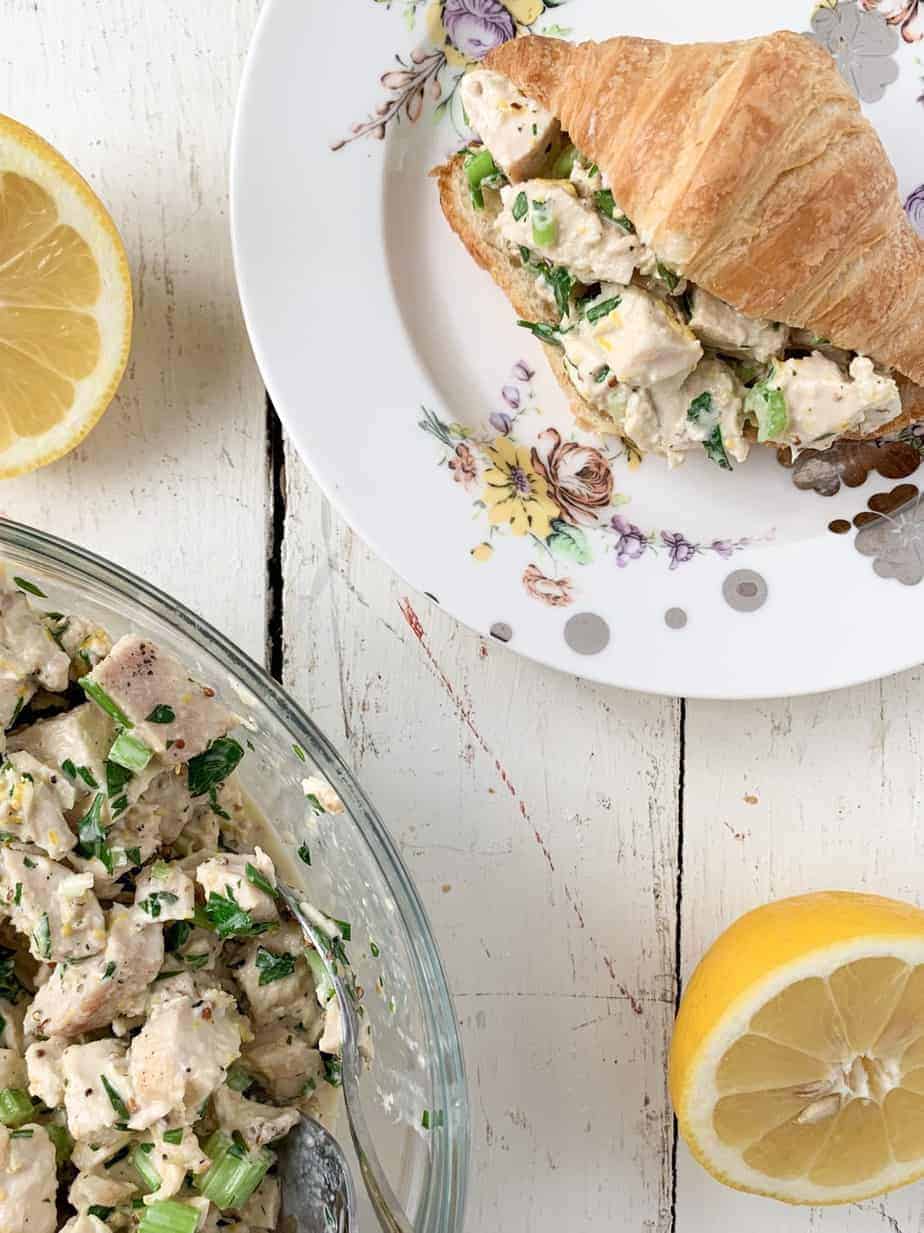 I don't know when I first started making this chicken salad, but I believe it was close to a decade ago. It has evolved over time, mostly because prior to Season and Thyme I never wrote down my recipes. I do know that I have made this for countless bridal showers, baby showers, and summer get togethers, and it is always a hit! I'm not a huge fan of chicken salad with grapes in it, and I wanted to do something very summery and light. You can't get much more summery than herbs and lemons!
Something great about this salad, is that it can be made easily for a crowd the day before. Have it chilling in the fridge and scoop it into croissants when it's time to eat.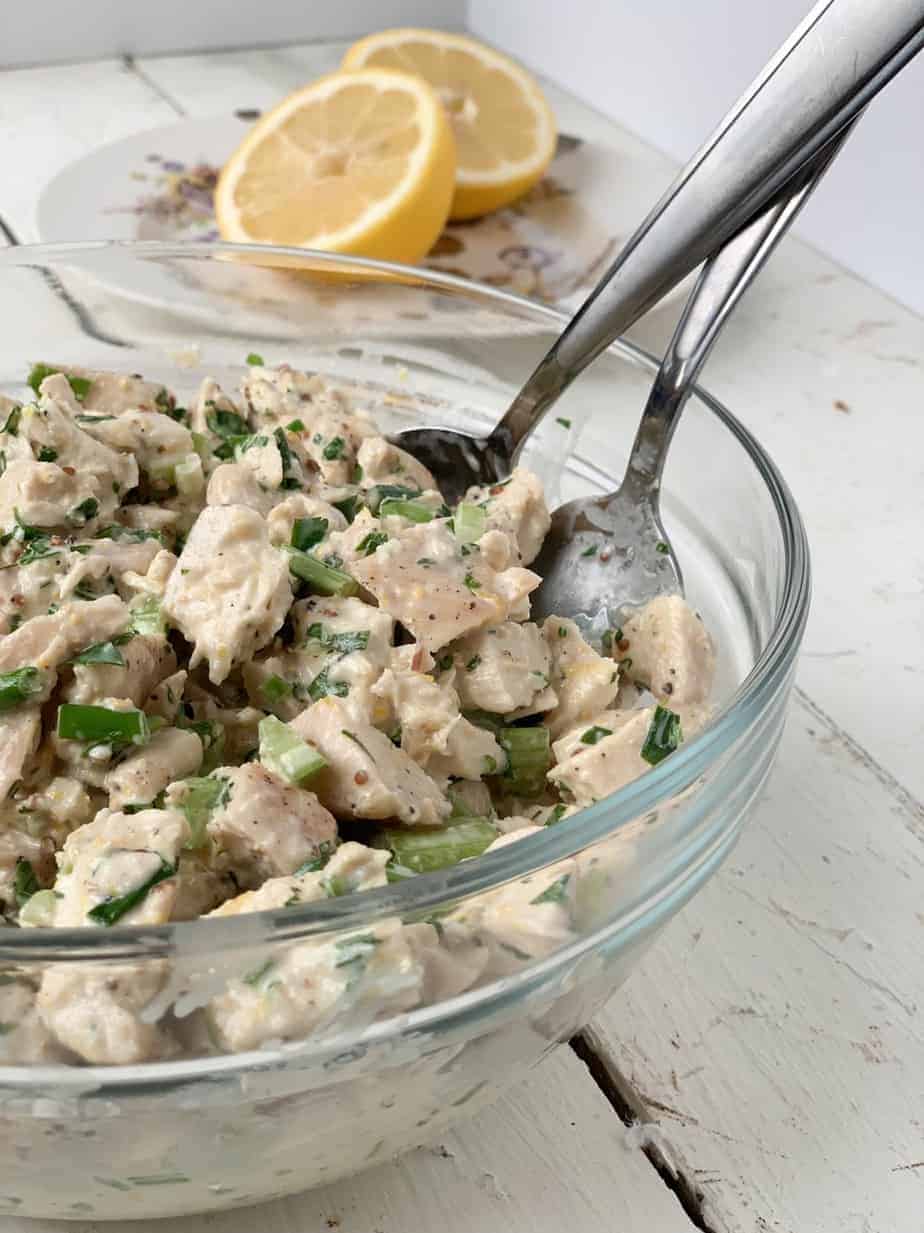 I often double or triple this recipe when serving a large group. Because cooking and preparing all of those chicken breasts can be both time consuming and expensive, I often supplement in canned chicken for part of the amount called for. You still have the chunks of the cubed chicken, and because everything is coated in mayo, you can't even tell part of the chicken is from a can. I normally do about ⅓ -½ parts canned chicken to ⅔-½ fresh.
Also, I recognize that there is a LOT of lemon in this salad. I really like lemon, and always think recipes can use more. Feel free to use your discretion here if you like a slightly mellower flavor. Keep in mind, that the lemon juice also works with the mayonnaise to create more of a sauce for the salad. The recipe only calls for ½ cup of mayonnaise, which is pretty light considering the amount of salad this makes!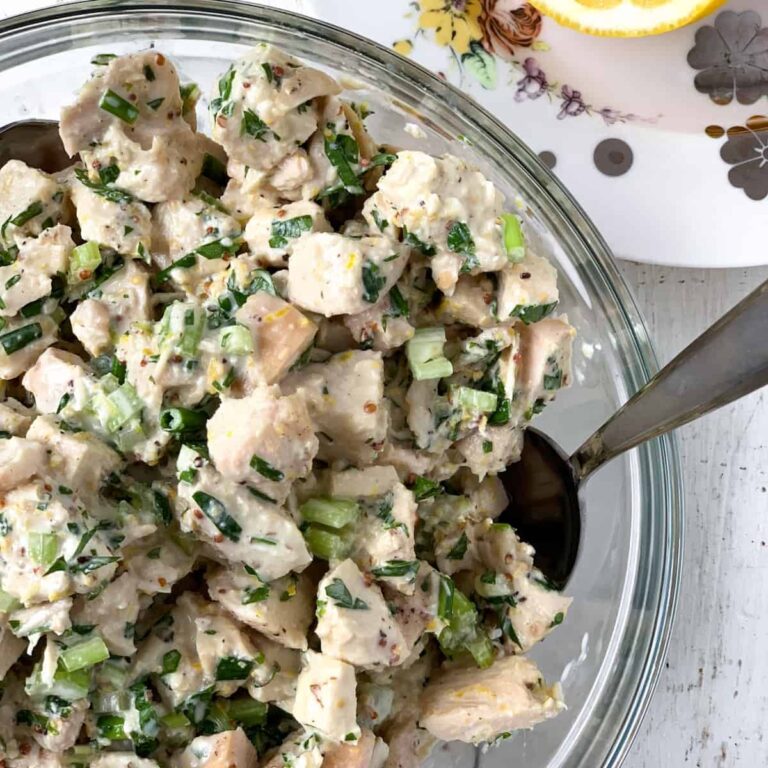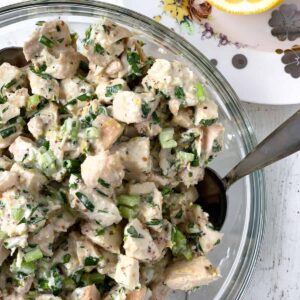 Lemon Tarragon Chicken Salad
Ingredients
2

lbs.

chicken breast

cooked

½

cup

mayo

3

lemons

zested and juiced

2

tbsp.

stone ground mustard

2

celery stalks

diced

4

green onions

chopped

¼

cup

fresh tarragon

chopped

¼

cup

fresh parsley

chopped

½

tsp.

salt

½

tsp.

pepper
Instructions
Begin by dicing cooked chicken into bite-sized pieces.

In a large mixing bowl, add chicken, mayo, lemon zest and juice, stone mustard, diced celery, and chopped herbs. Stir to evenly coat chicken.

Taste and add salt and pepper as needed.