This Lemon and Tarragon Chicken Salad is a wonderful summery chicken salad that can be made with rotisserie or canned chicken. Full of fresh herbs and bursting with lemon flavor, serve on buttery croissants for the perfect chicken salad sandwich.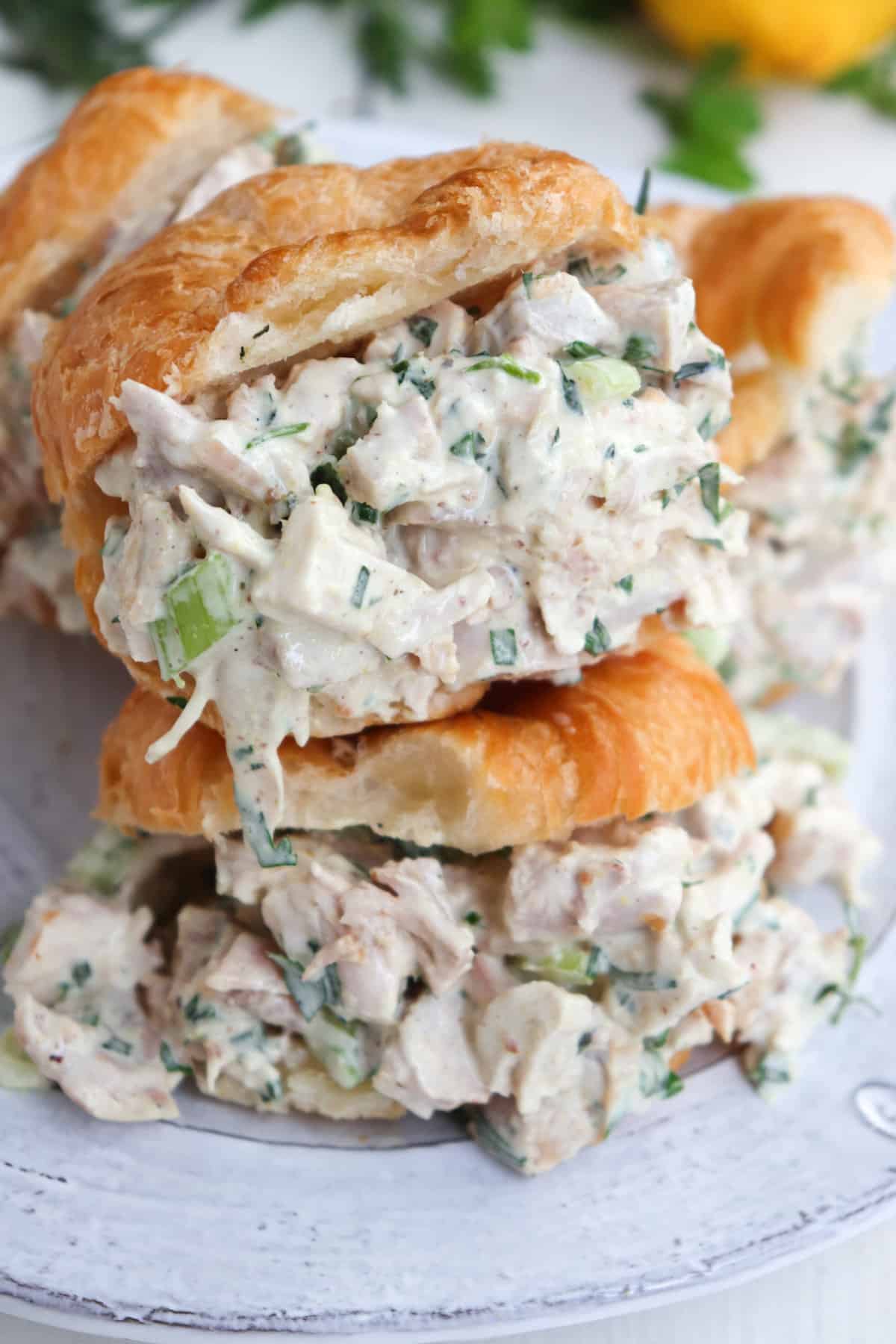 I don't know when I first started making this tarragon chicken salad, but I believe it was close to a decade ago. It has evolved over time, mostly because prior to Season and Thyme I never wrote down my recipes. I do know that I have made this for countless bridal showers, baby showers, and summer get togethers, and it is always a hit! I'm not a huge fan of chicken salad with grapes in it, and I wanted to do something very summery and light. You can't get much more summery than herbs and lemons!
Something great about this salad, is that it can easily be made for a crowd the day before. Have it chilling in the fridge and scoop it into croissants when it's time to eat. Plus, the salad as it stands, is both gluten free and dairy free.
Also, I recognize that there is a LOT of lemon in this salad. I really like lemon, and always think recipes can use more. Feel free to use your discretion here if you like a slightly mellower flavor. Keep in mind, that the lemon juice also works with the mayonnaise to create more of a sauce for coating the salad. The recipe only calls for ½ cup of mayonnaise, which is pretty light considering the amount of salad this makes!
If you are looking for more chicken salad recipes, you may want to try this Southwest Avocado Chicken Salad or Pesto Chicken Salad Wrap.
What does Tarragon taste like?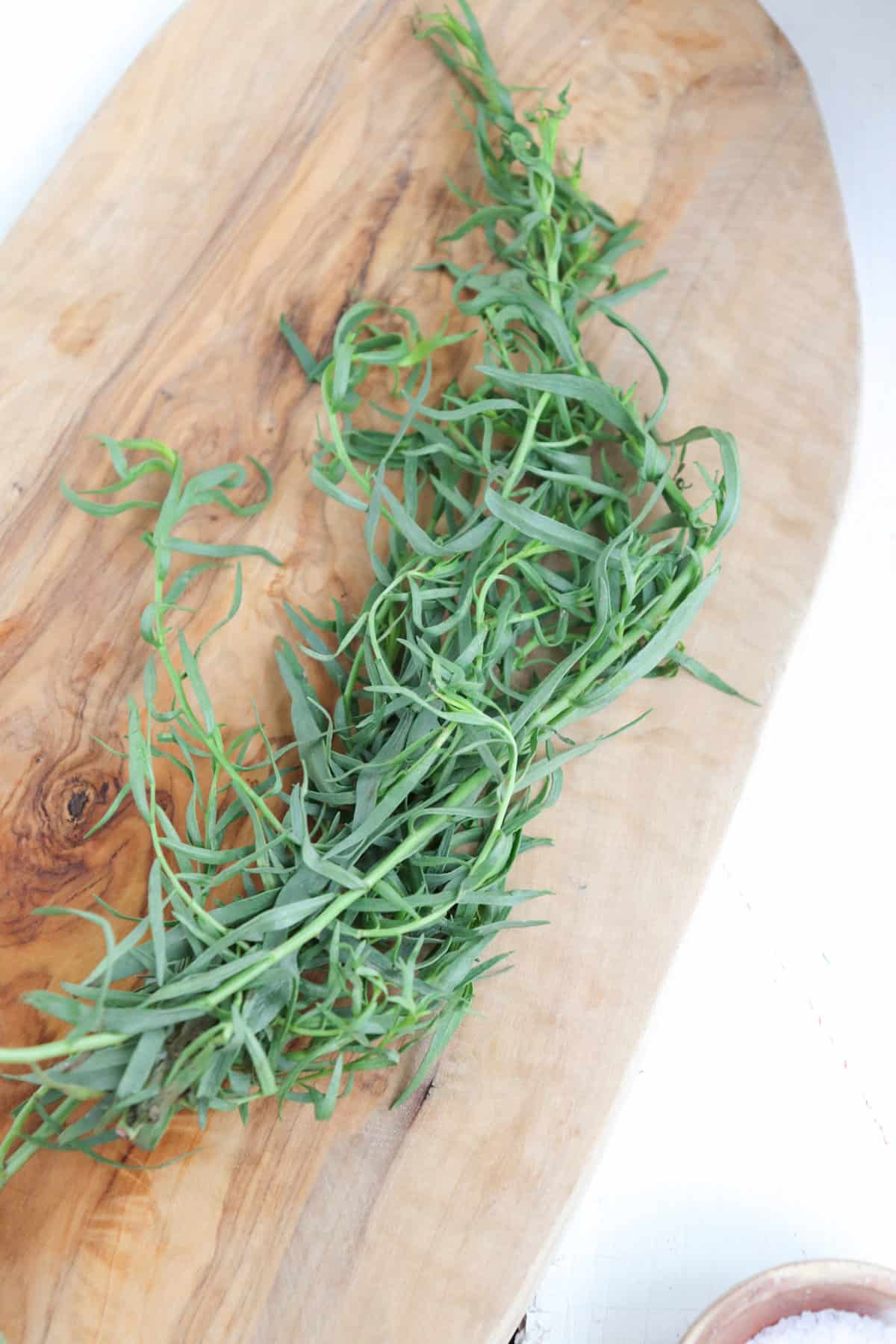 Tarragon has a bit of a licorice-y taste, similar to anise or fennel. It looks like a long soft grass. To use, gently pull the leaves off from the tougher stem and chop.
Tarragon leaves vary from very pungent when in season, to lightly flavored when not. This dictates how much tarragon I use in the recipe. When it's the middle of summer, I have to use less of the herb to get the same amount of flavor.
Ingredients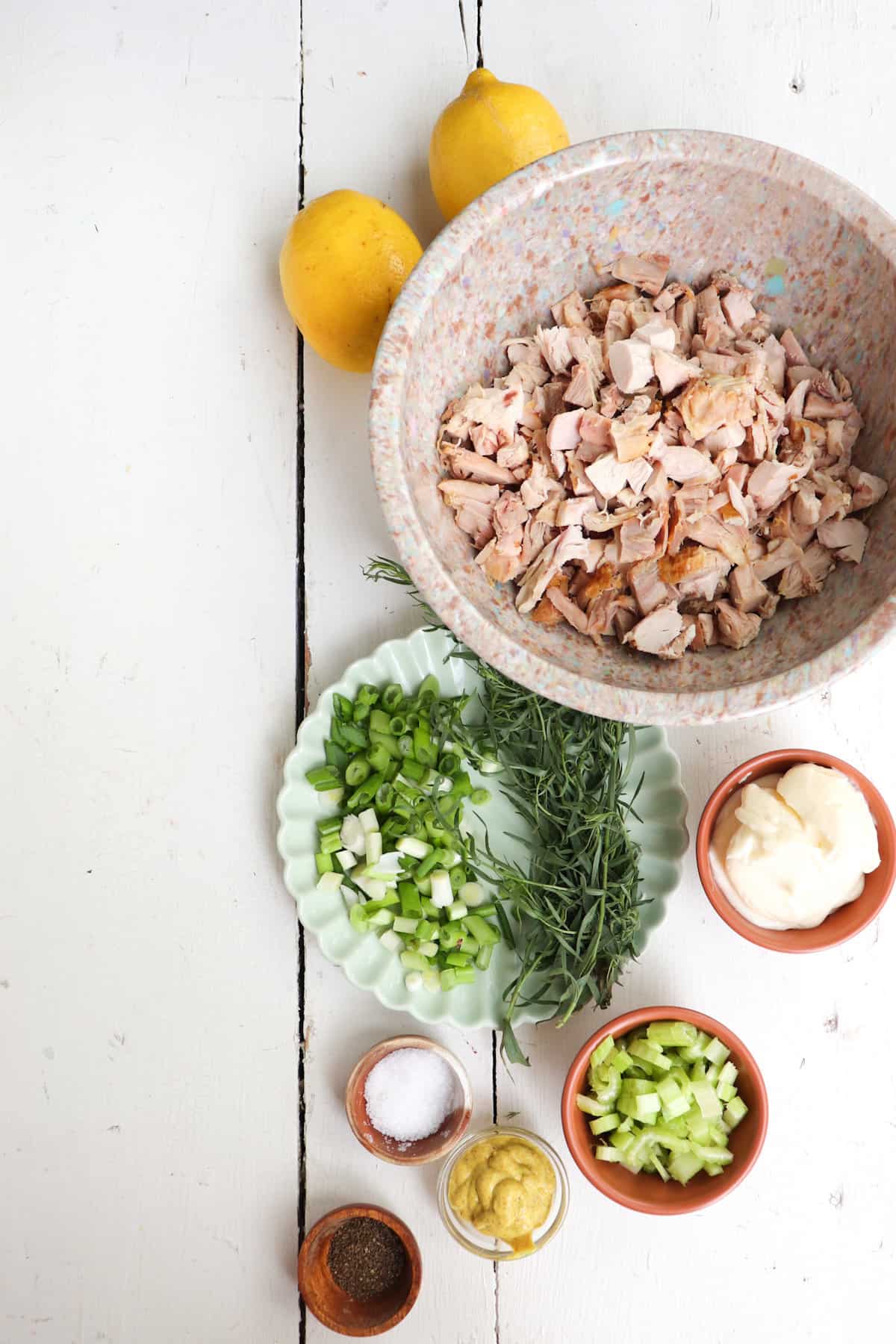 Chicken breast. Rotisserie chicken works great here or you can bake up some chicken breasts to use. I also sometimes use canned chicken for a cheaper, time saving alternative
Mayo
Fresh lemon juice
Stone ground mustard
Celery stalks
Green onions
Chopped fresh tarragon
Fresh parsley
Salt
Freshly ground black pepper
How to Make Chicken Salad
Begin by dicing cooked chicken into bite-sized pieces.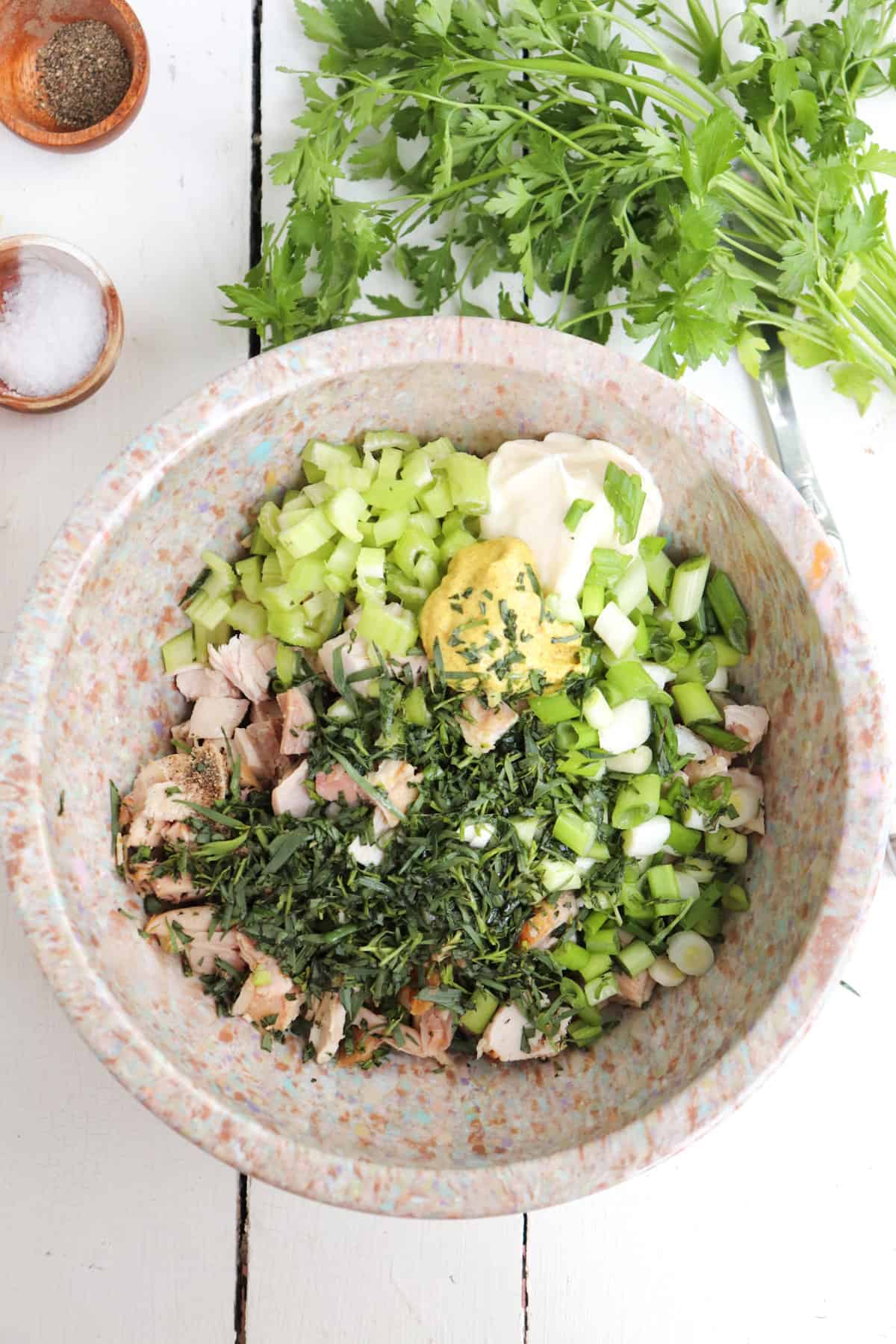 In a large mixing bowl, add chicken, mayo, lemon zest and juice, stone ground mustard, chopped celery, and chopped herbs.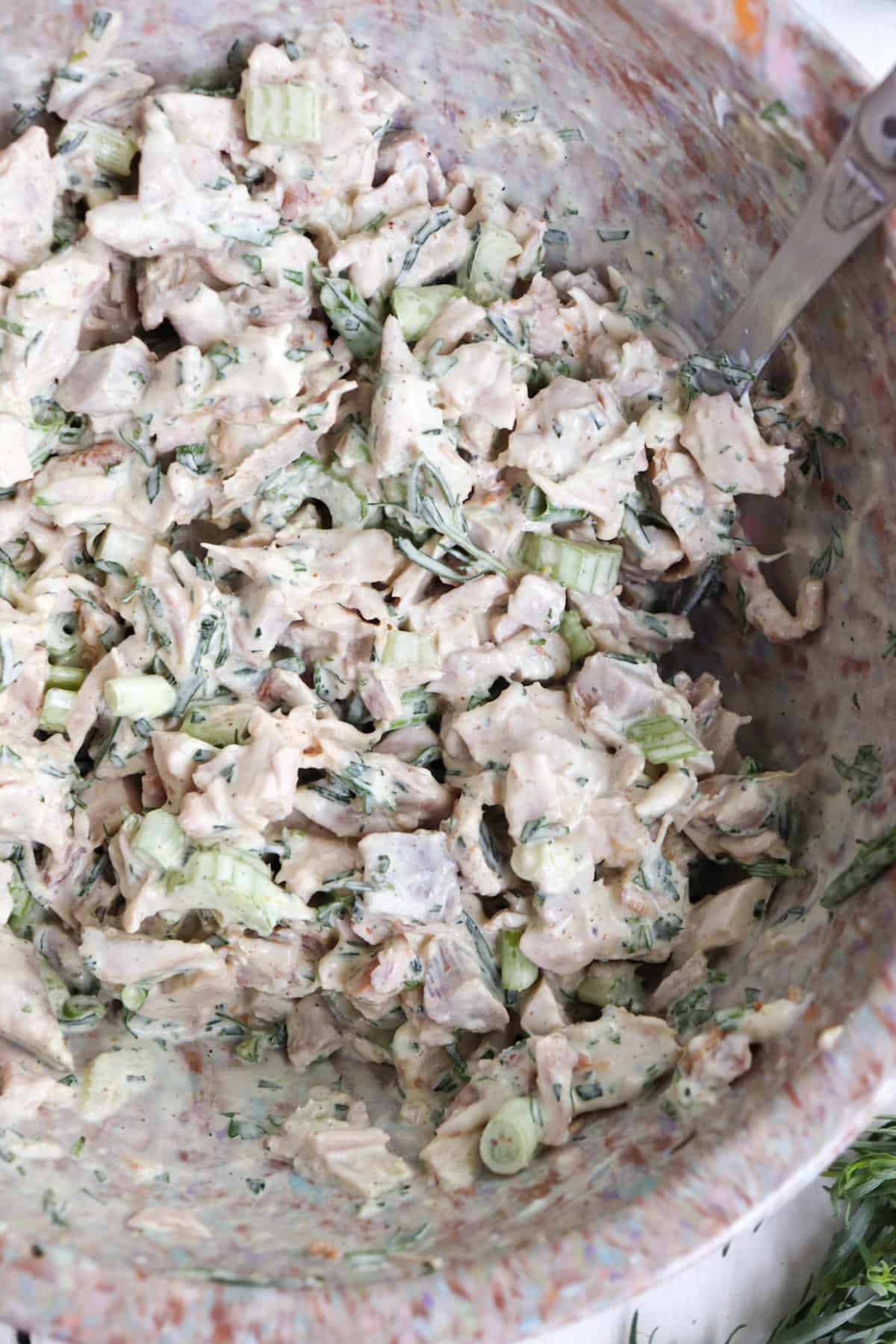 Stir to evenly coat chicken.
Taste and add salt and pepper as needed.
Recipe Tips
I often double or triple this recipe when serving a large group. Because cooking and preparing all of those chicken breasts can be both time consuming and expensive, I often supplement in canned chicken for part of the amount called for. You still have the chunks of the cubed chicken, and because everything is coated in mayo, you can't even tell part of the chicken is from a can. I normally do about ⅓ -½ parts canned chicken to ⅔-½ fresh.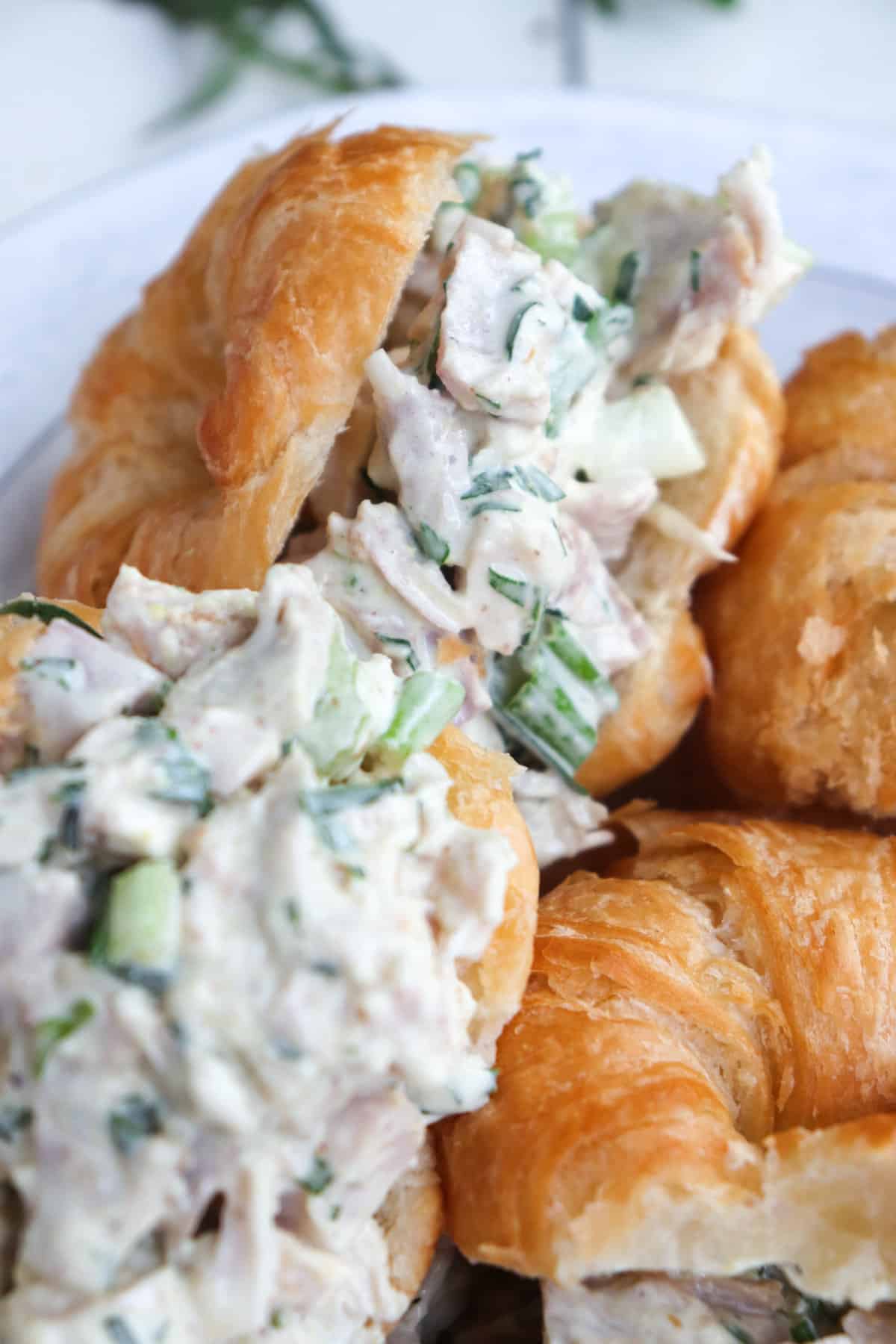 Variations/Substitutions
I know tarragon may be hard for some people to find at their grocery store, especially in the winter. Dried tarragon can be supplemented in a pinch. The flavor won't be exactly the same, but it will still be very good! Just remember to use less of the dried herb, as the flavor is more concentrated.
You can use lemon juice from a bottle if you have that on hand. I suggest still using at least one fresh lemon for the zest-- it really makes a difference in the overall flavor.
How to Serve Chicken Salad
My favorite way to serve this is on croissants. I love to get mini croissants from the bakery of my local grocery store, slice them in half and then pile them high with this tasty chicken tarragon salad. If you want to keep this a low carb lunch, it's great on butter or bibb lettuce.
I generally serve this chicken salad recipe as is, but you can add a bit of sliced tomato or sliced red onion to the top of the sandwich, as well!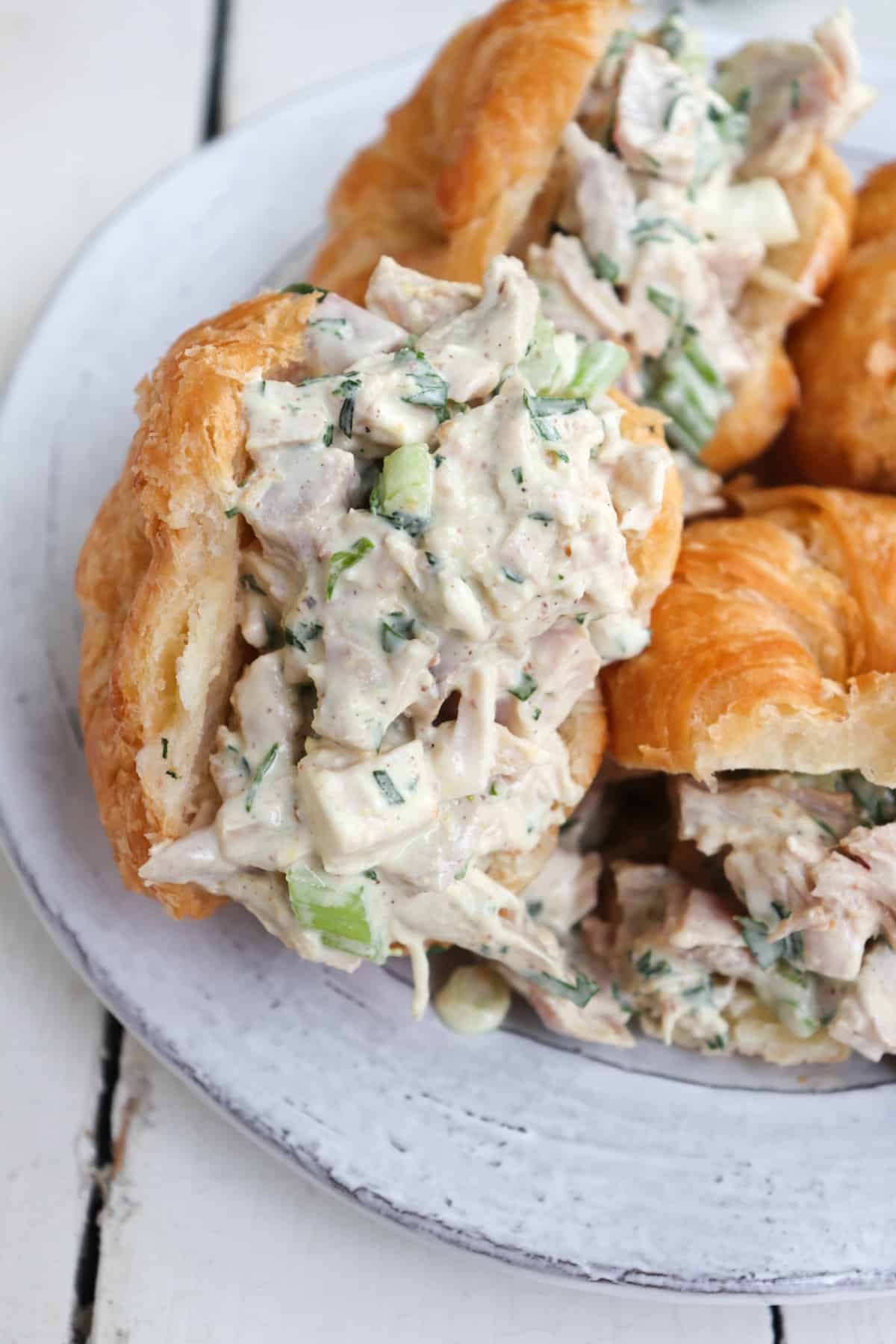 Storage
Store prepared chicken salad in an airtight container in the fridge for up to 3-4 days Stir before serving.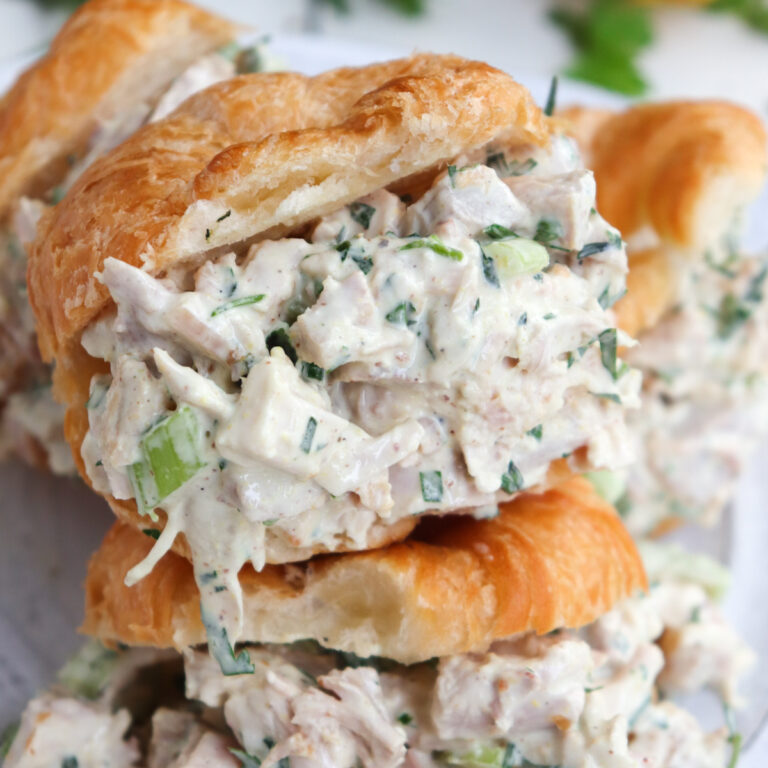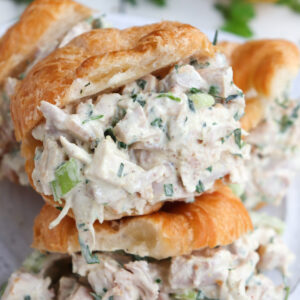 Lemon Tarragon Chicken Salad
No more boring chicken salad, this Lemon Tarragon Chicken Salad will knock your socks off! Bursting with lemon and herbs, it's perfect for summer!
Ingredients
2

lbs.

chicken breast cooked

½

cup

mayo

3

lemons zested and juiced

2

tbsp.

stone ground mustard

2

celery stalks diced

4

green onions chopped

¼

cup

fresh tarragon chopped

2

tbsp.

fresh parsley

chopped

½

tsp.

salt

½

tsp.

pepper
Instructions
Begin by dicing cooked chicken into bite-sized pieces. 

In a large mixing bowl, add chicken, mayo, lemon zest and juice, stone ground mustard, diced celery, and chopped herbs.

Stir to evenly coat chicken.

Taste and add salt and pepper as needed. 
Nutrition
Serving:
1
g
Calories:
304
kcal
Carbohydrates:
5
g
Protein:
36
g
Fat:
15
g
Saturated Fat:
3
g
Polyunsaturated Fat:
11
g
Cholesterol:
102
mg
Sodium:
328
mg
Fiber:
2
g
Sugar:
1
g