Thai Eggplant Curry features Thai eggplant (or Thai aubergine, depending on where you are from!), as well as peppers, onions, and aromatics like ginger and garlic. This baby eggplant curry is also naturally gluten free and vegan (no need for substitutions). I love how the thai eggplant soaks up all of the delicious flavors of the sauce, just like a sponge.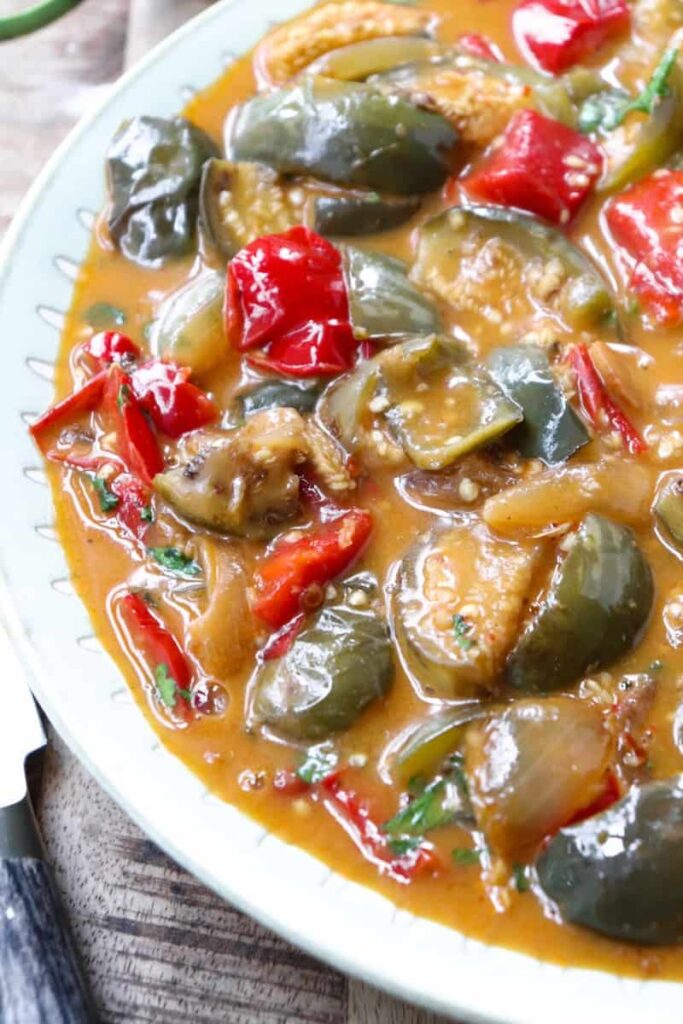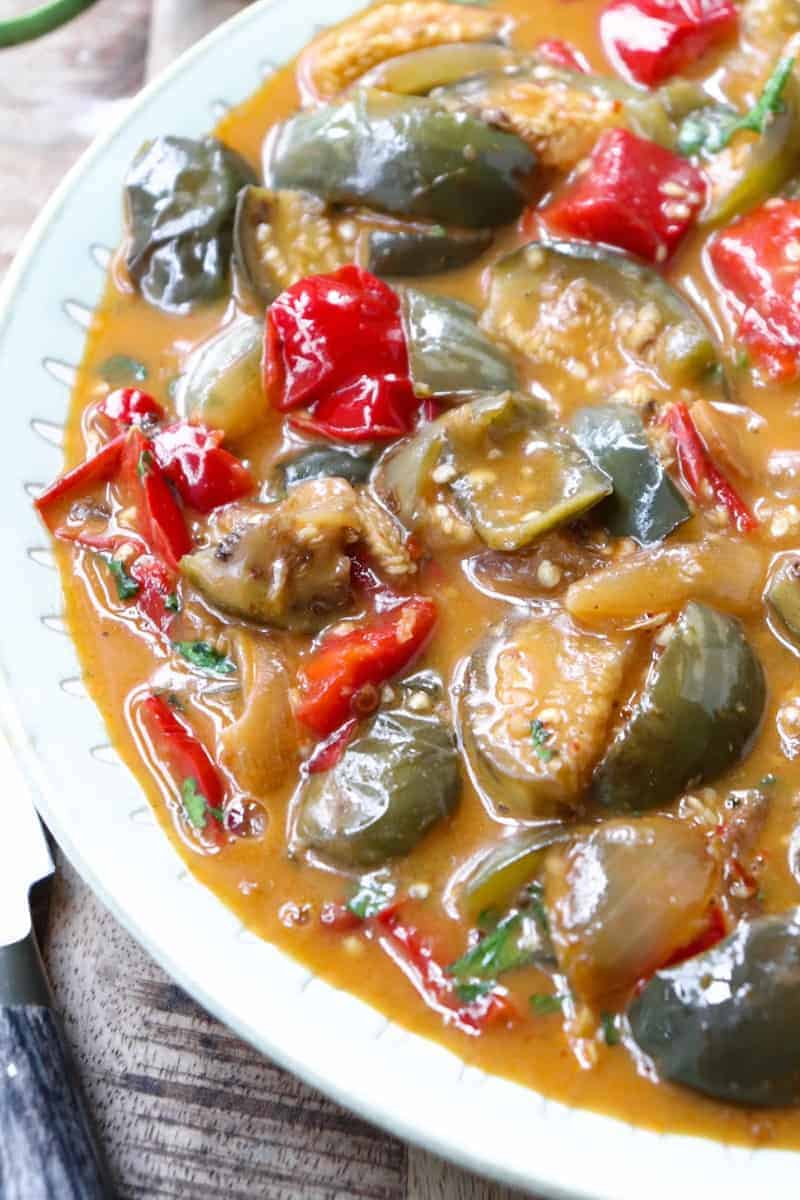 Recently I came across these little cuties in the store, and I knew that I had to use them in a recipe! Generally my go to with any new "vegetable" is a stir fry or a curry, and today I went with the later. This Thai eggplant dish is a little spicy from jalapeno or thai chilies, but feel free to leave that out!
For another simple curry recipe, try Easy Chickpea and Spinach Curry.
First things first…
What are Thai Eggplants?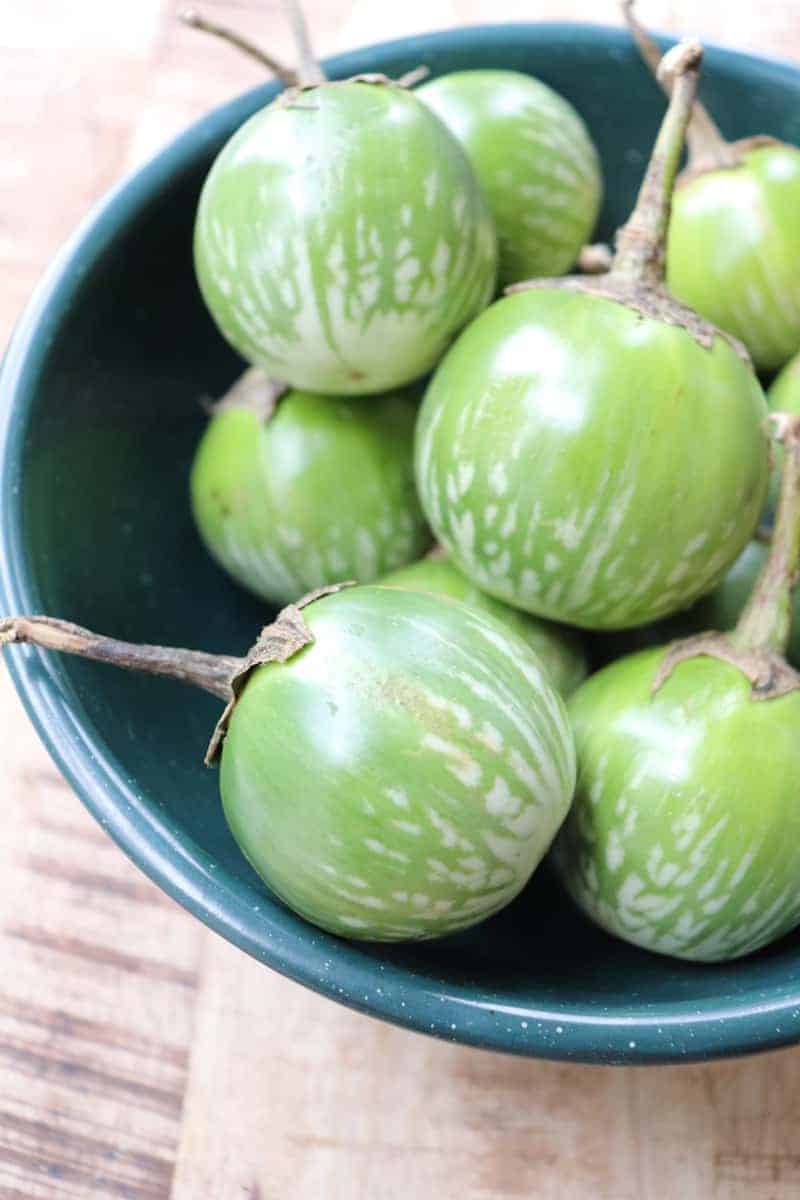 You may be wondering, what even are Thai eggplants? Thai eggplants are little green orbs, about the size of a golf ball and are either green or yellow depending on their ripeness. These baby eggplants are often darker near the stem and fade to a creamier white color at the other end.
Differing from japanese eggplant and chinese eggplant, these eggplants are not purple or elongated shape. Here are some great eggplant recipes!
They are slightly bitter in flavor, but otherwise mild and they have a crunchy texture. Their botanical name is Solanum melongena, and they are members of the nightshade family (like a tomato!). They are technically a berry but are most often eaten in savory dishes.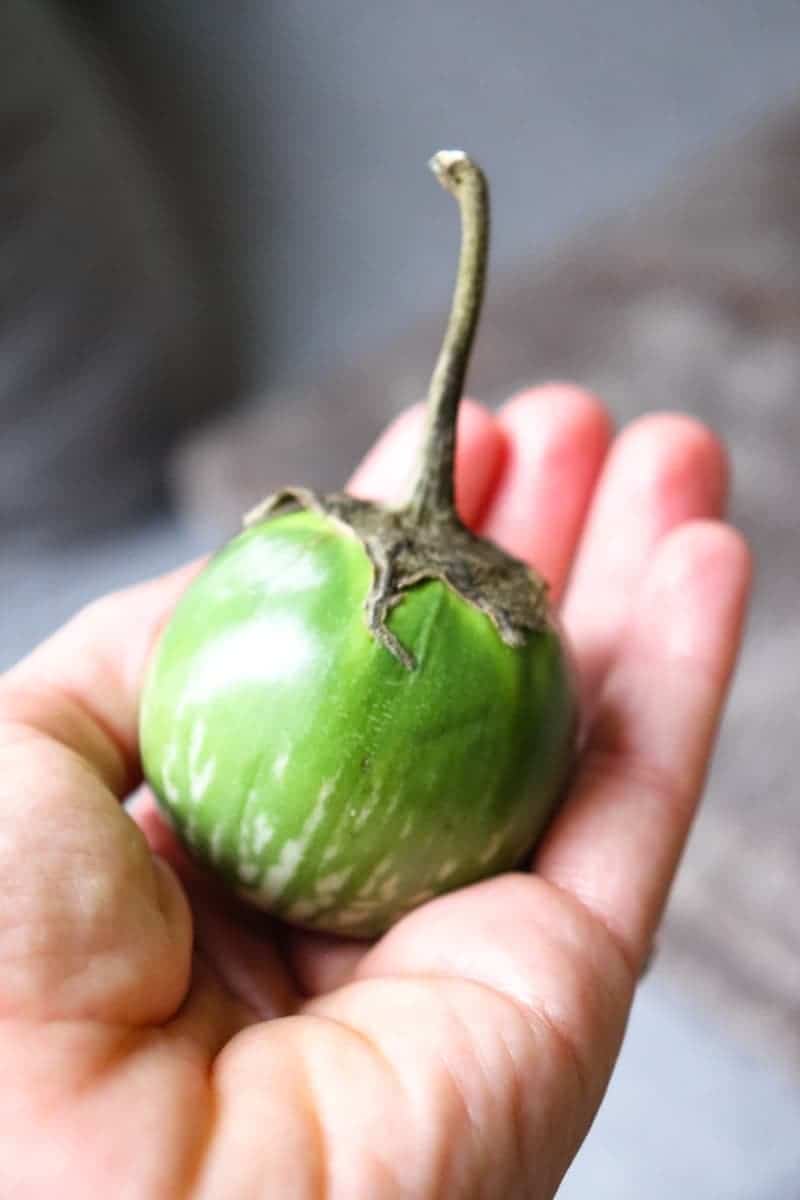 Ingredients
1 tbsp. olive oil or coconut oil
10 thai eggplant, stems trimmed and sliced into wedges
3 tbsp. red curry paste
1 medium yellow onion, sliced
4 garlic cloves, minced
1 red bell pepper, chopped into bite-sized pieces
1 14 oz. can coconut milk
½ tsp. salt
2 tbsp. fresh cilantro or thai basil leaves
1 jalapeno or thai chili, minced
Instructions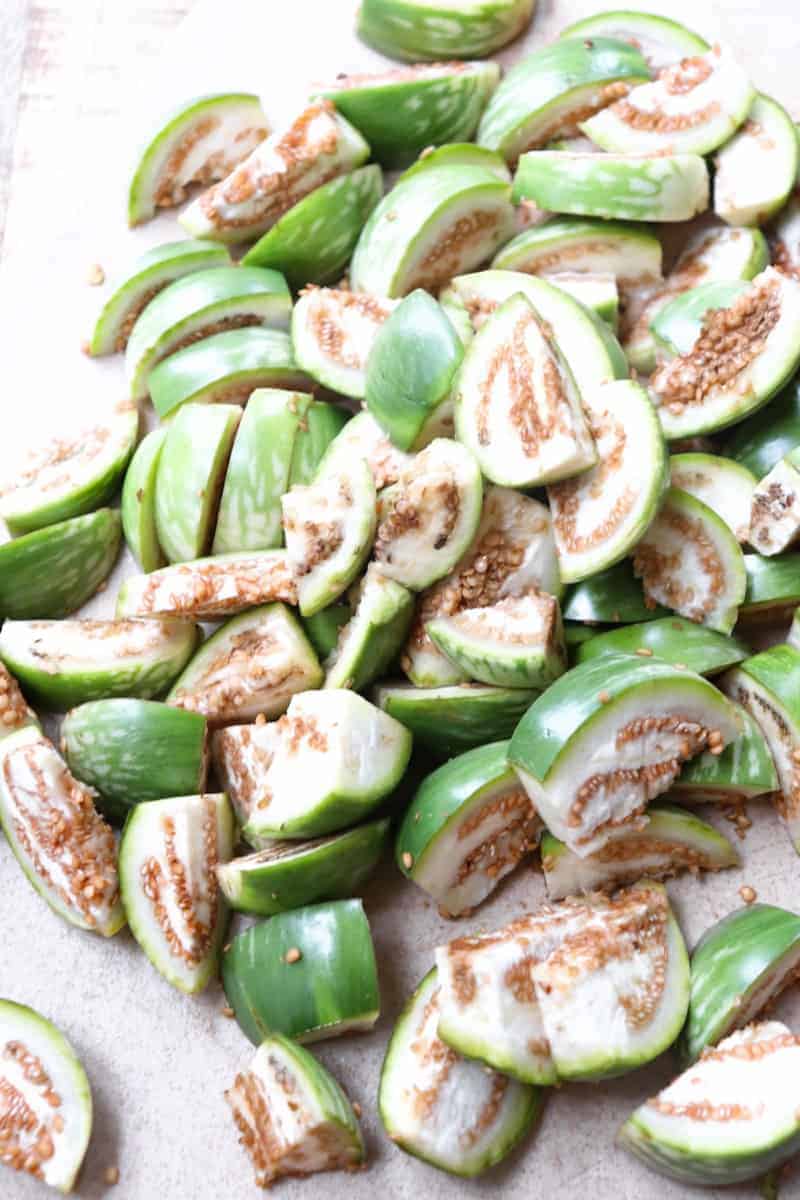 In a large skillet, heat oil over medium heat.
Once the oil is hot, add in onions, garlic and peppers. Allow to cook for 3-4 minutes and then add in your eggplant, salt and curry paste. Stir to coat.
Allow to cook for 3-4 more minutes and then pour in the coconut milk. If you have never cooked with coconut milk before, you may be surprised by it's texture. It separates and solidifies when at room temperature. One it heats, it immediately becomes liquified and can easily be stirred into the dish.
Let the eggplant mixture simmer and stew in the liquid for 10-15 minutes, until they are tender. Top with fresh cilantro or basil and serve over rice.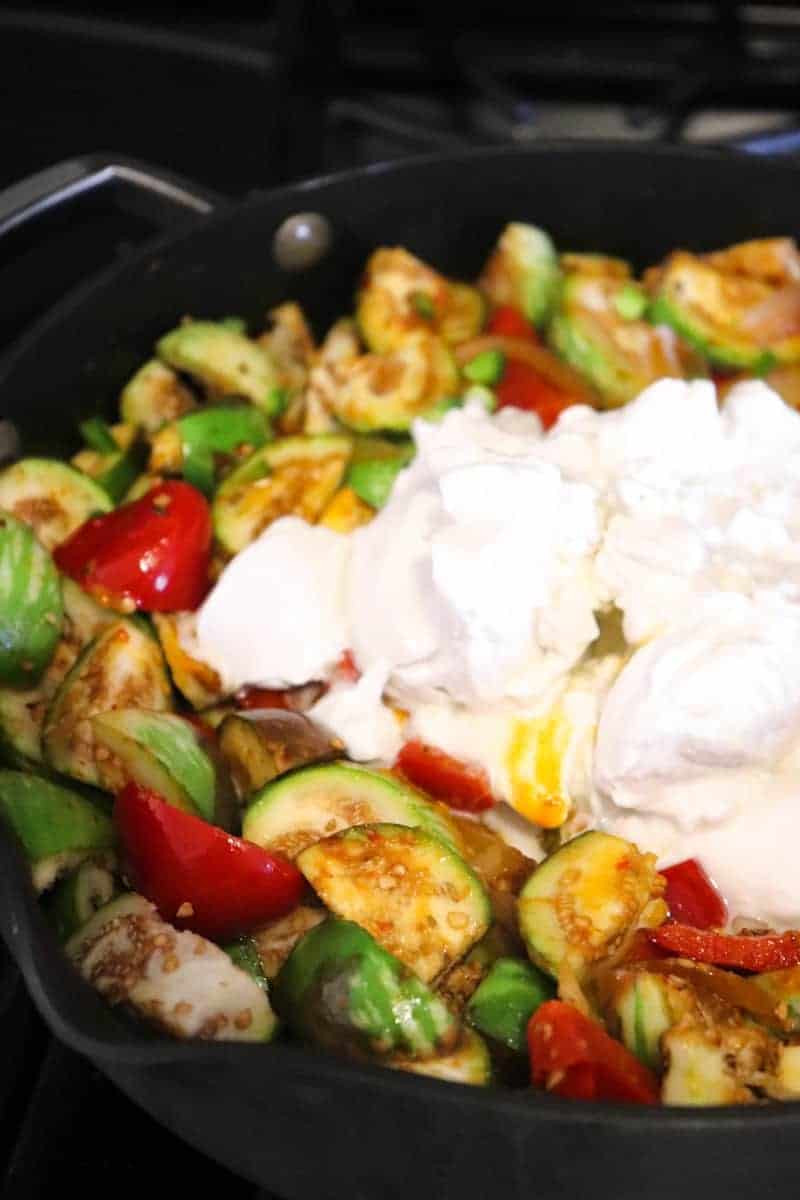 Recipe FAQs
Where can you find Thai eggplants?
They are not as readily available as traditional eggplants, but many Asian markets will stock them. I found them at my local supermarket, but they are a specialty item that comes and goes. Be on the lookout and you may be pleasantly surprised to see them stocked some day!
Can you eat thai eggplant raw?
You certainly can! This is something that sets them apart than other eggplant varieties, in that they can be eaten as crudite or raw in salads. They are really tender and easy to eat. Aside from preparing in curry and spicy basil dishes, they are actually most commonly eaten raw. Simply slice them up and serve them with your favorite dip.
Can you eat the seeds?
Yes, you can. Thai eggplant have a lot of seeds in them and it can be difficult to remove them while still retaining the meat. When the fruit is less mature, the seeds are lighter in color and more tender. The more ripe the fruit (it tends to turn yellow on the outside as it ripens) the harder and less palatable the seeds. They also become darker in color and turn brown. You can remove them in you would like, but cooking them should be enough for most people to enjoy.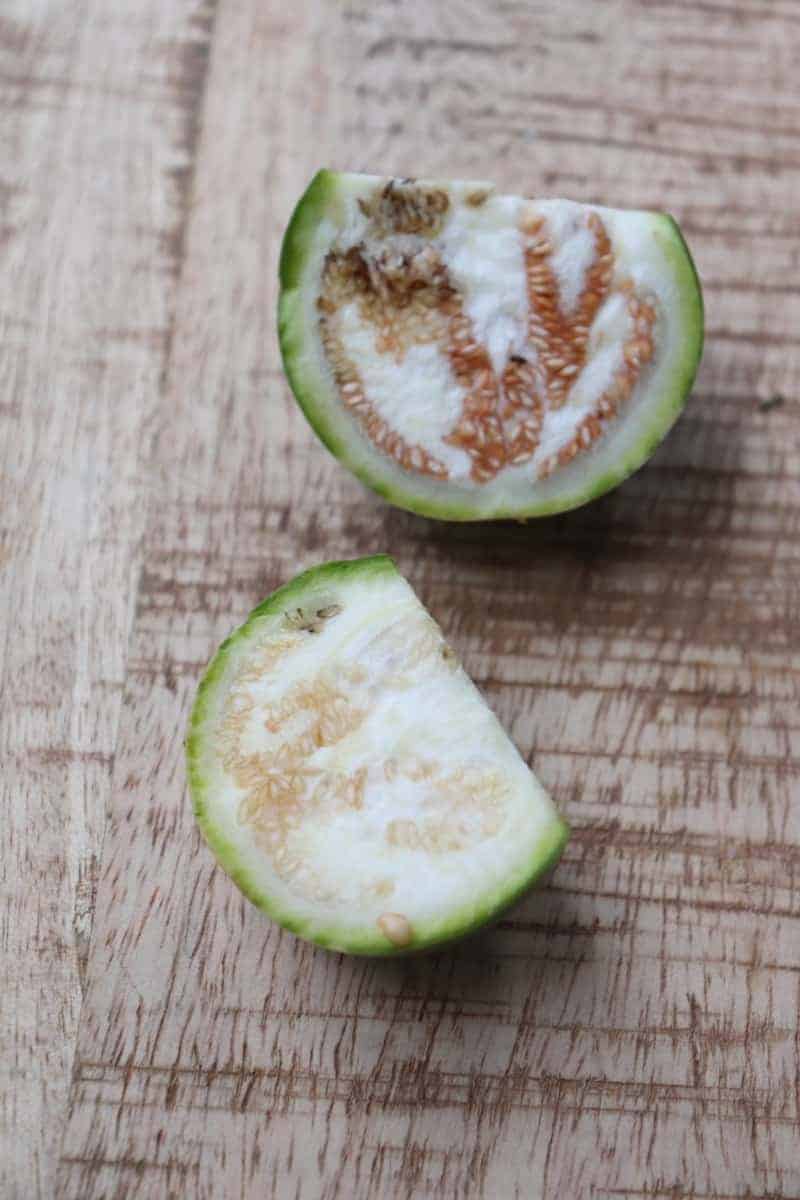 Do you have to peel them?
Not at all! The skin of thai eggplant is soft and thin. There is no need to peel.
Looking for more delicious Thai dishes?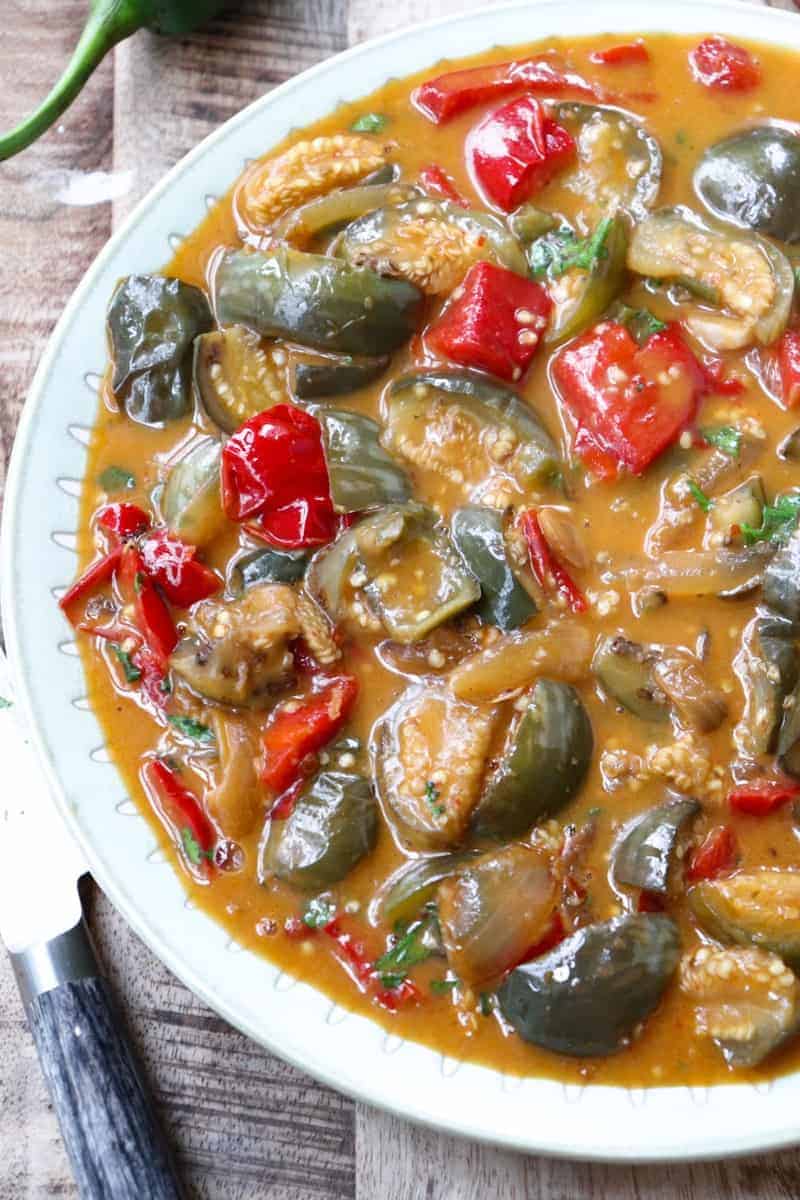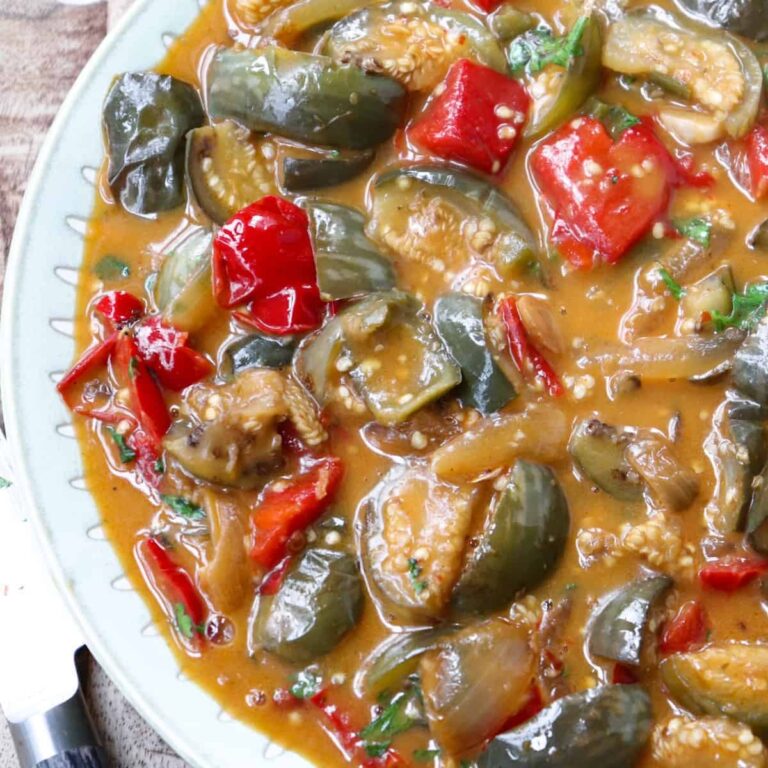 Thai Eggplant Curry
Thai Eggplant are little green orbs, about the size of a golf ball, and they fit perfectly in this spicy curry dish!
Ingredients
1

tbsp.

olive oil or coconut oil

10

thai eggplant

stems trimmed and sliced into wedges

3

tbsp.

red curry paste

1

medium yellow onion

sliced

4

garlic cloves

minced

1

red bell pepper

chopped into bite-sized pieces

1 14

oz.

can coconut milk

½

tsp.

salt

2

tbsp.

fresh cilantro or thai basil leaves

1

jalapeno or thai chili

minced
Instructions
In a large skillet, heat oil over medium heat.

Once the oil is hot, add in onions, garlic and peppers. Allow to cook for 3-4 minutes and then add in your eggplant, salt, and curry paste. Stir to coat.

Allow to cook for 3-4 more minutes and then pour in the coconut milk. Stir.

Let the eggplant mixture simmer in the liquid for 10-15 minutes, until they are tender. Top with fresh cilantro or basil and serve over rice
Nutrition
Serving:
1
g
Calories:
781
kcal
Carbohydrates:
133
g
Protein:
15
g
Fat:
31
g
Saturated Fat:
23
g
Polyunsaturated Fat:
6
g
Sodium:
583
mg
Fiber:
36
g
Sugar:
47
g