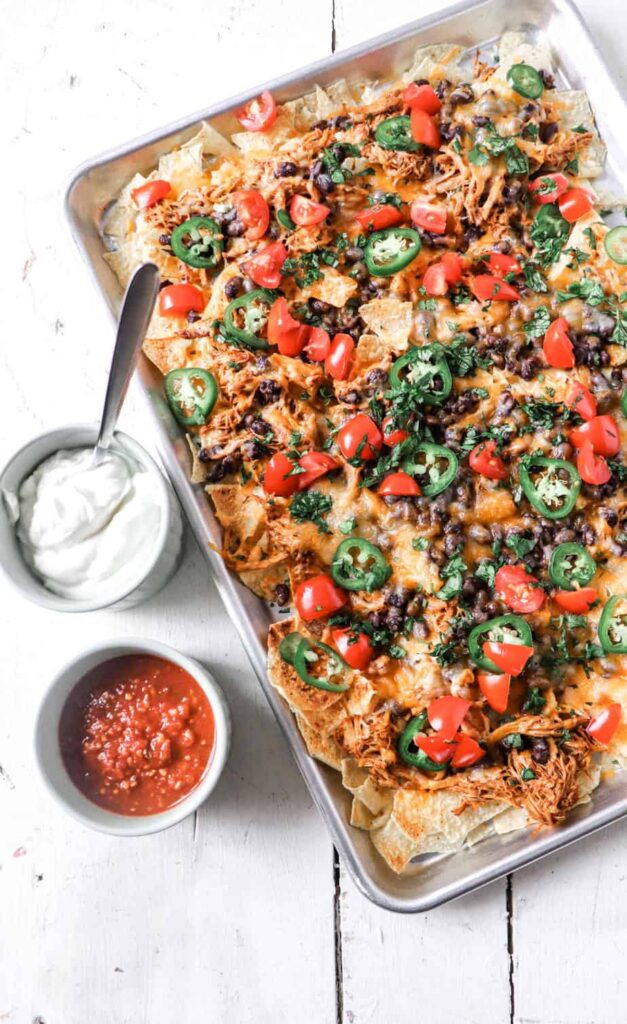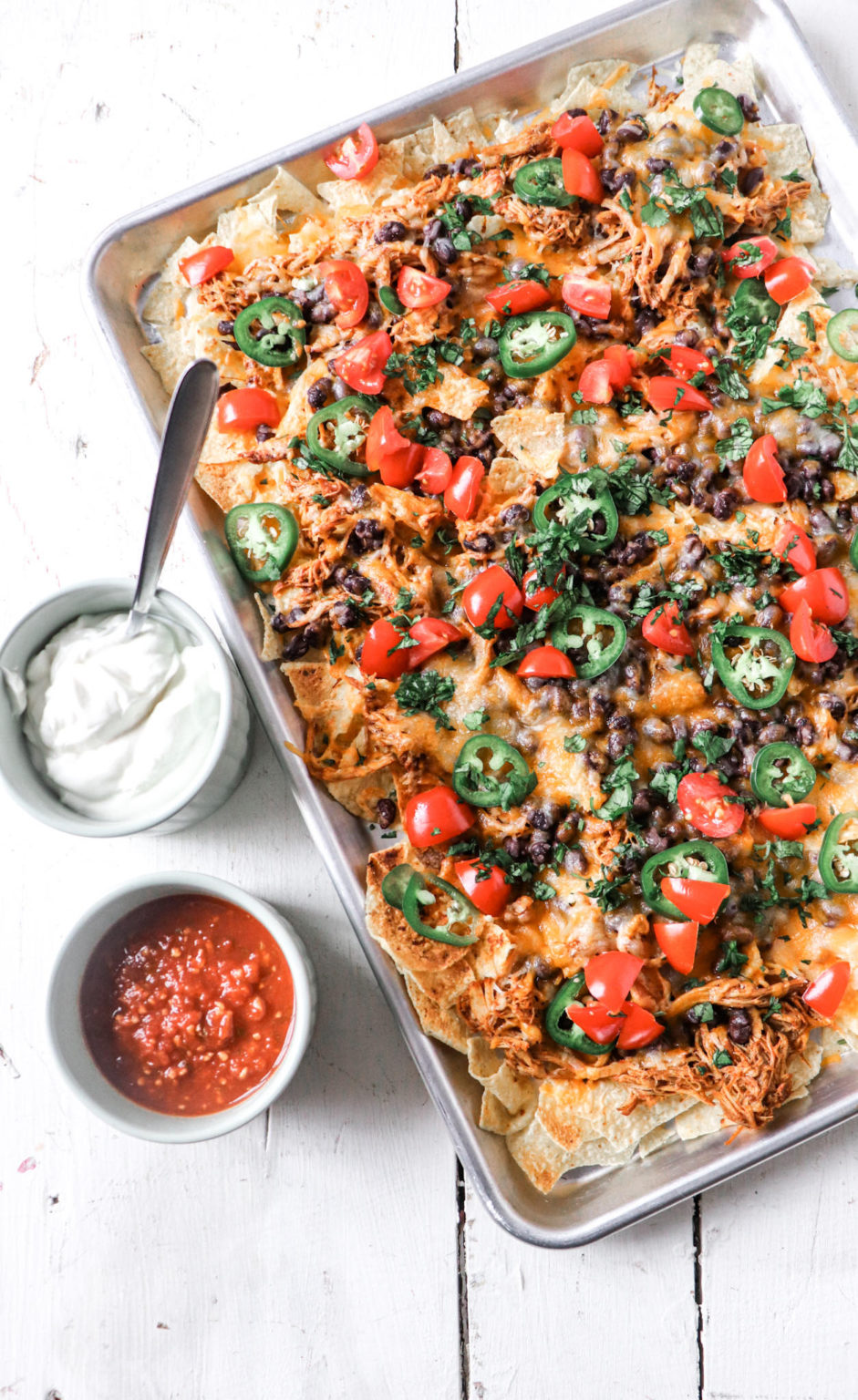 Sheet Pan Nachos with Instant Pot Shredded Chicken Thighs are a great way to switch up taco night! They are totally customizable to include your favorite toppings and are a great way to get your nacho fix at home.
The first step to making these nachos is cooking up the chicken. This is the thing that takes the most time, but since it is hands-off time, I really don't mind! There's no chopping or sautéing involved. You just have to measure out a few spices, pour in your liquid, add the chicken and you're good to go.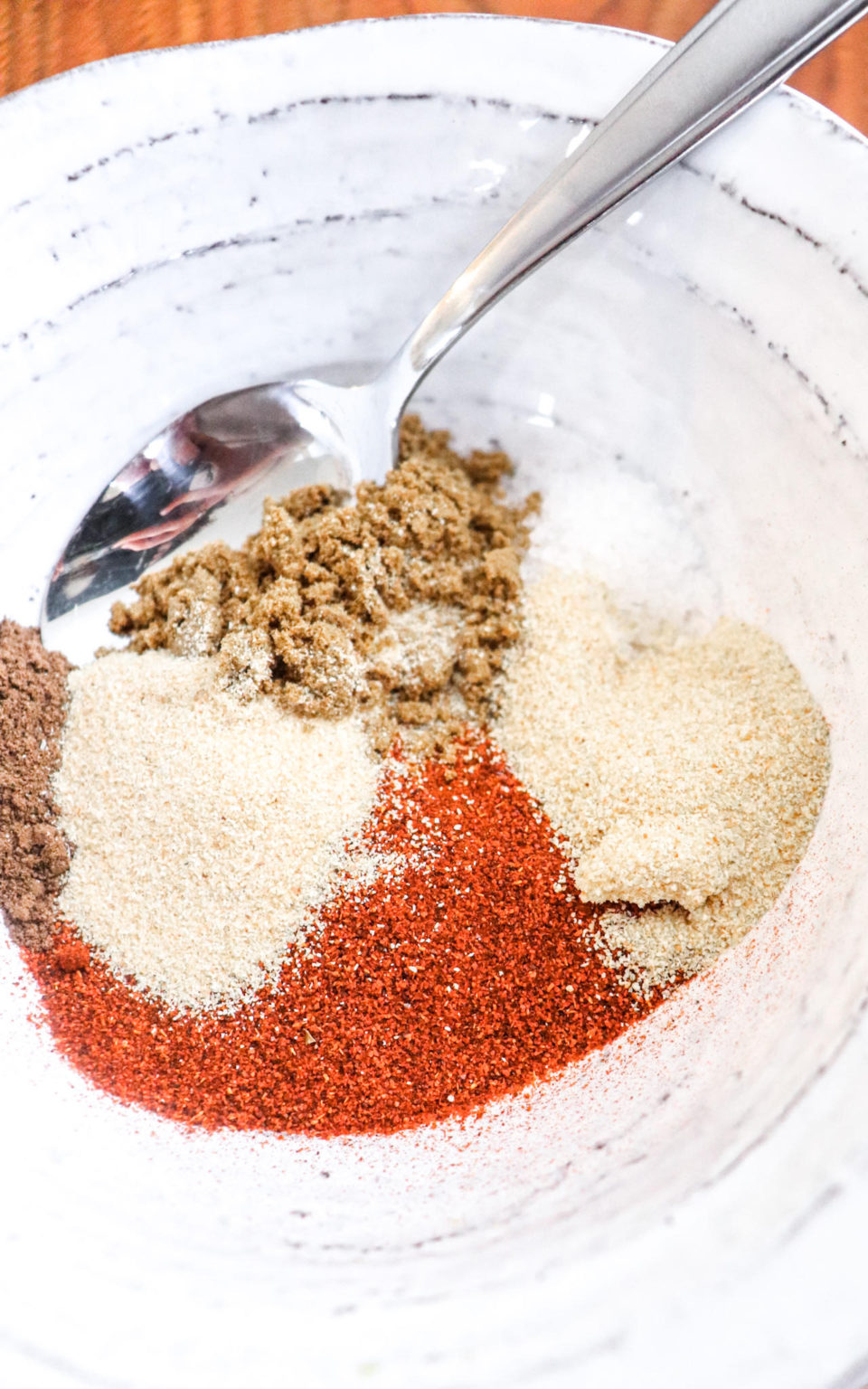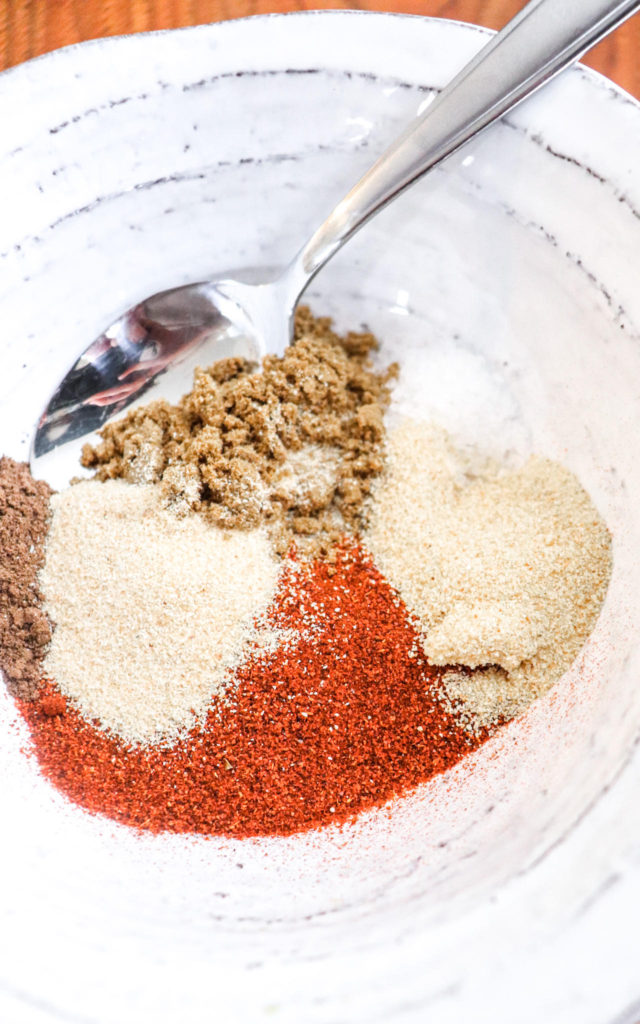 You'll notice here that I used bone-in chicken thighs. I did this for two reasons. One, because they are more flavorful than chicken breasts and there's great nutrients to be found in the bones. But also, they are very affordable! Bone-in chicken thighs are one of the most affordable cuts of a chicken, and I love utilizing them as often as I can! Chicken thighs are often either sold as boneless skinless, or bone-in skin-on. The bone-in, skin-on variety are going to be your best deal. I suggest for this recipe removing the skin before cooking by gently peeling it back with your hand and discarding. It doesn't add much by way of flavor and it isn't going to get crispy with this cooking method. I find it easier to just remove the skin ahead of time!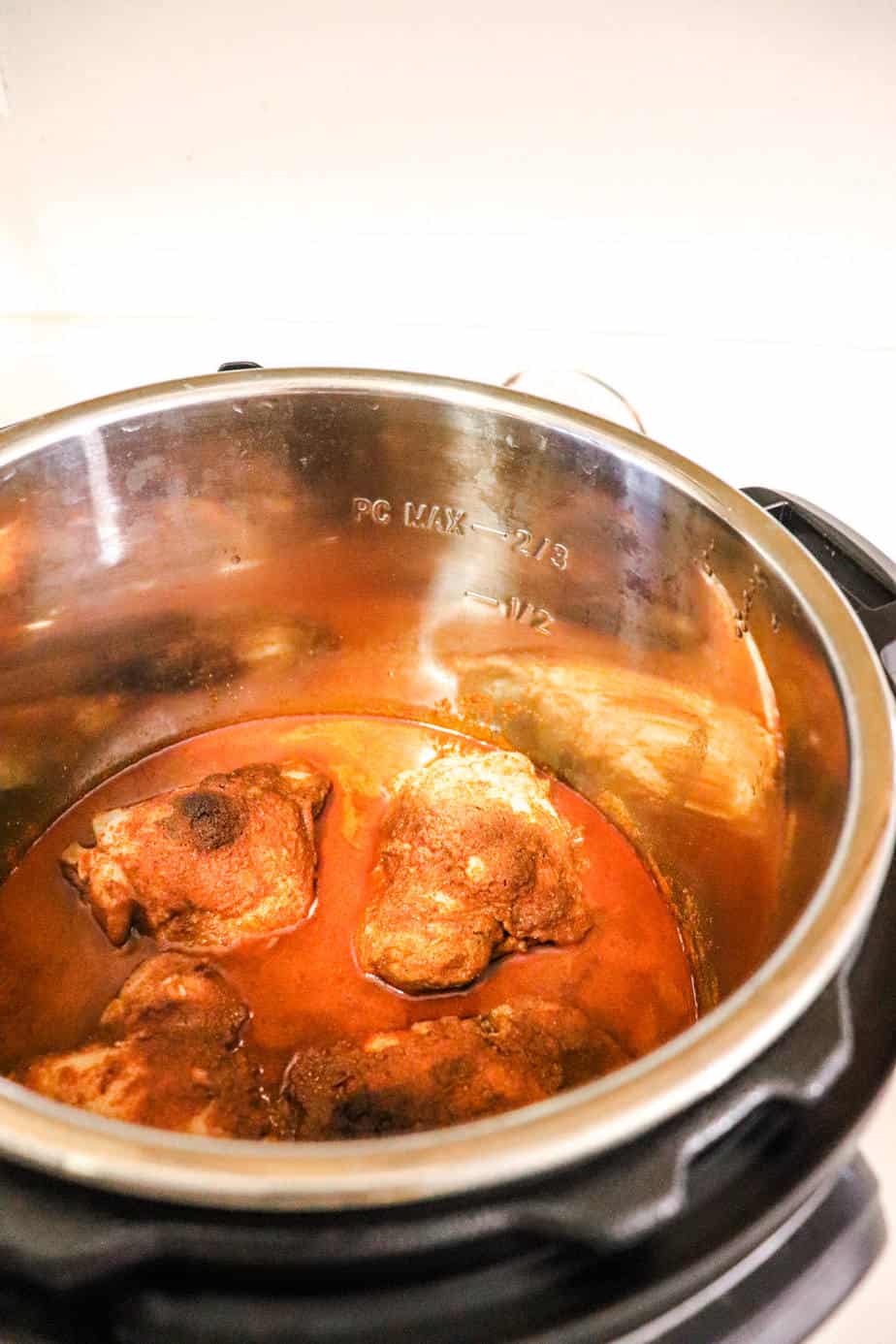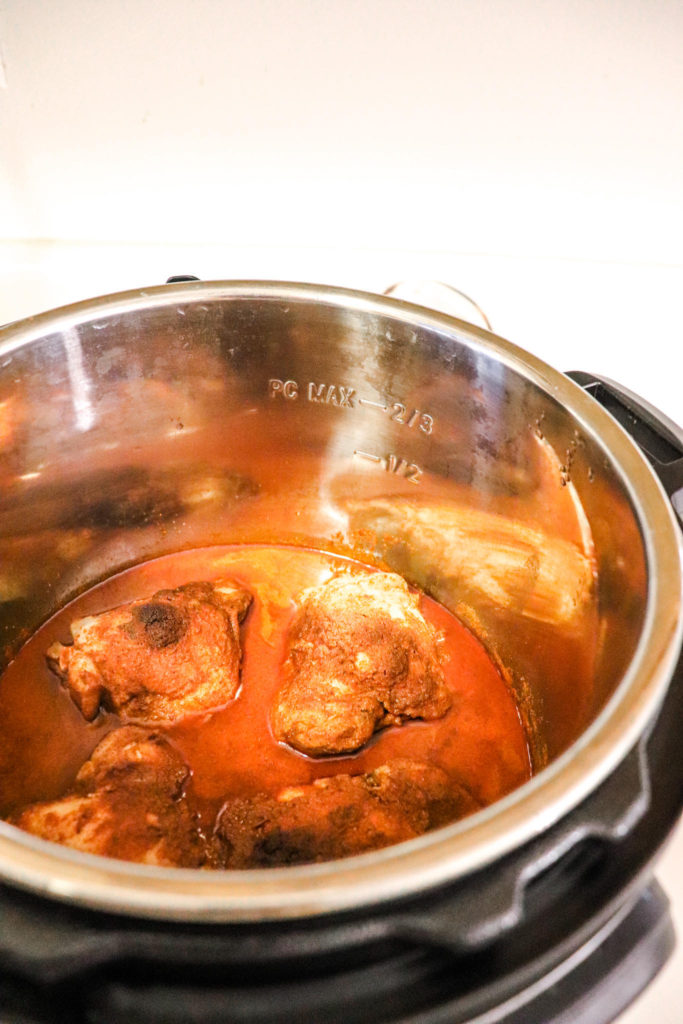 If you don't have bone-in chicken thighs, or just prefer to use chicken breasts--feel free! This dish will still be delicious. Just make sure to cut down the cooking time. I would suggest 8 minutes on High Pressure and then allowing them to Natural Release (they will still be cooking during this time, and it should take about 15 minutes). 
Here are more detailed instructions on how to make Instant Pot Shredded Chicken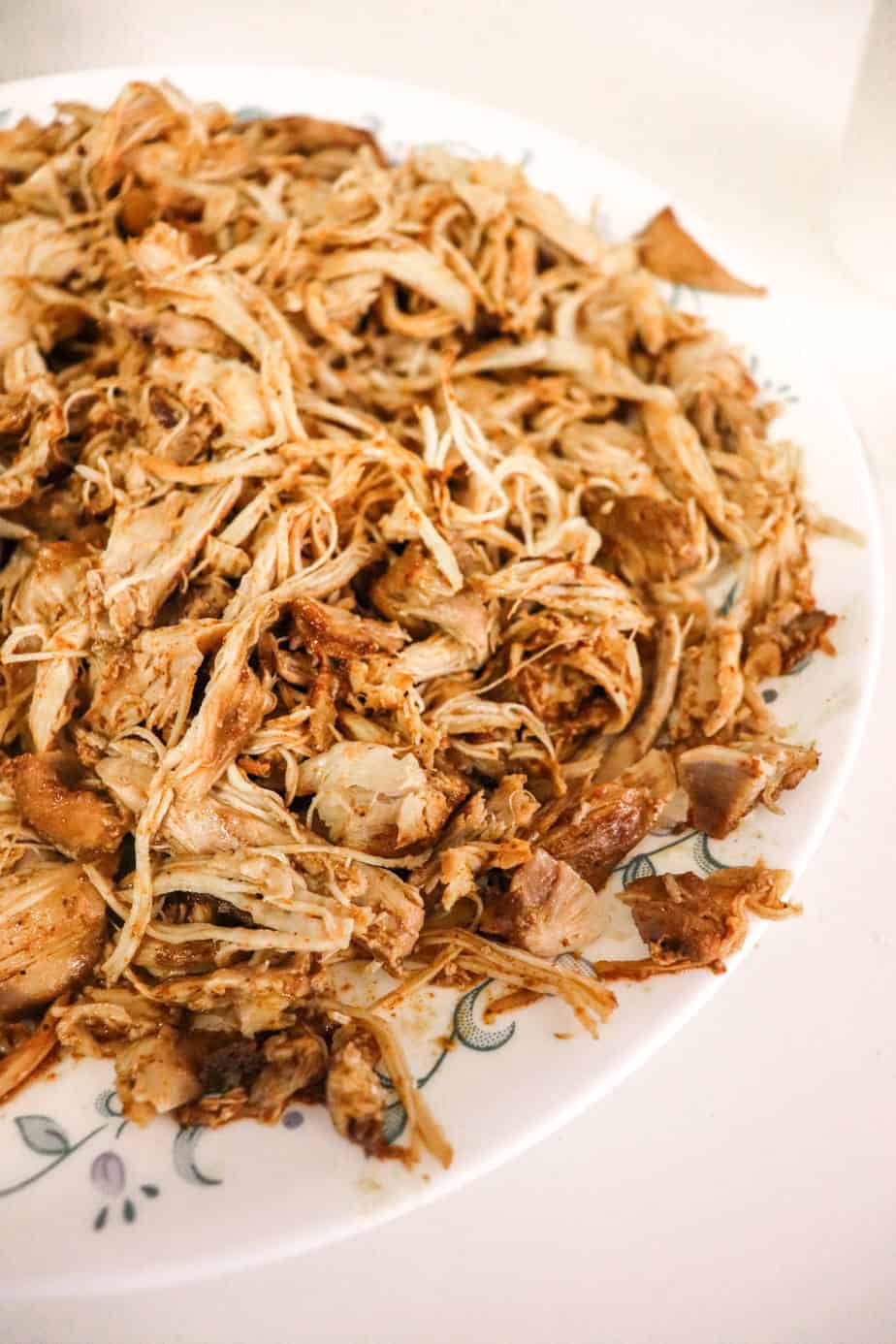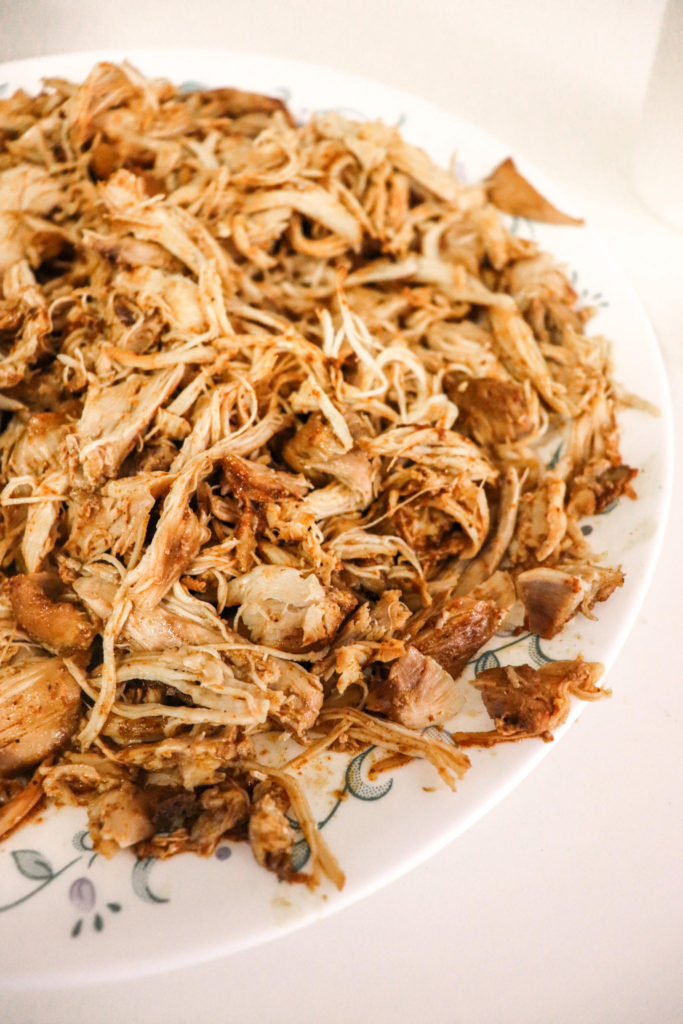 Now that we have figured out how to make the juicy, flavorful chicken portion of this recipe, it's time to move on to the fun part-- assembling the nachos!
Having all the chips in one layer also helps ensure that every bite is a good mix of tortilla chips and toppings! No more plain chips at the bottom of the stack.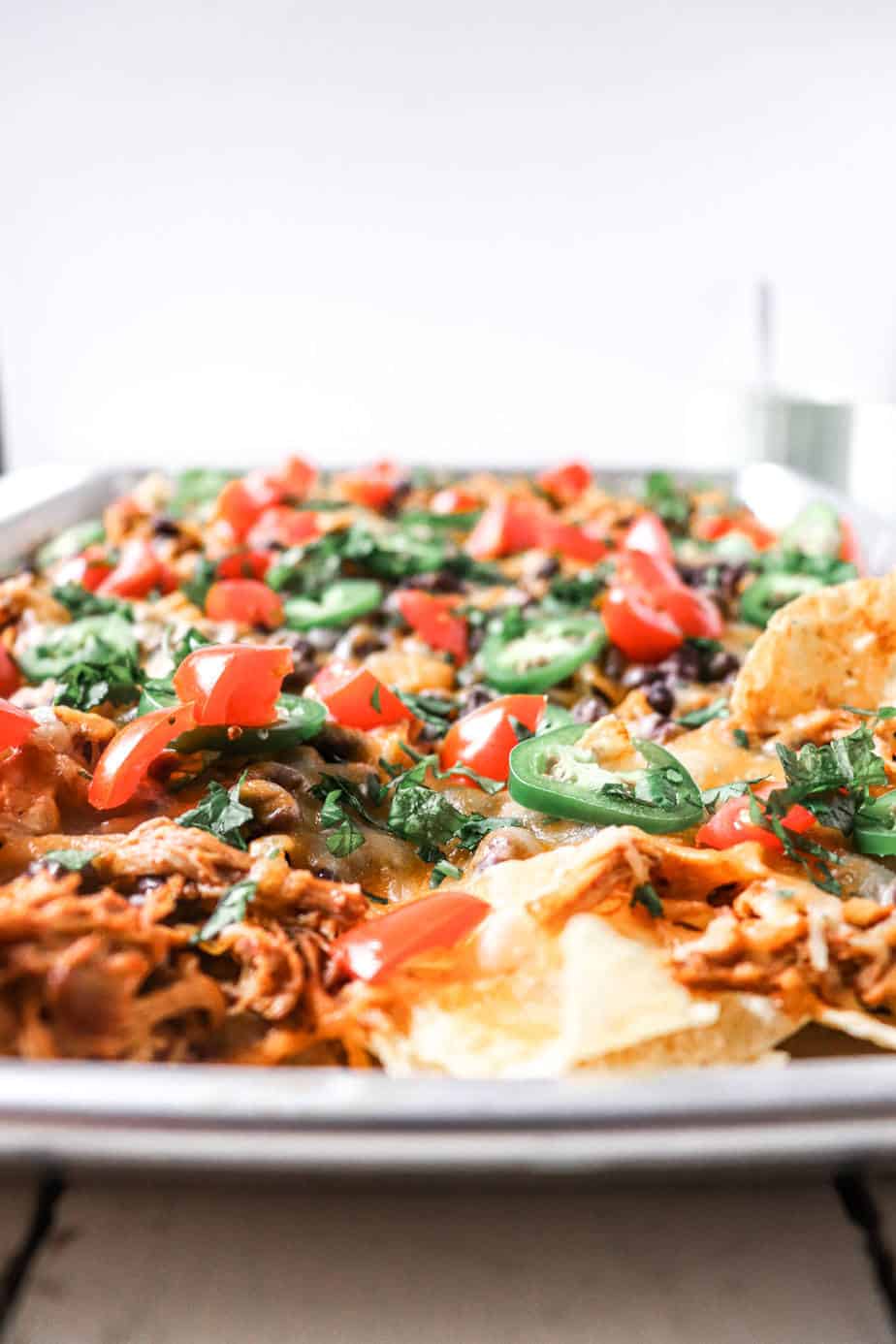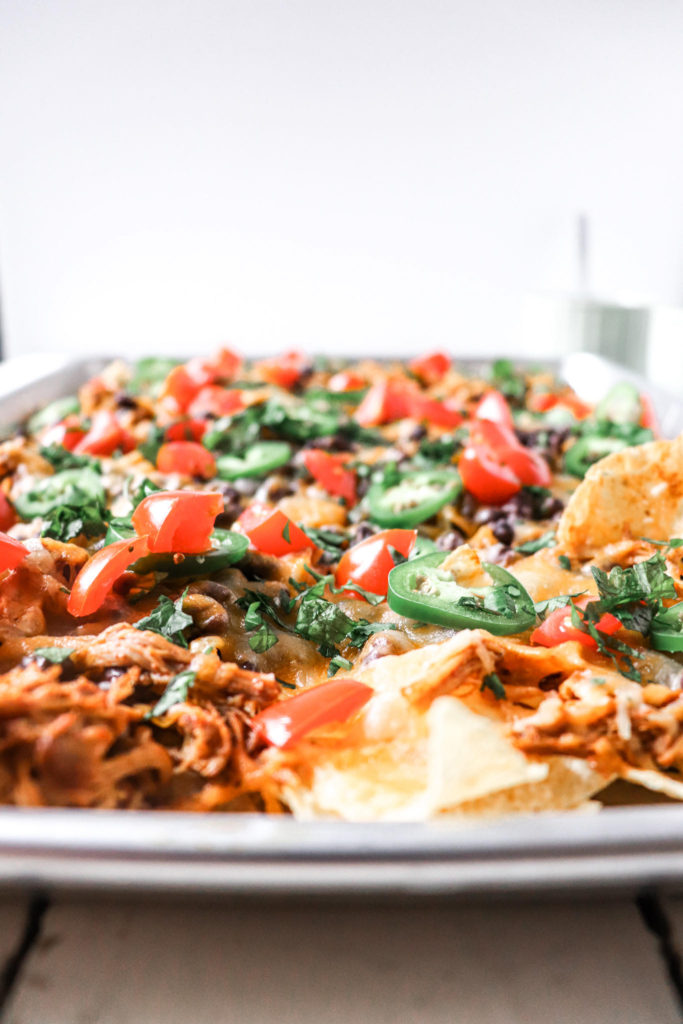 The big advantage of making nachos on a sheet pan is that it can all go under the broiler together at once! The cheese is melted evenly and quickly, without a lot of mess. You can adjust the size of sheet pan you use with the amount of servings you want to make.
Another bonus-- if you have any picky eaters, you can leave certain toppings on certain parts of the pan and leave them off others.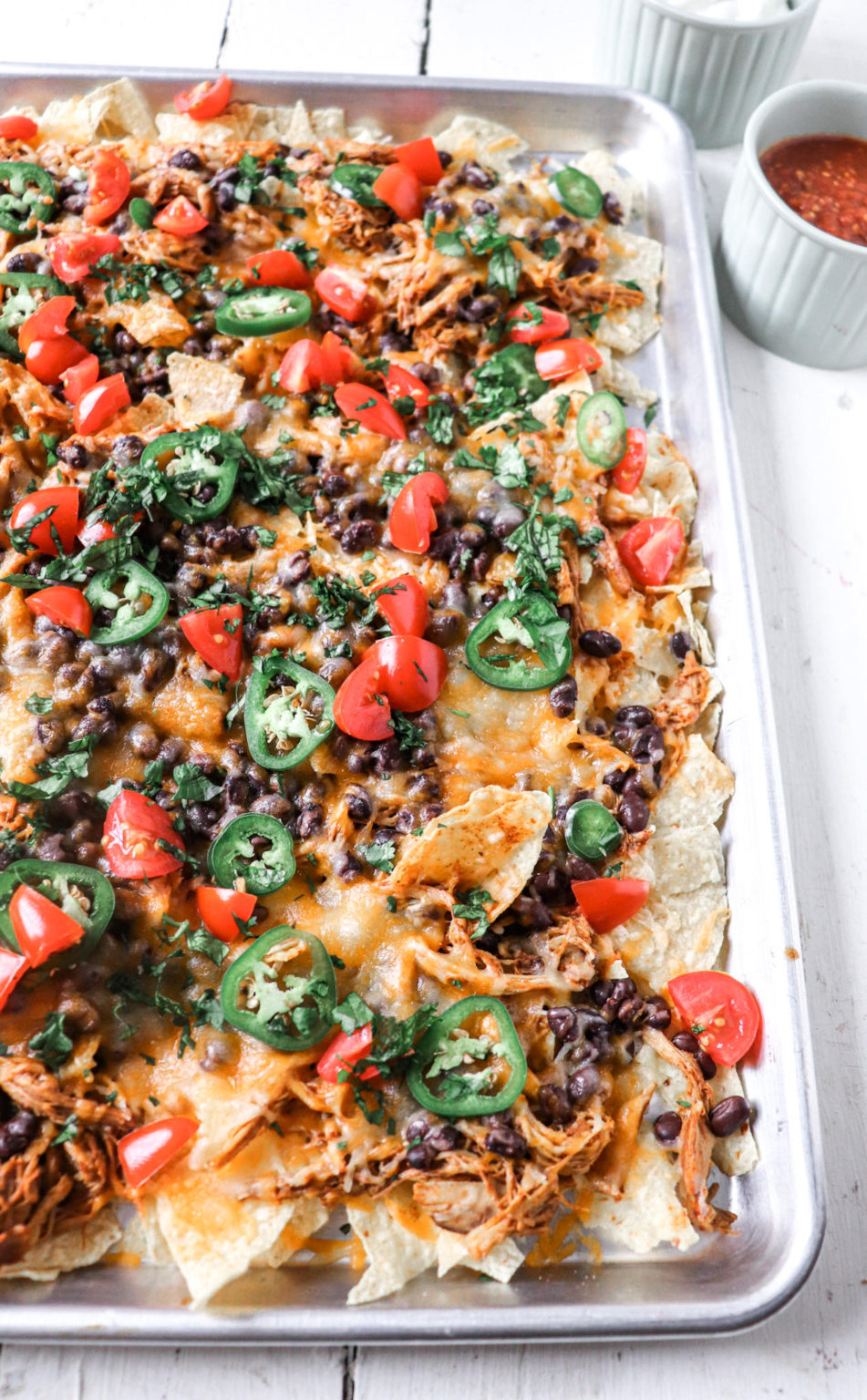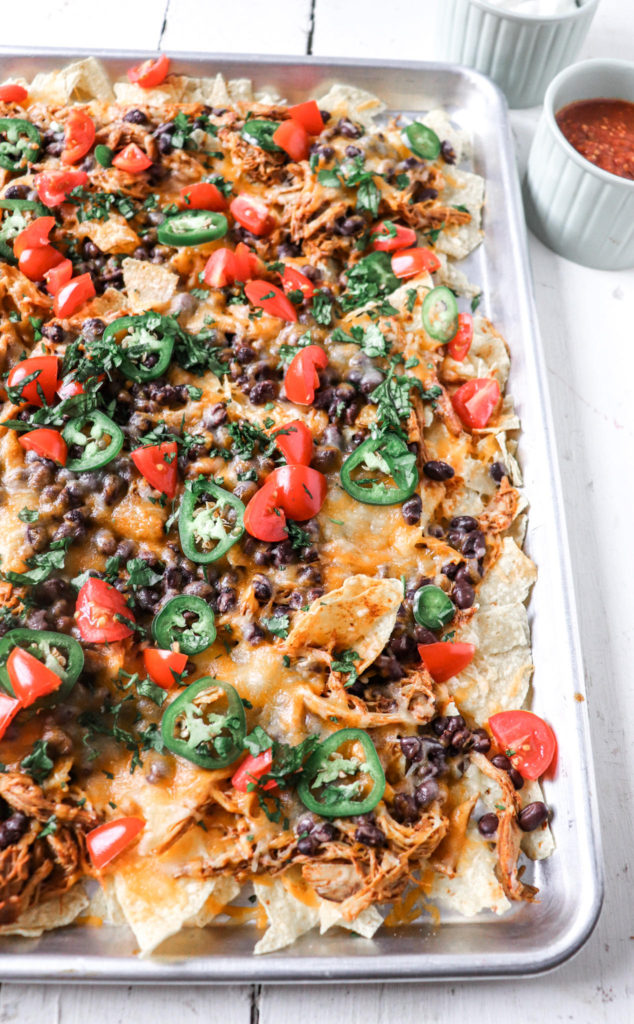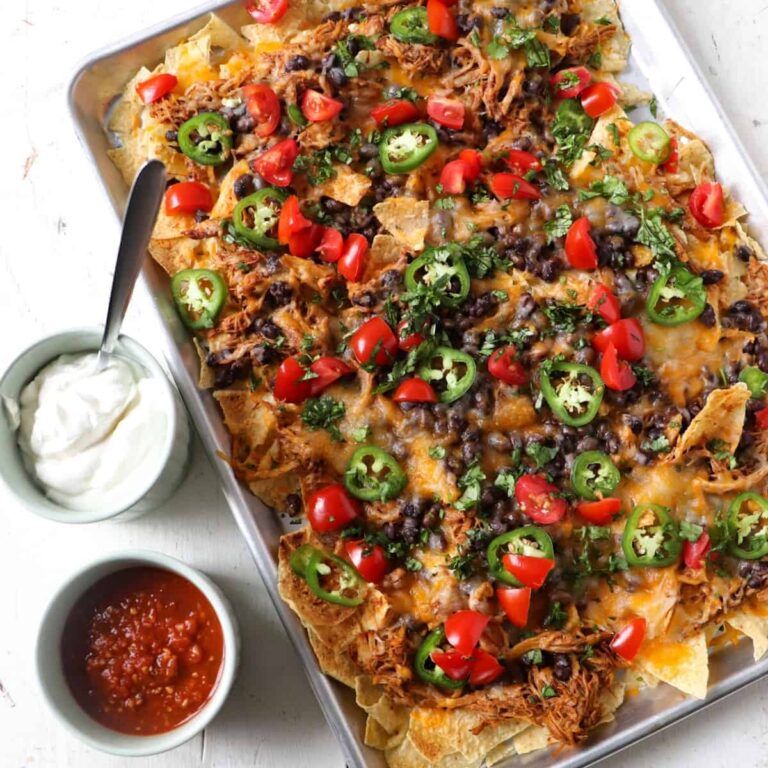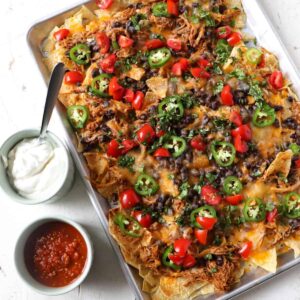 Sheet Pan Nachos
Sheet Pan Nachos are a great weeknight dinner that's easy to prepare! Chicken thighs in the Instant Pot are not only easy, but tender and delicious!
Ingredients
1 ½

lbs.

Chicken Thighs

Bone-in

¾

cup

Chicken Stock

1

tbsp.

Chili Powder

1

tsp.

Cayenne

1

tsp.

Garlic powder

1

tsp.

Onion Powder

2

tsp.

Cumin

1

tsp.

Salt

¼

tsp.

Allspice
Nacho Toppings
2

cups

Shredded Chicken

recipe above

2

cups

Shredded Monterey Jack Cheese

1

15 oz. Can of Black Beans (rinsed)

10-12

oz.

Tortilla Chips

enough to cover a sheet pan

Tomatoes

jalapenoes, olives, cilantro, etc.
Instructions
Begin by removing the skin from your chicken thighs. Place them in the bottom of the Instant Pot.

Mix together spice blend and sprinkle over the top.

Pour in ¾ cup of chicken stock. Close lid (make sure it's in the "sealing" mode.

Cook on High Pressure for 15 minutes. It will take about 10-15 minutes to come up to pressure. Allow to Natural Release, which will take about 15 more minutes.

Remove chicken thighs from the pot. The meat will be so tender, that the bone will just fall out. Discard the bone, and use forks to shred the chicken. Place the chicken back into the pot and stir to coat with the liquid.

On a large sheet pan, spread out a layer of tortilla chips.

Add shredded chicken evenly over top. Add rinsed black beans. Top with cheese.

Place under your broiler for 3-5 minutes, until the cheese has melted.

Once out of the oven broiler, add your remaining toppings. Serve with salsa and sour cream!
Nutrition