In years past, it was always the PSL - Pumpkin Spice Latte - that signaled the start of fall. Then came year the Pumpkin Spice Cold Brew. Pumpkin spice is everywhere-- and I don't see that leaving anytime soon! Both of these drinks are delicious, and have a multitude of fans. But with that, of course comes the pumpkin spice haters. For some reason, it has become "cool" to dislike this quintessential fall beverage. But I have to ask why? What's not to like? It's sweet, cinnamon-y and delicious.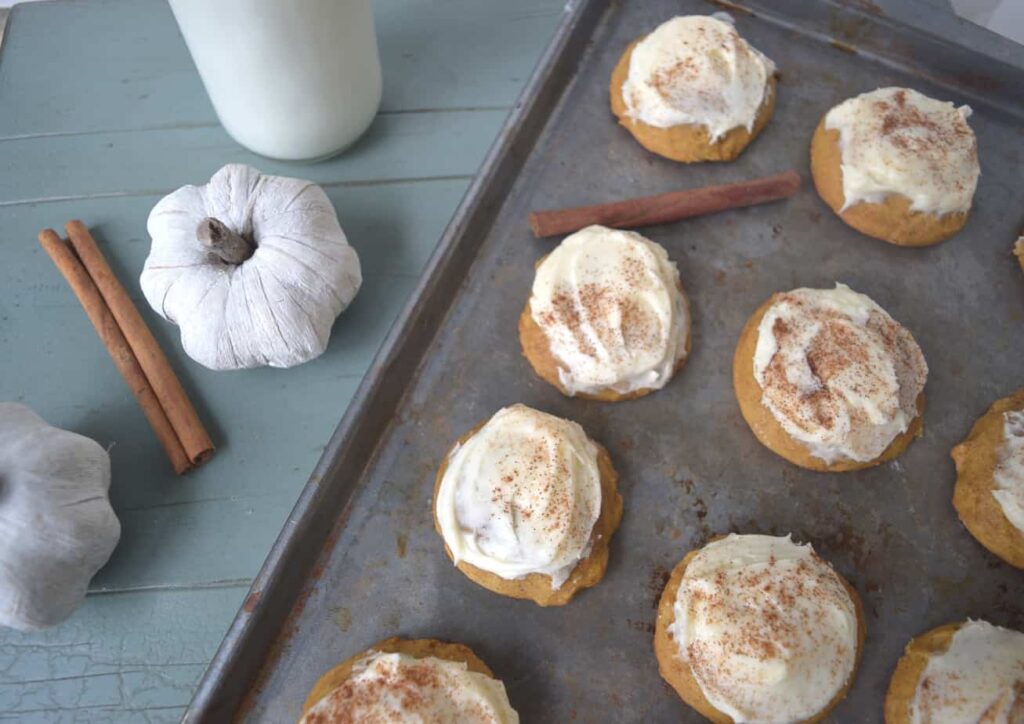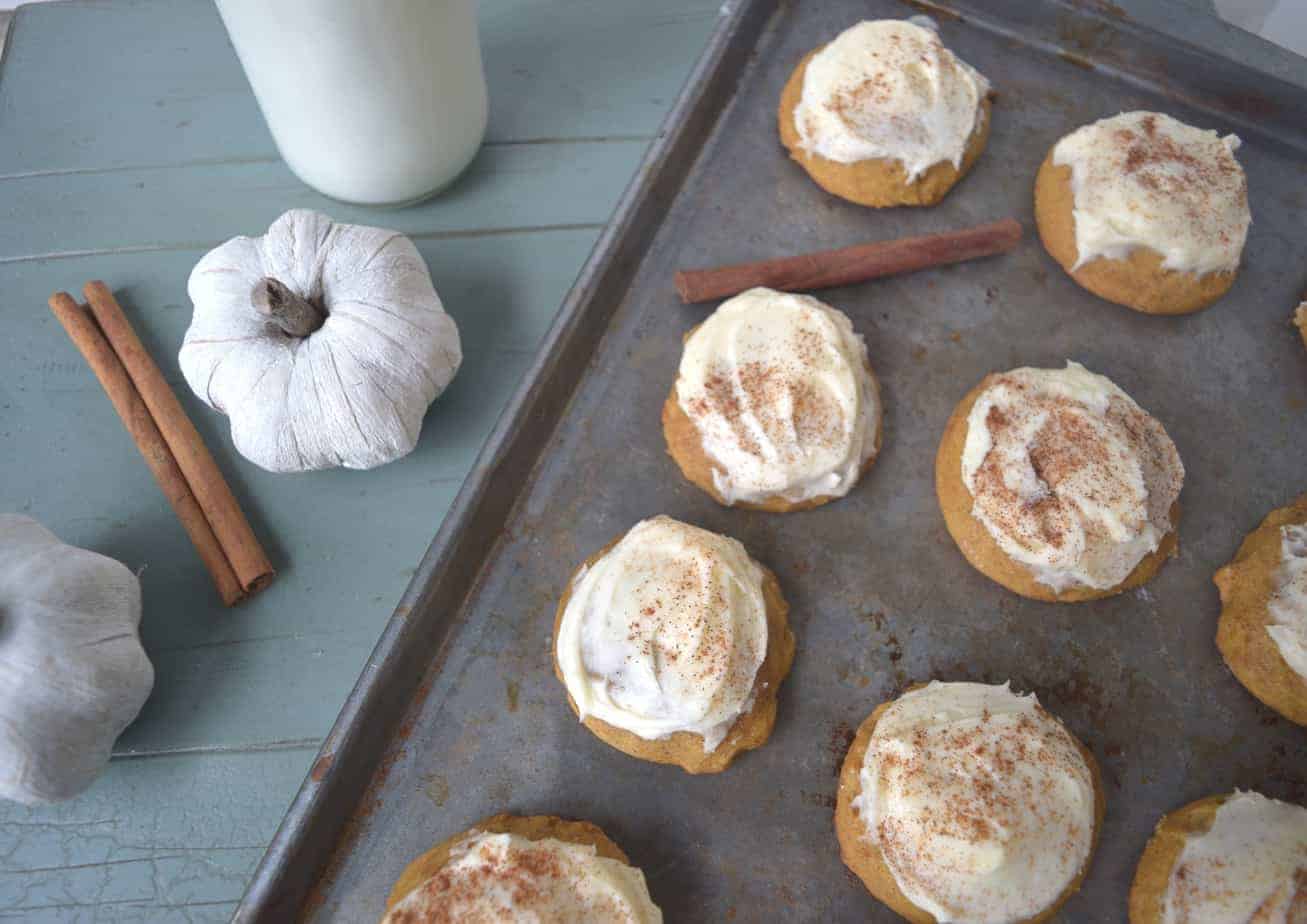 I created this recipe with that drink in mind! So happy fall y'all! It's time to get to celebrating with these super soft, super fluffy, pumpkin spice cookies.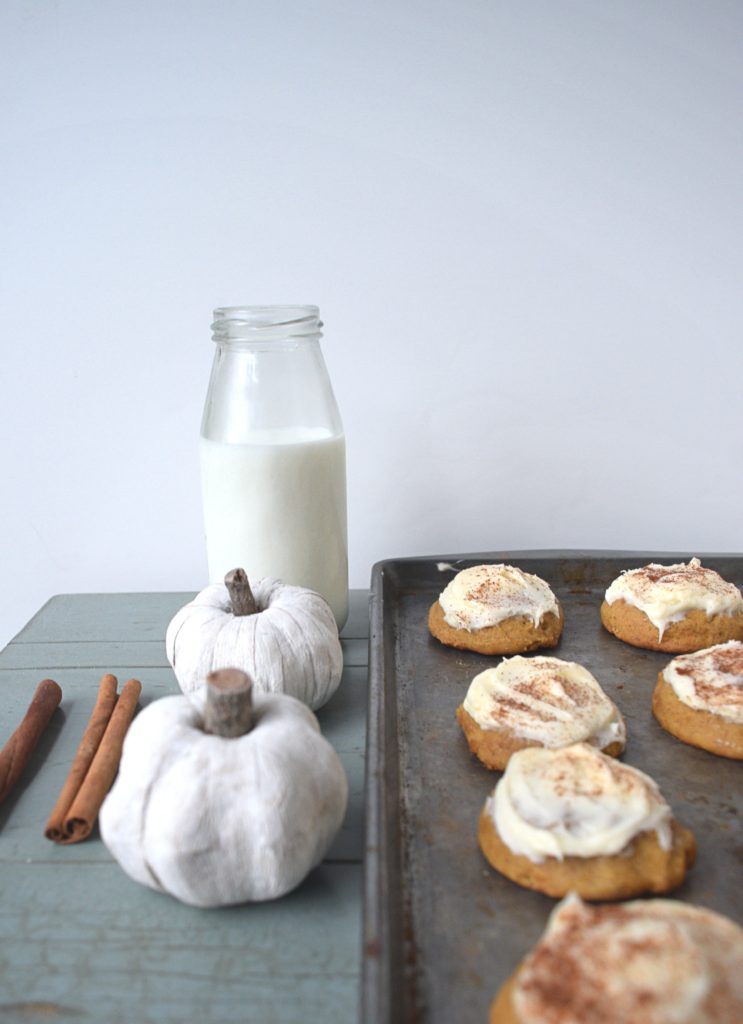 The cookies themselves are super light and fluffy, a sort of a cross between a muffin top and a cookie. They have all the quintessential spices-- cinnamon, nutmeg, cloves, and a dash of vanilla.
The cream cheese frosting really seals the deal here! I whipped it for several minutes to make sure enough air was incorporated in. This makes for a more airy frosting-- it's really something great!
This makes 4 dozen small cookies, or 2 dozen big ones, so keep that in mind when making them. Make sure after you frost these that you refrigerate them right up until you are ready to serve them, otherwise the frosting will get too soft.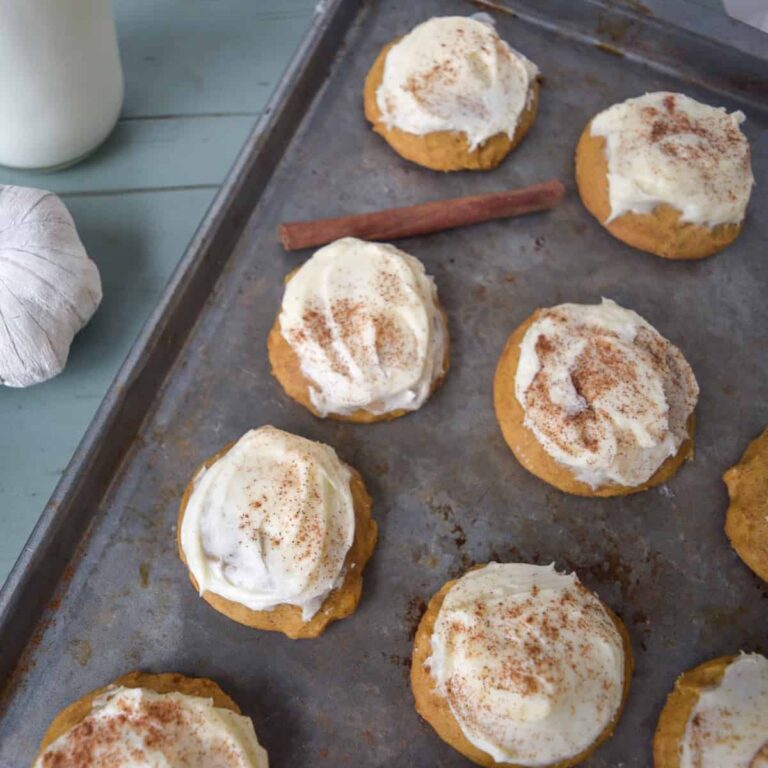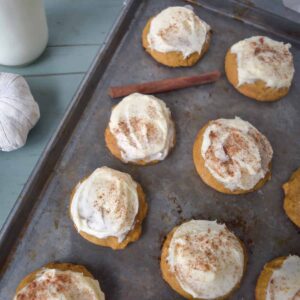 Pumpkin Spice Cookies with Cream Cheese Frosting
Ingredients
Cookies
2

eggs

1

15 oz.

can of pumpkin

4

cups

flour

2

teaspoon

baking soda

1

teaspoon

baking powder

1

teaspoon

salt

3

teaspoon

cinnamon

1

teaspoon

nutmeg

¼

teaspoon

ground cloves

2

sticks

unsalted butter

softened

1 ½

cups

white sugar

1

cup

packed brown sugar

2

teaspoon

vanilla extract
Frosting
1 ½

sticks

butter

softened

1

8 oz

package of cream cheese

softened

1

teaspoon

vanilla extract

2

cup

powdered sugar
Instructions
Cookies
In a large bowl, combine flour, spices, baking soda, baking powder, and salt.

In a stand mixing bowl, cream together softened butter, brown sugar, and white sugar.

Once creamed, add in eggs and vanilla. Mix until combined.

Slowly add in dry ingredients a little at a time, until just incorporated.

Use a small cookie scoop to scoop dough onto sheet (cookies will about double in size).

Remove to a cooling rack.
Frosting
In the bowl of a stand mixer, add softened cream cheese, butter, and vanilla. Beat until combined.

Add in powdered sugar, one cup at a time. Once sugar is added and mostly combined, increase the speed and beat for about 2 minutes until it becomes fluffy.

Once cookies are completely cool, frost cookies and serve or refrigerate.