When you think of risotto, what do you think? Fancy? Time-consuming? For someone else to make, but not me? Risotto may seem intimidating, but it doesn't have to be. Sure, it takes a closer eye than regular rice, but the result is definitely worth it.

I imagine this would be lovely to make while spending time catching up with a friend. Or perhaps for a date. After the initial prep is done, there's not much more to do besides slowly adding in the stock and stirring. So grab a glass of wine and a buddy, your dinner will be ready in no time.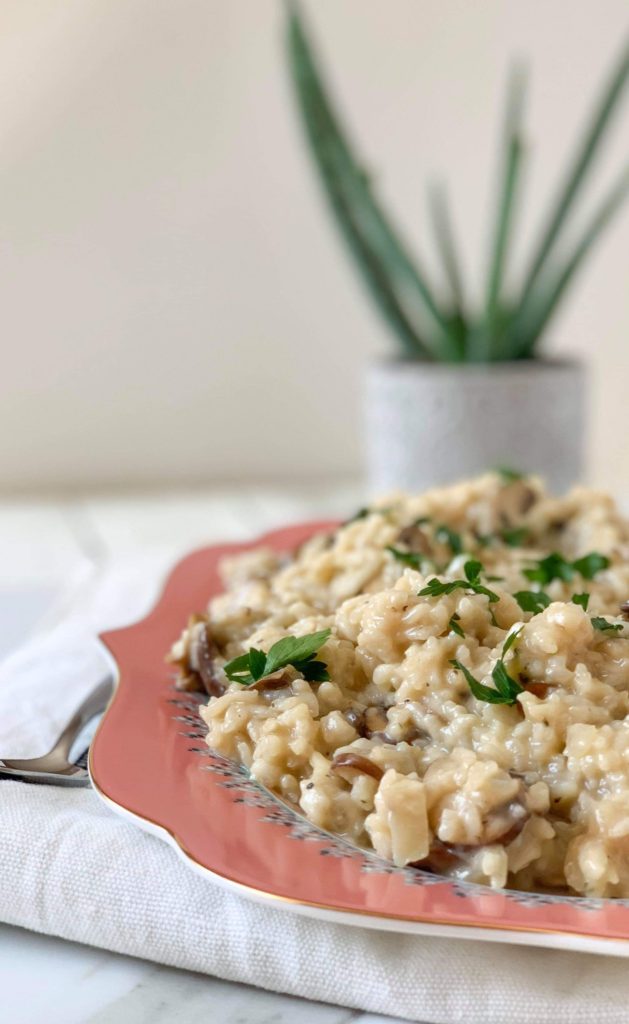 Side note: Coming from someone who can be very shy or anxious when around new people, this truly would be an awesome date idea. Cooking together allows you to have a task and something to do with your hands-- thus taking attention away from any lulls in conversation.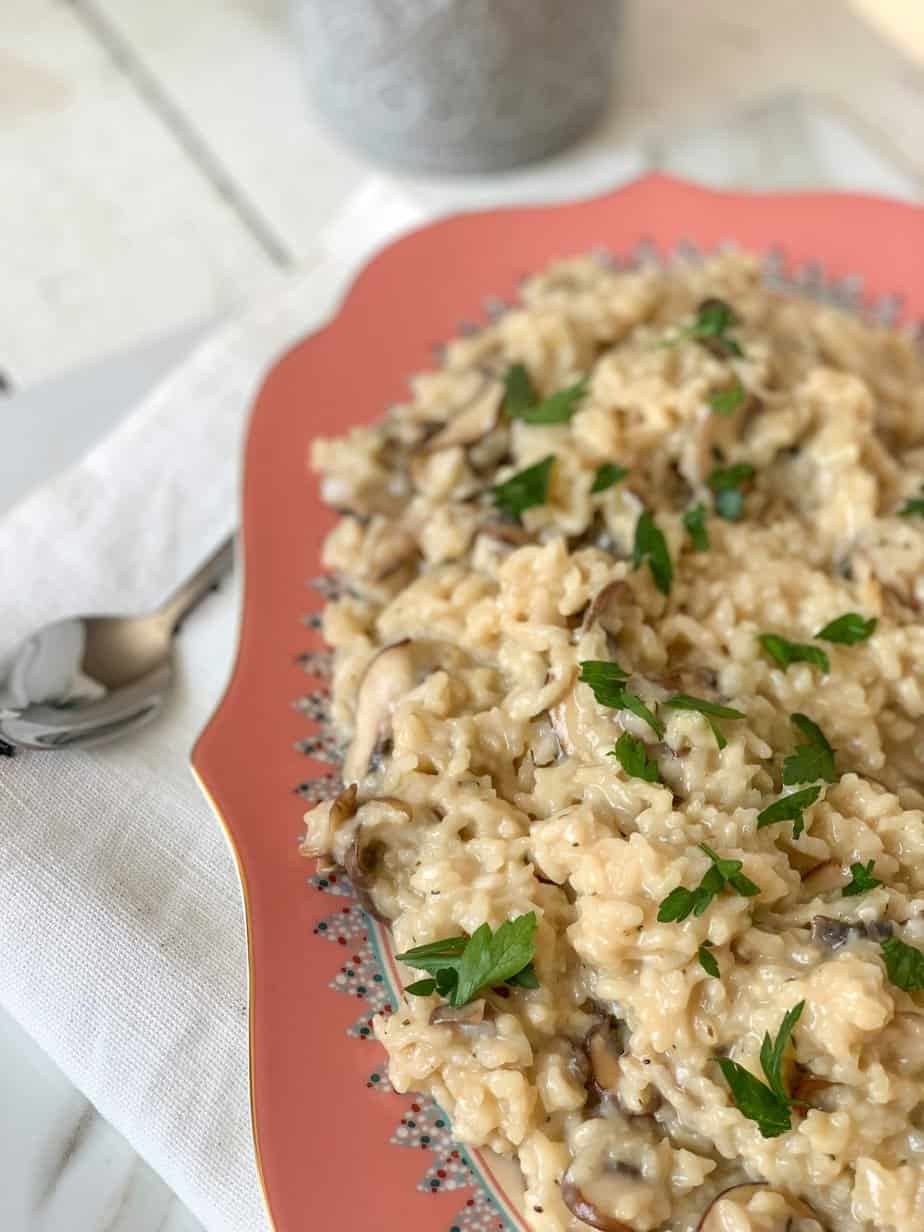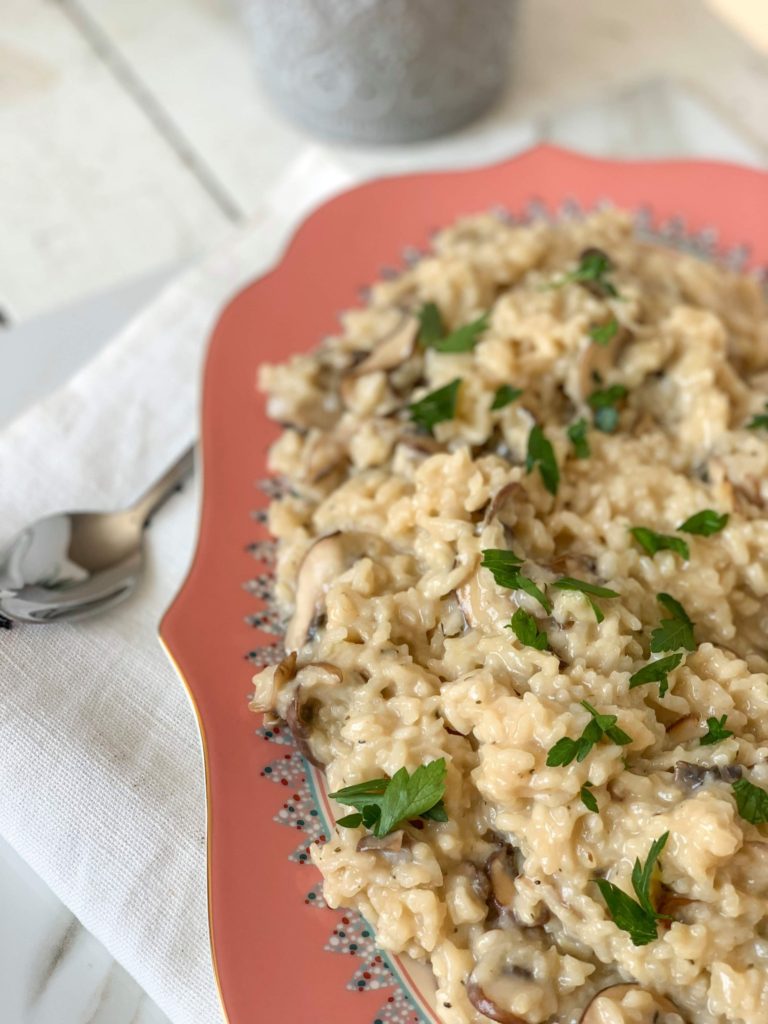 The reason why risotto gets a bad rap for being difficult is the fact that you have to stay by the stove and add in the stock gradually while gently stirring. The whole process only takes about 30 minutes, but there really is no hands-off time. The technique itself is not at all difficult, as long as you stay on task.

I like to cook the mushrooms first and then remove them while the rice is absorbing its liquid. I wouldn't add them at the end because you run the risk of them being undercooked. And if you leave them in the whole time, they may absorb some of the stock and alter the amount needed to cook the rice.

This risotto is very traditional in its flavoring. Mushroom is a classic risotto add-on, and the thyme is as well. Once you have the technique down, feel free to experiment with the flavorings! For this one, peas and chicken would pair really well (and make this into a one-pot meal!).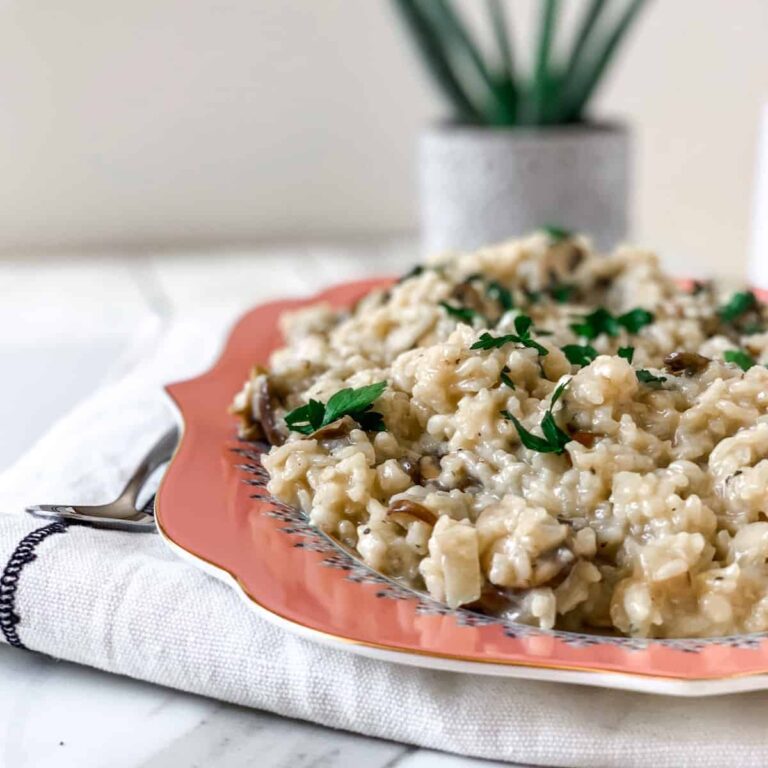 Creamy Mushroom Risotto
This dish shows that risottos don't have to be intimidating.
Ingredients
2

tbsp.

butter

1

tbsp.

olive oil

8

oz.

package of cremini mushrooms

thinly sliced

1

small onion (or large shallot)

finely diced

4

garlic cloves

minced

1 ½

cups

arborio rice

½

tsp.

dried thyme

4 ½

cups

chicken stock

½

cup

parmesan cheese

freshly grated
Instructions
In a large skillet, melt butter.

Add in sliced mushrooms and cook until they have released their water, about 5 minutes.

Remove from skillet and place in a bowl on the side.

In that same skillet, add 1 tbsp. olive oil.

Add in diced onions and garlic.

Cook for about 2-3 minutes before adding in dry rice and thyme. Cook for an additional 2-3 minutes, just until the rice starts to toast.

Begin adding in chicken stock, one half cup at a time. With every addition, gently stir until all the liquid has been absorbed. The first few additions of liquid will absorb more quickly than the later ones. This whole process will take about 25-30 minutes for all 4 ½ cups to be absorbed into the rice.

Once all the liquid has been added and absorbed, finish by stirring in freshly grated parmesan cheese and the cooked mushrooms.