Pan Roasted Chicken Thighs with Fennel and Cherry Tomatoes is a one pot wonder that features crispy skinned chicken thighs in a savory fennel sauce and red cherry tomatoes bursting with flavor.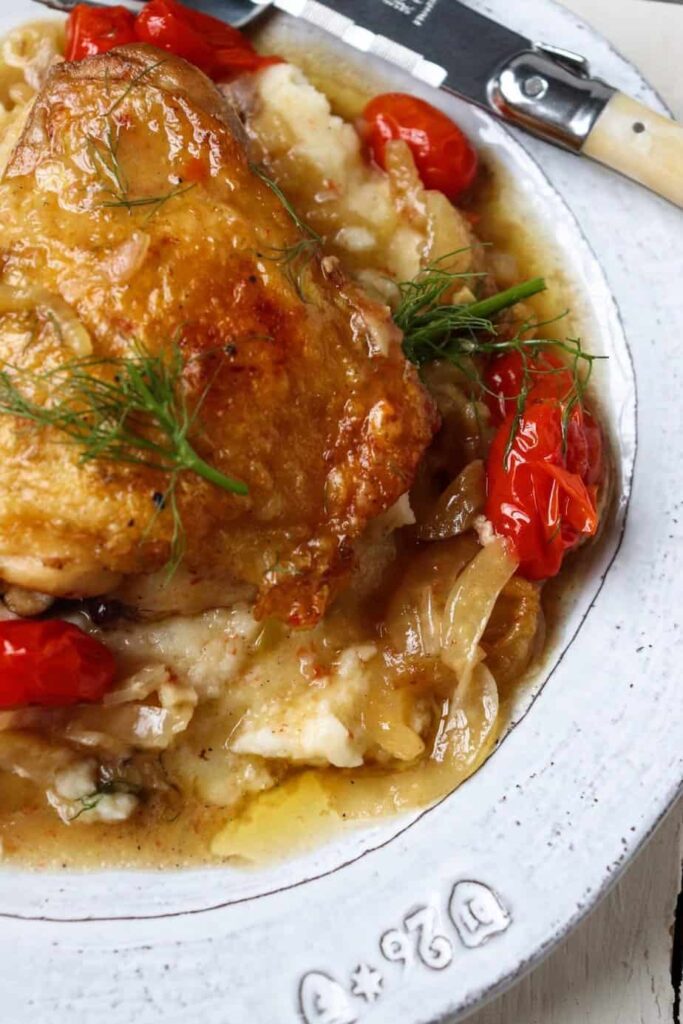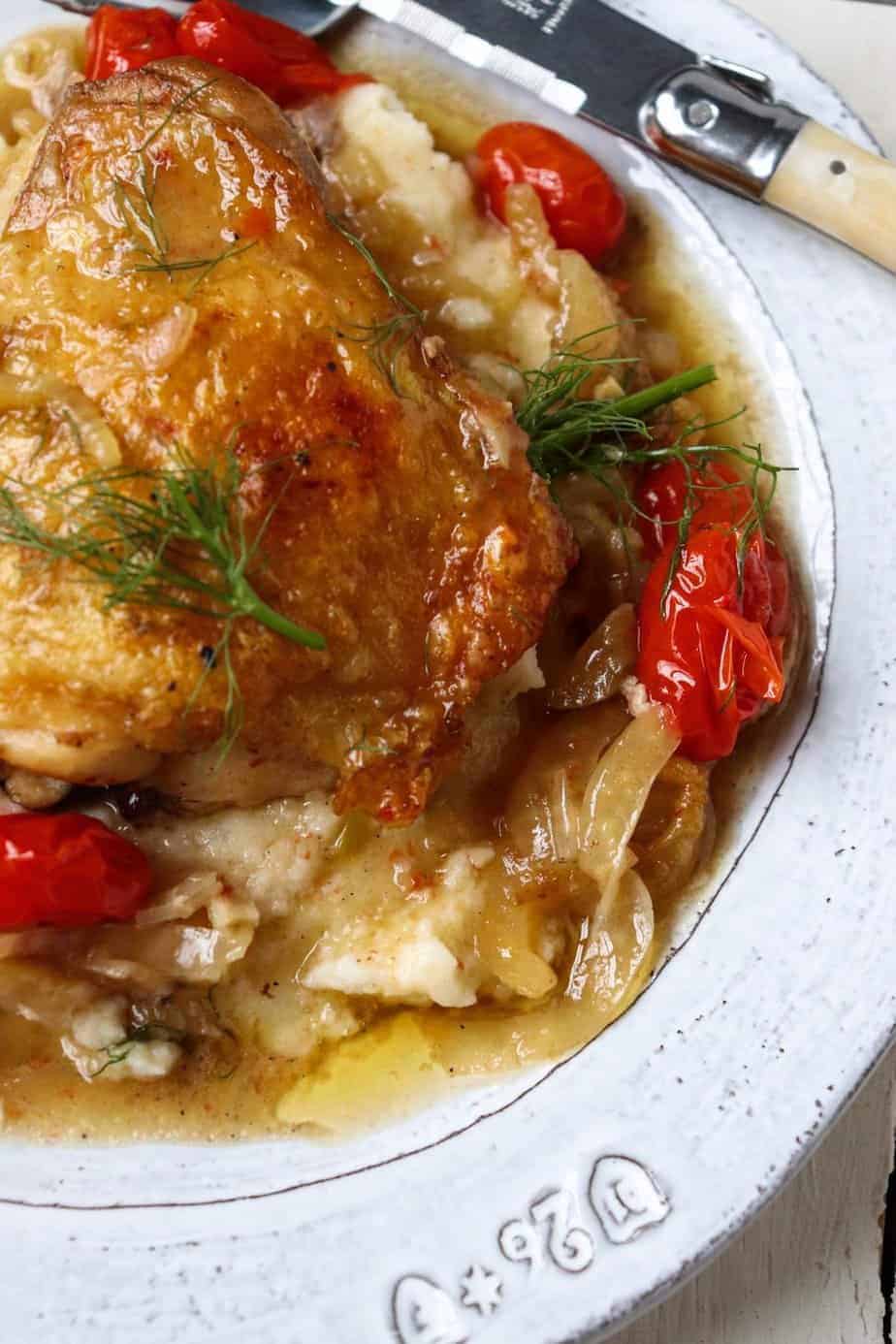 I have to come clean. This is my first time ever preparing fennel. I know-- what kind of seasoned home cook has never used fennel?
It wasn't that I dislike the taste, to be honest it intimidated me so I steered clear. I recently saw fennel bulbs at the grocery store and decided to give it a try and I'm so glad I did. I added it to this recipe for delicious Roasted Chicken Thighs with Fennel and Cherry tomatoes. Because I cooked the fennel, the taste became mild and delicate. I loved it! And now I'm ready to try fennel in lots of different ways.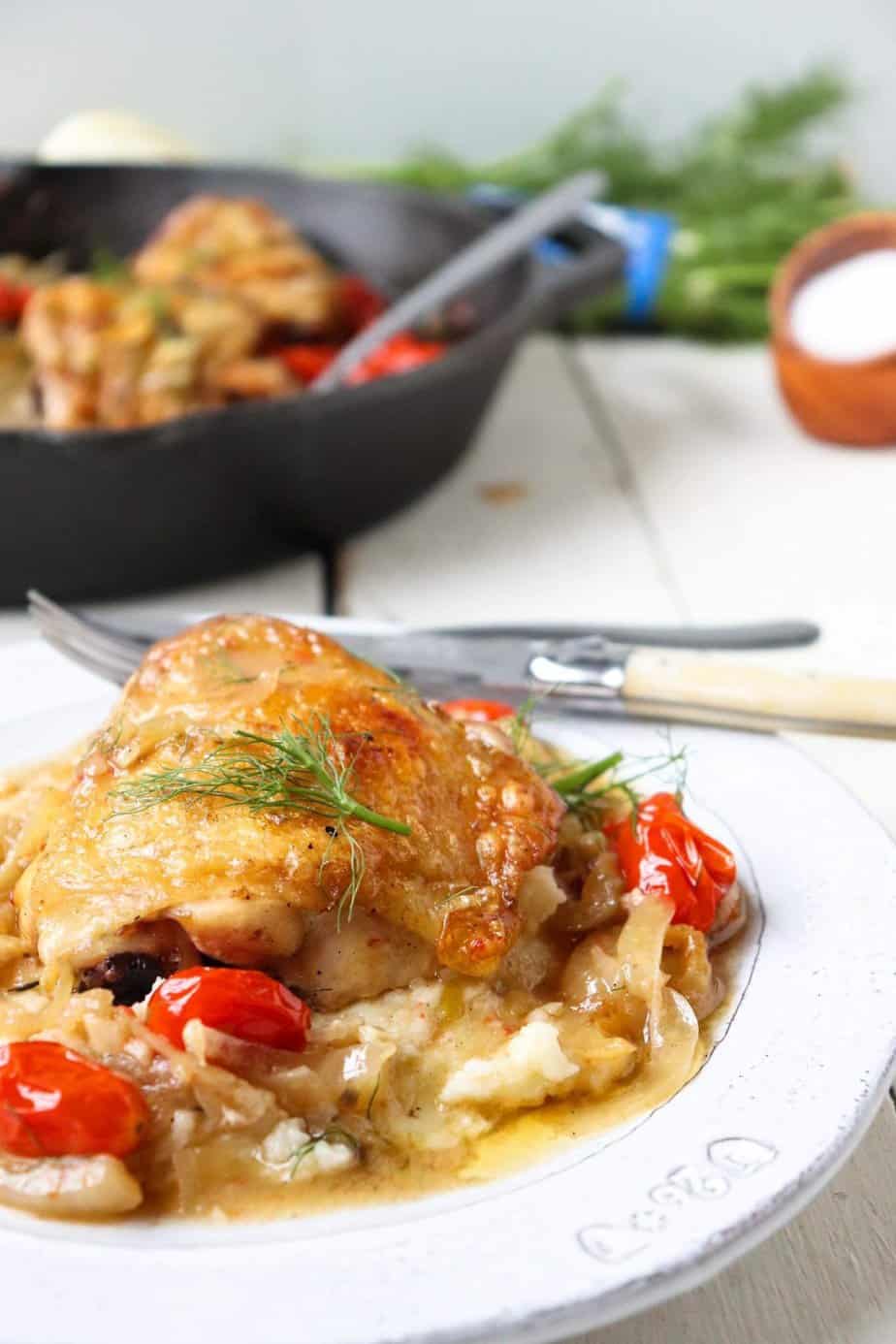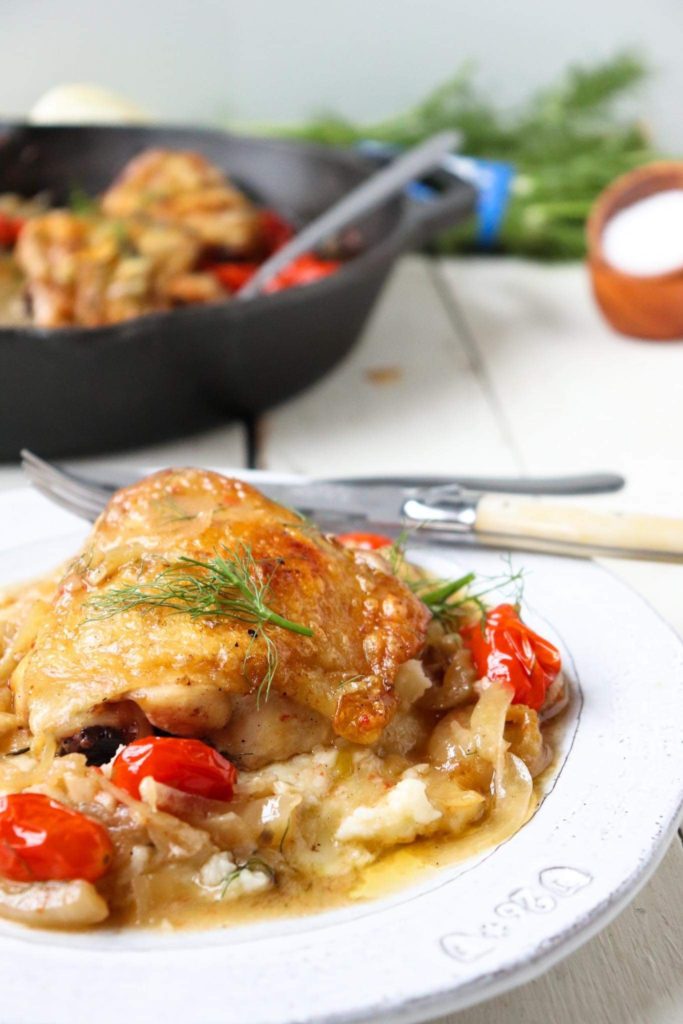 What does fennel taste like?
When it's raw, it has a slight licorice taste. When it's cooked, it's very mild. I compare it to cooked celery in strength of flavor and texture.
What parts of the fennel can you eat?
Technically all of them! However the stalks are pretty tough and not that appetizing to most people. The bulb is where the bulk of what you want to eat comes from and the wispy bits make a beautiful garnish.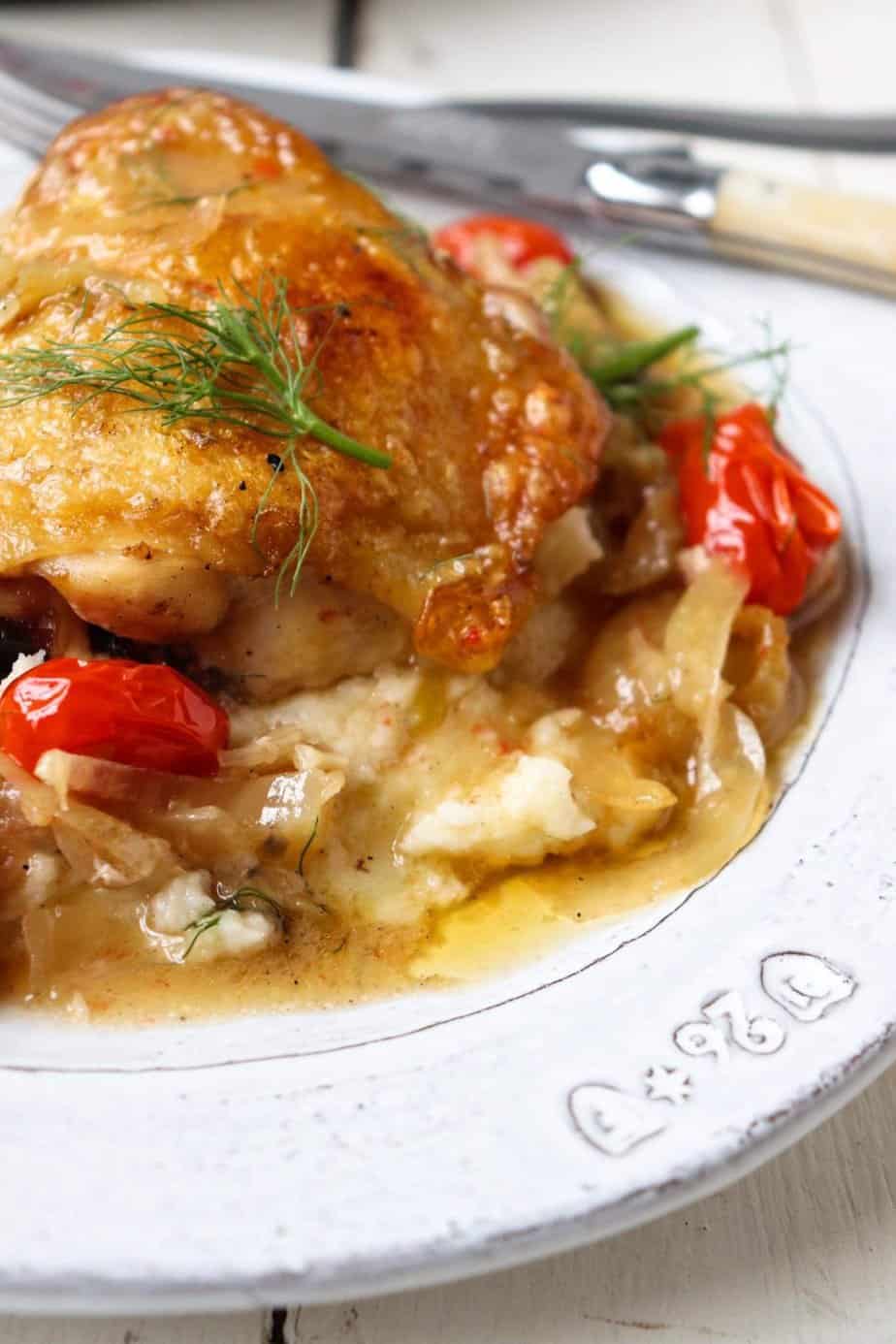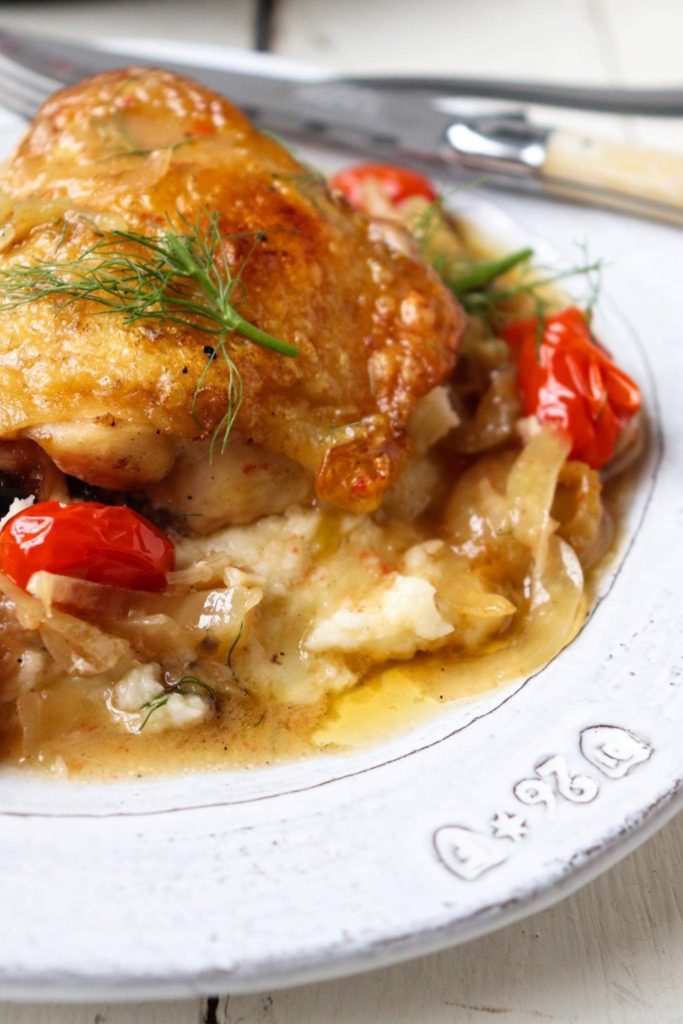 How do you trim and prepare fennel?
It is honestly significantly easier than it looks. Simply chop on the base of the bulb, slice the top to remove the fronds (the wispy bits that look dill weed) and then remove some of the tougher outer layers. Then slice and dice however you would like.
Easy as that.
For another flavorful chicken dish, try Harissa Spiced Chicken with Fennel and Tomatoes.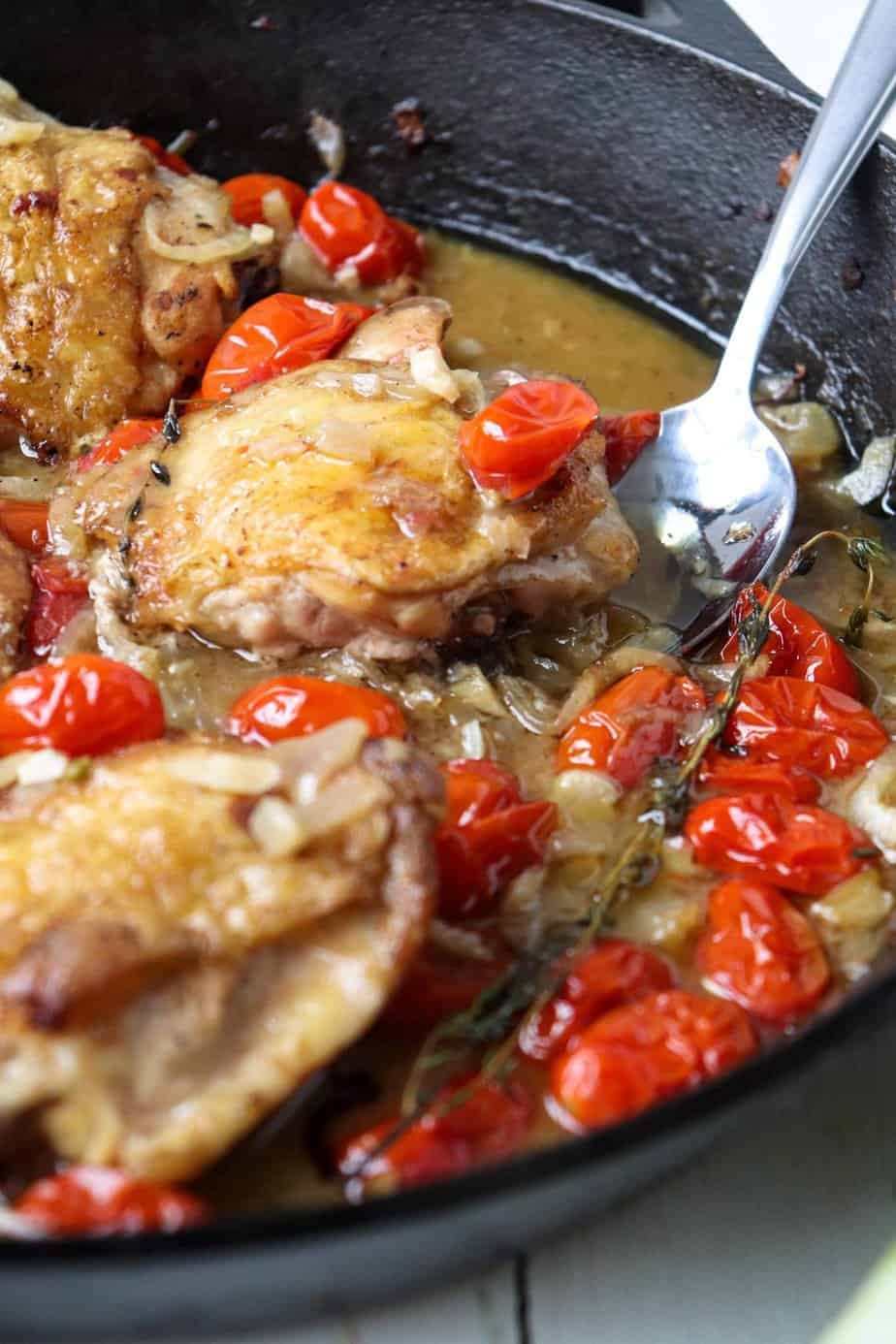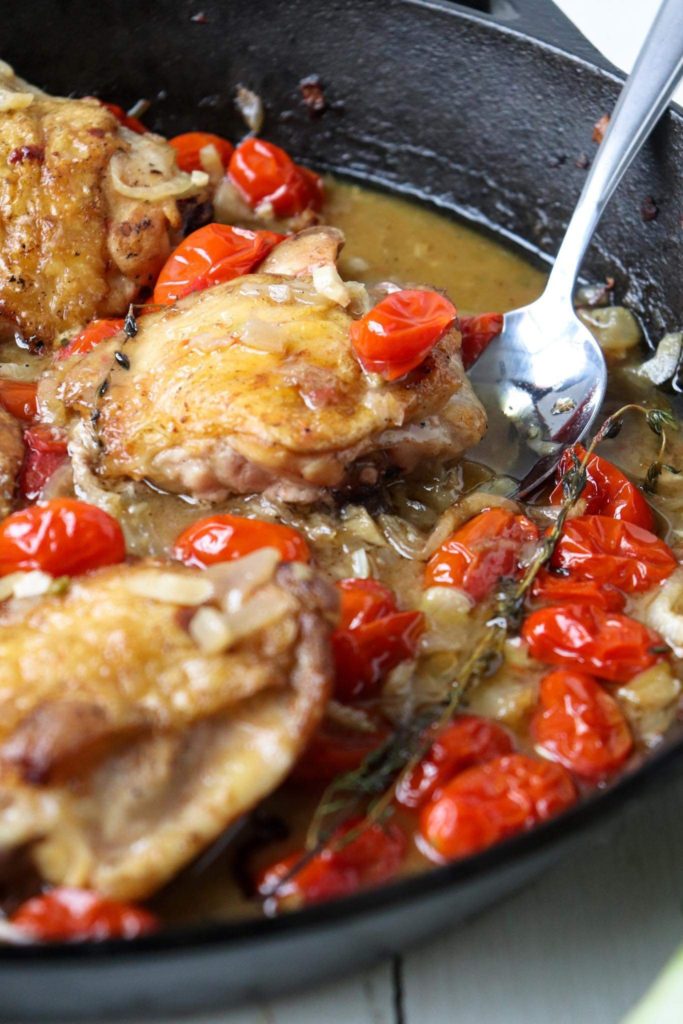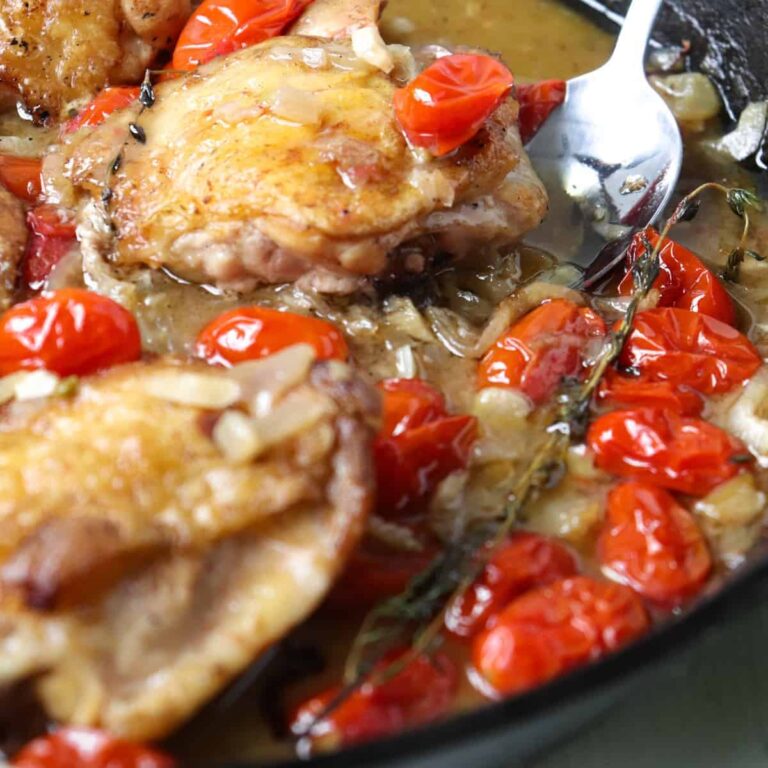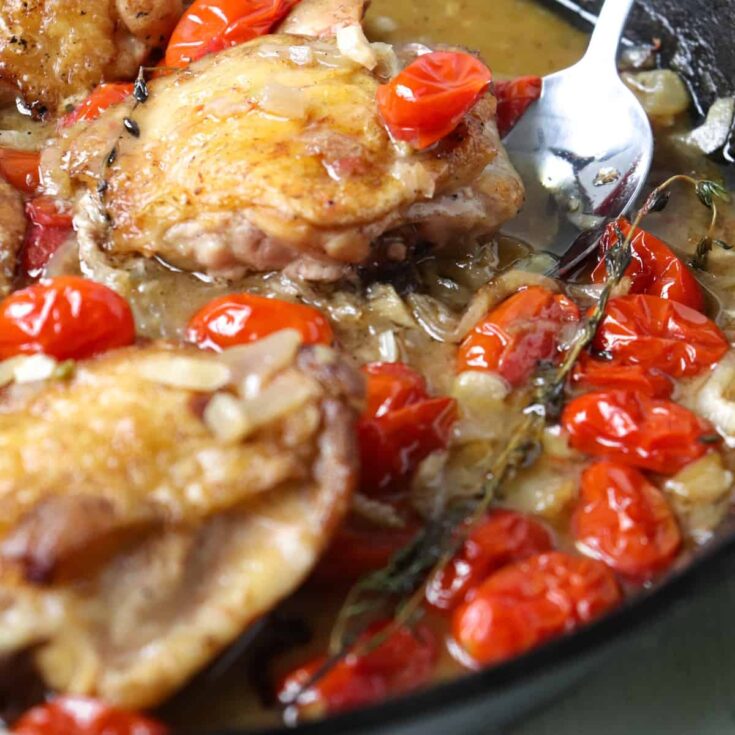 Yield:

4 servings
Roasted Chicken Thighs with Fennel and Cherry Tomatoes
Ingredients
4 bone in skin on chicken thighs
1 fennel bulb, fronds saved
1 pint cherry tomatoes
1 medium shallot, diced
4 garlic cloves, minced
1 tsp. flour
½ cup chicken stock
2-3 sprigs fresh thyme
3 tablespoons butter
1 tbs. olive oil
½ tsp. salt
Instructions
Begin by heating olive oil in an oven safe saute pan.
Once oil is hot, place chicken in skin side down, and cook until skin is brown and crispy, about 5-7 minutes.
Remove chicken from pan and add in butter.
Once melted, add garlic, shallot, and fennel. Saute until soft, about 5 minutes.
Add flour and whisk to create a roux, about 1 minute.
Add chicken stock, and gently whisk to make a sauce. Add salt, as needed.
Place chicken back into pan, skin side up, nestled among the sauce and veggies, and add in cherry tomatoes and thyme.
Bake contents at 375° F for 20 minutes until chicken is cooked through, and tomatoes have started to burst.
This would be great served over mashed potatoes, polenta, or buttery lemon herb rice.
Nutrition Information:
Yield:
4
Serving Size:
1
Amount Per Serving:
Calories:

222
Total Fat:

17g
Saturated Fat:

7g
Trans Fat:

0g
Unsaturated Fat:

9g
Cholesterol:

65mg
Sodium:

476mg
Carbohydrates:

9g
Fiber:

2g
Sugar:

4g
Protein:

10g