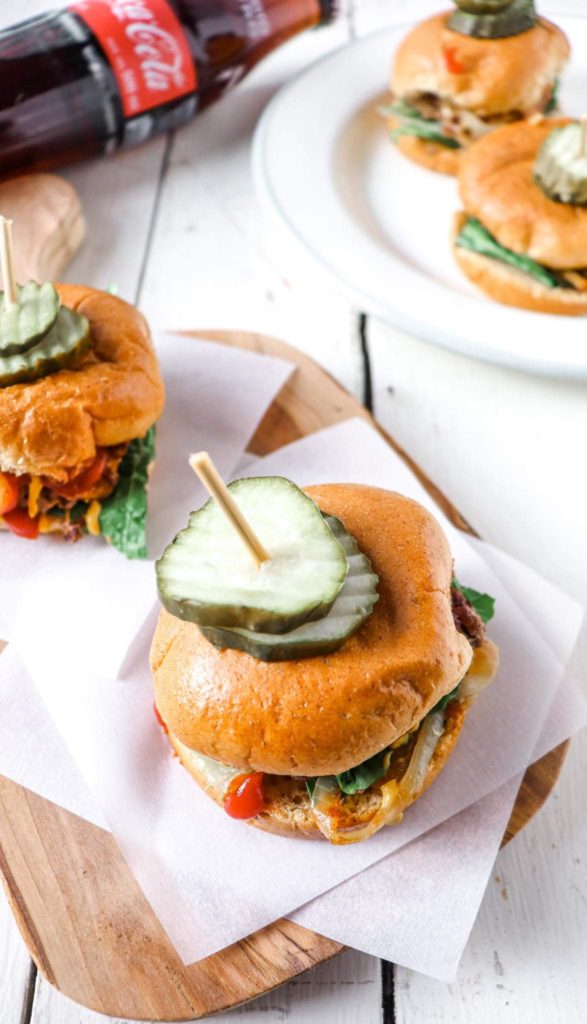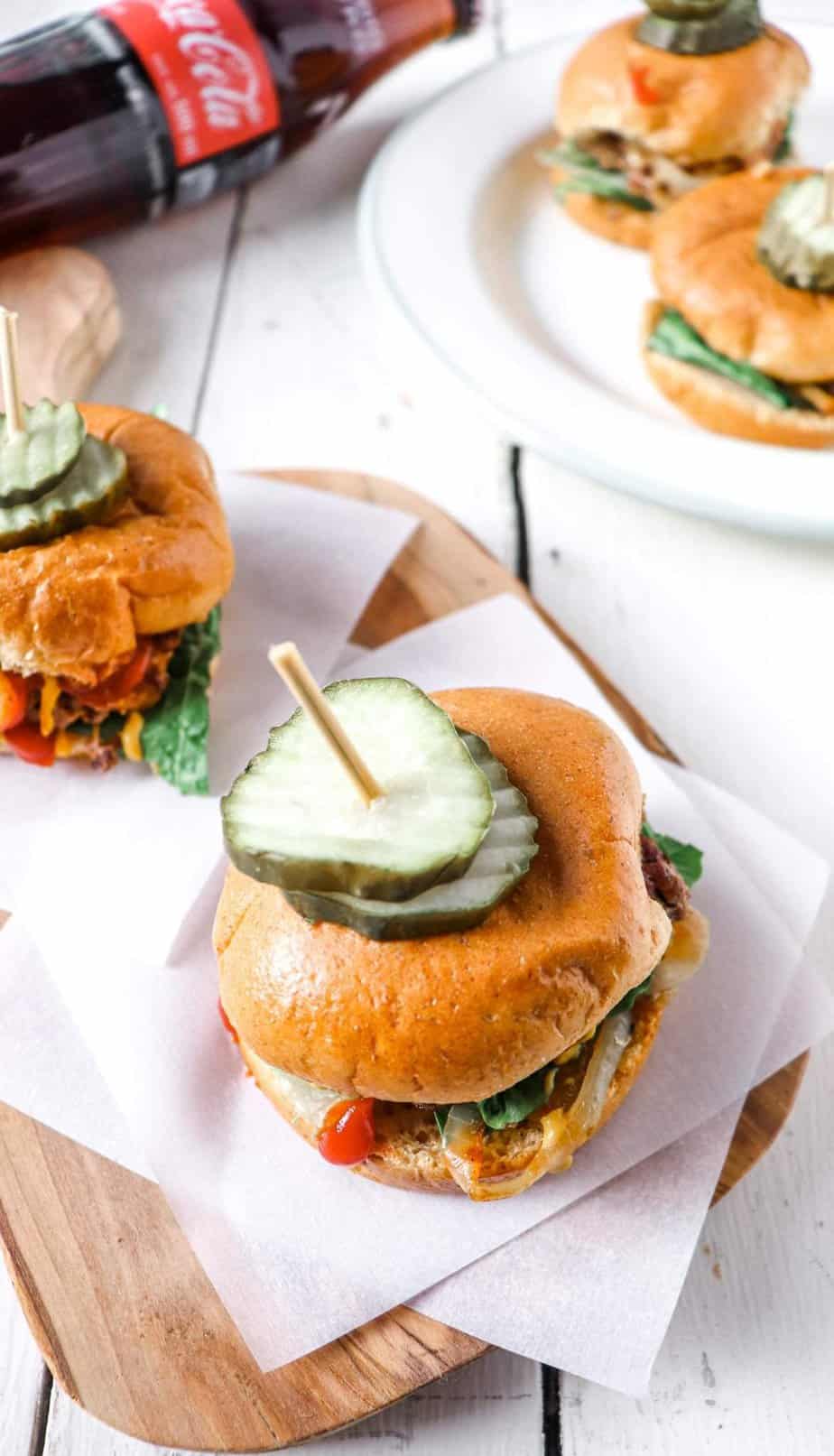 Who doesn't love a good burger? These Mini Onion Smash Burgers with Steamed Buns are the perfect way to enjoy a restaurant or diner-style mini burger at home! They are super simple to prepare, and that makes it easy for everybody to add their own favorite toppings and flavors! The caramelized onions are so flavorful, they are even good without any extra toppings! Coming from a ketchup lover, that's saying a lot.
I made these guys mini, so they are kind of like a cross between a smash burger and a slider. A smash burger is a burger that starts out as a round ball of meat, and then it is place on a cast iron skillet or very hot griddle and SMASHED. This gives it more surface area to brown. The very high heat and thin "smashed" patty cooks up really fast. You will see from the picture below that it has a beautiful char to it. Even though the beef patties are thin, I find that it actually makes the meat taste MORE meaty! Because the meat is being charred on more surface area, it develops a rich flavor. A lot of smash burgers also have caramelized onions, which is what I did here!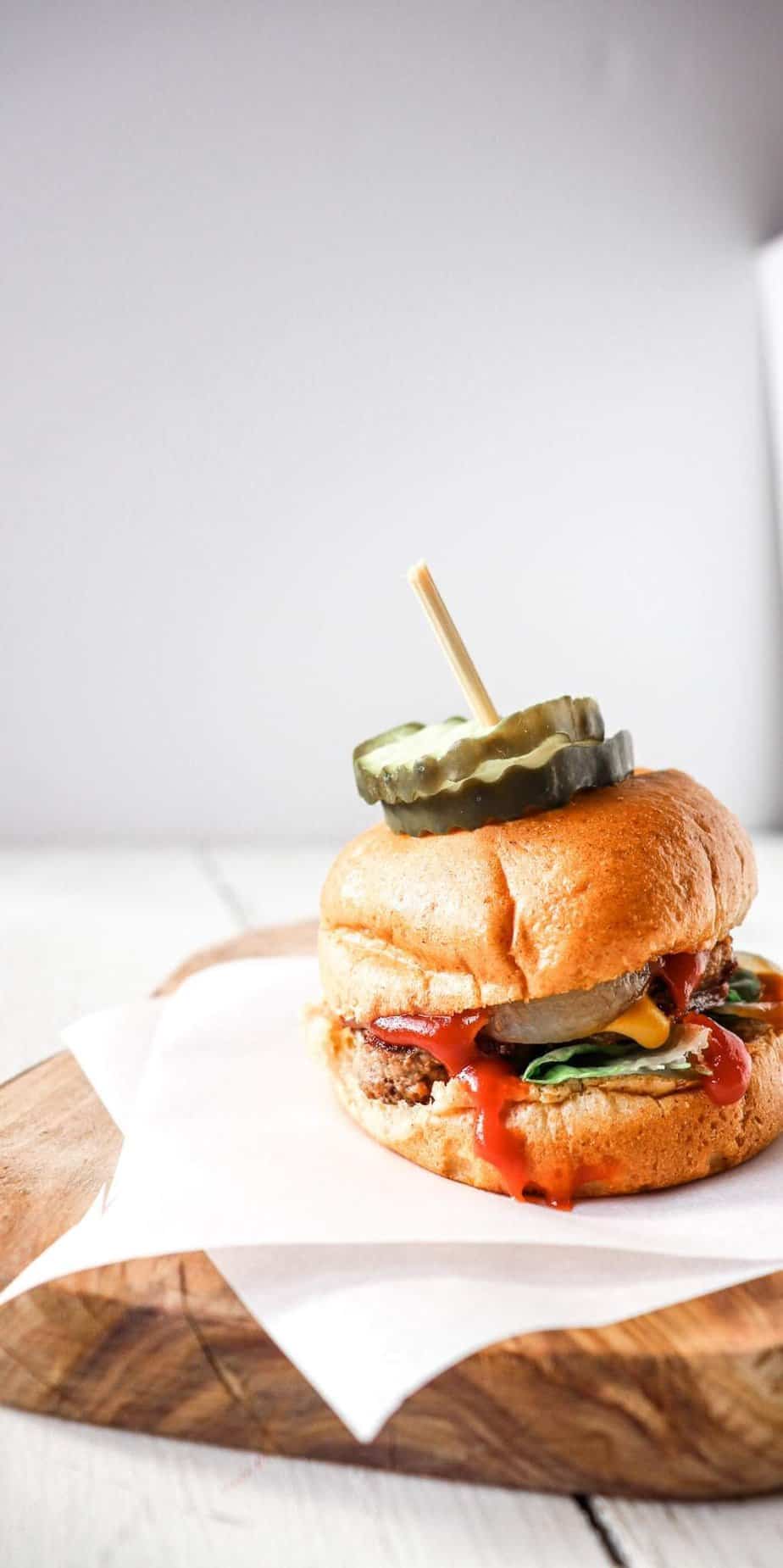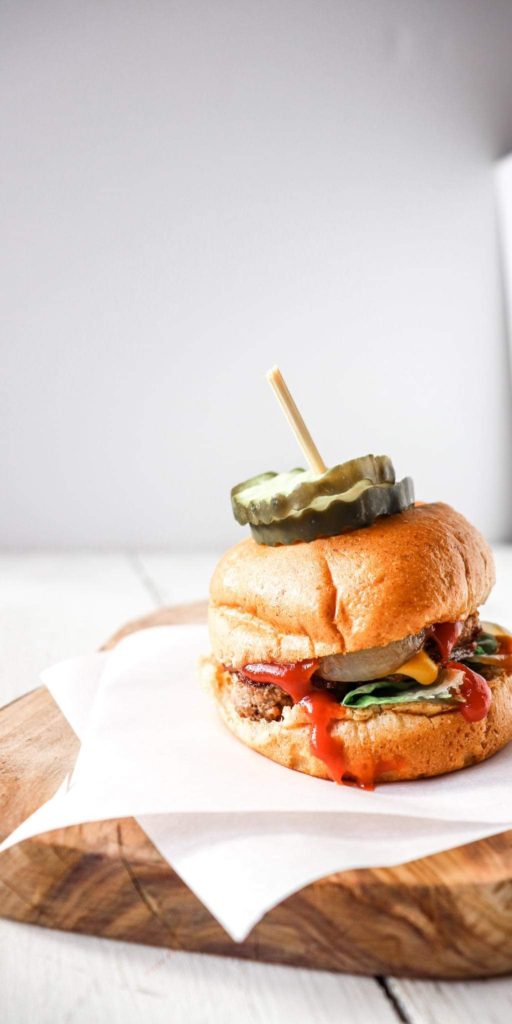 Now what is a slider? A slider is a small hamburger, normally around 2 inches in diameter. There is an interesting theory about where the name comes from. In 1940's US-sailors would call White Castle's mini onion burgers "sliders" because of their extreme greasiness, and the fact that they would just "slide" right down in a bite or two! White Castle themselves adopted the term many years later. Clearly people were loving this burger style, White Castle was the first chain to sell 1 billion burgers!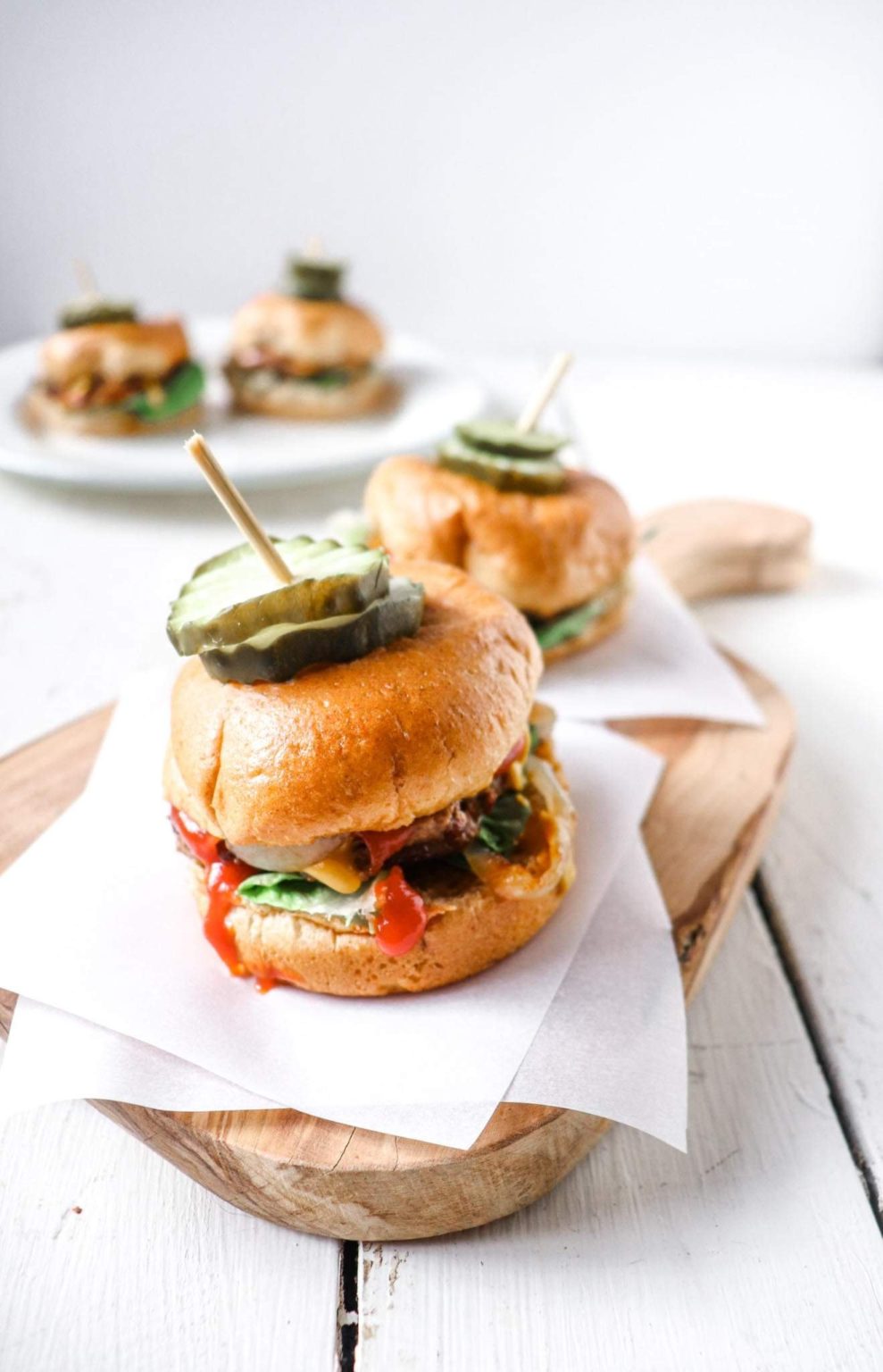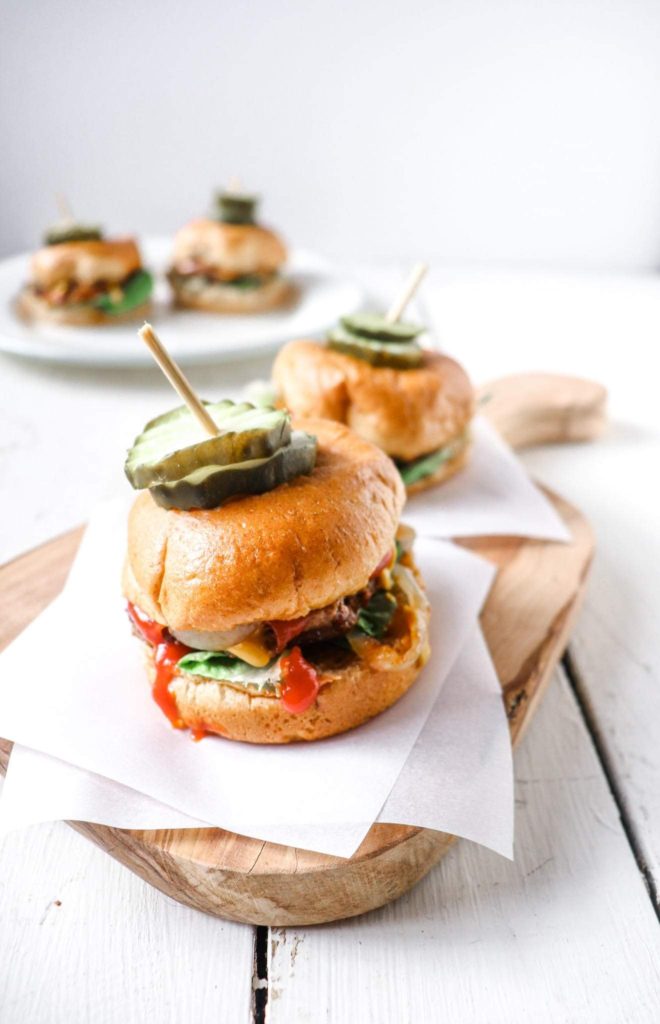 Combine these two styles of burgers and the Mini Onion Smash Burger is born! I am sharing a super simple recipe that I know you and your family will love!
What you will need to make mini smash burgers:
ground beef
a large onion
salt
mini burger buns
your favorite toppings
Yes, it really is that simple. Because you are cooking at such high heat, there is a trick to the onions to make sure they don't burn. This is an essential step in the recipe-- don't skip it!
Simply slice up your onion as thinly as possible, place in a bowl, toss liberally with salt, and let sit for an hour. This draws out a lot of the water. It helps the onions cook perfectly-- quickly and without burning. It also helps the onions to break down so that they are more pliable and can easily be placed on top of the ground beef.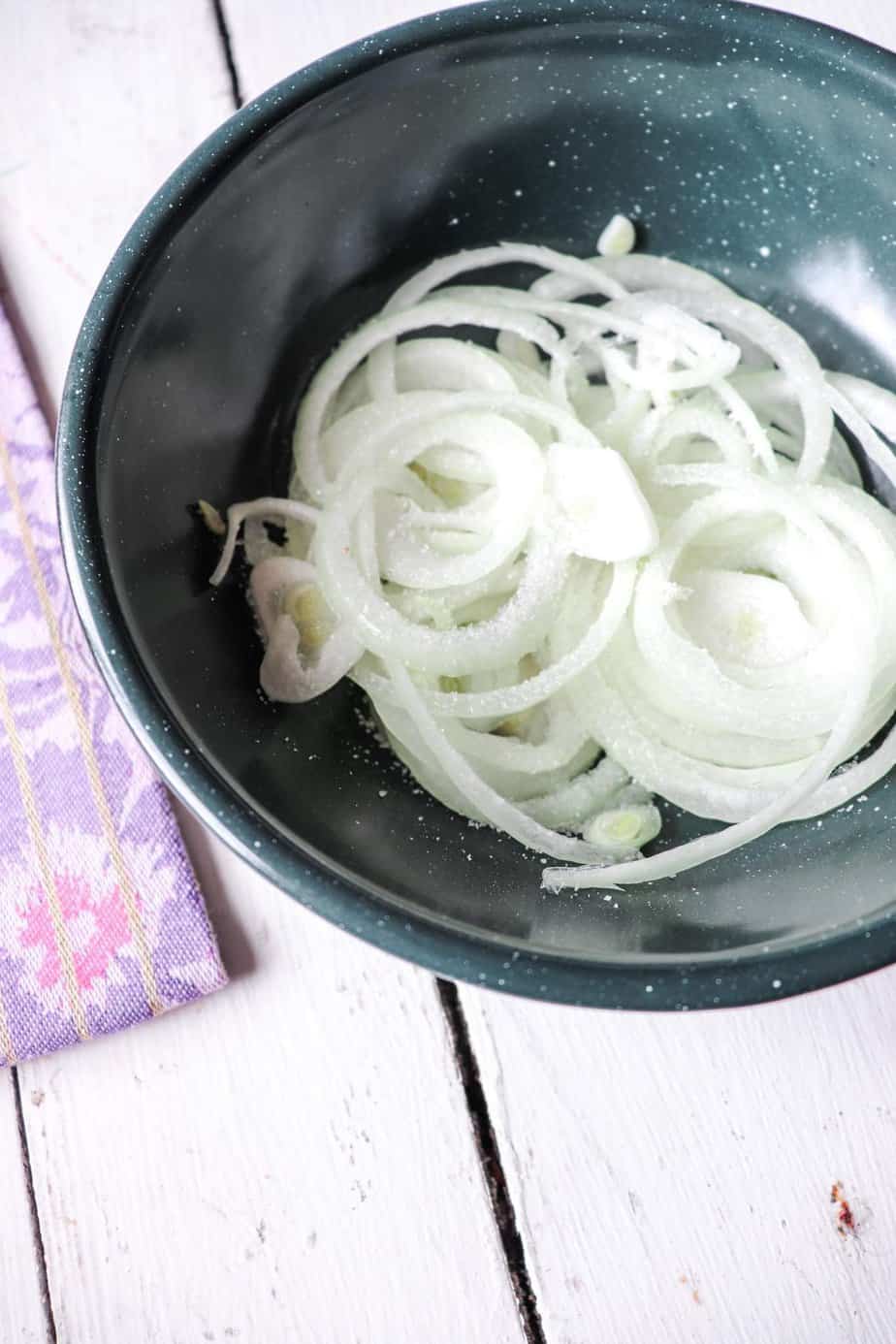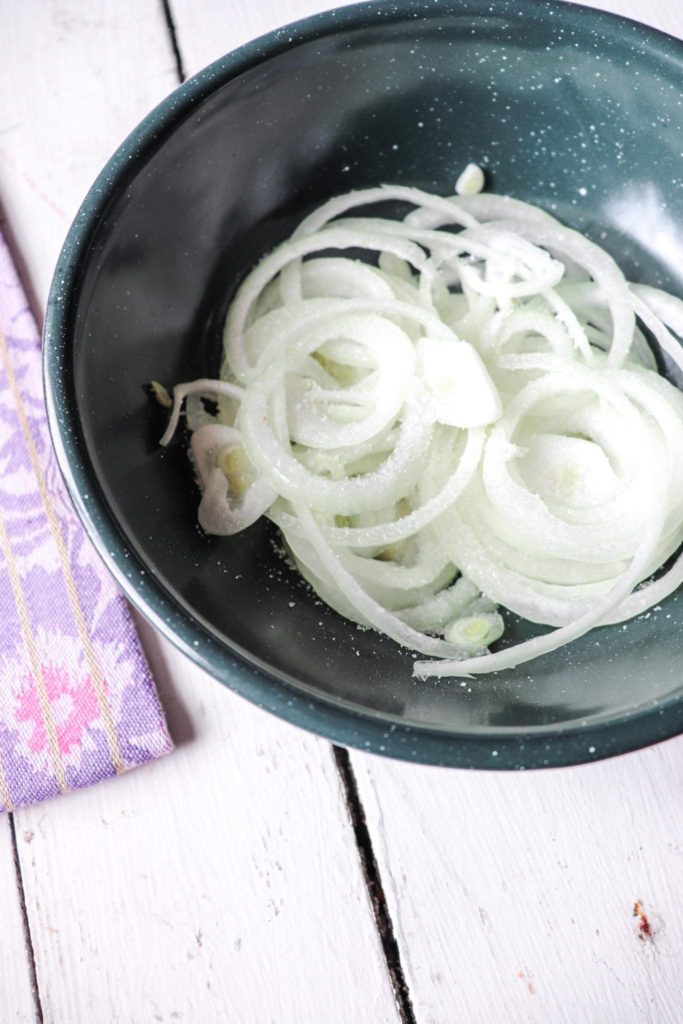 Once your onions are done "marinating" you simply squeeze out the salty water and discard. If you are worried about too high of a salt content, you can rinse your onions. I don't find that necessary, as most of the salt is in the discarded water, and you are not seasoning the ground beef any other way.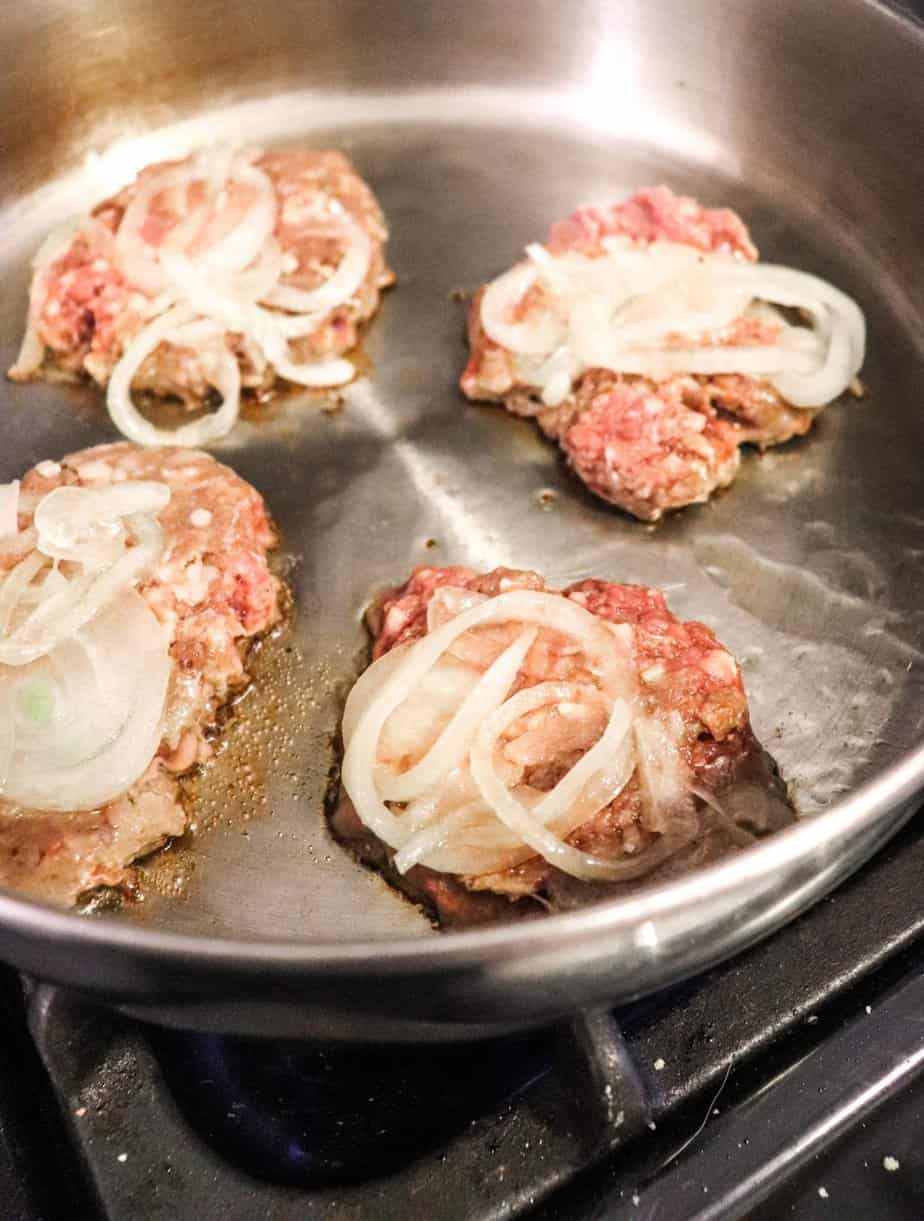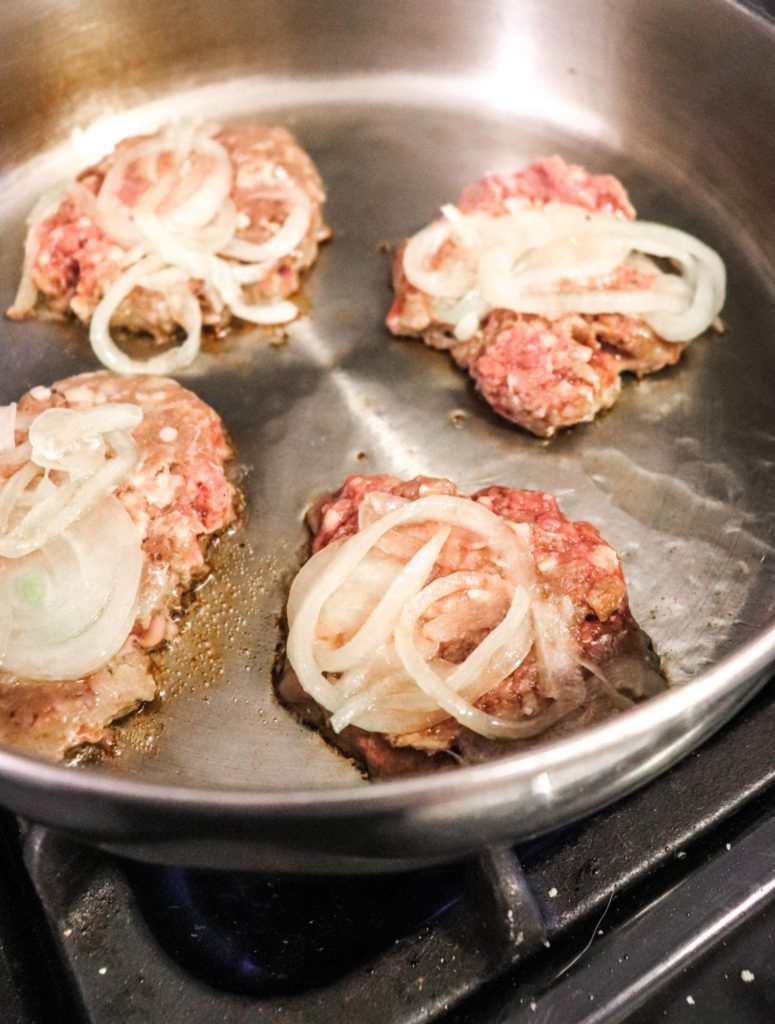 How do you cook smash burgers?
Prepare your ground beef into balls somewhere between the size of a golf ball and a baseball. Heat up your skillet to HIGH heat. Place 4 or 5 meatballs on the hot griddle at a time, and top with onions. Let sit for about a minute, and then SMASH down with a sturdy spatula. Let cook for another minute or two before flipping. Once the burgers are mostly cooked through, flip them over. Add the buns on top of each hamburger (place the bottom bun cut side down first and then the top on top of that) and cover with a lid for about a minute or two. You can also add cheese here if you want it to melt. I suggest adding the cheese, covering for one minute until it's melted, and then adding the buns and recovering for one more minute!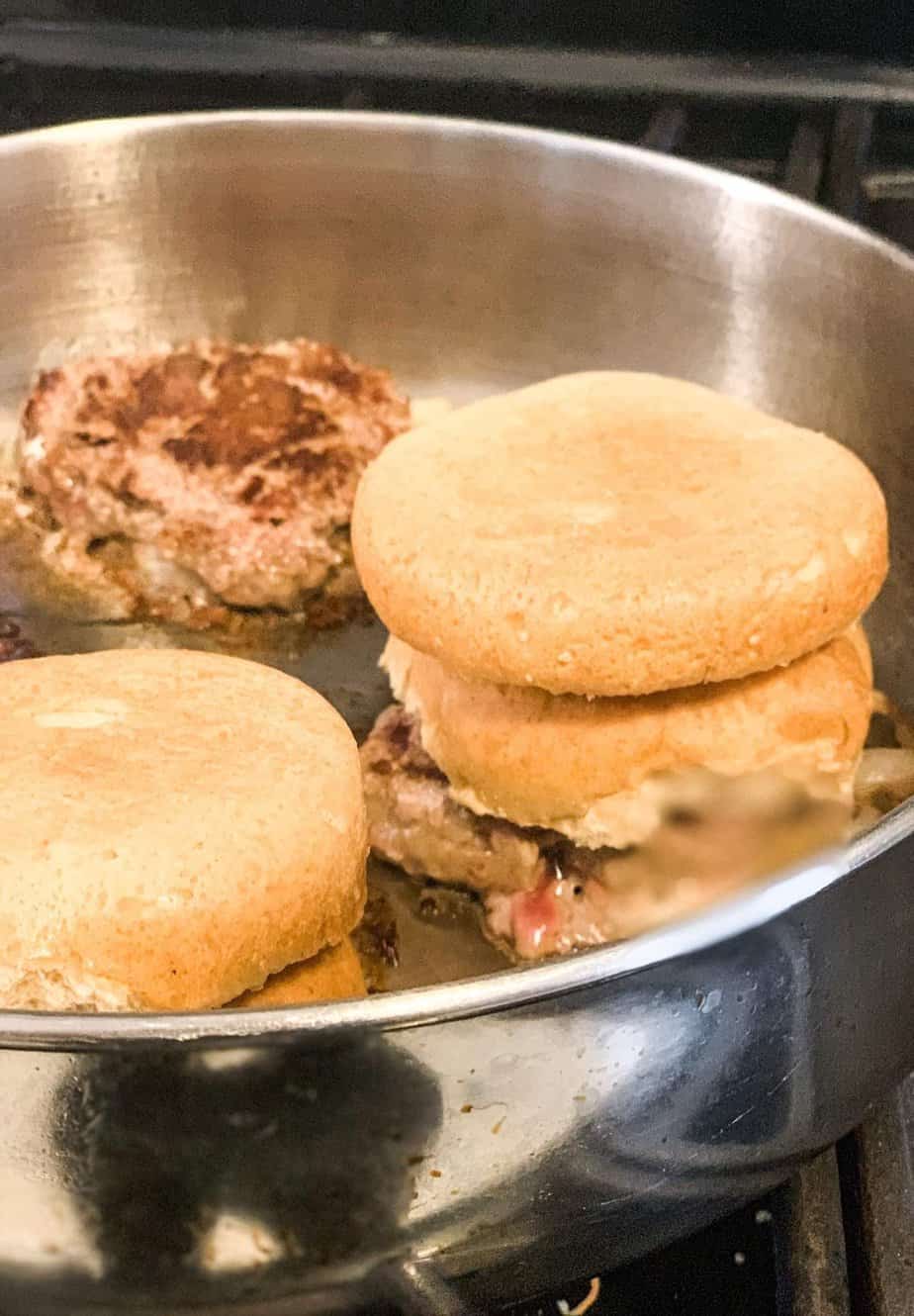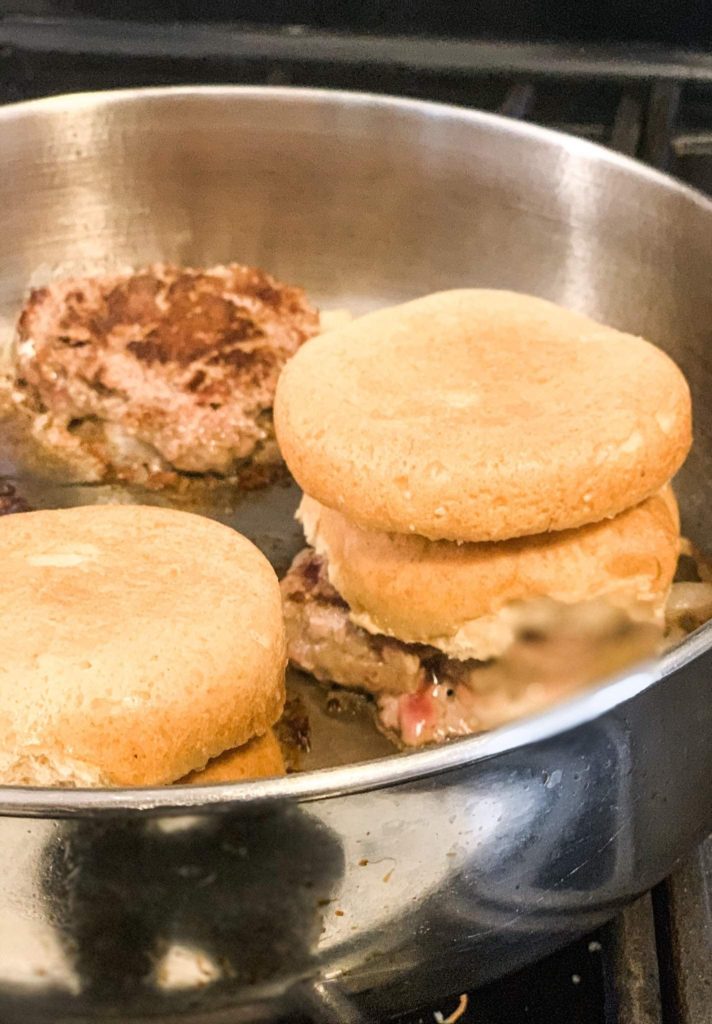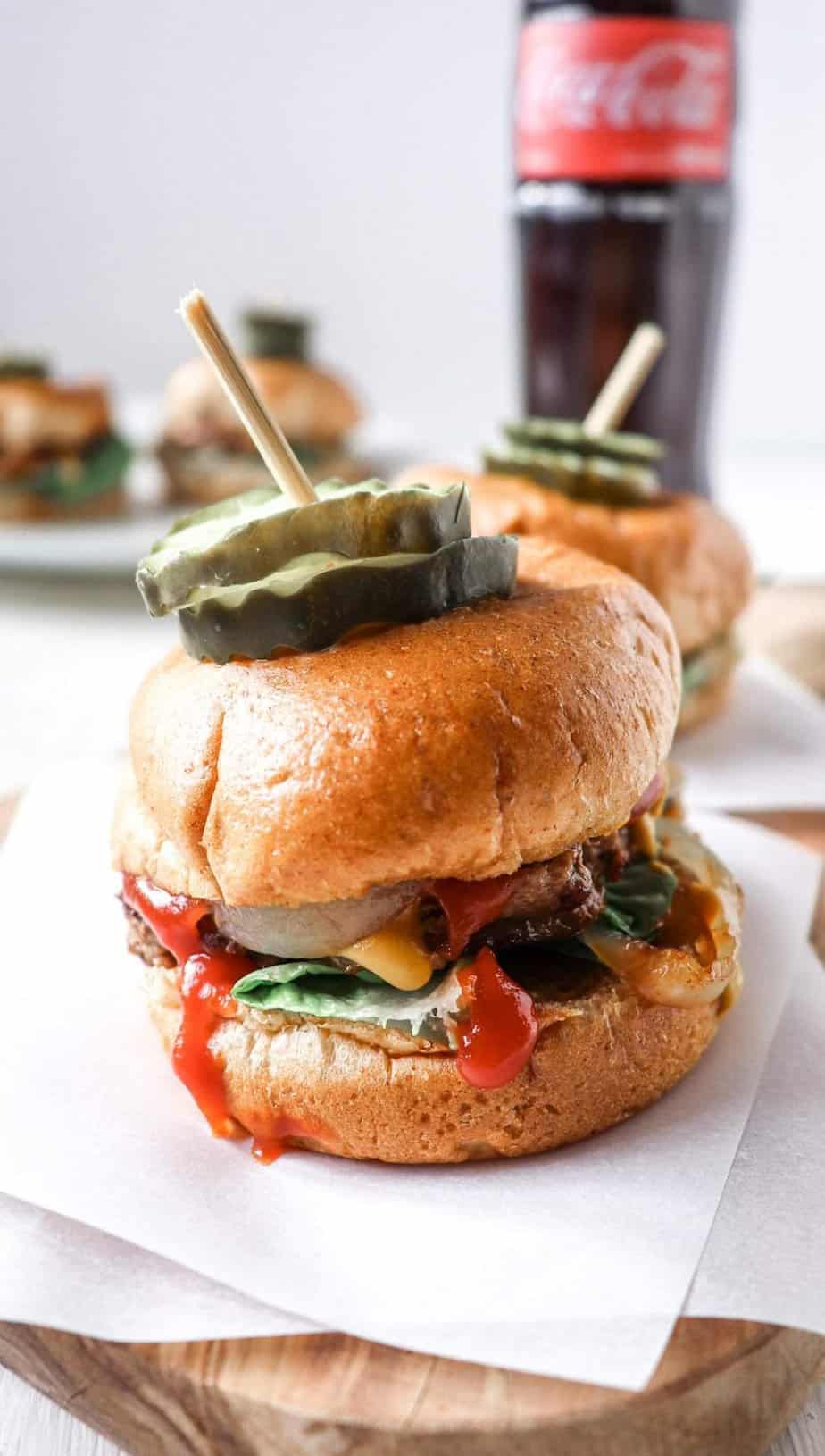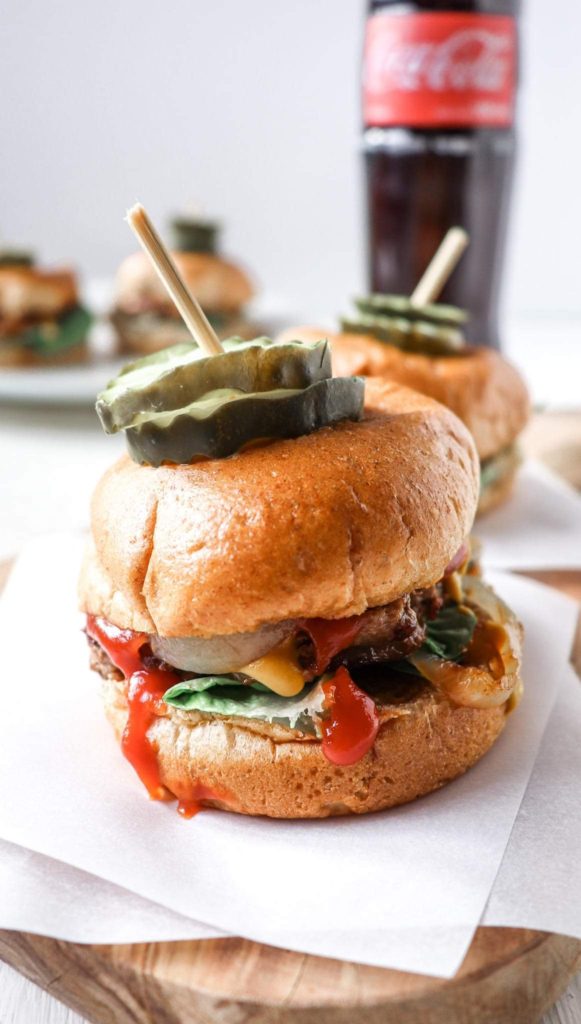 Add any additional toppings you love, and serve!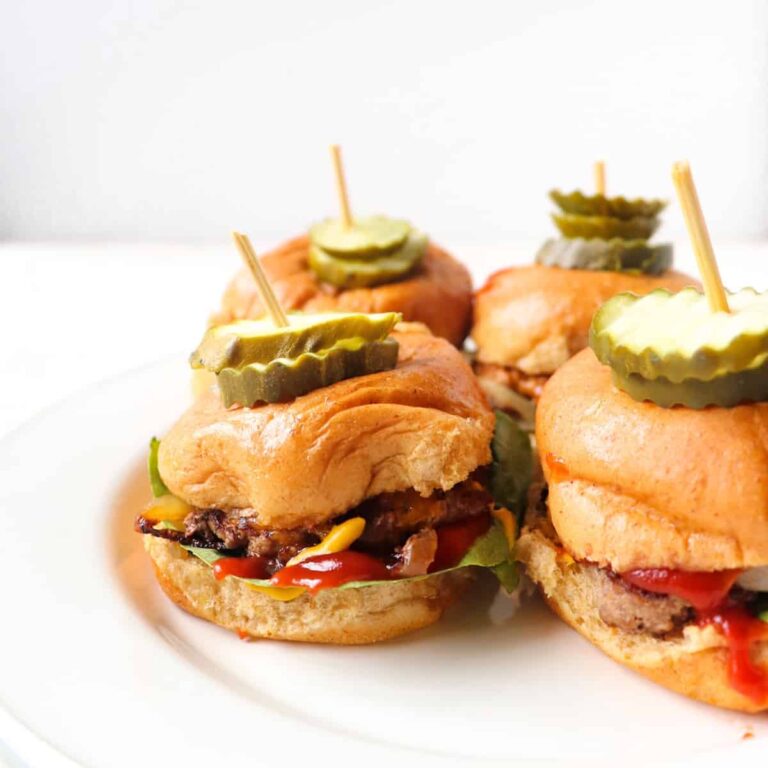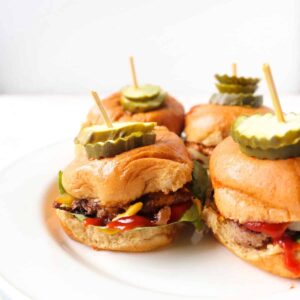 Mini Onion Smash Burgers with Steamed Buns
Mini Smash burgers are one-part slider, one-part Smash Burger, all delicious hamburger with caramelized onions and steamed bun.
Ingredients
1 ½

pounds

ground beef

80/20 or 75/25 works well

1

large onion

thinly sliced

2

tsp.

salt

15

mini hamburger buns

Cheese slices

optional

Pickles

Ketchup, mustard, etc.
Instructions
Prepare your onions by slicing them very thinly and tossing them in a bowl with salt. Set to the side for an hour.

Form meat into equal-sized balls and place on a plate. They should be somewhere in between a golfball and a baseball.

Squeeze onions to remove excess water and discard water. Rinse if you want, I do not rinse.

Heat up your griddle/skillet to a very high heat.

Once skillet is very hot, place on 4-6 meatballs. They should be a few inches apart from each other. Top each meatball with onions.

Let cook for about a minute, and then smash with a sturdy spatula until they are well flattened. This will ensure the hamburgers are well browned and cook rather quickly.

Once they are mostly cooked through, flip each burger.

Cover each burger with a bun. The inside of the bottom half of the bun should touch the meat, and the top half should rest on top of the bottom bun.

Cover with a lid or a sheet pan and let steam for 1-2 minutes.

Add your favorite toppings and serve.
Nutrition
Serving:
1
g
Calories:
265
kcal
Carbohydrates:
24
g
Protein:
17
g
Fat:
10
g
Saturated Fat:
4
g
Polyunsaturated Fat:
5
g
Cholesterol:
42
mg
Sodium:
624
mg
Fiber:
1
g
Sugar:
4
g