Sambal Oelek is a hot chili sauce made from hot red chilis, salt, and vinegar. Due to its rise in popularity in the recent years, this spicy red sauce is found in most grocery stores near where the asian foods are stocked. This sauce differs from traditional hot sauces because of its texture. Whereas most hot sauces are extremely thin and liquidy, sambal oelek is more chunky or paste-like. Sambal Oelek is a great addition to any kitchen and elevates dishes with its depth of flavor and heat. I will also share some substitutes for Sambal Oelek, in case you don't have it on hand!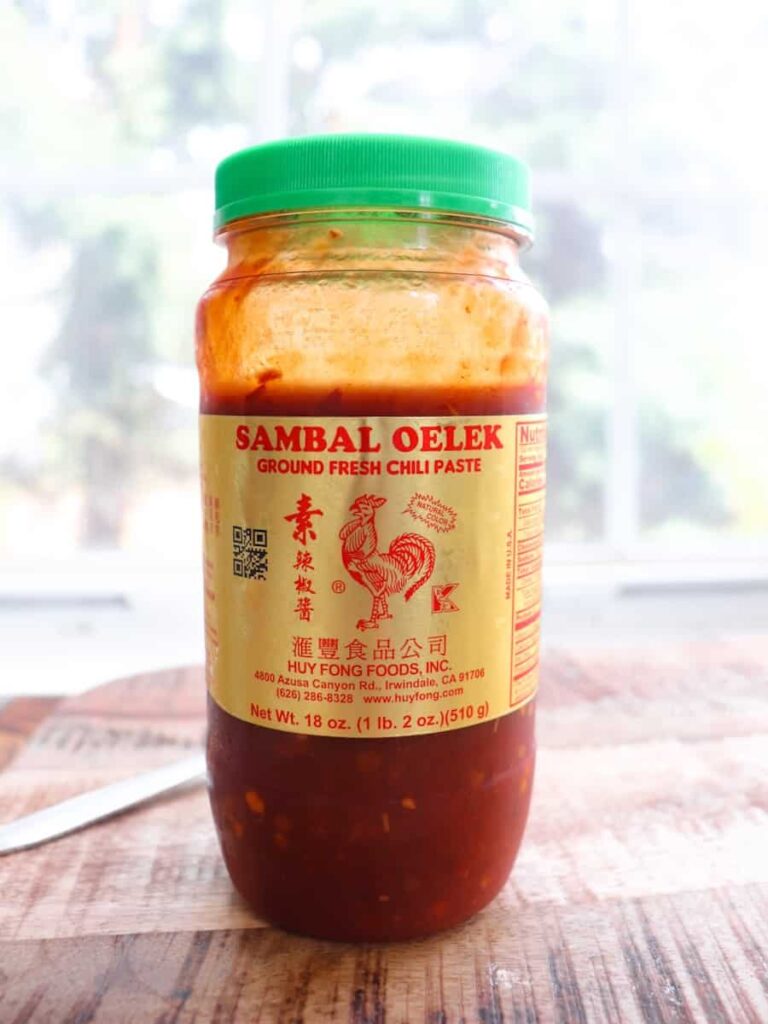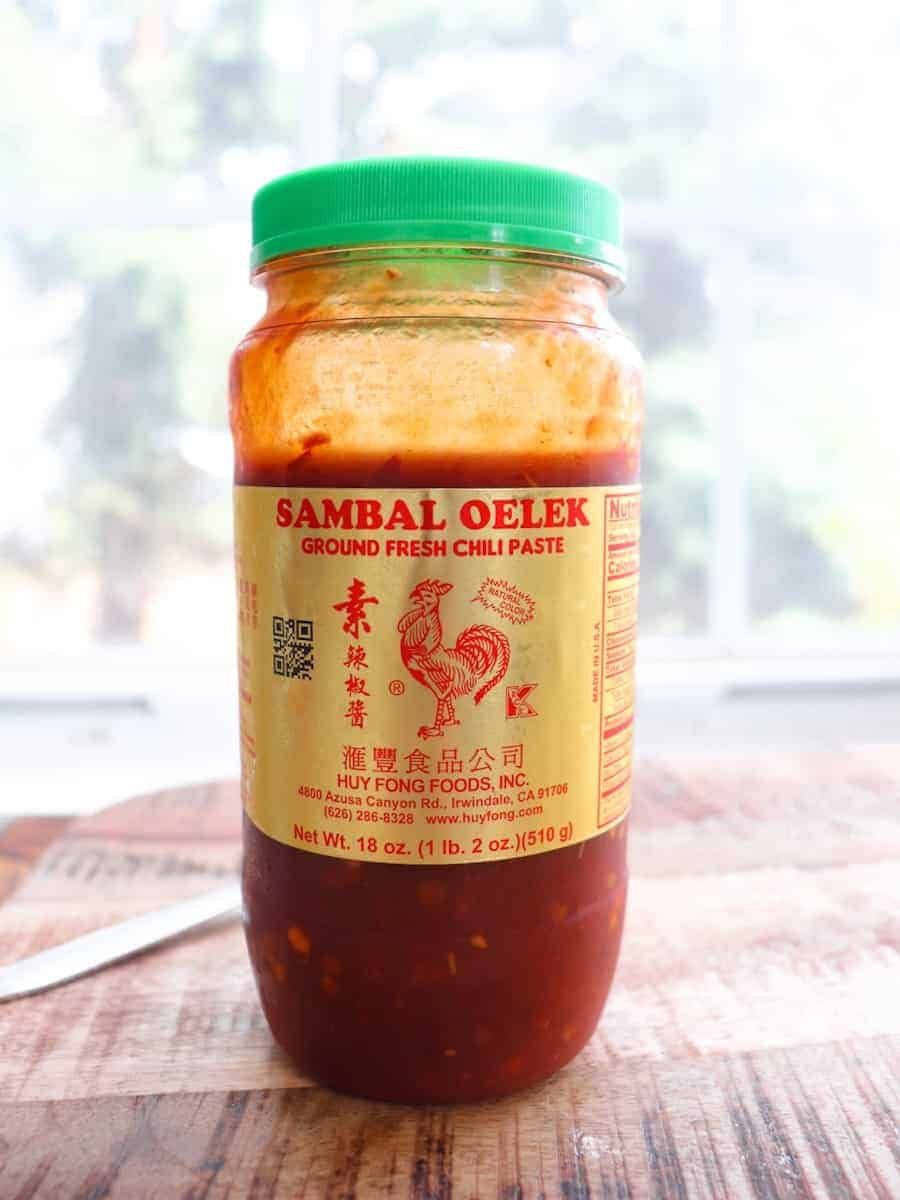 Most Popular Sambal Oelek Brand
Though there are other brands that make a chili garlic sauce and it is possible to make sambal oelek at home, the most popular and well known sambal oelek is made by the brand Huy Fong Foods. You will find this sauce in a plastic jar with a bright green cap. This is the same brand that makes sriracha sauce which has the same bright green color cap, just in a different shape.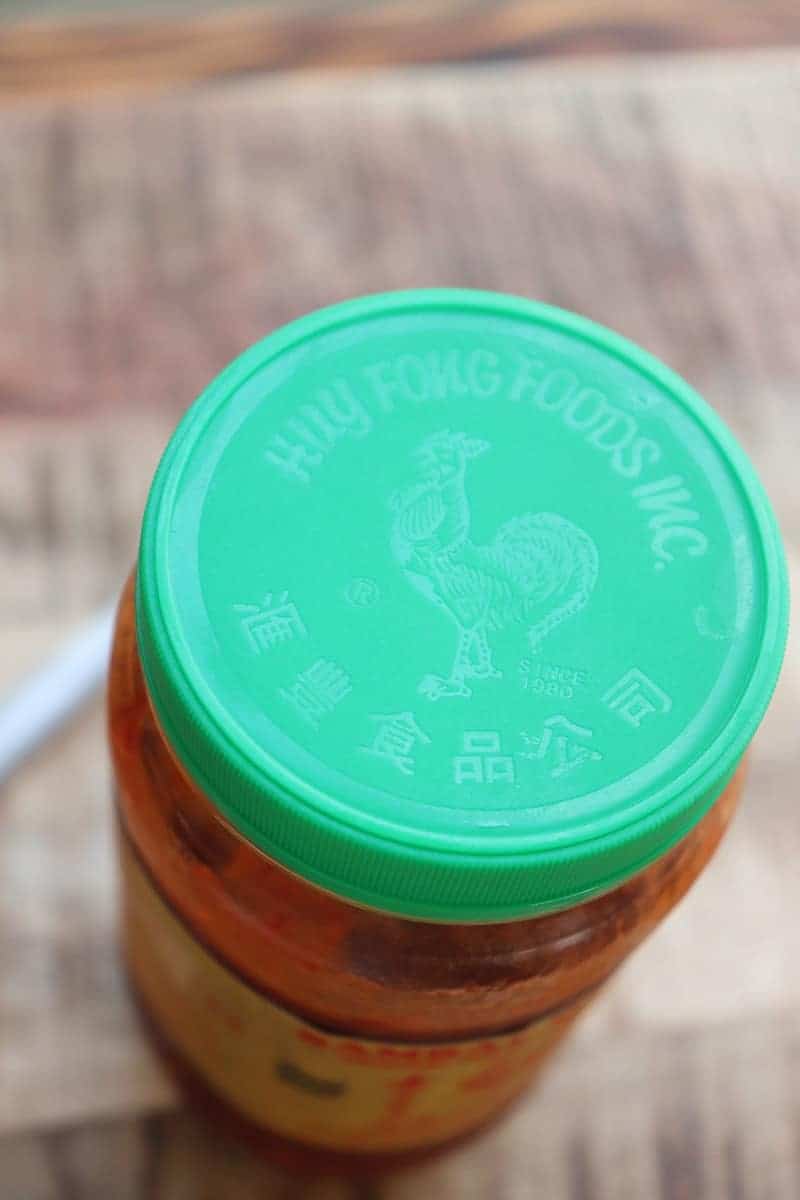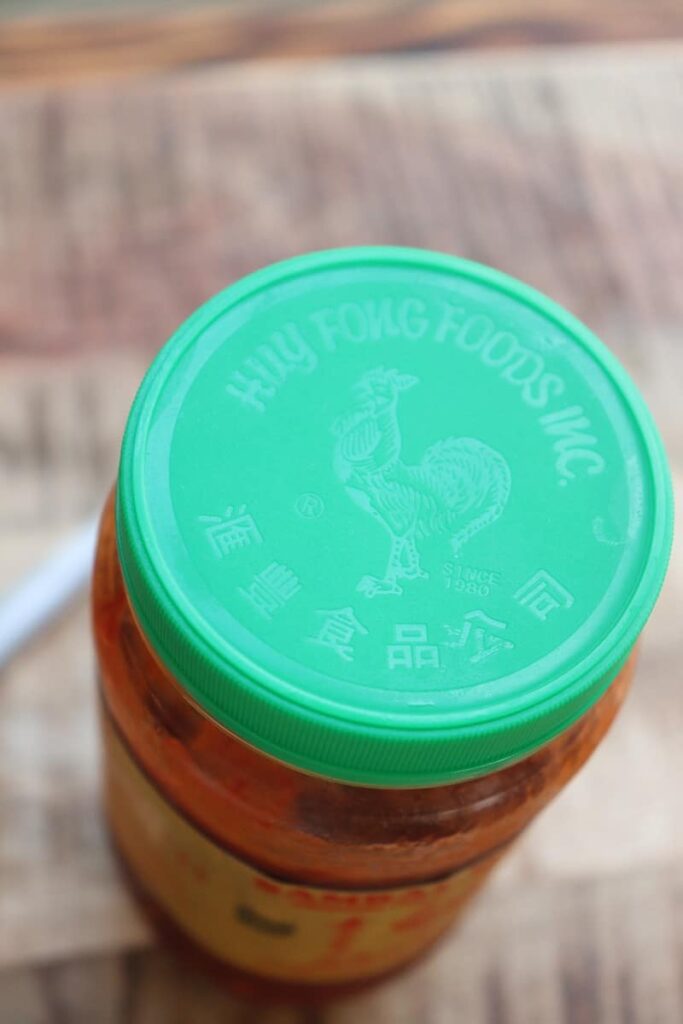 Sambal oelek sauce comes in many different sizes. I have seen it as big as 8.5 lbs (most likely for restaurant use) down to 8 oz. This is great because it is possible to purchase just the right amount for your personal needs. We generally buy the 18 oz. bottle, as we go through it rather quickly.
Recipes that use Sambal Oelek
Sambal Oelek is a chili paste that is great condiment to use in many dishes. It can be used in sauces, curries, soups, stews, and marinades. While sambal can be used on its own as a condiment, it is most often used in cooking as an addition to add heat, as on its own it is quite strong.

Sambal oelek is most commonly used in asian cooking, specifically in malaysian and indonesian cooking. I love adding sambal oelek to soy sauce to make a spicy condiment to dip my pot stickers or dumplings in. Some of my favorite dishes that use sambal oelek are Spicy Asian Chicken Lettuce Wraps, Spicy Beef and Broccoli, and Pad Pak.
Ingredients in Sambal Oelek
Typical Sambal Oelek contains chili peppers, vinegar, and salt. Some recipes call for additional ingredients like lime juice, ginger, garlic, and even shrimp paste or fish sauce.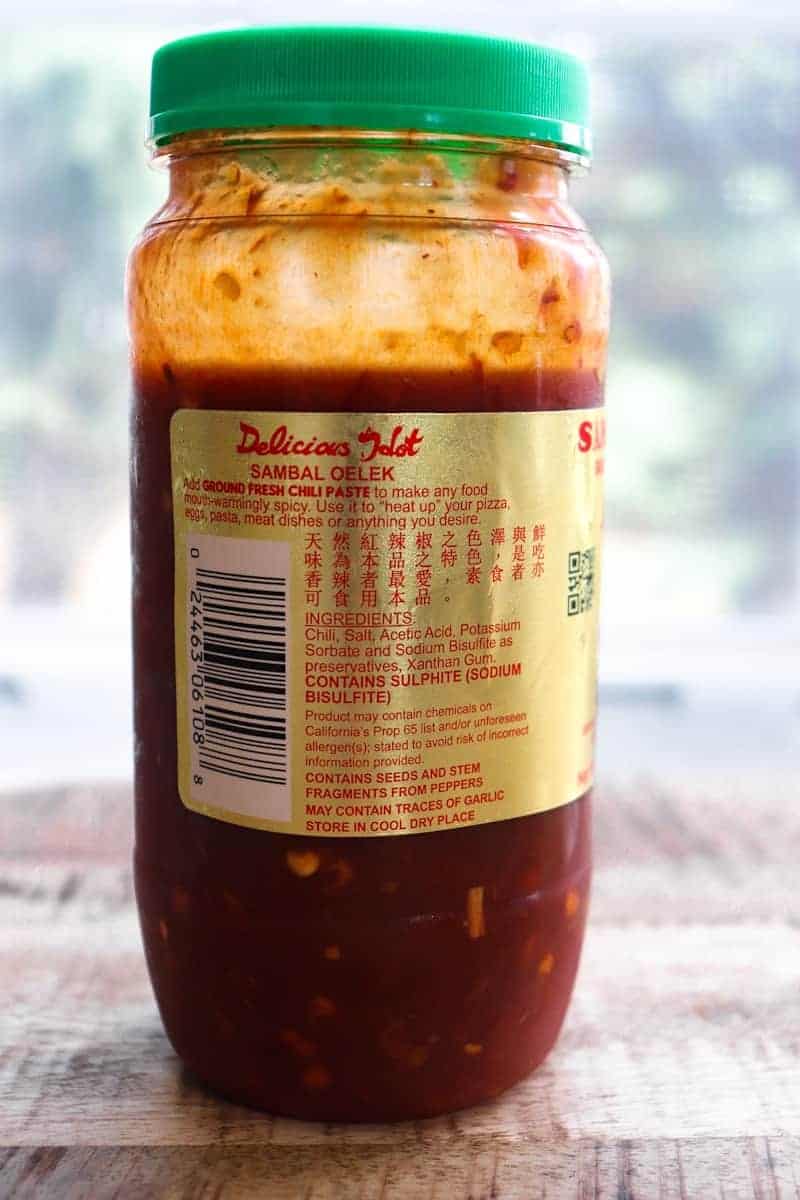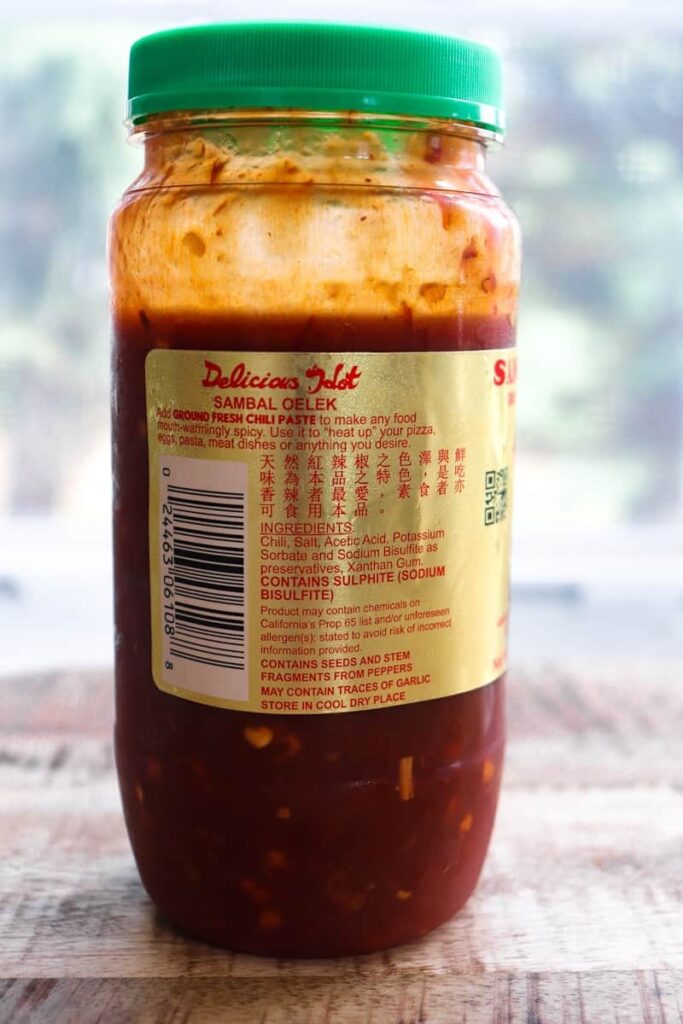 Sambal Oelek Substitutions
If you are looking for Sambal Oelek substitutes, some of the best alternatives are red pepper flakes, gochujang, harissa pasta, sriracha, chili garlic paste, tabasco, or a homemade version.
As with any substitution, you may need to add less or more of an ingredient. Always start with less and work your way up to suit your tastes.
Sriracha (Your best option!)
Sriracha as a substitute for sambal oelek is a great option, as they are both going to give a good amount of heat to a dish. Both are made with chilis and vinegar, although sriracha also has sugar and garlic.
Sriracha is more blended and thinner, but still has that rich red color of sambal!
Crushed Red Pepper Flakes
Red pepper flakes are dried red chilis and give heat without really changing the taste of the dish, similar to sambal oelek.
The texture of the two are obviously different, since they are flakes and not a paste. Try using about ¼ the amount of red pepper flakes to substitute sambal oelek. The flavor of dried herbs and spices is very concentrated.
Gochujang Paste
This sambal oelek substitute does a great job of mirroring the texture of sambal oelek, as it is also a paste. The flavor will be slightly different, as gochujang is fermented and sweet. It is the main component of Creamy Gochujang Noodles.
Harissa Paste
Harissa paste is a favorite ingredient in my kitchen, that I like to keep on hand to add a little "oomph" to sauces and soups. It also makes a great chicken marinade! This Harissa Spiced Chicken is delicious!
Harissa is a paste, similar to sambal oelek, although it is slightly thicker and less spicy. Harissa has other spices, like cumin, added to it.
Chili Garlic Paste
This is my second favorite Sambal Oelek substitute suggestion. Not only does it only feature one additional ingredient different than sambal oelek--garlic, there is actually a variety made by the exact same brand, Huy Fong Foods.
The two bottles like almost exactly the same, they are just labeled differently.
Tabasco Sauce
If you are just looking to replace sambal oelek's heat, tabasco sauce is also made from chilis, vinegar, and salt. Tabasco is thin like water, so this substitution will not work if you were using sambal as a binder or because of its texture.
Homemade Sambal Oelek
Here is a recipe to try to make sambal oelek at home.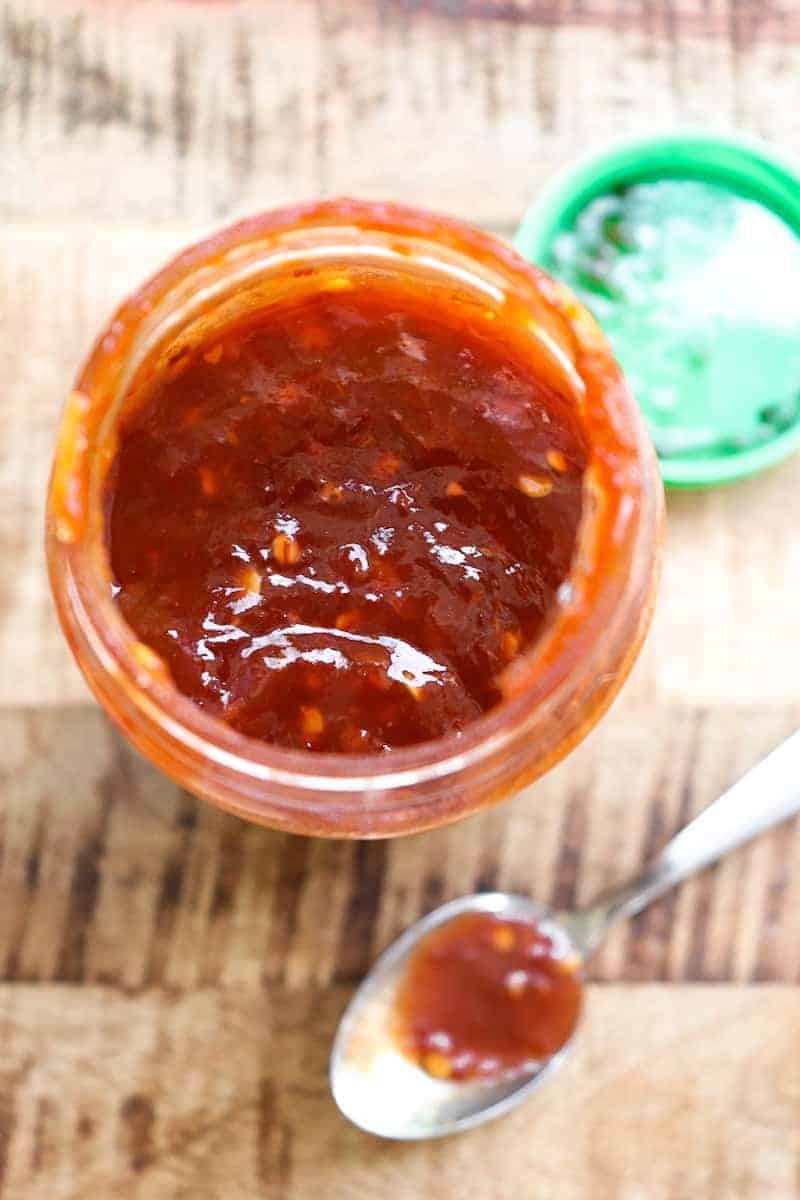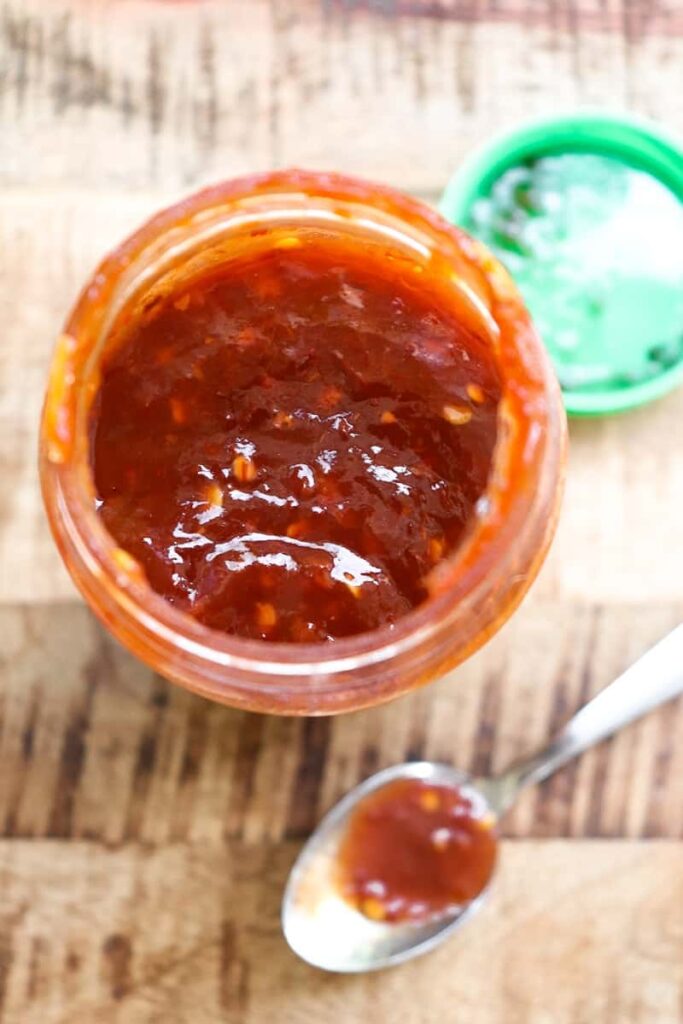 What does the word Sambal Oelek mean?
Sambal means "condiment" and oelek is an indian tool, a pestle, which is used to make a paste.