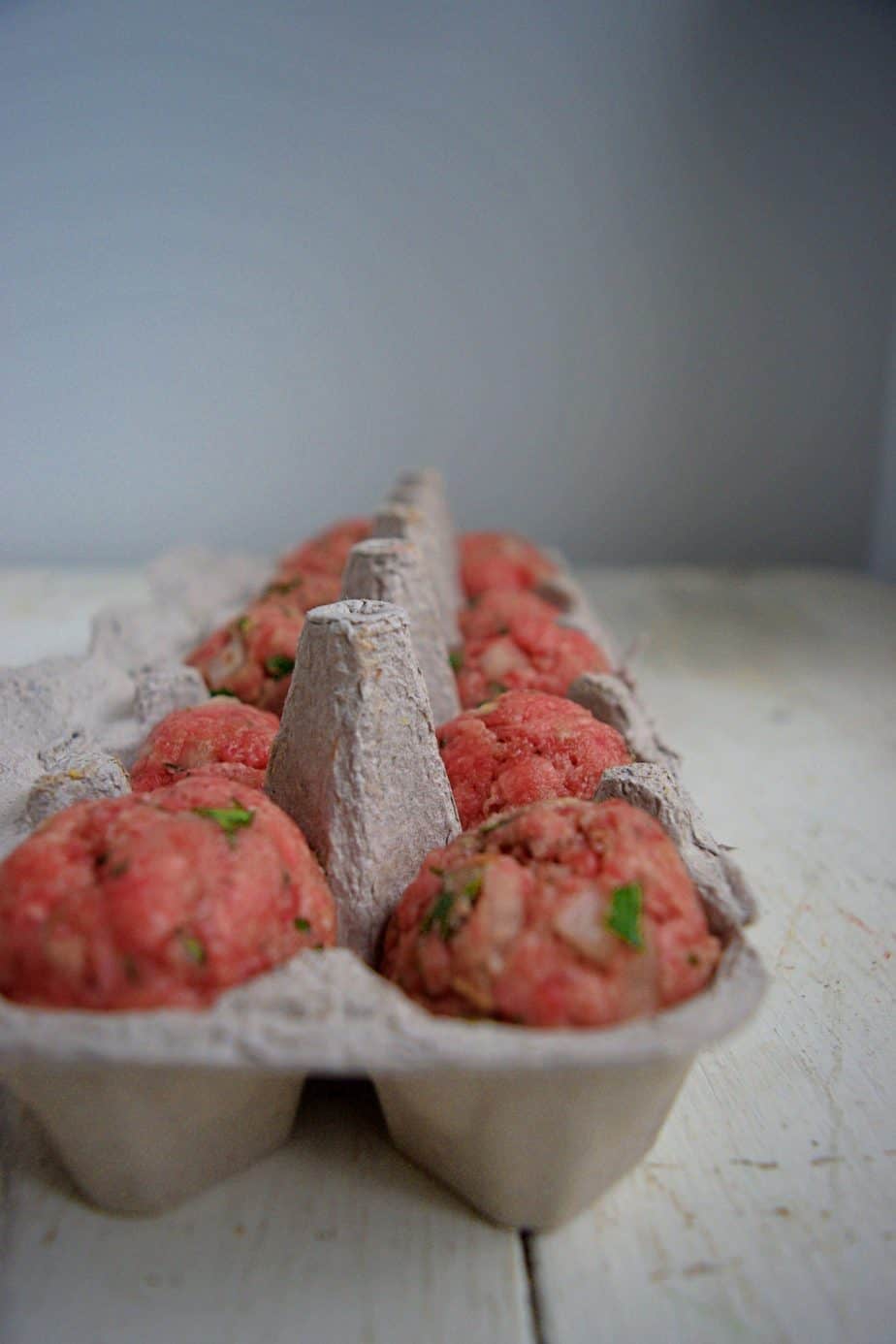 I grew up on the Food Network. Giada, Alton, and Ina are some of my greatest teachers when it comes to cooking!
I loved coming home and watching their shows after school. Each one was a different style, both in recipes and show production, but they all taught me so much. Alton Brown, on his show Good Eats focused on the teaching and science aspect of cooking. I loved it! Learning about why things cooked the way they did, the origins of our favorite dishes, and kitchen hacks were all things I grew to expect over the years.
In partnership with Born Free eggs, I am sharing a recipe for Italian style meatballs with fresh herbs and parmesan. This recipe uses an egg inside the meatball to act as a binder, but also uses the egg carton itself! Today I'm featuring their Free Range Organic Large eggs. The hens that lay these eggs are not only housed in spacious barns with year round access to indoors and outdoors, but they are free to engage in their natural behaviors such as laying eggs in a rest, scratching, and roosting. Knowing that the chickens are treated so well is a major factor in my selection process.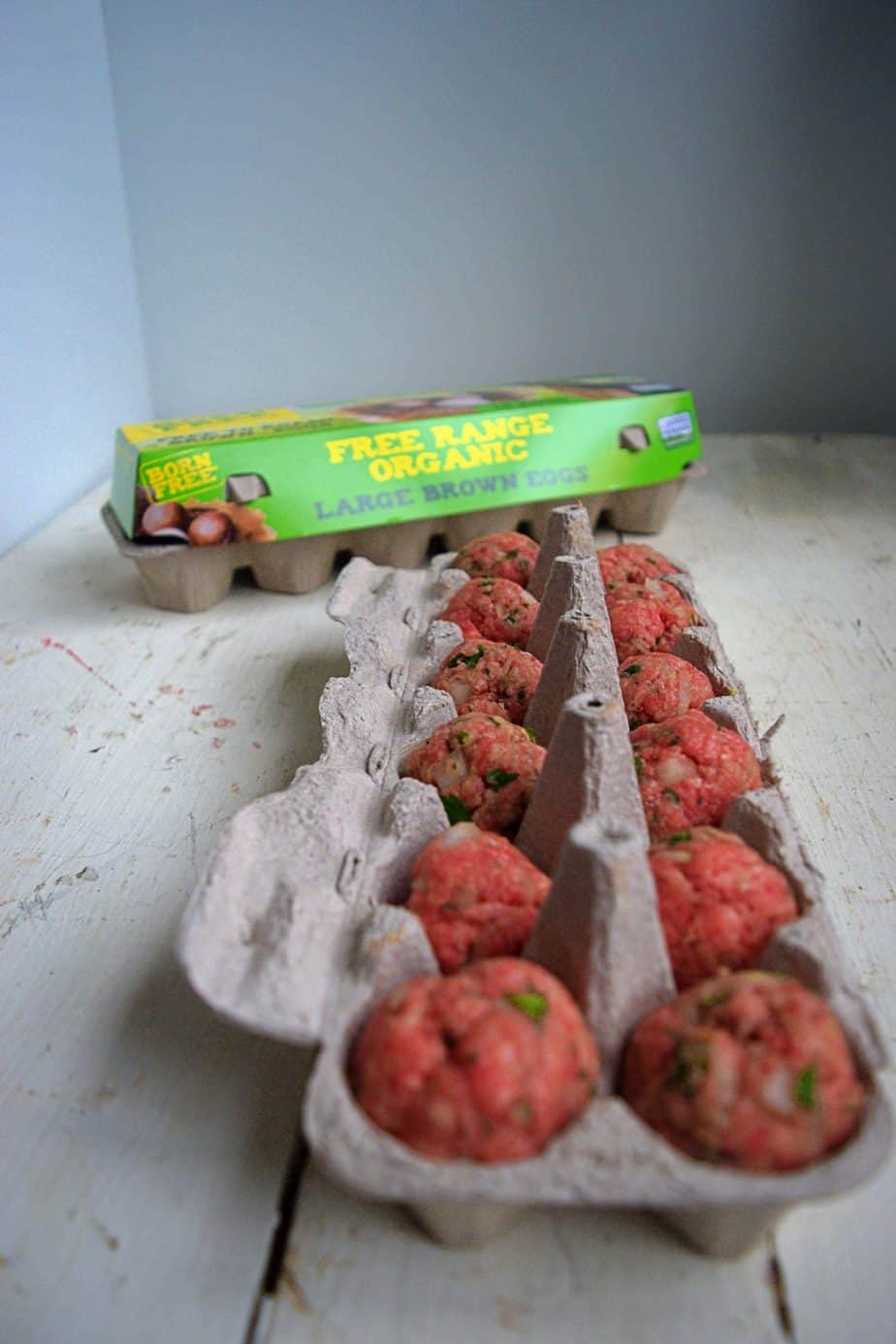 A few years back Alton Brown shared a hack about baking homemade meatballs in an empty egg carton. The egg carton helps to soak up some of the fat and ensure that meatballs are perfectly round! Genius. Just make sure the egg carton is the fiber/cardboard kind and not a foam carton.
Once they are baked in the carton they are moist on the inside and crispy on the outside. They are ready to enjoy on a plate of spaghetti or with marinara and a fresh roll.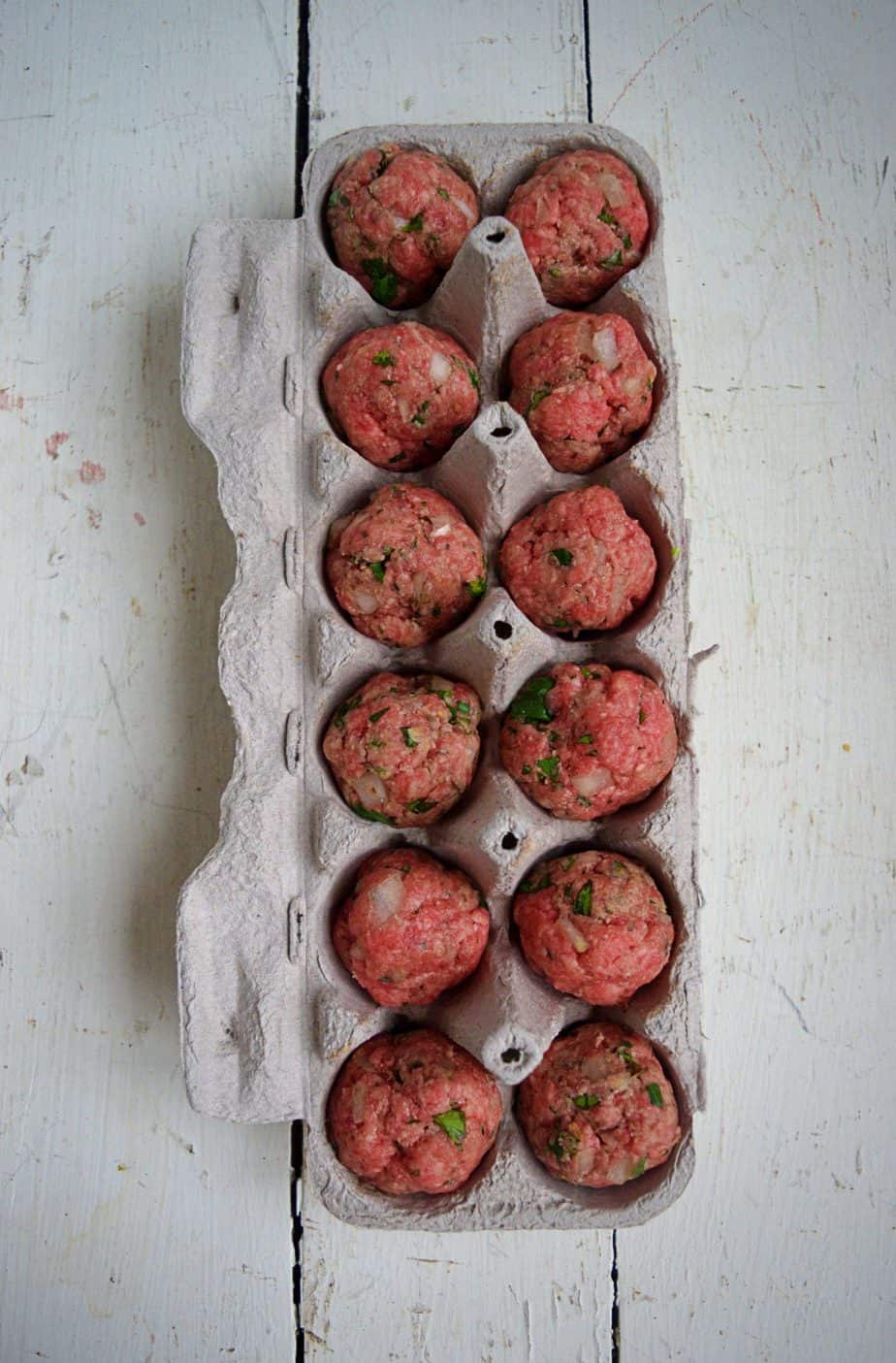 To create these, start with 1 lb. of fresh ground beef in a bowl. Add in the cheese, egg, herbs, salt, pepper, onion, and garlic.
Combine everything together with your hands and then form into golf ball-sized meatballs. This size fits well in the divots of the egg carton.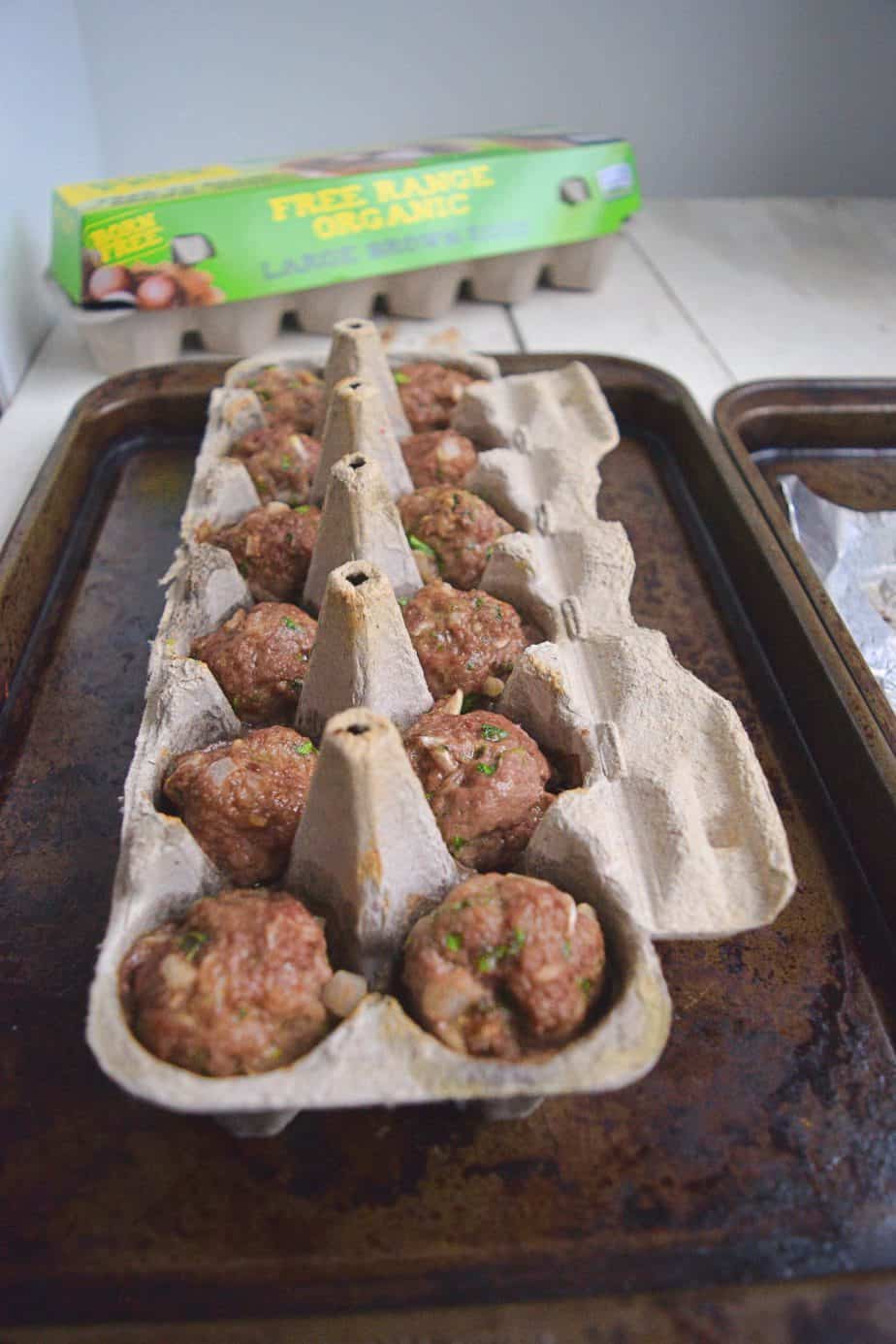 They are baked in a 400 degree oven and once cooked, the carton can be disposed of.
A word of caution: Stay close to the oven while baking these. Because you are baking in cardboard, you don't want to go higher than 400 degrees fahrenheit. And it is always safest to keep watch.
This post was brought to you featuring Born Free Pasture Raised Organic Eggs. I was compensated for my time in making this recipe for Born Free Eggs, but the opinions are my own.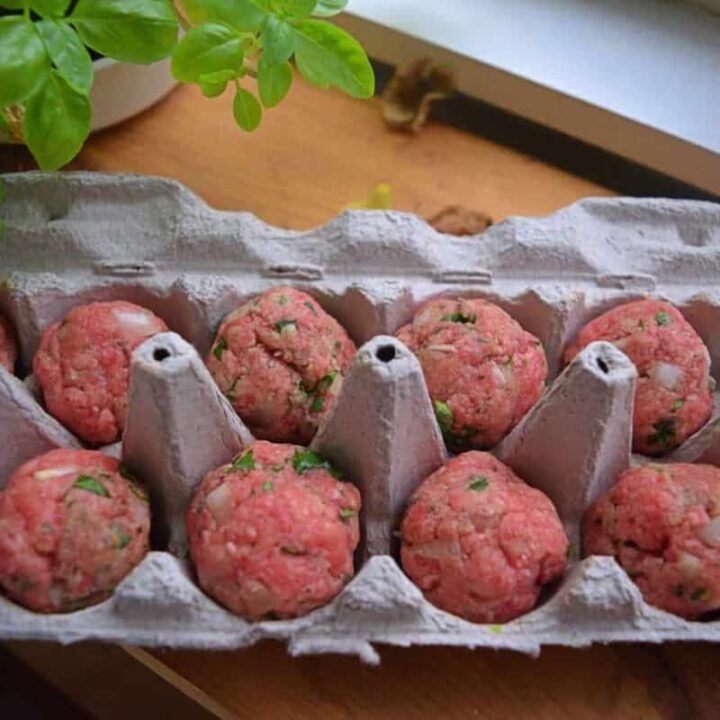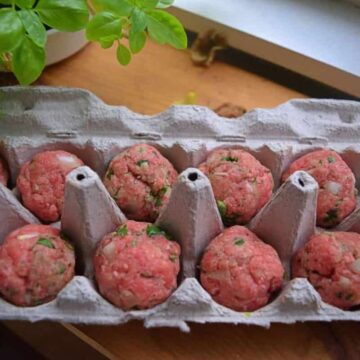 Meatballs Baked in Egg Carton
This recipe uses an egg inside the meatball to act as a binder, but also uses the egg carton itself!
Equipment
Empty cardboard egg carton
Ingredients
1

Born Free egg

1

lb.

ground beef

2

tbsp.

whole milk

¼

cup

bread crumbs

1

half of a small onion

minced or grated

½

tbsp.

dried Italian seasoning

⅓

cup

parmesan cheese

½

tsp.

salt

½

tsp.

pepper

2

tbsp.

fresh parsley

chopped
Instructions
Preheat oven to 400 degrees.

Place all ingredients in a mixing bowl.

Use hands to combine ingredients

Form into golf ball size meatballs, and place each meatball into the divot of the egg carton. You will most likely have a few extra meatballs, either use a second carton or make the meatballs slightly bigger.

Place filled egg carton on to a baking sheet and place in oven. Bake for approximately 20 minutes.

Remove from oven and remove meatballs from the carton. Discard carton and serve meatballs.
Nutrition
Calories:
129
kcal
Carbohydrates:
3
g
Protein:
9
g
Fat:
9
g
Saturated Fat:
4
g
Polyunsaturated Fat:
0.3
g
Monounsaturated Fat:
4
g
Trans Fat:
0.5
g
Cholesterol:
43
mg
Sodium:
174
mg
Potassium:
155
mg
Fiber:
1
g
Sugar:
1
g
Vitamin A:
265
IU
Vitamin C:
4
mg
Calcium:
65
mg
Iron:
1
mg