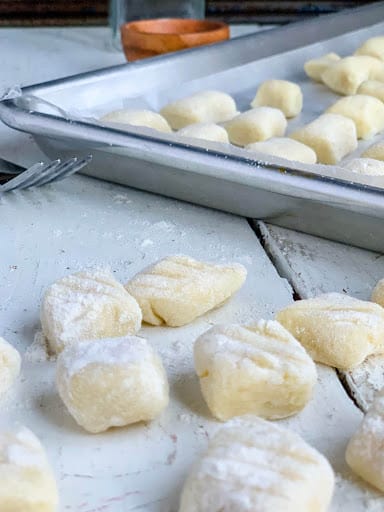 I LOVE gnocchi. They are soft little pillows of deliciousness. Store-bought varieties are often quite good, and there's no shame in using them for any recipe that calls for gnocchi. I do find that the one difference is that homemade gnocchi are even lighter and more tender than any store bought that I have found. So when the recipe involves gnocchi taking the center stage, I highly suggest using homemade!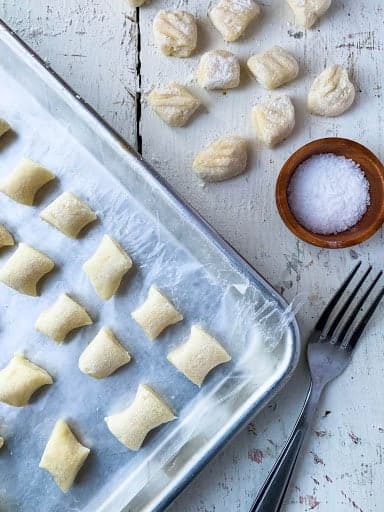 Making homemade gnocchi can be be time-consuming. Find a friend or a loved one and make them together! Working side by side on these will definitely make the process go more quickly, and at the end you have beautiful gnocchi to enjoy.
Once you make these delicious gnocchi, use them in One Pan Creamy Chicken and Gnocchi.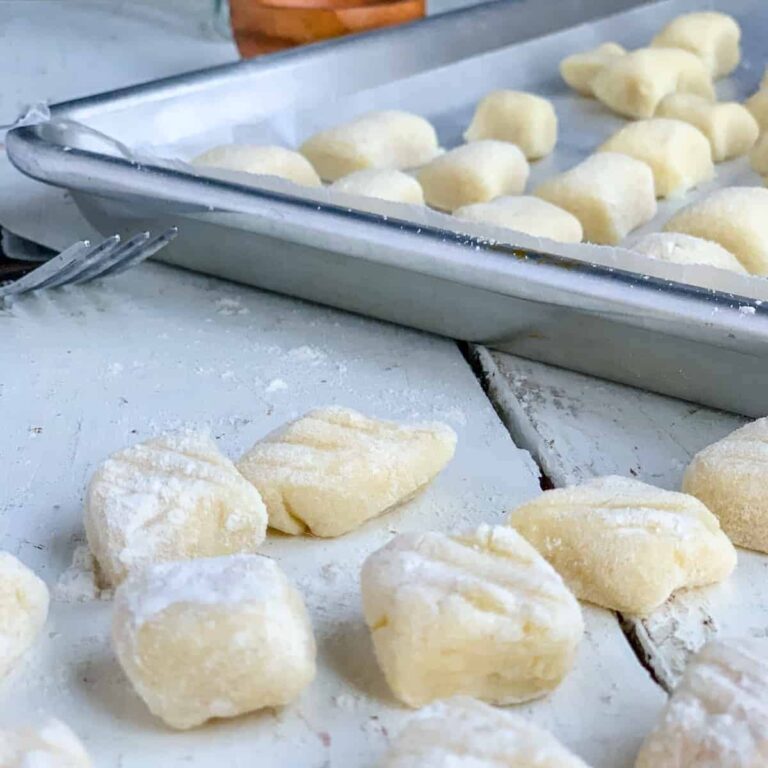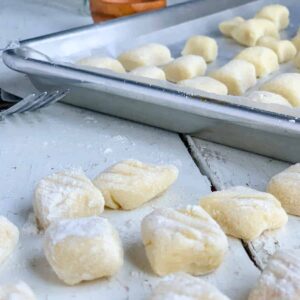 Homemade Potato Gnocchi
Homemade potato gnocchi take extremely simple ingredients and make something extraordinary. Soft and delicate, gnocchi are great on their own our in your favorite dishes.
Ingredients
4

medium-sized Russet potatoes

1 ½

cups

all-purpose flour

1

tsp.

salt

1

egg
Instructions
Begin by peeling Russet potatoes and cutting into large chunks. Place in a large pot of cold water, making sure that the potatoes are completely covered with water.

Bring to a boil and cook until a fork easily slides in and out of each potato (about 35 minutes).

Drain potatoes and run them through a potato ricer. (If you don't have a potato ricer, feel free to use a potato masher. Be sure that you are extremely thorough and that there are no lumps).

Allow the potatoes to cool down to room temperature.

In a small bowl, combine flour and salt.

In a large bowl, combine potatoes and egg and stir together to incorporate.

Gradually begin incorporating the flour into the potato mixture until it forms a ball (the ball will be slightly crumbly).

Transfer dough to a floured work service and knead for approximately one minute, or until it is smooth and a little sticky. Do not over mix-- gnocchi are meant to be light and fluffy and over mixing will make them tough.

Pull off a baseball-sized chunk of dough and with both hands, on your floured surface, begin to roll out into a large rope. Make the rope a little less than an inch in diameter.

With a sharp knife or pastry cutter, cut into 1-inch pieces.

Repeat this process until all of the dough has been used up. Make sure to re-flour the surface as needed.

Place the finished gnocchi on a wax paper lined baking sheet, not touching. Freeze or use from room temperature within a few hours. (If you are going to freeze, freeze on the baking sheet first (for about 10 minutes) and then transfer to a container. This will help ensure that they don't all just stick together).
Nutrition
Calories:
355
kcal
Carbohydrates:
74
g
Protein:
11
g
Fat:
2
g
Saturated Fat:
0.5
g
Polyunsaturated Fat:
0.5
g
Monounsaturated Fat:
0.4
g
Trans Fat:
0.01
g
Cholesterol:
41
mg
Sodium:
505
mg
Potassium:
954
mg
Fiber:
4
g
Sugar:
1
g
Vitamin A:
62
IU
Vitamin C:
12
mg
Calcium:
41
mg
Iron:
4
mg